With the conditions looking promising tomorrow, there will be a Skippers Meeting at 10:00 AM for our last day, Nov. 13th. Amateurs, Masters, Pro Men and Pro Women should be at the beach for the skippers meeting. First possible start is 11:00 AM.
With a day off today, we were able to catch up with Sarah Hauser. Sarah is currently tied with Ingrid Larouche for overall first place for the 2016 AWT Championship. Sarah was sailing really well here in Maui and won the single elimination. If she is able to hang on to the top spot, or the Women's Double Elimination is not completed tomorrow, she will be the tour champion.
Please enjoy hearing about her year on the tour, windsurfing Jaws, and her feature film, Girl on Wave bellow. Additionally we were lucky enough to have AWT photographer, Si Crowther, on a boat shooting photos at the recent Peahi Challenge, so we have added a few shots from the spectacular Maui wave.
Be sure to join us for for the closing party tomorrow, Nov. 13th, 6:30 PM, at the Maui Arts and Cultural Center.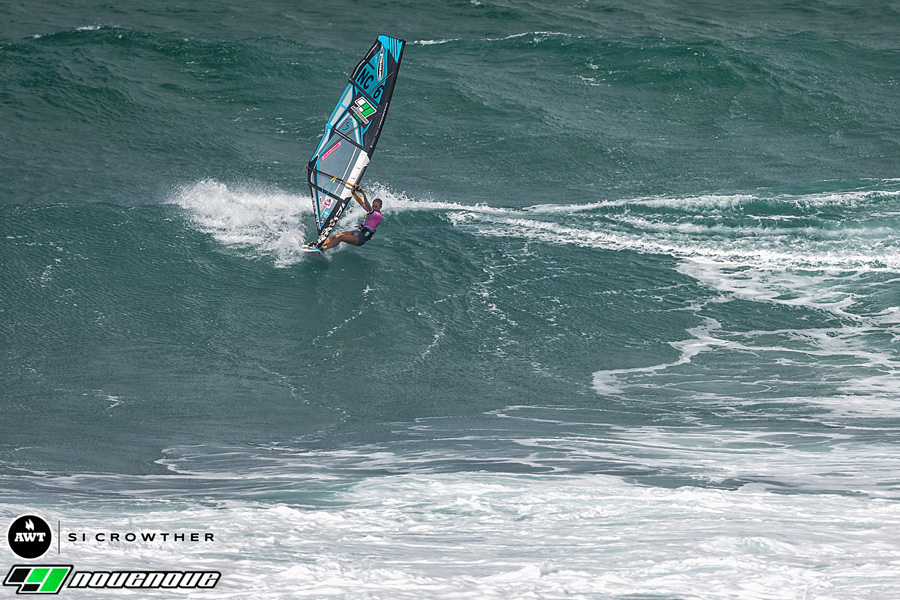 Photo: Hauser carving her way to first place in the Single Elimination
How many AWT stops have you been to this year?
I went to 4 events: Pistol River, Baja, Peru and Maui!
Which stop was your favorite so far?
Honestly I can't pick one. They each have something very special! Pistol River is a contrast of roughness and beauty, Baja is synonym of "escape", Pacasmayo (in Peru) is a wave wonderland and Maui is the Mecca of windsurfing.
Have you won the tour championship before?
I did! I won the tour championship last year!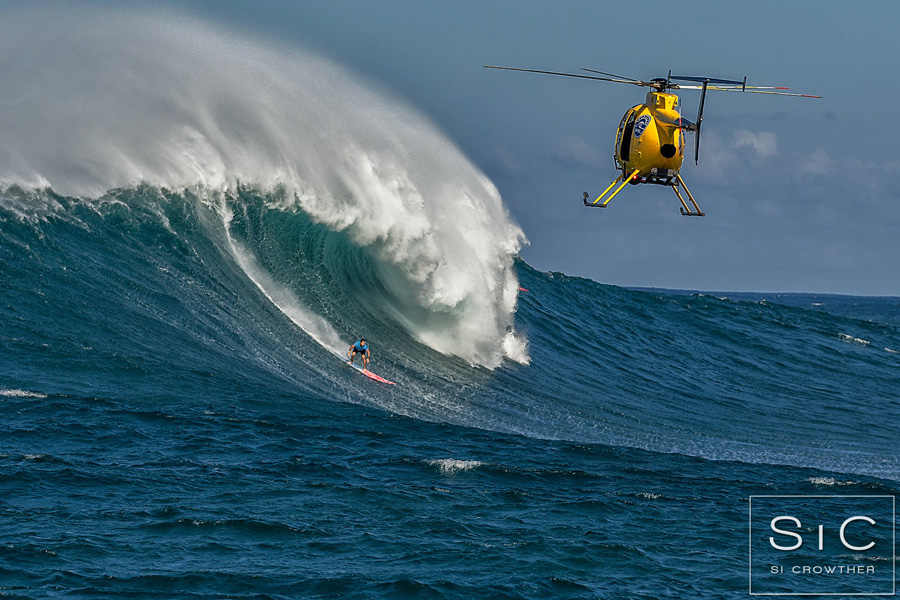 Photo: Billy Kemper winning the 2016 Peahi Challenge
You and Ingrid have been going back and forth and are currently tied for first. How has it been competing alongside her all season?
Amazing! As an athlete I couldn't wish for a better competitor to sail against to. Ingrid is a hard worker, she never gives up. We're both raising the bar a little higher every time to try to beat the other one and it makes the competition so challenging and exciting.
You've won the single elimination at the Aloha and are close to clinching your AWT Championship. Being so close, how are you feeling about the rest of the holding period? Are you hoping for the double elimin. to get finished this weekend?
After the single elimination I felt so happy and grateful for all the support from my family, friends and sponsors. I started focusing on the double elimination right away by making sure I'll be recovered from the single and ready for some more action on the water. If it happens it's great! And if it doesn't, it doesn't. I don't have any control on that. All I can do is be ready!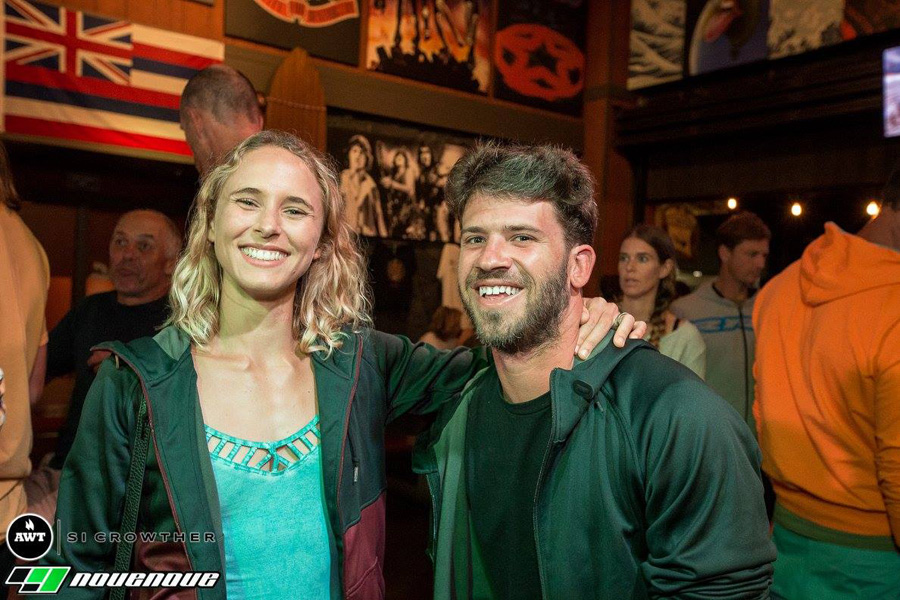 Photo: Sarah and Casey at the NoveNove Maui Aloha Classic opening party
Next year's tour stops look super fun! Are you planning on making it to all the wave events for 2017? Where are you most excited to compete?
It does look super fun!! The 2017 AWT calendar motivates me to work hard during the winter to find ways to cover the cost of traveling and try to attend as many events as possible. I heard great things about Chile and I've never been there…
The Peahi Challenge is underway today. Last year around this time you got your own taste of windsurfing Jaws. How many times have you sailed it? Are you looking to continue working towards more Jaws sessions?
I sailed Jaws 3 times since 2013. It's my dream to wave sail in big waves!! So yes, with or without sponsors, I'll do everything to get out there again!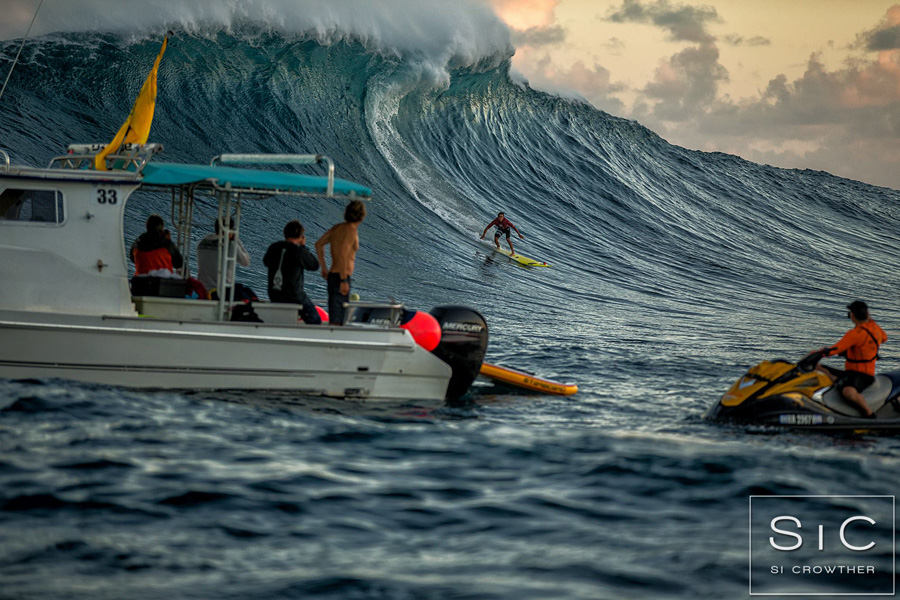 Photo: Kai Lenny taking on Jaws this week
Last year you were working really hard on your film, Girl on Wave. How did the premier and promotion of that go? What did you learn most from putting the film together?
We started filming for Girl on Wave in September 2015. We were done with the production and started the post-production right away in June 2016. The movie should be ready in the beginning of 2017. Making a film is so much work! That I've learnt for sure! Hahaha 🙂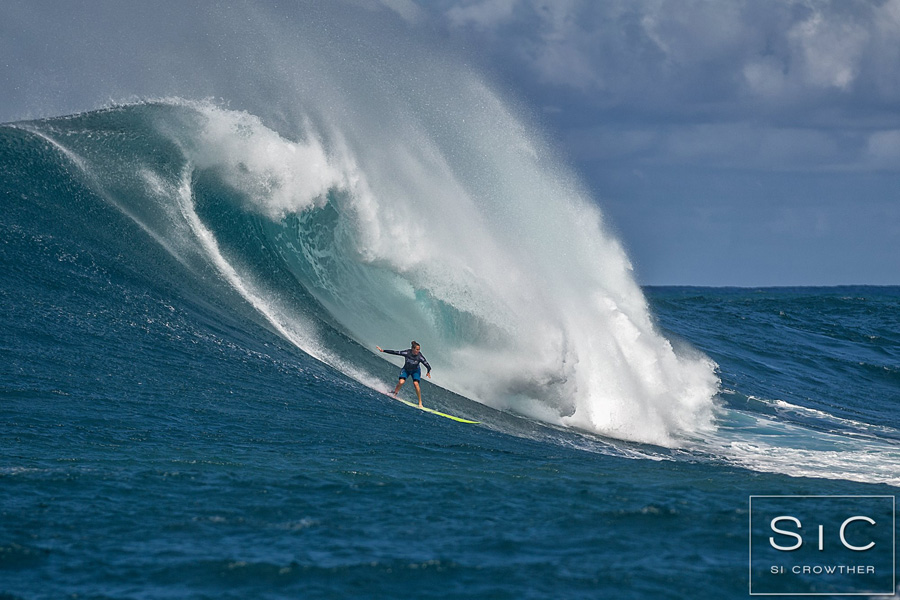 Photo: Paige Alms, Deep2Peak athlete, on her way to the first ever Women's Peahi Challenge first place finish
Where do you see the direction of women's windsurfing headed?
I've only been a "pro windsurfer" for 4 years, so I'm still learning about the challenges of being a woman in this industry. What I see so far is a lot of obstacles but also a lot of passion, hard work and motivation to make the gap between the level of the guys and the level of the women a little smaller.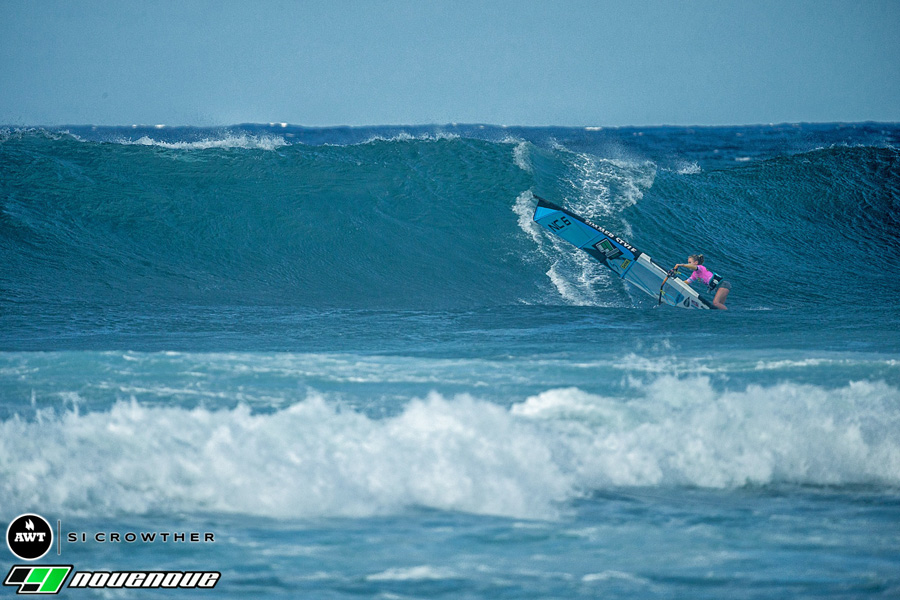 Photo: Sarah Hauser