It was another spectacular day here at the NoveNove Maui Aloha Classic. Day 11 brought the action back to the Pro Men and Women with a solid trade wind and a smaller than forecasted swell. By the time of the first heat of the day the crowds had started to fill in on the stadium like lawn above Ho'okipa. Head judged, Duncan Coombs, made the call to alternate rounds between the men and women. From here on out, every heat was stacked with the best sailors and the caliber of sailing was unmatched.
The Women's Double started off in some light wind conditions with Arutkin, Howard, Bittner, and Rohden advancing. The next round had Arutkin and Alonso advancing just ahead of Howard who sailed well. On the other side, Fiona Wylde excelled with fluidity and style alongside NoveNove team rider, Amanda Beenen. Offringa and Alonso advance out of the following heat providing some nice hacks on the larger waves of the heat. Heat 27 saw Daida Moreno's PWA title hopes fade as she was knocked out by a motivated Wylde, who placed second in the 2014 Aloha Classic, and Reichman who sailed aggressively throughout the heat.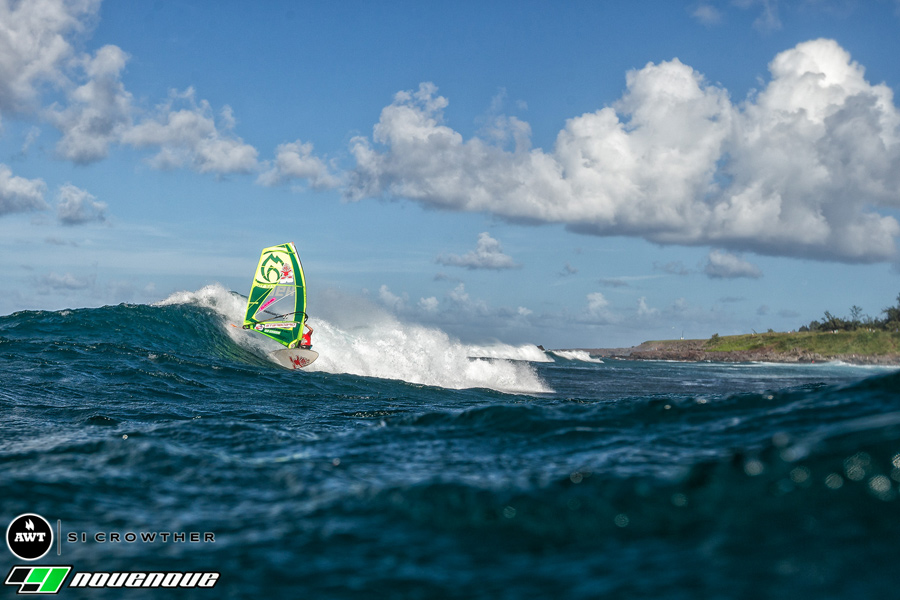 The last women's heat of four riders had Wylde again showing her dominance, by picking off the largest waves and linking strong, decisive turns together. Not far behind her was a hard charging Alonso, knocking out the freestyle world champion Offringa, and Reichman. This pitted Wylde and Alonso against each other in a two-person heat to see who would take on the 4th place finisher from the Single Elimination, Vickey Abbott. Wylde again demonstrated her Ho'okipa prowess with a strong performance to advance.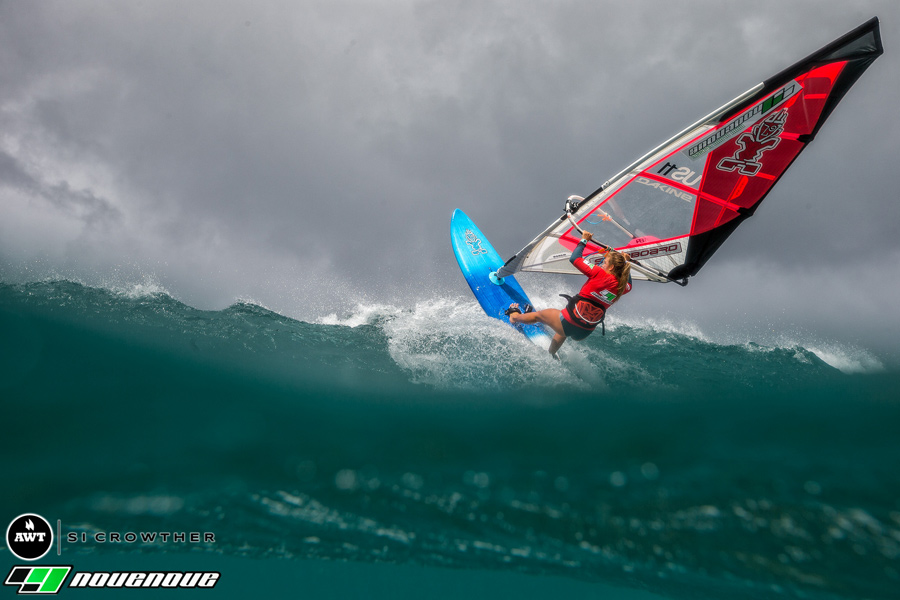 Abbott took to the water after waiting all day to take on the hard-charging Wylde, both on matching Goya sails. This was the last heat run of the day with a couple of extra minutes added as the winds had lightened considerably. Fiona continued to demonstrate good wave selection and smooth top to bottom sailing. Abbott, not to be outdone, hopped on a couple of nice waves herself, but her scores just didn't match up. At the 5:00 hour, the horn blew, and Wylde will have to wait until Sunday to take on Sarah Hauser to see if she can make her way onto the podium.
The men's double started with a bang, heading straight into heat 41 which held major PWA World Tour title implications. Fernandez was still alive in the title hunt as he took on Campello, Voget, and Guadagnio. Campello was charging hard with the move of the heat throwing an absolutely massive air taka for a 9+ point wave. Fernandez was not to be denied though and sailed consistently, getting three well-executed whacks on the set of the heat, plus a huge stock air to advance along with Campello.
The next men's heat was full of world champions: Naish, Lenny, Browne, and Fernandez. One could call this the heat of the day, but all of the heats could boast that title. Lenny and Naish came out swinging each getting two good scores on the board. Fernandez was on a mission and refused to go down, going big off the lip and going for an applause drawing 360 attempt. The packed house on the hill had no shortage of things to clap for as Naish charged hard off the lip and Lenny continued to make full top to bottom turns. Fernandez pulled out a nice goiter to advance along with Lenny, with Naish right behind them and Browne just not able to find the waves he needed.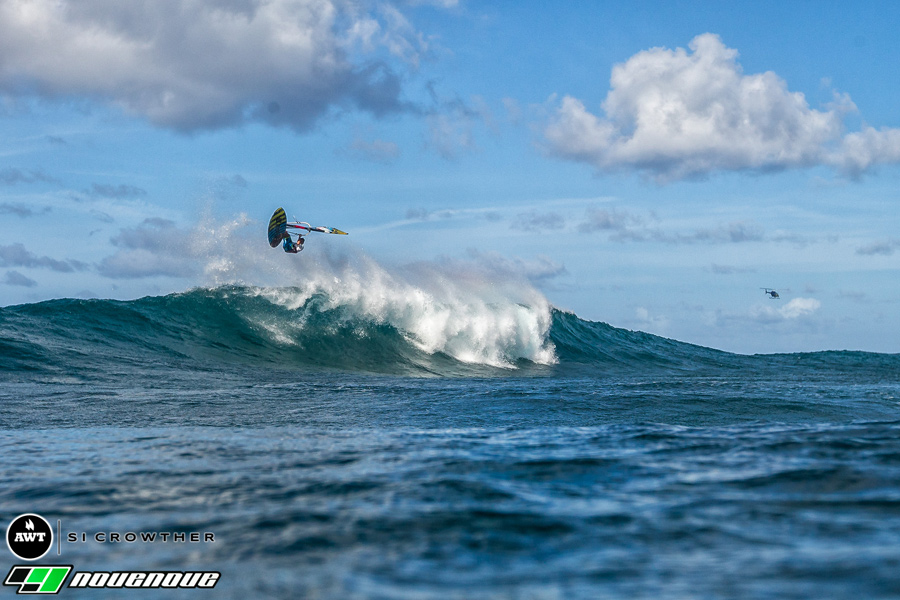 The next all-star heat had major AWT title implications on the line. Kevin Pritchard was gunning for Juban in taking over the AWT Title for 2015. There to challenge him were Campello, Siver, and Roediger. With changing conditions Roediger and Campello both switched rigs partway through the heat. Pritchard was on a tear early, finding the largest waves and throwing huge stock airs along with full roundhouse cutbacks. Not far behind was Siver, with his signature style. Campello was going big throwing two outrageous aerial rotations, but was unable to land them. Berndt was unable to get on the larger waves and missed on 2 goiter attempts. Siver decisively stole the heat with a bomb at the end connecting enormous aerials with stylish cutbacks. In what must have been a tough one to judge, Campello advanced in the number 2 spot, leaving KP in third and officially out of the AWT title race.
A huge congratulation goes to Camille Juban as he takes the 2015 AWT crown!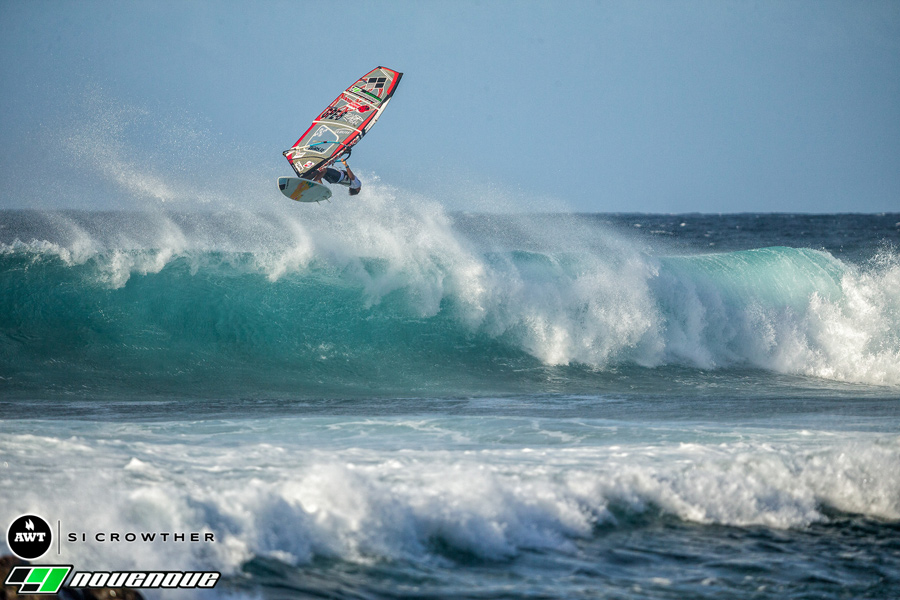 Heat 44 pitted Fernandez, Lenny, Siver, and Campello against each other in the last 4 person heat. As the wind and swell dropped, the heat was extended a couple minutes to allow the riders to wait for the best waves. After a slow start of the heat, Campello and Lenny exchanged blows on the biggest set of the heat. Fernandez could not connect his 360 attempt at first, but Campello finally landed one of his hard charging aerials: a massive air taka. Fernandez, sitting in 3rd place at the time, rebounded by throwing the first 360 of the day for a 9+ point wave. Siver's smooth style and smart wave choice kept him safely in first place, while Fernandez stole the 2nd place spot from Campello.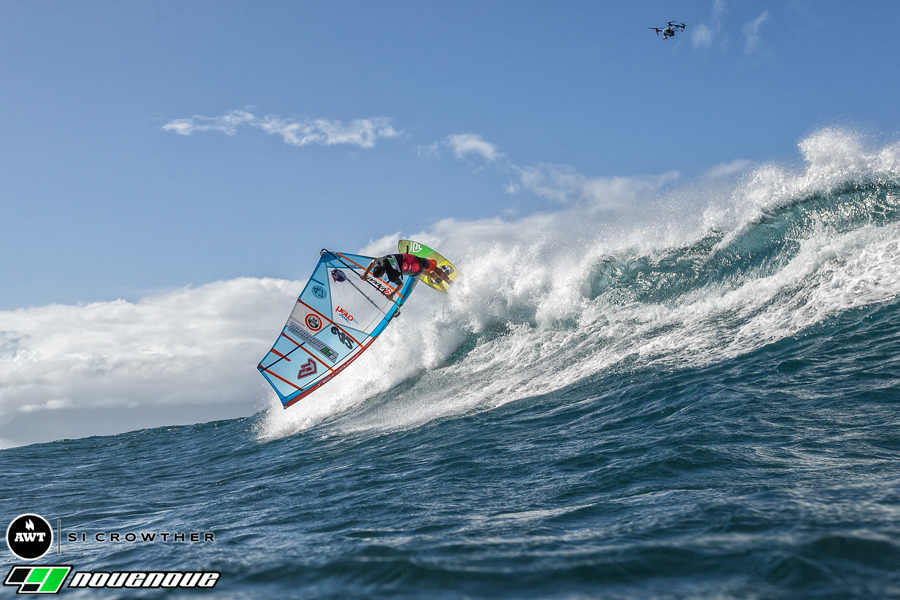 It was down to Fernandez vs. Siver to see who would take on the single elimination top four. Fernandez struck first with a big air off the lip, but Siver came back with his own 360. Siver continued his air attack and big cutbacks, but Fernandez pulled off a huge off the lip forward loop much to the appreciation of the audience. With another seemingly impossible one to judge, Siver took it by just 0.14 points.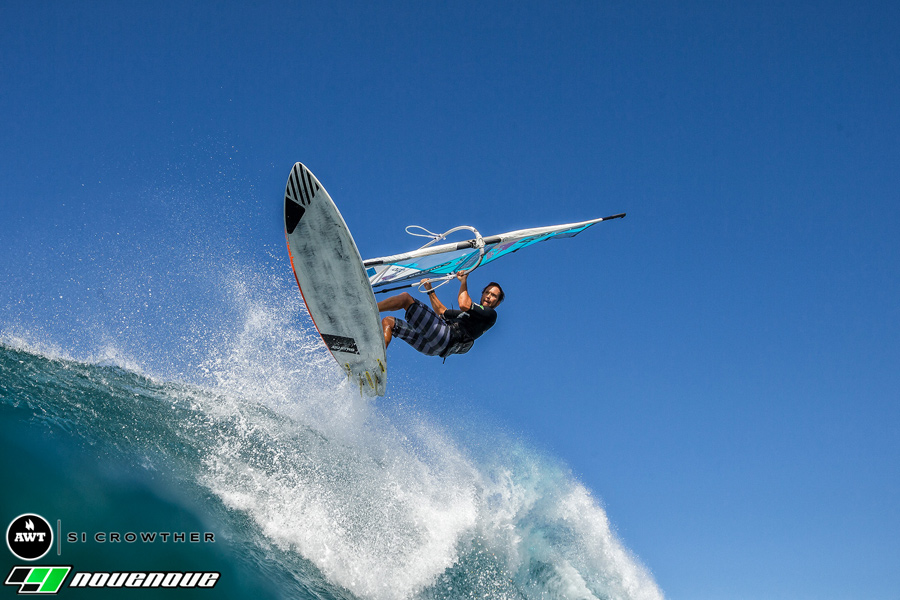 In the last men's heat of the day, Siver took on Juban. Siver was in full swing and too much to handle at this time. Although Juban put forth some nice waves, linking turns and aerials, Siver was just a step up and continued his commanding performance with a massive straight air and a solid 360 with some good hacks in between scoring a 10.0!
The day ended on a somber note as we remembered the late great Peter Volwater, who was a big part of many lives in the windsurfing world and on Maui.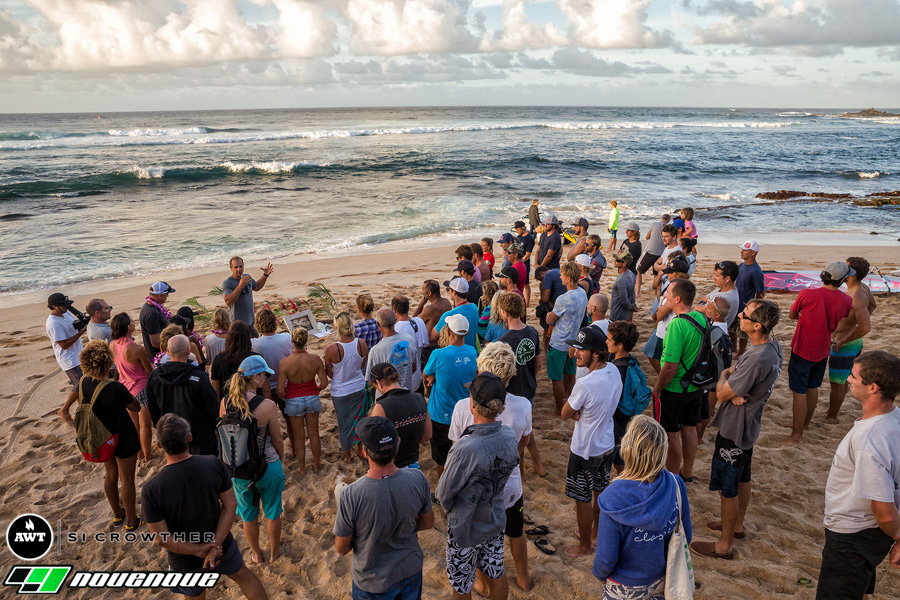 Tomorrow is going to be a day to remember as we crown our 2015 NoveNove Maui Aloha Classic champions. You will want to get there early for a good seat or get your snacks ready in front of the live stream as our first possible start is 11:00 AM.
Other spectacles tomorrow are our Champions for Charity event, which will be fan voted online at AlohaClassicMaui.com/live. This is an expression session for a handful of pro riders who each paid $100 to enter will donate the pot to the winner's charity of choice. Also, we have the Creative Air Project, which is a women's 30-minute expression session that is free to enter and will surely entertain the crowds.
Lastly, do not forget to get your tickets to the closing party at MauiArts.org. It will be an evening to remember for spectators, fans, friends, and families! It's on Tuesday, Nov. 10th, at the Maui Arts and Cultural Center, and doors at 6 PM.
A correction from yesterday's press release: Jake Schettewi got 2nd place, not 3rd as we said, and Escario got 3rd, not 2nd, in the Amateur final.
**Be sure to get your tickets to the closing party on Nov.10th at AlohaClassicMaui.com.**
**Full photo album and video recap posted on our Facebook page.**
**Tune into the live stream at AlohaClassicMaui.com/live.**
Stay tuned to our Facebook, Instagram (@americanwindsurfingtour), and Twitter (@windsurfingtour) pages for up to date information and exciting news about the 2015 NoveNove Maui Aloha Classic!
A huge thanks to the Maui Visitors Bureau, Nalu Kai Lodge, and all of the other sponsors listed bellow. Please check them out and thank them for their support if you have the chance.