Morning wind speeds opened day 4 of the event with 14-18 knots in the first elimination and picked up to 18-22 knots in the second elimination of the day. Most riders were racing with 100L boards and 7.8M sails.
Racers saw for the first time unstable wind with gusts up to 25 and down to 12 knots challenging all athletes. The show continued with the two young guns: Alkis Vovos and Konstantinos Papandrikopoulos battling back and fourth vs. the two more experienced top riders: Zois Theocharis and Philip Adamidis rounding out the top 4 men slalom racers.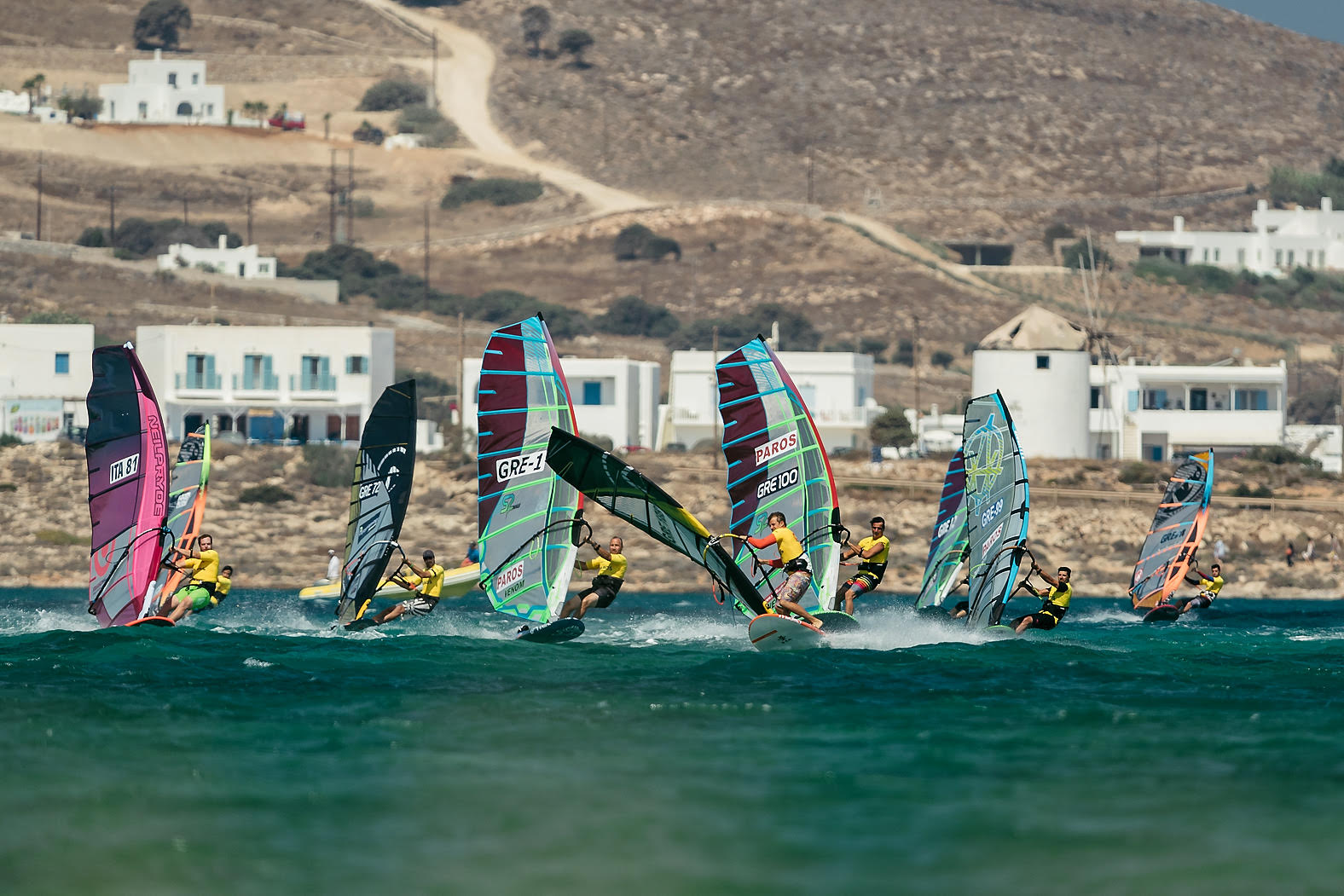 With the strong winds, racers are traveling the course at speeds of 30-32 knots resulting in sizable crashes. Philip Adamidis and Alkis Vovos were leading in the second elimination of the day when one committee boat created a strong wake near the final buoy of the coarse causing both leaders to crash. Vovos and Adamidis both protested with a result of the riders receiving a redress meaning each rider would be awarded a score for the heat which is the average of all their races for the entire event.
Sofia Koukouzeli has been leading the womens division throughout the event. Her constant smile and positive attitude is contagious. Koukouzeli was introduced to windsurfing by her father at the young age of 10 years old. She spent a few years racing One Design followed by wave riding in Athens. She is currently fully interested and motivated by slalom racing and it shows. When she is not racing, Sofia is an architect based in Athens. Her husband and 5 year old son stayed home this week to allow Sofia to concentrate on the race. She is staying on Antiparos: an island next to Paros and takes a 3 minute ferry each day for the event. Koukouzeli wishes for more women to join the slalom racing as she is normally racing with all men. Best of luck in the final day of racing Sofia!
5 eliminations were complete after day 4 totaling 13 eliminations over the course of four days. One day remains in the event window while Alkis Vovos continues to gain on his lead over the pack.
Top 3 Men:
1. Alkis Vovos
2. Zois Theocharis
3. Philip Adamidis
Top 3 Women:
1. Sofia Koukouzeli
2. Sam Bittner Wilson
3. Theodora Georgiopoulou