The 5th and final day of the IWT Paros Wind Odyssey welcomed a fleet of happy yet exhausted competitors. The 9:30am skippers meeting called for a holding period as wind shifted in speeds ranging from 9-13 knots until deemed strong enough to hold 2 eliminations back to back beginning with a 12:30p first start.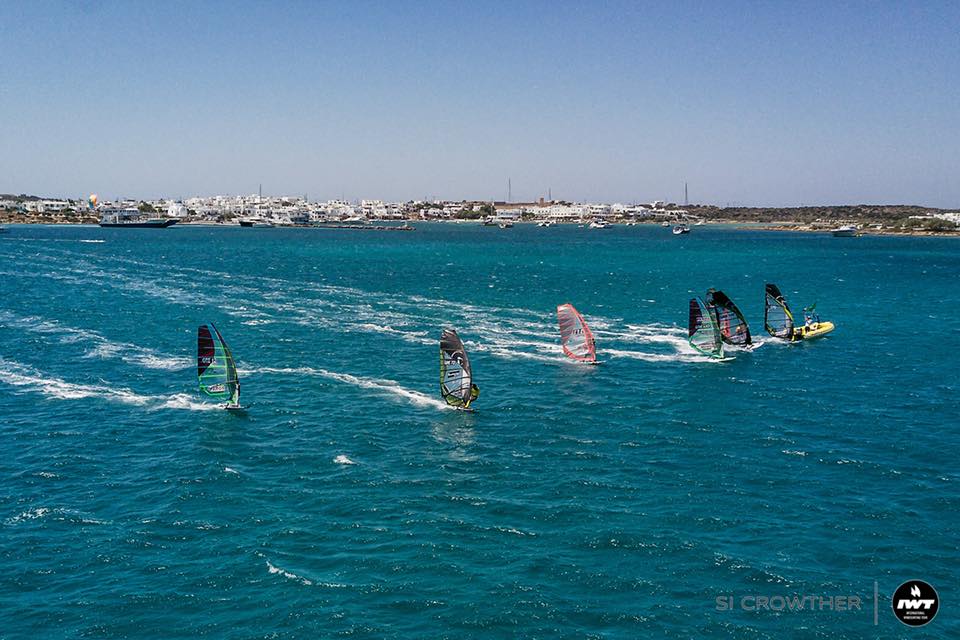 Following mid day break, top 4 leading competitors pushed the start resulting in several riders crossing the start line early including Dimitris Lentzos, Zois Theocharis, and Konstantinos Papandrikopoulos. The mood was tense as the last race began with top 4 riders in a tight race when suddenly Alkis Vovos and Zois Theocharis crashed together on buoy number 2 losing their lead. Philip Adamidis took advantage of the situation, blasting across the finish line followed by Konstantinos Papandrikopoulos in second.
While young gun Alkis Vovos securely held his first place ranking, 2nd, 3rd and 4th places remained tight, fighting head to head throughout the four race days for their chance to join the podium. The end result pushed Philip Adamidis ahead of Zois Theocharis with Konstantinos Papandrikopoulos not far behind. Best 13 scores of 16 eliminations counted toward the overall ranking of the event.
Local organizer and owner of Sun Wind Resort, Theo Fisilanis decided to organize the IWT Paros Wind Odyssey because he wanted to showcase his home island to the windsurfing world and provide a platform for all windsurfers to participate in an International event, while at the same time creating prosperity for the local community.
A highlight for Fisilanis was deciding to join the race himself despite a 15 year hiatus from competing. Theo is passionate about windsurfing and being a part of the game without fighting for a first place finish.
Fisilanis along with other local organizers and sponsors are very happy with the outcome of the event with four straight days of 15-25 knots wind completing 16 full elimination rounds. Fisilanis' goal for next year is to grow the fleet even larger with more international riders. He welcomes any windsurfers to Paros and to experience the Greek dream.
Top 3 Men:
1. Alkis Vovos
2. Philip Adamidis
3. Zois Theocharis
Top 3 Women:
1. Sofia Koukouzeli
2. Sam Bittner Wilson
3. Theodora Georgiopoulou