Day 3 of the Paros Wind Odyssey began with a 9:30am skippers meeting where Race Officer Alexis Katsios announced there would be up to a maximum of seven eliminations for the day. Most athletes rigged 7.5M sails and medium size boards. Wind speeds ranged from 18-24 knots in the morning allowing for a smooth first start at 10:30am.
The level of racing in the morning of the 3rd day was much higher with riders reaching better starts at faster speeds across the start line. Alkis Vovos and Zois Theocharis battled in the morning for first place back and forth.
One protest from Alkis Vovos against Philip Adamidis resolved from the jury resulted in Adamidis being disqualified from elimination 5.
Conditions throughout the day remained steady apart from a drop 8 knots after lunch delaying the start of the 7th elimination by half an hour before picking up again to 18 knots average for the afternoon races.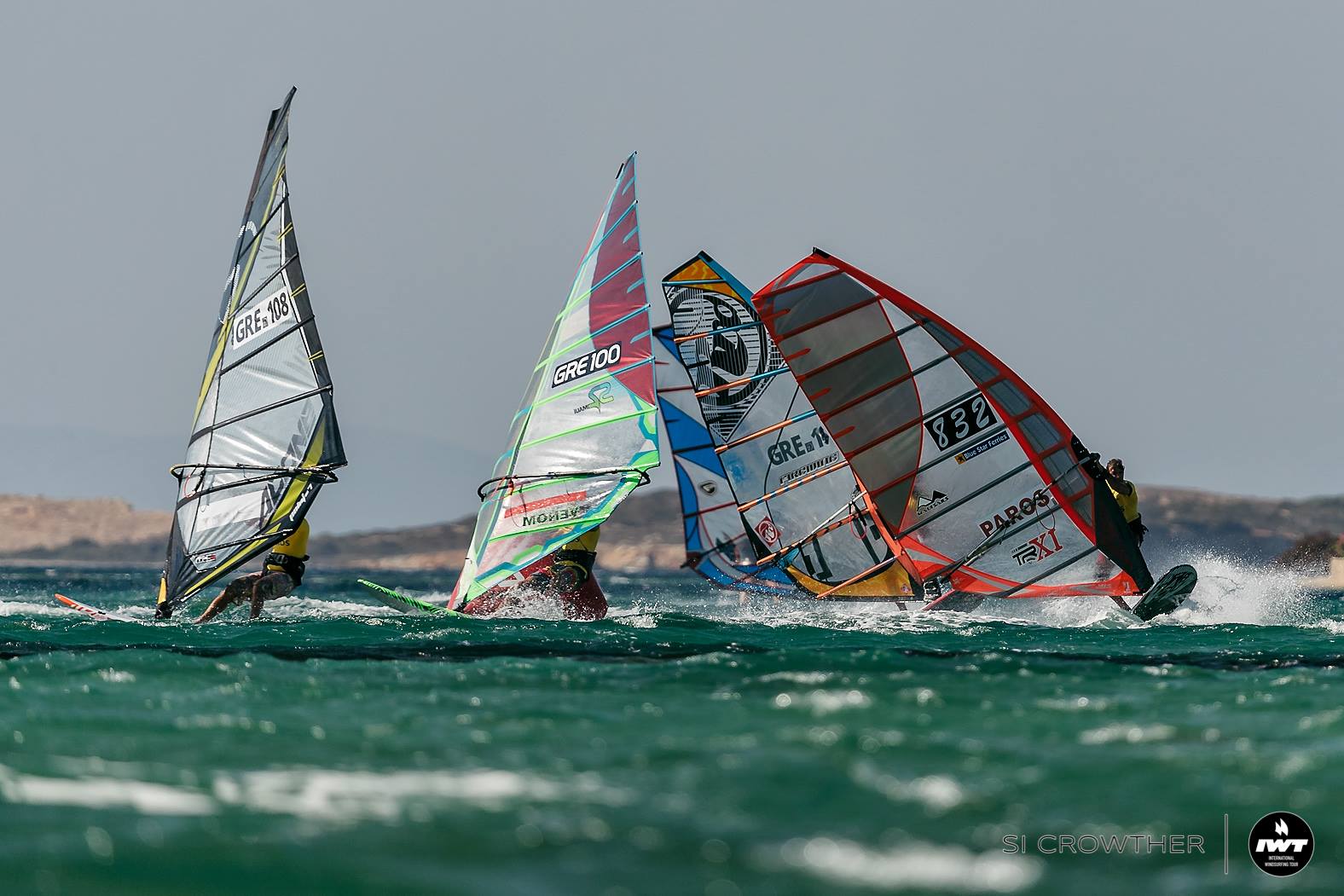 Leading after 8 eliminations, Alkis Vovos, age 20, has competed on PWA events in the past and has just come from youth master world championship in Lake Garda where he competed last week. He says he is fit but not well trained. He is currently studying mechanical engineering in London. Vovos is interested in a career in energy source and would like to do work in the windsurfing industry possibly designing boards.
Currently ranked 2nd and 3rd, Zois Theocharis and Philip Adamidis have more than 30 years experience racing. There is expected to be a big fight for the podium up until the last elimination of the event with a gap of 12.4 points separating the top four riders after 8 eliminations.
The women's division is being led by Sofia Koukouzeli who has advanced to the A final consistently along side the top men. Sam Bittner Wilson advanced to the A final in round 6.
Day 4 forecast is for higher winds ranging from 20-25 knots. Stay tuned for more action to come in Greece!
Top Results after Day 3
Top 3 Men:
1. Alkis Vovos
2. Zois Theocharis
3. Philip Adamidis
Top 3 Women:
1. Sofia Koukouzeli
2. Sam Bittner Wilson
3. Theodora Georgiopoulou