On paper, the forecast for the fourth day of the 2019 Mercedes-Benz Aloha Classic was relatively poor with only light onshore winds on offer. As always though you can never truly trust any forecast and upon arriving at the beach there were already signs of the wind trying to kick in and by 11:45am there was enough wind and enough angle on the wind to begin the Youth contest.
The next generation of windsurfers were sent out at an over mast high – at times – Ho'okipa and they were given between 18-22 minutes to link together their top 2 wave scores. As in the pro divisions the contest was run as 4-man heats, which saw Jake Schettewi and Takara Ishii become the first two to seal their place into the winners' final – followed by Takuma Sugi and Z Schettewi, who advanced through the second semifinal.
In the final, Sugi produced a brilliant display of sailing as he excelled in the light wind conditions – with the wind dropping in the final – to post a total heat score of 14.17 points – which was the joint highest heat total with Ishii, who also posted 14.17 points during his opening heat. To earn an excellent 8 point score in the final Sugi took a high line before launching into a stylish aerial. The 17-year-old racked up a total of 5 waves in the final and was able to find a 6.17 point backup to deservedly win the Single Elimination.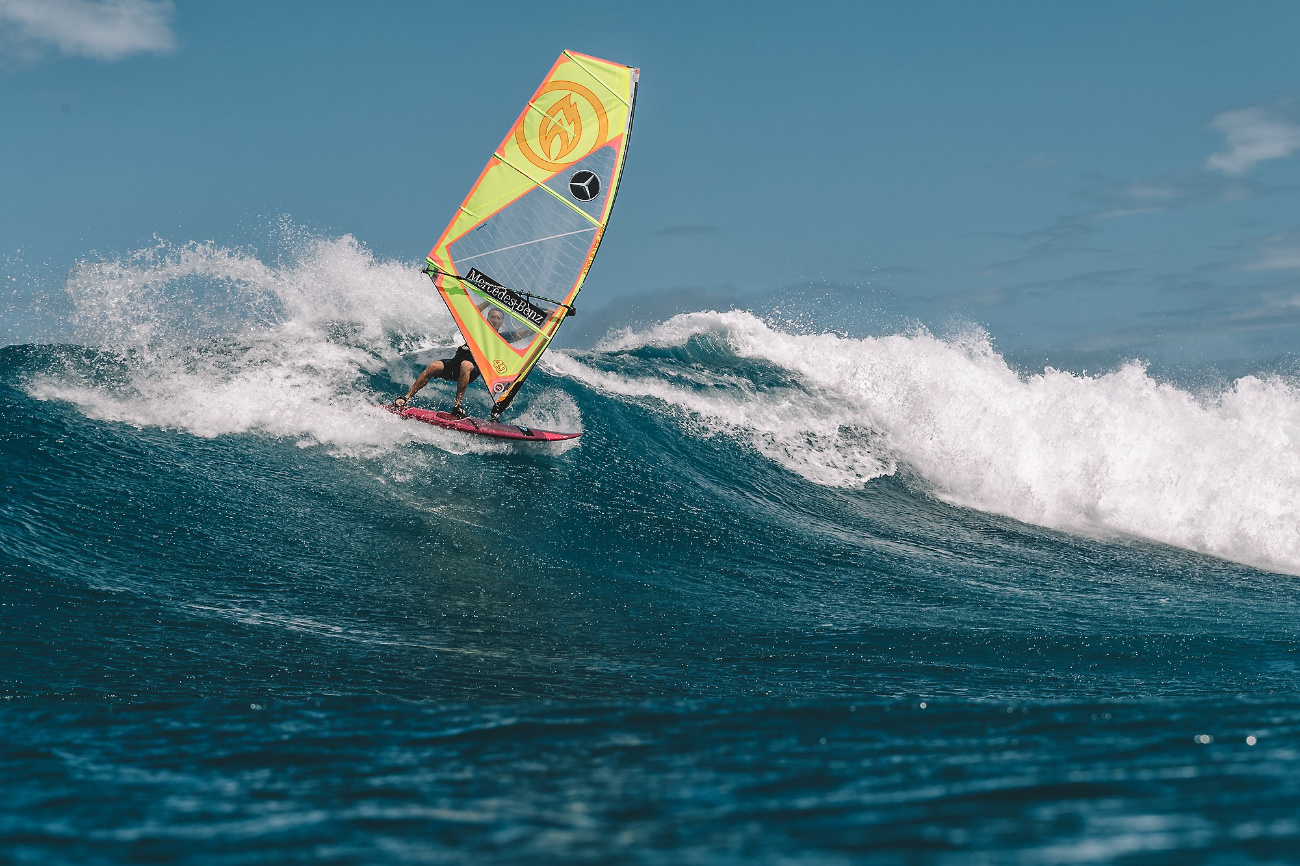 Jake Schettewi was only able to lock in two waves during the final and while he posted two decent scores with a 5 and a 4.83 – the young local couldn't find a way to pin back Sugi and takes home second place in the single.
The battle for the final place on the podium was tight between Ishii and Schettewi Z, but eventually, it was Ishii who would complete the top 3 as he managed to lock in two waves, while Schettewi Z was only able to find one wave during the 18 minute final.
Elsewhere, other sailors to catch the eye were Noam Artzy and Luc Guidroz. Artzy, who only started windsurfing 6-8 months ago, combined a stylish turn and an aerial during his opening heat to earn 6.77 points for a single ride, while Guidroz also displayed some solid turns. Both made it to the semifinals before being knocked out by Schettewi J and Ishii.
Overall the Youth's showed off an extremely high level in what proved to be tricky conditions at times and all of them can be proud of their displays today.
The forecast for tomorrow again doesn't look too great on paper with only light north-northeast winds currently predicted, but as today showed anything can happen despite the forecast. At 8:30am (GMT-10) on Thursday there will be a beach clean up followed by the skippers' meeting at 10:30am – with a first possible start at 11am.
To stay up to date with all the latest developments from Maui — including the live stream, click HERE and scroll to the bottom of the page.
Text by PWA staff. Photos by Si Crowther.  Check the LiveStream, Facebook, and Instagram pages for more.
Result 2019 Mercedes-Benz Aloha Classic – Women's Single Elimination
1st Sarah-Quita Offringa (ARU)
2nd Iballa Moreno (ESP)
3rd Motoko Sato (JPN)
4th Lina Erpenstein (GER)
5th Angela Cochran (USA)
5th Tatiana Howard (USA)
Result 2019 Mercedes-Benz Aloha Classic – Men's Single Elimination
1st Antoine Martin (FRA)
2nd Camille Juban (GPE)
3rd Bernd Roediger (USA)
4th Kai Lenny (USA)
5th Marcilio Browne (BRA)
5th Leon Jamaer (GER)
7th Robby Swift (GBR)
7th Ricardo Campello (VEN/BRA)
9th Graham Ezzy (USA)
9th Philip Köster (GER)
9th Morgan Noireaux (HI)
9th Thomas Traversa (FRA)
Result 2019 Mercedes-Benz Aloha Classic – Youth Single Elimination
1st Takuma Sugi (JPN)
2nd Jake Schettewi (USA)
3rd Takara Ishii (JPN)
4th Z Schettewi (USA)