1 Junko Nagoshi
2 Angela Cochran
3 Ingrid Larouche
4 Tatiana Howard
5 Sarah Delaunay
5 Anne-Marie Reichman
7 Fiona Wylde
7 Katie McAnena
7 Shawna Cropas
10 Tiffany Ward
10 Sam Bittner
10 Olivia Piana
13 Kell Moore-Coullahan
13 Andrea Gillum
13 Adele Frola
13 Caroline Hamel
13 Tamara Bockius
13 Miho Tanaka
13 Alizee Roy-Bergeron
13 Maria Andres
And so the morning commenced with the quarter finals of the women's single elimination. The swell was fantastic, with more logo to mast high sets rolling in, super clean and consistent winds about 20 to 25 knots. The first heat saw Sarah Delaunay of New Caladonia pick off some of the biggest sets of the morning and edge ahead of Ingrid Larouche in 2nd. Tiffany Ward suffered a sail-board separation and unfortunately, after some solid rides, she was stuck swimming by the rocks. Heat 2 saw last year's winner Junko Nagoshi shredding as usual and proving how she could take down even some of the top men with her fluid, aggressive style and she took fist place in the heat. Anne-Marie Reichmann who was last year's 2nd place also sailed a solid heat and landed 2nd place. Very close behind her and losing out by the narrowest of margins, (as had happened similarly to Fiona Wylde in the previous heat), was Katie McAnena who picked off a clean, peeling set wave to open and just missed out on advancing to the semi-finals. Tour director Sam Bittner came in 4th after a solid heat whilst trying to jugggle running the contest at the same time! Heat 3 saw legend Angela Cochran and local girl Tatiana Howard advance
The semi-finals were another hotly contested battle with Anne-Marie and Sarah sadly missing out on the final after both sailing solid heats.
The final of the womens saw a squal pass through and hiked up the wind so they were all over powered. But this didn't stop them putting on a show for everyone as every girl shredded on multiple set waves. The stand out sailor was of course Junko Nagoshi who totally rips and was closely followed by legend Angela Cochran who went for some really late hits. 3rd place went to Ingrid Larouche after she put on a great performance to narrowly edge out Maui Butterly Effect hero Tatiana Howard.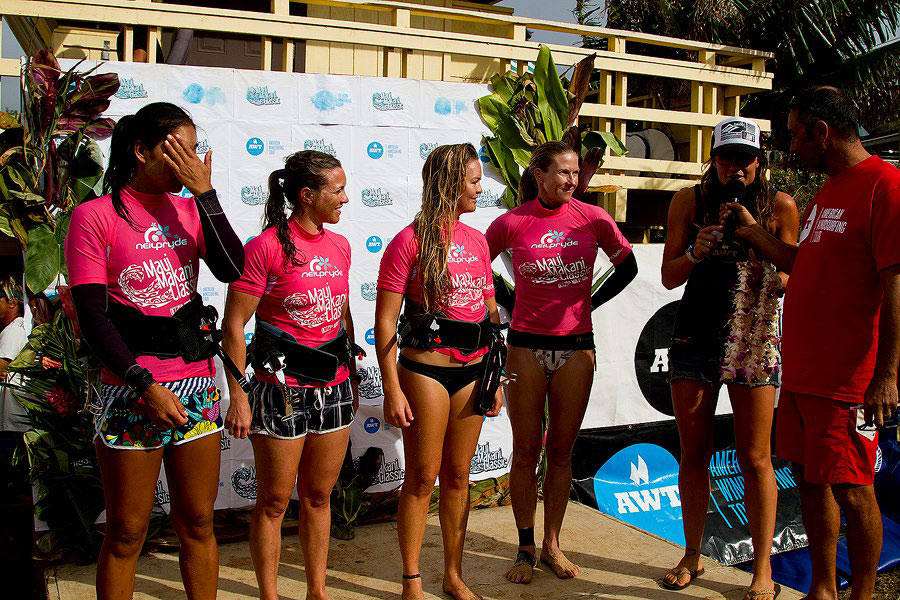 Masters Single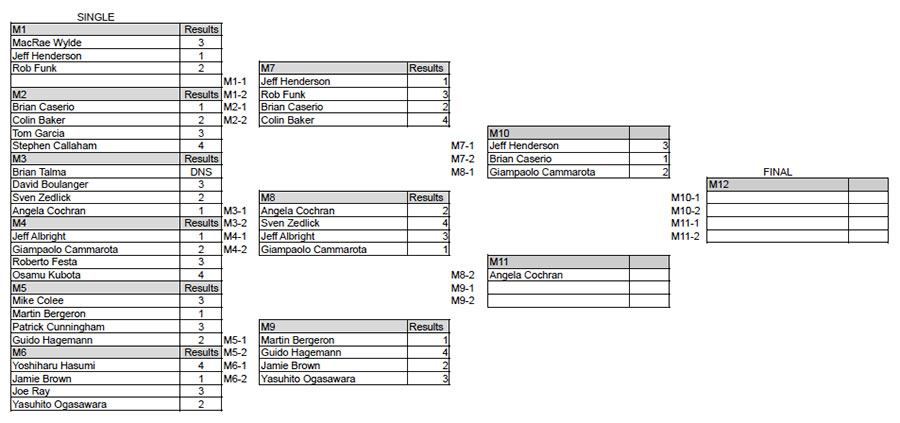 The masters took to the water during the pro double elimination and managed to work towards the final. Jeff Henderson of Hot Sails and judge Brain Caserio also on HotSails sailed really solidly and made it into the 1st Semi-Final. Women's 2nd place Angela Cochran also impressed enough to secure a place in the semi finals with Giampaolo Cammarota. The wind died before the first semi final could be run so we will be planning to get them on the water today and finish up this tightly fought contest.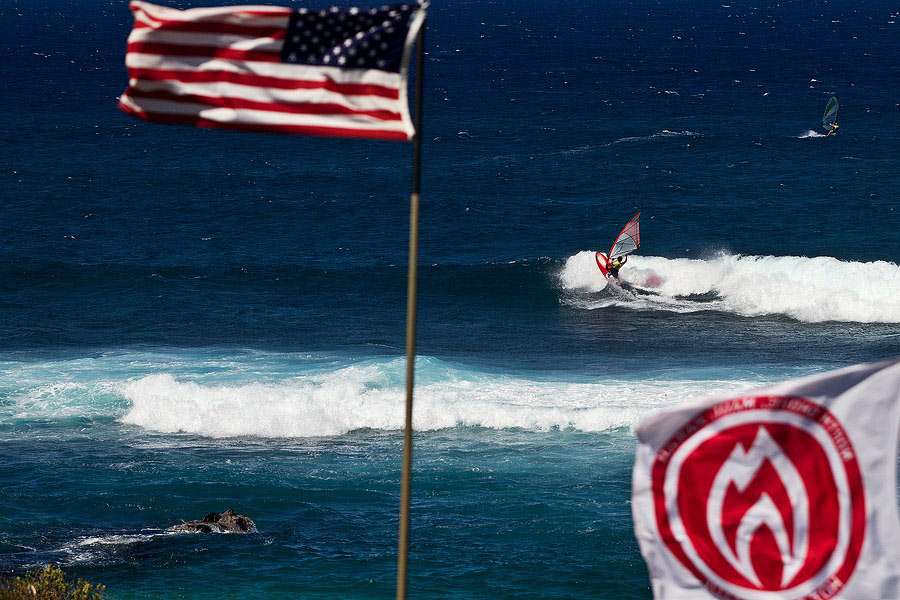 Men's Pro Double Elimination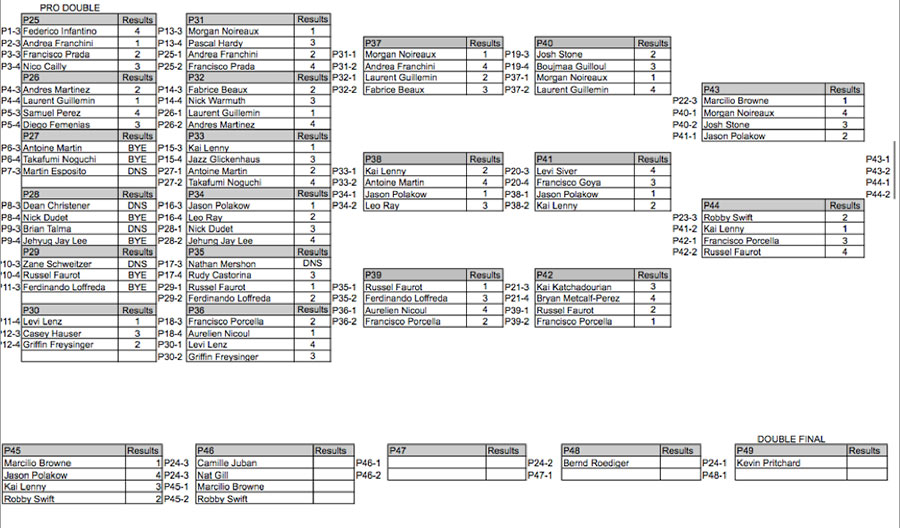 Heat 37
Morgan Noireaux yet again proved why he is to be taken very seriously in this contest with some of the best rides of the day and taking 1st ahead of Laurent Guilleman who took 2nd in a very close battle with Fabrice Beaux. Fabrice sailed an amazing heat with a sick 360 but it was't enough to take out Laurent who edged ahead
Heat 38
Jason Polakow, having won heat 34 was on a mission and a roll and was stunning the judges with his gutsy hits and classic, infamous style. He took the heat win over Kai Lenny who as usual did not disappoint and amazed with his agility and talent.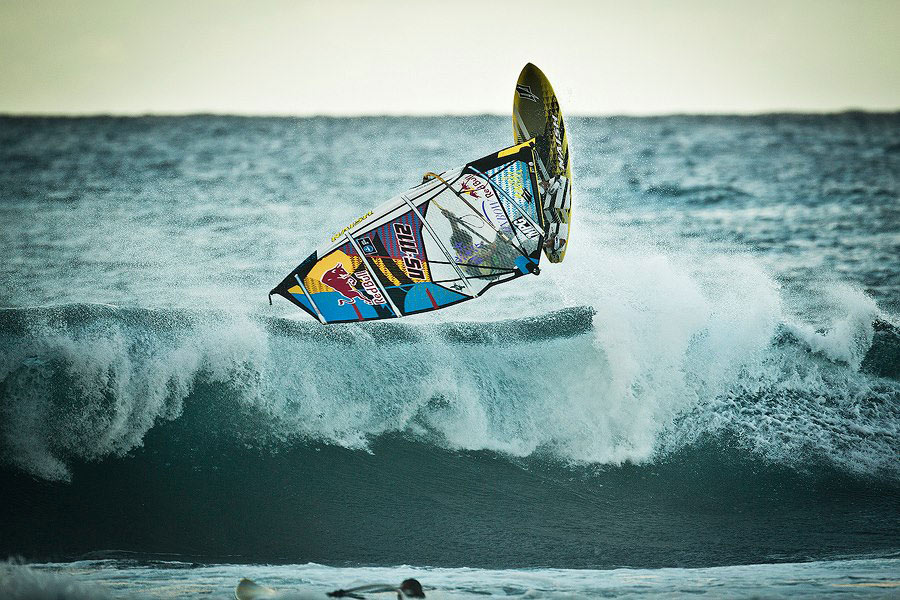 Heat 39
This heat saw AWT man Russ Faurot prove a point and take the highest scoring wave of the heat just as the heat ended. He deserved his 1st place ahead of Fransisco Porcella who went for some big hits, not always making it, but always going big.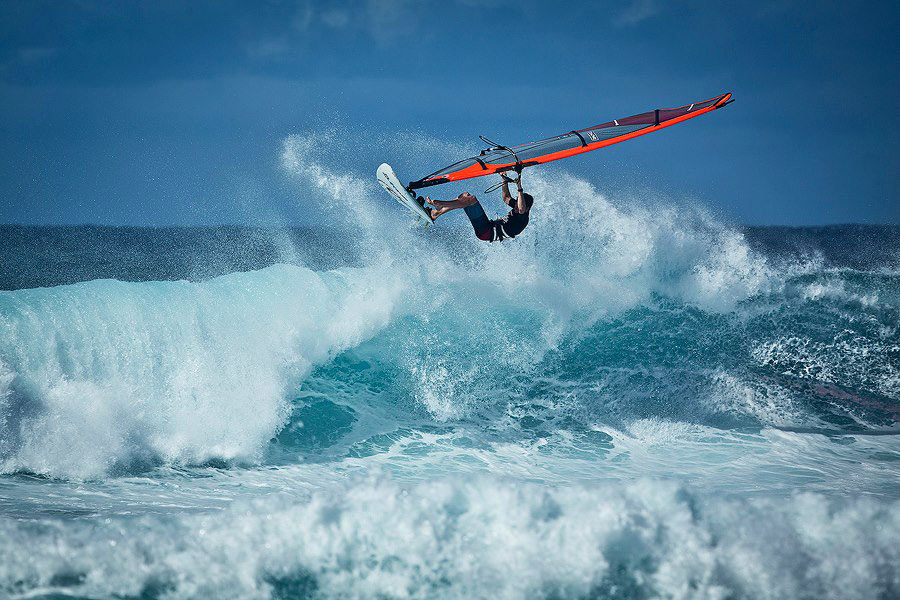 Heat 40
Hero Josh Stone was on fire, boosting some masive aerials with his usual style and took 2nd behind, unsurprisingly ripping Morgan Noireaux who seemed, at times unbeatable.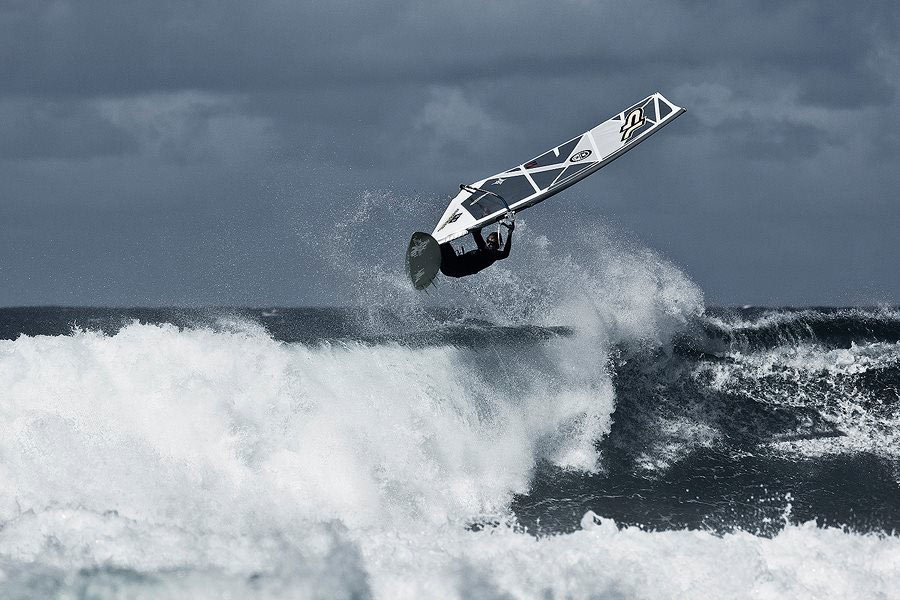 Heat 41
This was an impossibly difficult heat….. Polakow vs Lenny vs Siver vs Goya…… what a stacked heat!! To make it out from this bracket required something special and it was Polakow and Lenny who in the end could deliver the goods. Very tight decision in the end no doubt, as Goya had some really nice rides. Unfortunately for Levi Siver his big manouevre attempts on the waves just fell short and disappointingly he was knocked out. Polakow was gaining momentum and proving why he is a legend in the sport.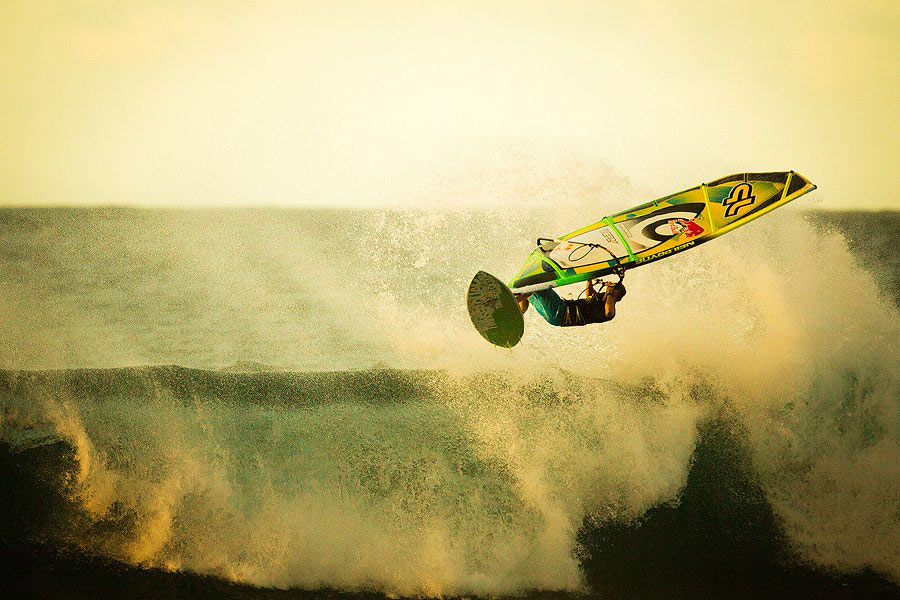 Heat 42
Again saw Russ Faurot out there proving a point and deservedly advancing. 2 Simmer men went head to head with Porcello just edging ahead of Katchadourian who narrowly missed out on advancing but still wowed the spectators with his go for broke attitude.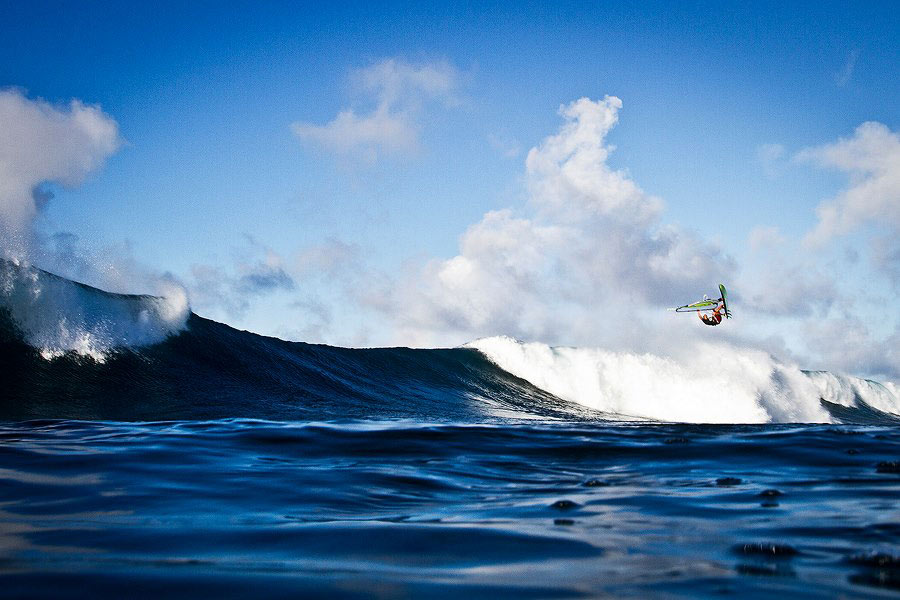 Heat 43
Now the pressure was really on….. Stone again was on fire but he just couldn't edge ahead of Polakow who at this stage was in his 4th heat of the day and just killing it! Brawziho was the most stylish and went for some incredible goitres paired with a real surf style of riding and proved unbeatable.
Heat 44
Lenny and Swifty made their mark on this heat. This was swifty's first of the day and he was feeling fresh and his sailing reflected this. Big goitres and 360s were the order of the day, with the swell still considerable and lots of wind to play with.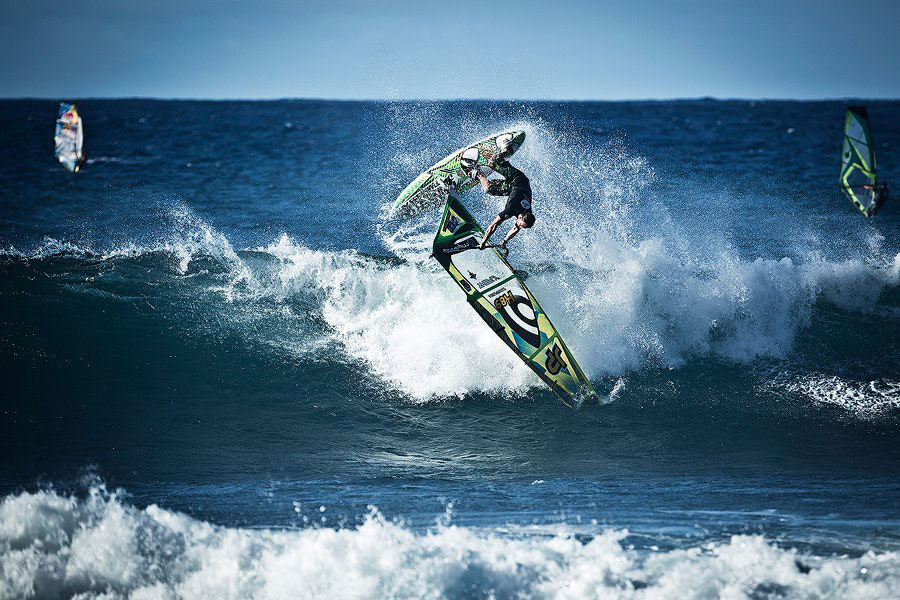 Heat 45
The last heat of the day was another who's who in windsurfing and was yet again, an epic show down. Polakow, now in his 5th heat of the day! was super impressive, all the spectators and judges alike felt he sailed an amzing heat. Brawzinho was unbelievable and won the heat after a lesson in how to pair scik wave manouevres with good wave selection and a go for broke attitude. He was followed in 2nd place by Swifty who landed a nice 360 during the heat. Lenny just missed out on advancing but should be proud of the performance he put on during the day.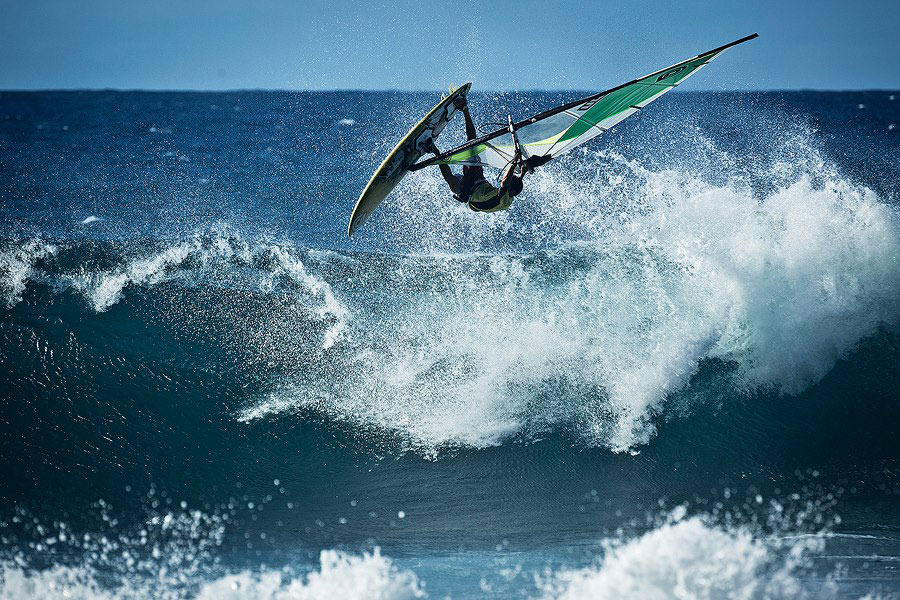 And with that the wind died and the call was made to wait till today to recommence the action…… forecast still looks good so we have a big day ahead! Stay tuned.
Champions for Charity!
Huge names showed up to compete in the Champions for Charity heat! It was like watching a windsurfing Hall of Fame out there and with the classic Ho'okipa conditions the stage was set for a real show! Robby Naish flew over all the way from Oahu to take part and didn't disappoint with his classic Naish style, just shredding the waves. He also had a warm up at Lanes to begin and we watched as he hammered out push loops and back loops…. very entertaining! Also in the line up were incredible performances from Fransisco Goya, Keith Teboul, Buzzy Kerboz, Sean Ordonez, Kai Katchadourian, Pascal Hardy and Brian Caserio. No winner has been crowned yet as the voting continues on facebook….. so head to our facebook page and vote for your favourite now! All the prize money will go to their charity of choice.