EPIC, EPIC, EPIC!!
That really is the only way to sum up yesterday's events at Ho'okipa beach park for Day 3 of the AWT Maui Makani Classic! Everyone on the beach felt that history was being made as they sat on the hill and looked down at what most were calling the Greatest Show on Earth!
What happened yesterday will forever be remembered as a perfect combination of 3 things aligned to give us one of the best windsurfing contests in Ho'okipa history and also in windsurfing history. Those 3 things were 12 foot North Swell, 20 knot winds, and a mix of the best old school and new school windsurfers in the world together battling it out.
Heat by Heat
Head Judge Matt Pritchard decided to start the contest at midday and was running 20 minute heats with 2 waves to count. All the riders on the beach were super fired up and there was a real sense of anticipation mixed with a touch of fear in the eyes of all the sailors.
Repeatedly the riders were quoting that this was the stage they had been waiting for for a very long time. As so many come to train here this was going to be a day where THE best riders could take on THE best conditions at THE best windsurfing break in the world…… so no pressure then! Double mast high and even bigger sets rolled in and by the end of the day the conclusion was, there were no losers in any heats, everybody who went out there won their own personal battle with Ho'okipa and should all be commended for tackling what, at times, seemed almost impossibly difficult conditions.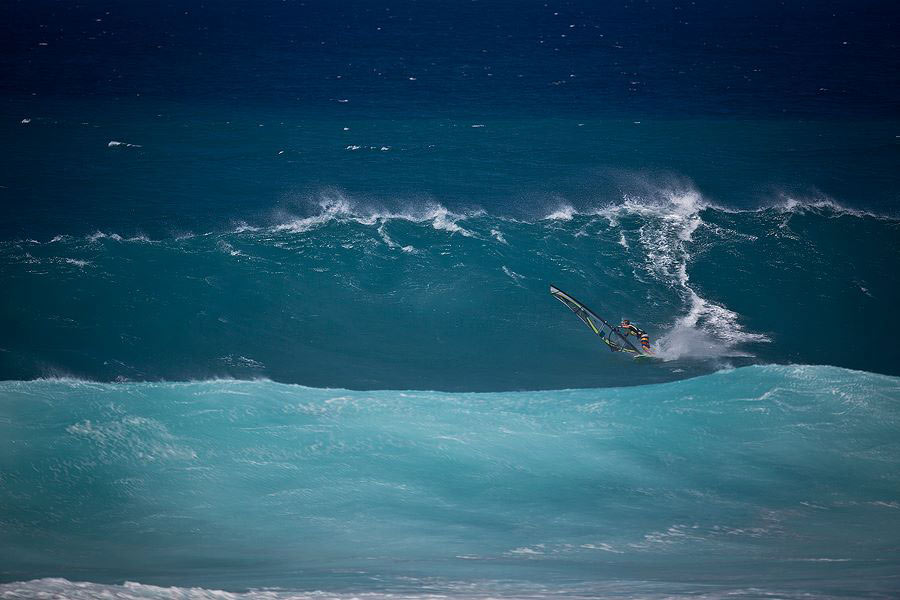 Heat 1
Heat 1 saw defending champion and title contender Camille Juban prove why he is such a force to be reckoned with. Picking off bombs and catching multiple waves with aerials and style he gave the judges a lot to work with and cruised into the nest heat. Legend and super nice guy Josh Stone proved how experience at Ho'okipa pays off as he pitted his old school knowledge against Juban's new school style and also went straifght through the heat after a very impressive opening performance.
Heat 2
Heat 2 saw an extremely impressive performance from Morgan Noireaux who caught bomb after bomb and boosted some big aerials to come 1st in the heat against another legend of Ho'okipa and old school master that is Pascal Hardy who proved he still has incredible style and courage on the waves and took 2nd place to advance through to the next round.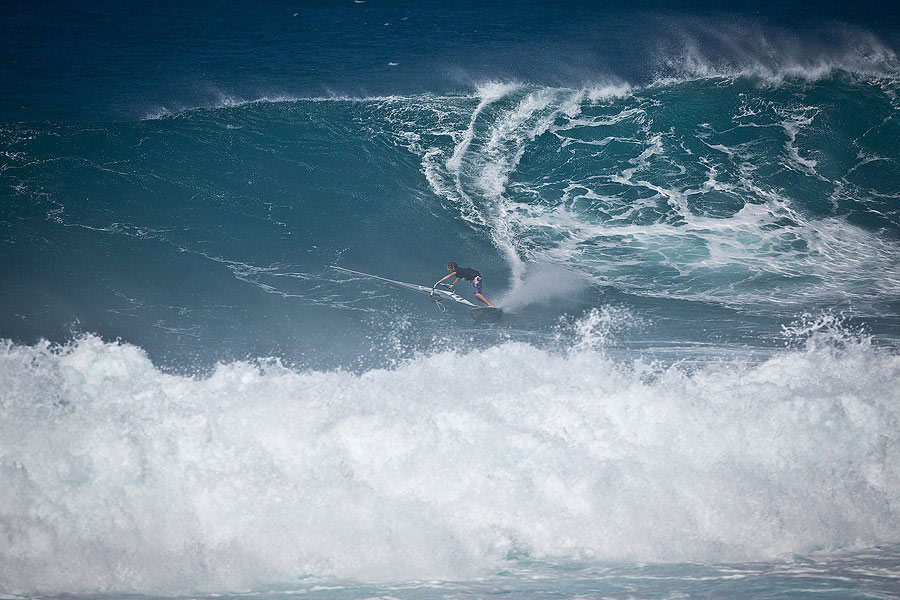 Heat 3
Heat 3 saw young gun Bernd Roediger absolutely rip and put on one of the performances of the day to take the win in his heat. At the age of only 16 this kid rips and was for sure one of the stand out sailors of the day. Taking 2nd place was Moroccan sailor Boujmaa Guillol who sailed to his usual reputation of going super big and super ballsy and rode some really big sets to help him pass to the 2nd round. Unfortuantely Nico took some trips on the rocks and became the first of many, many sailors to take a beating on the infamous Ho'okipa rocks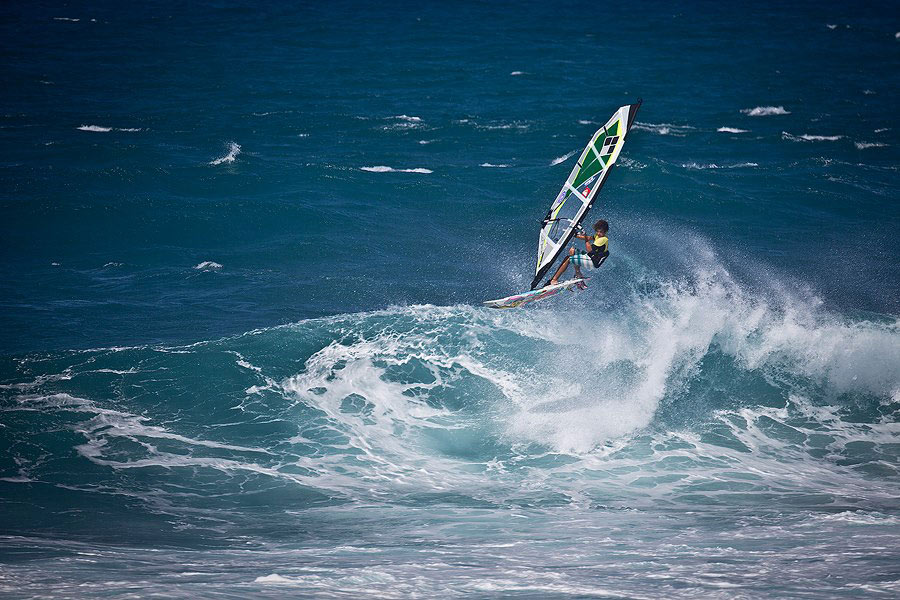 Heat 4
Heat 4 saw French man Fabrice Beaux also put in a very impressive performance, picking off the best waves of the sets and using them to their maximum by carving out huge turns and also some impresive aerials. Nick Warmuth also did enough to impress the judges and passed through to the 2nd round
Heat 5
Heat 5 saw the swell start to increase and the conditions became gnarlier as the tide pushed in and the current increase substantially. Marcillio Browne put on another one of the day's stand out performances with a really fluid style and gutsy hits on big sections. He was followed in 2nd place by Jazz who proved himself by tackling some huge sets and sailing very consistently
Heat 6
Heat 6 saw 2 absolute legend of the sport go head to head. New school waterman Kai Lenny took 1st place after what was defintiely in the top few stand out performances of the day. His local knowledge and surfing fluidity mixed with amazing agility and skill wowed all the spectators on the hill and the judges and he took 1st over old school hero Fransisco Goya. Goya showed no fear in smacking some of the biggest hits of the day and also a wonderful style on the wave to help him pass into round 2.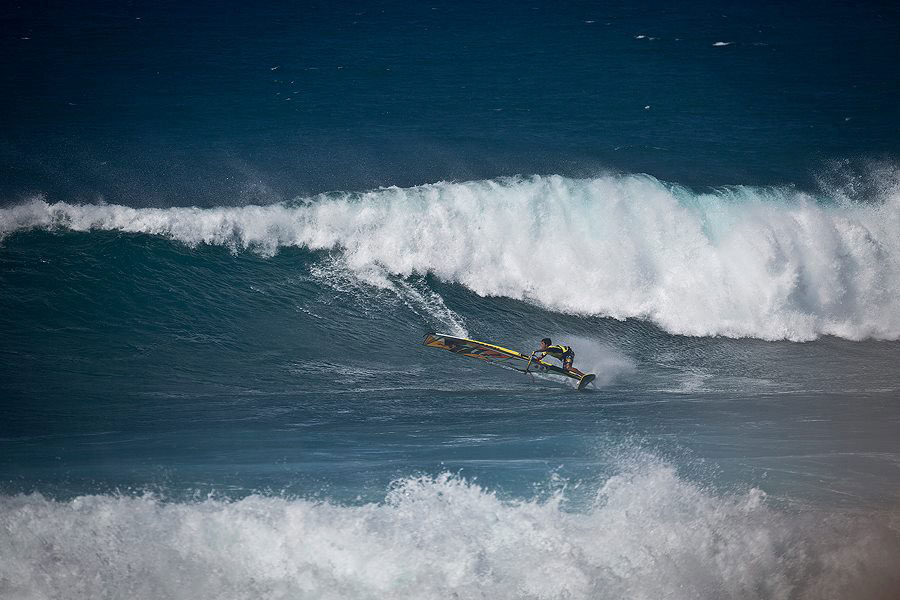 Heat 7
Heat 7 saw the Ho'okipa master to take to the water in one of the most anticipated performances of the day. Levi Siver absolutely shredded. He never once faultered in the seemingly impossible conditions, as by now the swell had grown with some double mast high sets. As usual Siver schooled the crowd on how to conquer Ho'okipa and the judges rewarded him with 1st place in the heat. Taking 2nd was a notable performance from Frenchman Leo Ray who cruised into the 2nd round also.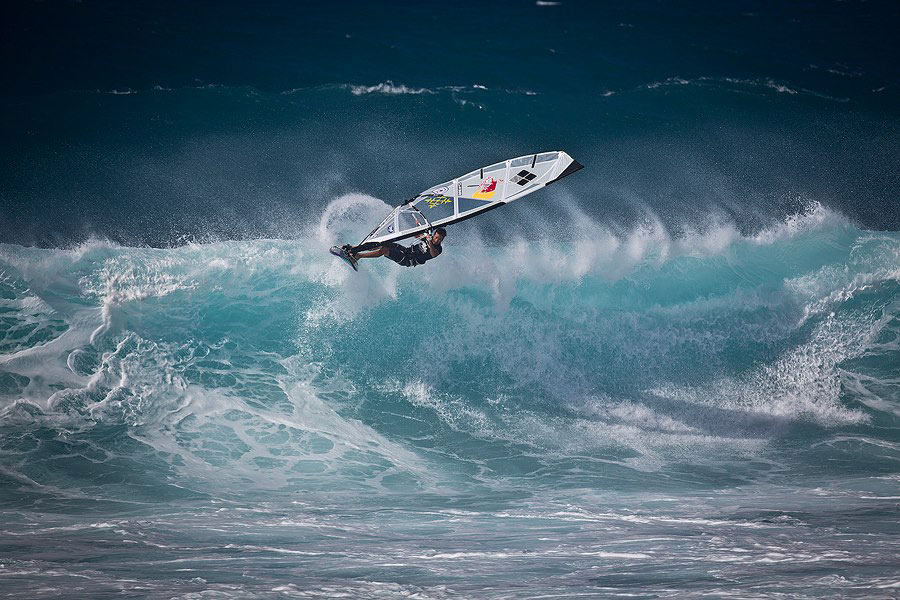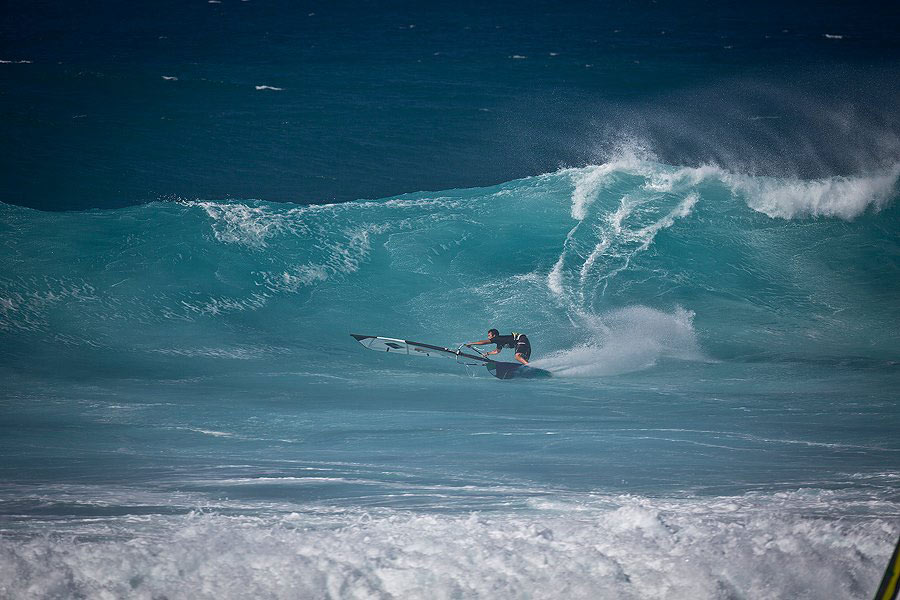 Heat 8
Heat 8 pitted 2 genuine windsurfing legends against eachother; Jason Polakow and Kevin Pritchard. Jason absolutley stunned the crowd with the most gutsy, consistent, huge aerials of the day. What seemed gravity defying proved achievable by Polakow's pure strength and courage and the crowd were left open-mouthed after his performance. Pritchard found his feet towrads the end of the heat and used his classic, fluid, natural style to lay down some amazing bottom turns and really surf the huge waves from beginning to end.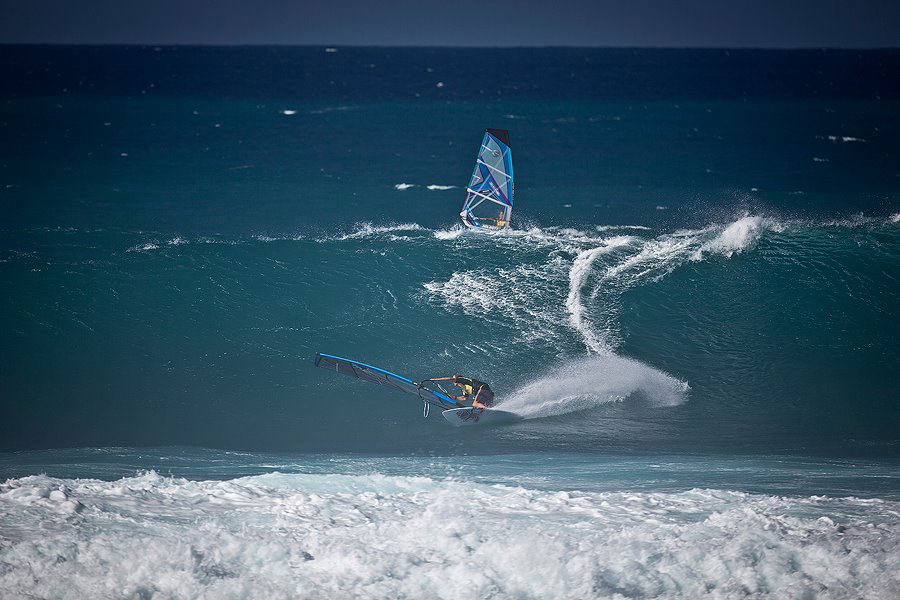 Heat 9
Heat 9 saw Nathan Mershon put on a solid performance with consistent riding and multiple waves, some double mast high, and he cruised into the 2nd round after taking 1st place in the heat. Brian Talma of Barbados was unlucky with his timing and got caught on the inside in the super light winds, which was becoming a theme for most sailors at this stage with near to no wind on the inside and heavy sets matched with huge currents pushing them either onto the rocks or down to Lanes. He unfortunately took a trip on the rocks and did not progress through. However Bryan Metcalf Perez, the freestlye champ from the Gorge proved he also has huge skills in the waves and put on a very solid, confident performance to take him into round 2.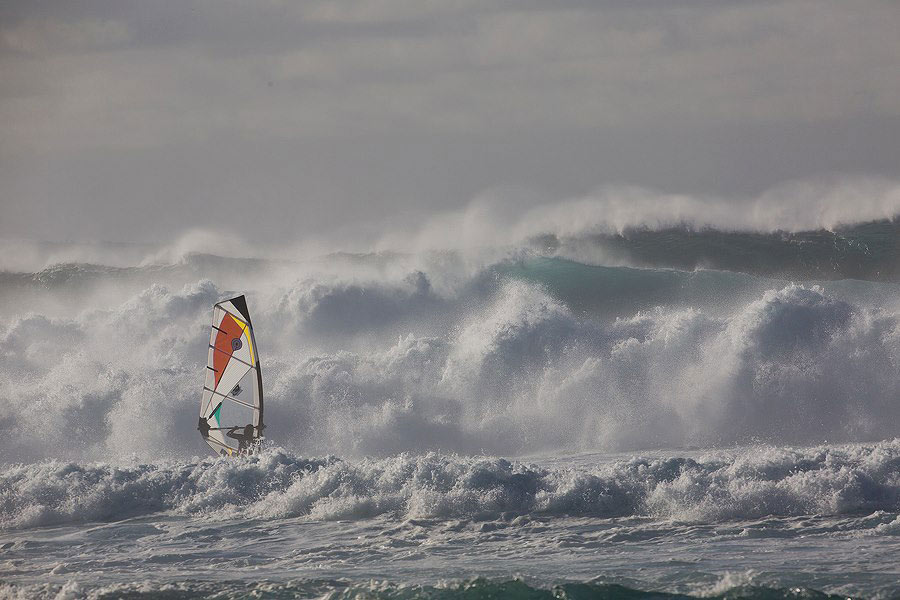 Heat 10
Heat 10 saw Robby Swift using his local knowledge and skills in huge waves to sail really consistently and gouge out some big, heavy turns. But the man of the moment and the guy everyone was talking about afterwards was Rudy Castorina who boosted the ballsiest, biggest, most insane aerial of the day on a doube-mast high wave and landing cleanly out the front. This, paired with epic riding pushed him into 1st place for the heat.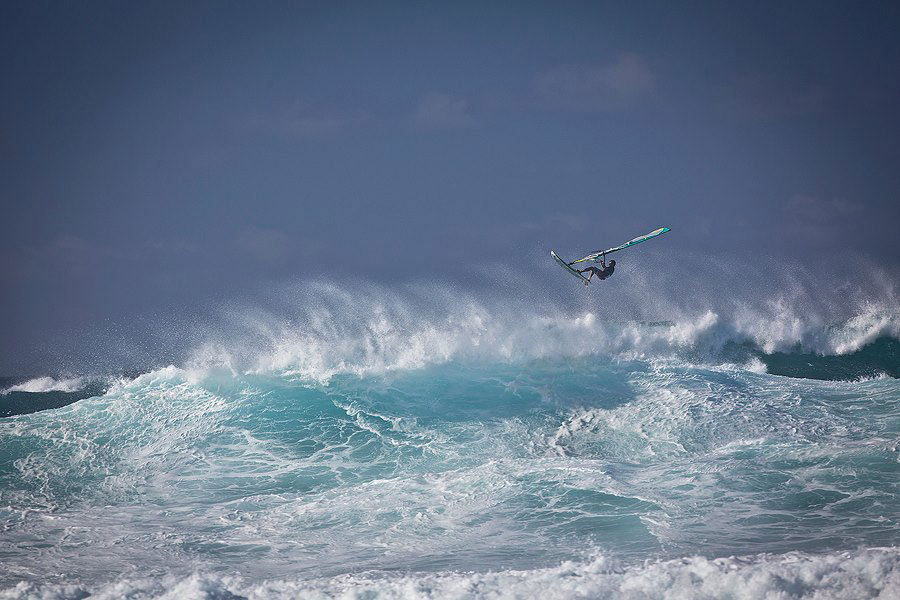 Heat 11
Heat 11 saw an amazing performance from Simmer man Kai Katchadourian. For sure one of the most solid, consistent performances of the day. He stood out as the sailor of his heat with huge wave after huge wave that he tore to shreds. Coming 2nd was also a very notable performance from Aurelian Nichol who proved he was one to watch for the upcoming round 2. Unfortunatley Italian Loffreda was stuck downwind and ended up taking a trip on the rocks, resulting in a broken boom and mast and a bruised nose.
Heat 12
Heat 12 was the last heat of the 1st round and we saw Fransisco Porcello dominating on his Simmer gear and showing how experienced and confident he is in huge swells. He took 1st place over Nat Gill who came in 2nd after 2 solid wave rides and closely edging out Gorge sailor Casey Hauser.
Heat 13
Heat 13 was the last of the day and by far the most impressive. Everyone watching was stunned as Josh Stone proved beyond doubt his legendary Ho'okipa status. Boosting a Gigantic aerial off a double mast high wave and landing cleanly in front of the crowds. Everyone was stunned. Closely followed by Camille who again showed no faultering in his style and consistnecy to take 2nd place. This was narrowly taken over an extremely strong performance by Morgan Noireaux and Pascal Hardy. This heat proved that even by the 2nd round of this contest the competition is fierce and it takes something really special to progress through.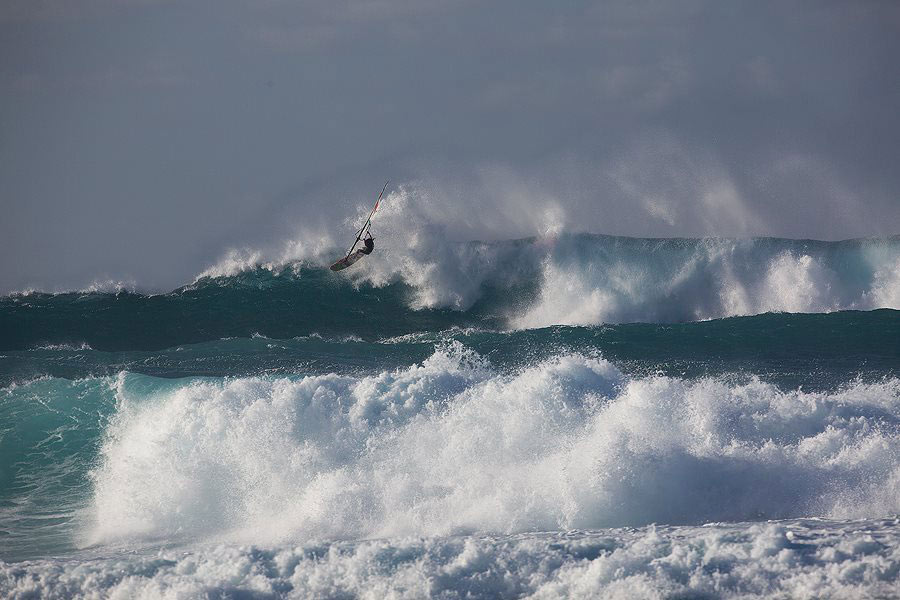 TODAY'S ACTION!
Today, Sunday 28th October is GO for Ho'okipa! Following a tsunami warning late last night there has been no damage to the beach and Ho'okipa IS OPEN!! So come down for skipper's meeting at 10am and lets see the guys put on an epic show all over again!