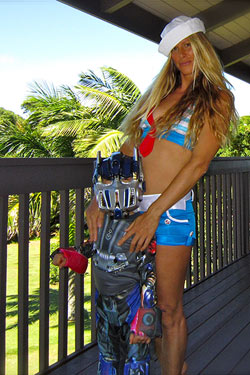 1. Name, age, category, nationality, years windsurfing
Shawna Cropas. 39. Canadian. 15 years.
2. Expectation- what do you hope to get out of the event?
A good time sailing in decent Ho'okipa conditions.
3. Who is your Windsurfing hero at Hookipa?
Anyone who is having the most fun on the water at anytime!
4. How many times have you ended up on the rocks? (Rock Star status)
A handful of times… Hope I haven't jinxed myself.
5. Whats your favorite no-wind activity on Maui?
Surfing, working on the garden, catching waves with my son at Pavils and snorkeling.
6. Whats your Halloween costume for the contest?
Probably a sailor.
7. What are your dream Hookipa conditions?
Today. Big waves and exciting conditions with manageable winds.
8. Who are your favorite friends to go sailing with?
Rob Jones, Niall Melon, Jamie Knox and all the rest of the crew from Ireland.
9. Whats your favorite song to get you pumped before your heat?!
Favorite music to listen to at the moment is Ben Howard's Album Every Kingdom.