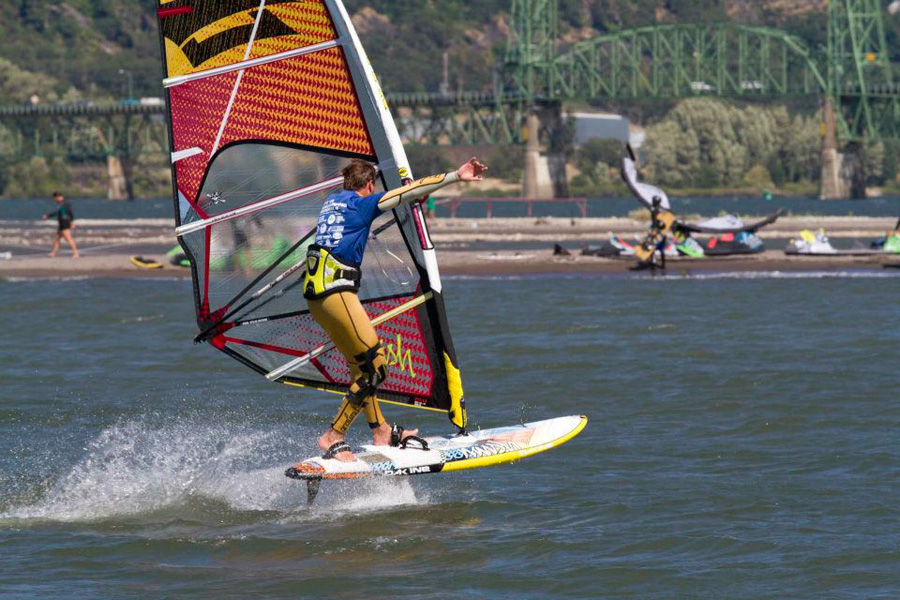 Day one at the 2012 US Windsurfing Nationals presented by the American Windsurfing Tour was blessed with great wind, flat water and some intense freestyle action. An entire double elimination featuring head-to-head heats was held for the pro men along with four single elimination final heats for the women. Competitors came from all over, including California, Canada and even Aruba! Let's look at all the action in a little more detail…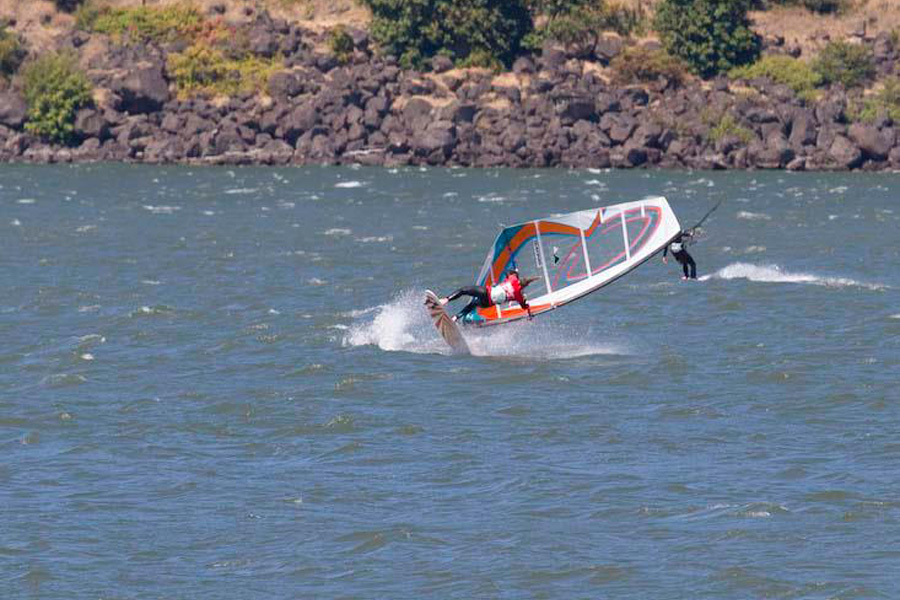 Women's Action:
When the women hit the water the judges were suddenly thrown into a state of confusion. These heats pitted two new school freestylers, Ingrid Larouche and Tanya Ferguson, against the incredible longboarding style of Jacquie Barone. Which move should score higher: a Spock or doing the splits while Railriding? It was like watching two completely different sports, so it was decided to crown both a new and old school freestyler in the women's division… Ingrid Larouche and Jacquie Barone respectively!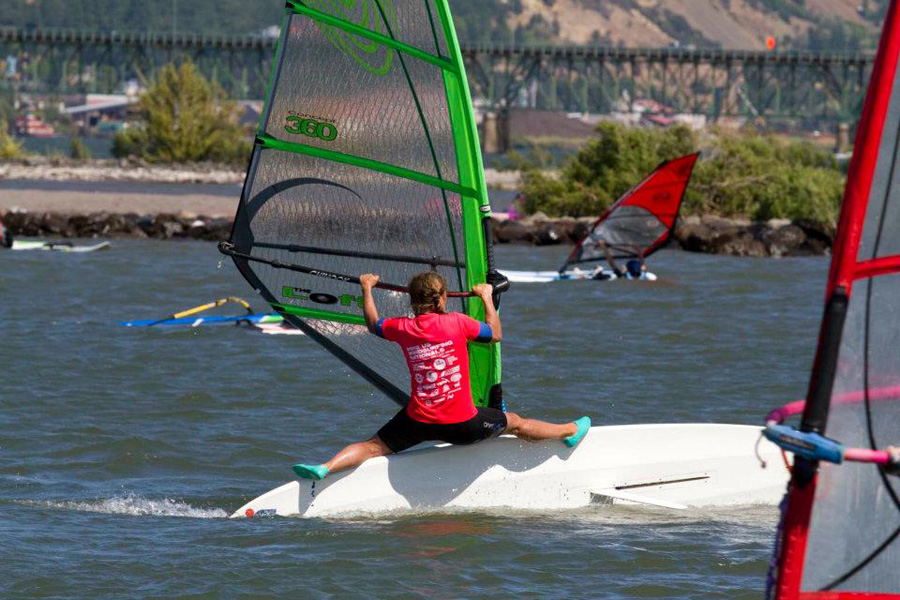 Men's Action:
The single elimination started with a bang as the World Under-17 Freestyle champion Steven Max landed a clean Culo right near the beach. This set the standard and everyone knew they'd need to bring their A-game to beat this incredibly talented kid. The closest heat of the first round saw Casey Hause narrowly edging out Canadian Dan Thomson. Hauser ended the heat strongly after a rough start to just overtake Thomson who was sailing very well. The final of the single elimination came down to a showdown between San Francisco Bay area sailors Wyatt Miller and Jordan Reid. It was an impressive show with Miller taking it after landing his signature Gozada—a switched stance back-to-sail Spock variation.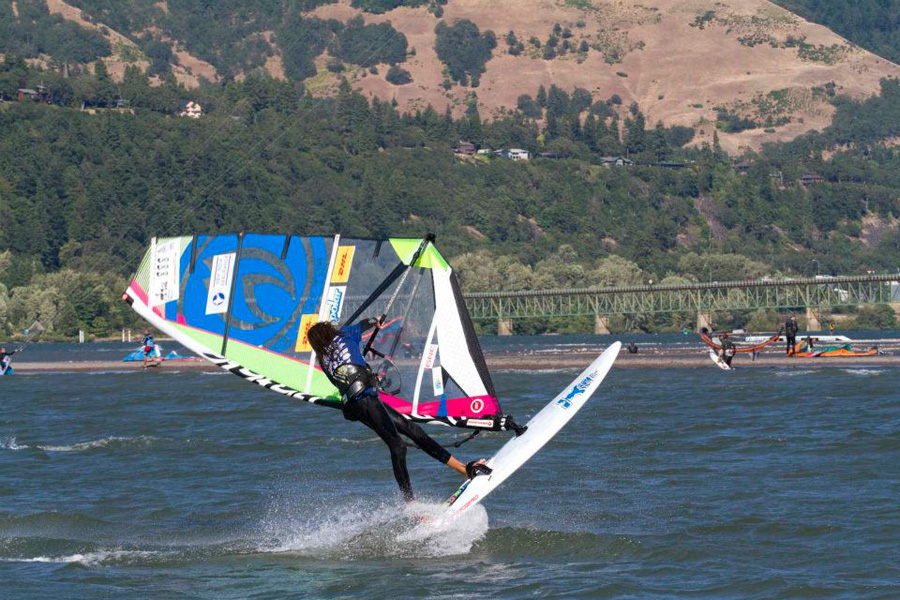 The double elimination started off impressively for two brothers who came all the way across country from Ontario, Canada: Adam and Tom Wojtkowiak. Not only are these two young freestylers competing but they are also producing the videos and many of the photos for this event. Unfortunately for them they each had to deal with sailors who were definitely on fire, Steven Max and Casey Hauser. With Max and Hauser taking out the Ontario brothers they now had to battle each other to keep advancing. Hauser sailed and great heat hitting tricks like a Funnel and double Flaka, but it was not enough to defeat the junior champ from Aruba. Up next for Max was Jordan Reid… a true contest of talented new-schoolers. The cold-ish water (compared to Aruba) and long days of travel prior to the event seemed to hit Max at the wrong time as he missed his Culo despite nailing almost everything else, and was not enough to take down Reid's double Spock, Kono and Shaka Flaka. So the final was set: Jordan Reid vs. Wyatt Miller.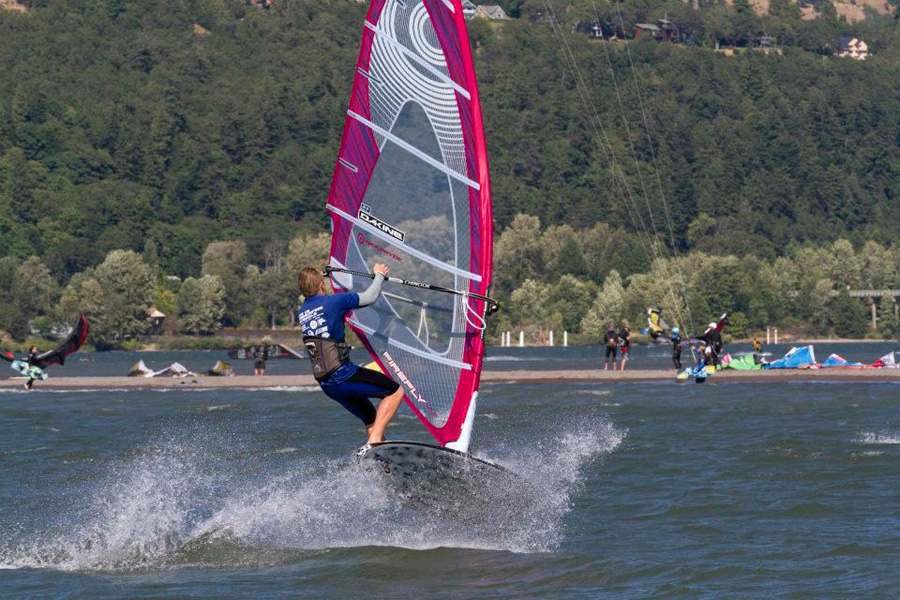 Men's Final:
The wind was getting a little fluky so Miller pulled out new 6.0-meter sail that he'd never really freestyled on before. It looked like it was working well for him in the lulls, but there were enough gusts that he definitely didn't look like the "Miller-time" who dominated the single elimination earlier. With the door wide open Reid took full advantage sailing a strong heat and taking the final over Miller. But, with this being the double elimination it meant that they'd have to sail again… and Miller re-evaluated his gear choice opting for his smaller freestyle sail. The choice definitely paid off for Miller, as he was back to form ripping through every move. Reid seemed a little off his game in the final allowing Miller to take the victory.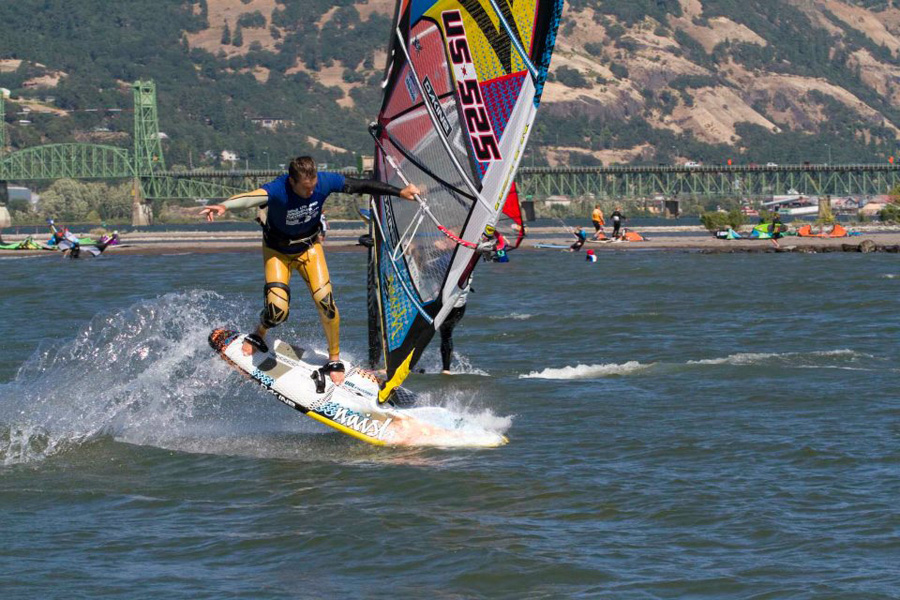 Congrats and thanks to all the sponsors, competitors, organizers and volunteers for making this an amazing event! Sponsors of the 2012 US Windsurfing Nationals include: American Windsurfing Tour, AWSI, US Windsurfing, Sailworks, Oregon Sports Authority, Big Winds, G-42 IT, Nolimitz, Vector Fins, Makani Fins, Black Project Fins, Mistral, Northwave, Starboard, Vela, 101 Surf Sports, Windsport Magazine.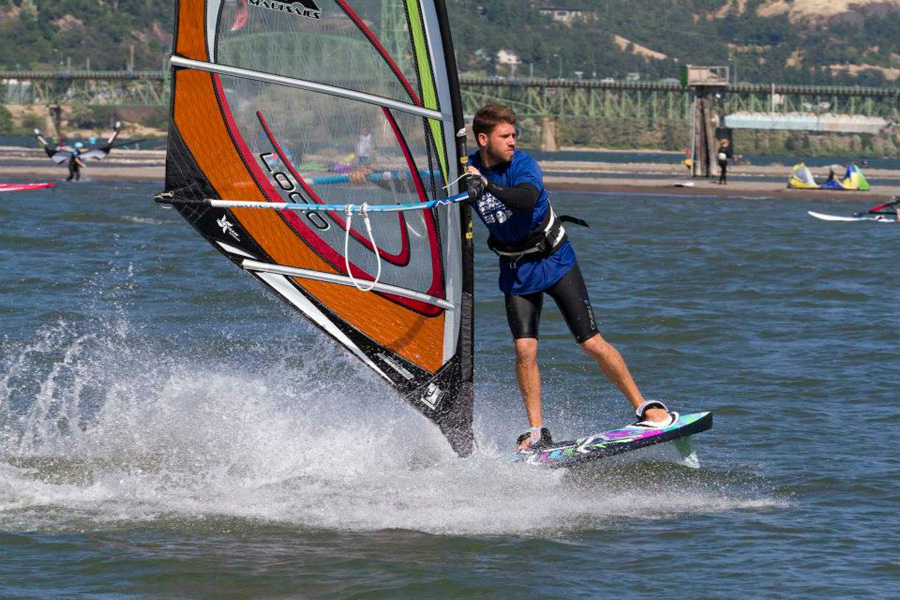 Day One – Freestyle Results:
Pro Men:
1. Wyatt Miller
2. Jordan Reid
3. Steven Max
4. Casey Hauser
5. Adam Wojtkowiak
5. Tom Wojtkowiak
7. Dan Thomson
7. Jay Watermeyer
Pro Women (shortboard):
1. Ingrid Larouche
2. Tanya Ferguson
Pro Women (longboard):
1. Jacquie Barone