We were expecting big things from the final day of competition here at Ho'okipa Beach Park, and we were not disappointed. The wind was blowing as soon as we got to the beach this morning and some mast high sets were still rolling through, so it was straight into the semi-finals and then finals of the Pro Men and Women. The judges were expecting big things, and adjusted their scales to suit, leaving room for the exceptional rides they predicted were to come.
Morgan Noireaux
Pro Men
We opened up with the first semi-final of the Pro Men, and it was Levi Siver that threw down first. Siver got some good turns on his first wave, but the wave closed out before he could do much more with it. Morgan Noireaux immediately answered back with a massive 8.83 score, racked up with perfectly timed, critical hits. Bernd Roediger laid down a big goiter, grabbing a high score. Siver managed to get a good connecting wave, whilst Bernd hit the lip and boosted a big aerial on another wave. Kai Lenny scored wave after wave, hitting the lip on massive set waves, but Lenny didn't go for anything bigger and struggled to match the scores of the other riders. It was Roediger and Noireaux that impressed the most and progressed to the final.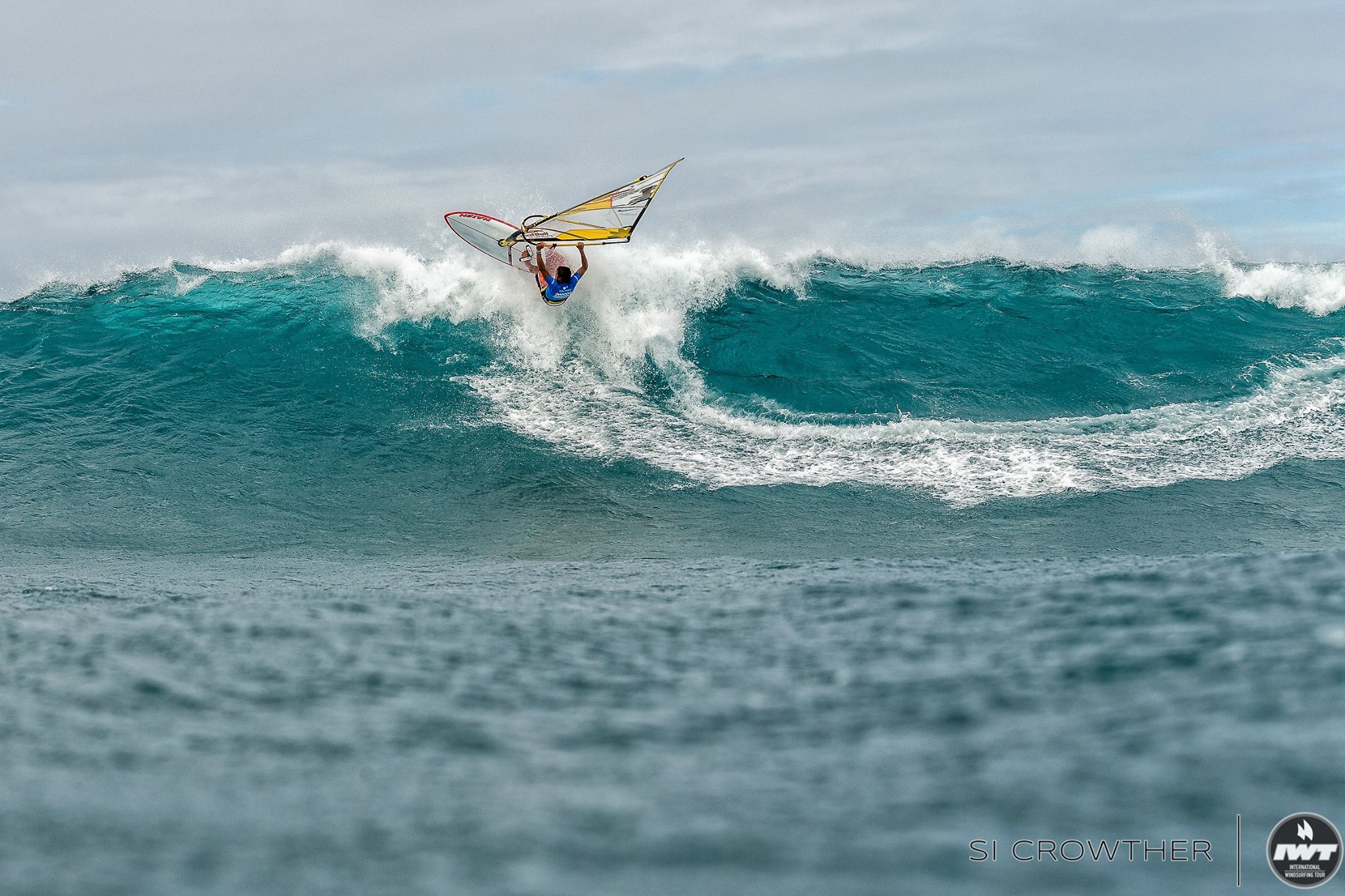 Kai Lenny
In the second semifinal Kevin Pritchard opened up with a nice solid wave; Camille Juban answered back with some clean turns on a medium sized wave; Juban tried a one-handed goiter and almost pulled it off but couldn't quite stick the landing. Juban and Boujmaa Guilloul were going big early on in the heat, while Pritchard racked up solid scores, getting right under the lip, hitting one handed aerials and very late hits. Graham Ezzy got a good wave and snuck a 360. Juban then lined up on a wave and landed a massive head dip aerial, following with a nice turn. Pritchard impressed throughout the heat with amazing wave selection. He then got 3 vertical critical hits on one of the biggest waves of the heat. Juban hit another massive aerial, following it up with some critical turns too, which upped his score yet further. Pritchard then nailed a big 360, with follow up turns. Guilloul seemed to struggle to pick up waves in the heat and Ezyy couldn't quite catch the other's scores, so it was Pritchard and Juban that advanced.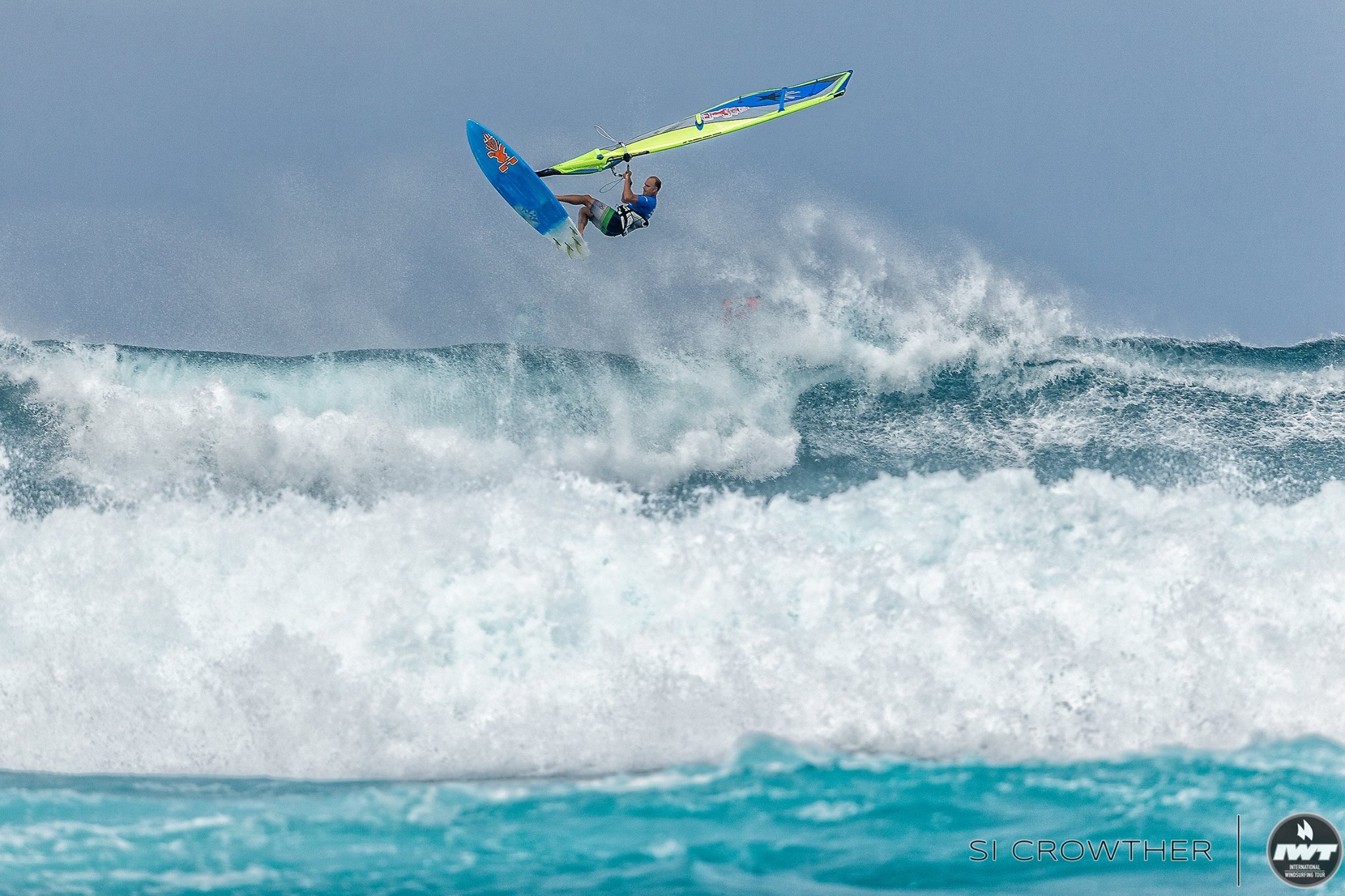 Kevin Pritchard
Pro Men's Final
Juban opened up the final with two aerials and a couple of critical turns on a good wave, Pritchard and Noireaux both answered back with combo waves of their own, just edging ahead of Juban. Roediger boosted a massive air on his first wave, but couldn't follow up with the turns he needed. Roediger then had an amazing flowing wave with a critical turn, clean goiter, straight into follow up turns. Juban got another wave with massive airs and hit the lip on his other turns.
The whole final kept pumping, with each of the guys pushing it harder and harder. Noireaux took a big set wave, hit the lip, and boosted a floaty air with more turns to follow. There were goiters all over the show, with very little to differentiate between all the riders. As the final comes to a close Juban made two massive hits on a big wave. Noireaux went for broke on his final wave, but couldn't land the aerial. Roediger was up next, going for it with a massive goiter right at the end; he almost nailed it, but just missed the landing. With less than 1 point separating these 4 riders that would have made all the difference with Roediger, but in the end it was Morgan Noireaux who took his third win at Ho'okipa.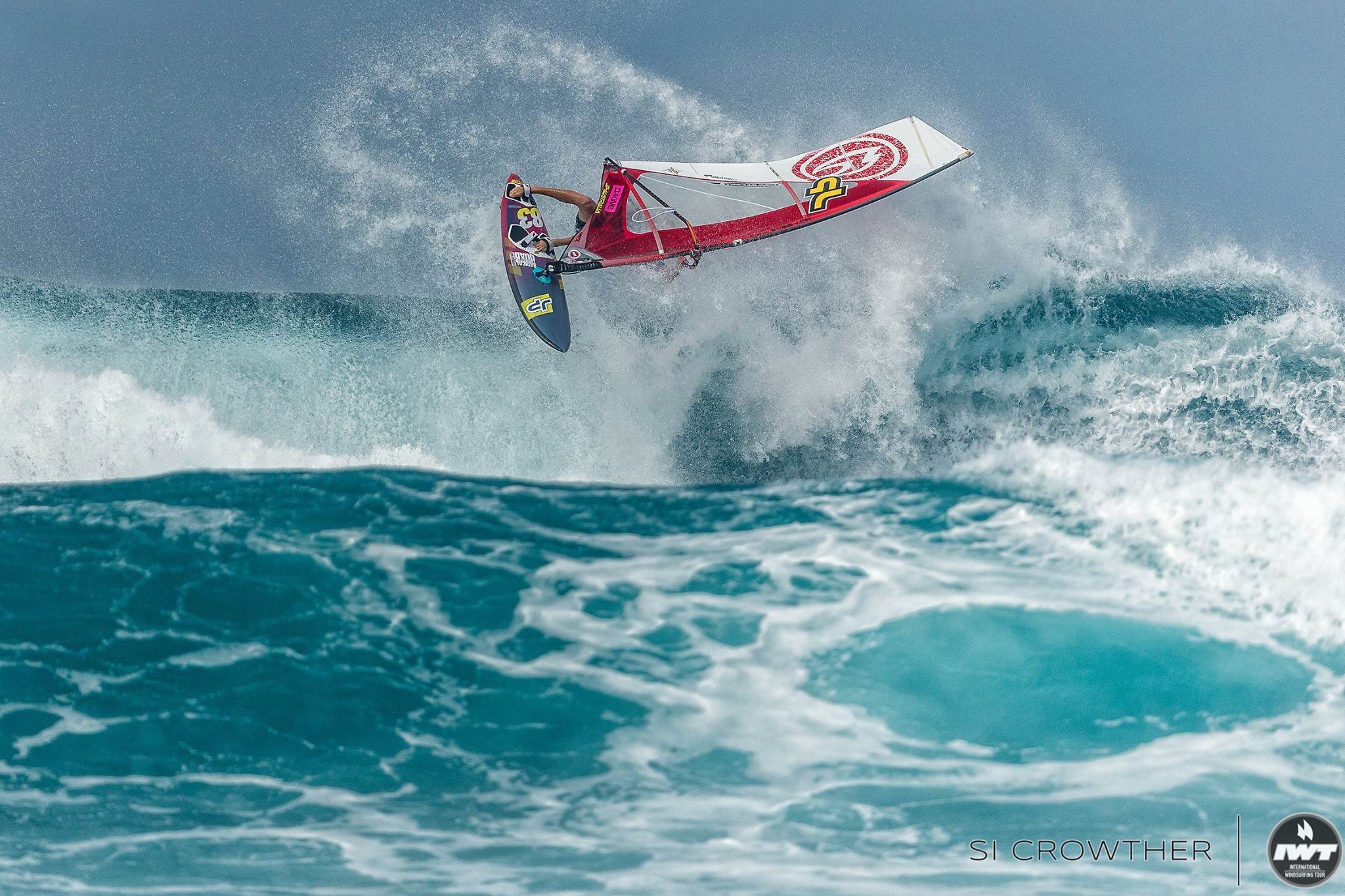 Morgan Noireaux – "I felt pretty good in the final; I started off with a really good wave and then from there I knew I wanted to get a wave a make a move on it. I ended up with another good wave and then I got a goiter that I was pretty happy with. Coming in at the end of the heat I knew I had done everything I could have done; this is pretty rare, I usually come in thinking I could have done a lot more so I was super happy. I don't like losing, and when you've won you haven't lost, so it's always good to win! That's why I compete."
Pro Women's Final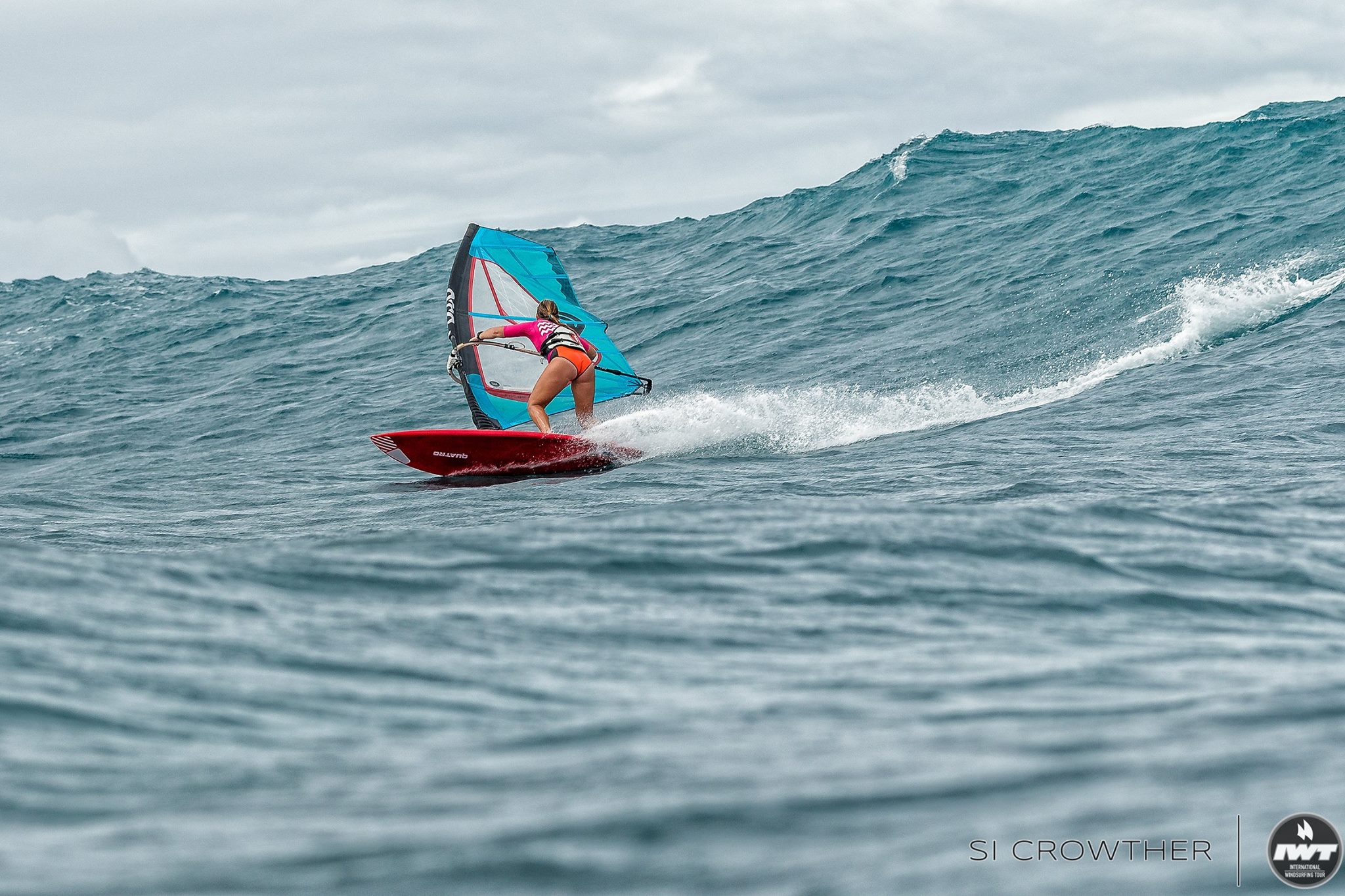 Vickey Abbott
The women's final promised to be a showdown between some of the best of the sport and it didn't disappoint. The first waves for all the ladies looked like their warm ups, it was on the second ones that they really showed what they are capable of. Sarah Hauser with full rail turns on a massive wave, and Tatiana Howard right on her tail with some flowing turns of her own. Hauser got better and better, getting more critical with each hit. Vickey Abbott picked up a great wave early on, and Shawna Cropas looked more and more comfortable as the heat progressed. Cropas got a bomb wave midway through the heat, while Abbott got another good one, with a few connecting turns before kicking out.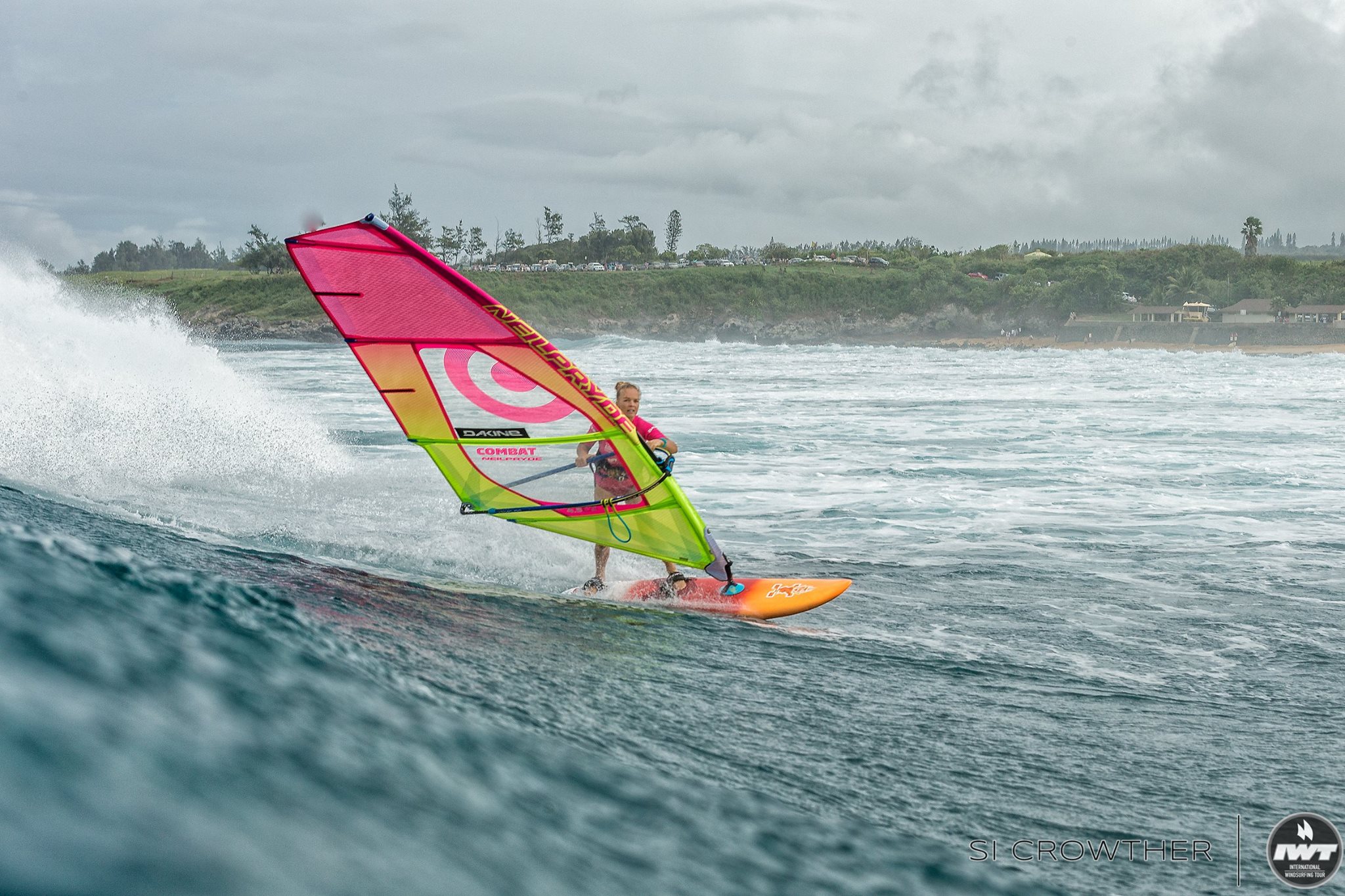 Tatiana Howard
A massive set came through toward the end of the heat, where all the riders picked up their best scoring waves. Hauser got two great turns on her wave, then absolutely smashed the lip on her final turn. Howard followed Hauser with a couple full connecting turns, while Abbott and Cropas both got their best waves too. Hauser ended a fantastic heat in style as she went for broke on her final wave. Hauser boosted a massive aerial that wouldn't have looked out of place in the Pro Men's contest, but couldn't quite stick the landing.
Sarah Hauser – "I crashed my first top turn and got pushed all the way to the bottom of the channel, and there was no wind! I really had to swim to get to the wind line, and that's how it started. I reset, told myself it's ok, and then the waves were fun! I built up my waves and started to feel more and more comfortable; then I had a wave that started to look like the wave I had fallen on yesterday! I had spent a lot of time thinking about why I fell, and I made it this time!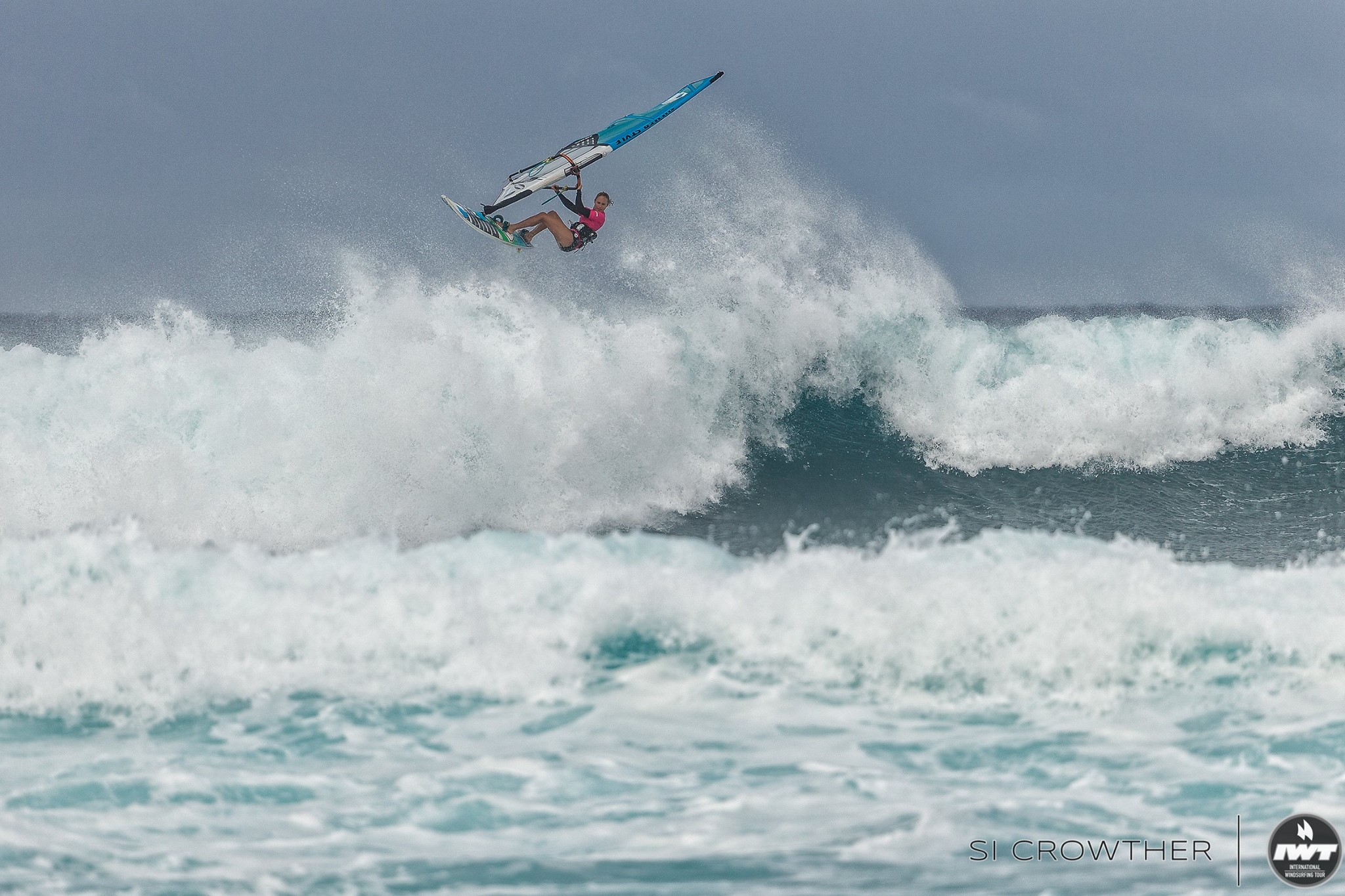 Sarah Hauser
"I am super stoked to win, I had no idea I had won until the end again; I kept seeing all the other girls getting big waves and making great turns. I know Tati is a threat out there because she is such a sick surfer, she really reads the waves at Ho'okipa very well. It is a dream to win the Aloha Classic; it has been so nerve racking all week, and I've been training super hard the last few weeks with Sam Campbell at Deep Relief. I was thinking about my dad too, as it's his birthday today; it just feels so good to have won!"
Judge's View – Duncan Coombs
"What a great finish to the Aloha Classic! Ho'okipa again produced some incredible conditions. We had mast high sets, side-offshore winds and some of the best sailors in the world. I don't think we've ever judged so many waves; it was a luxury to be able to have such long heats and I think it really pushed the level of the riders. We saw all the tricks come out of the bag. There were waves peeling through all the way from Green Trees, down to the point.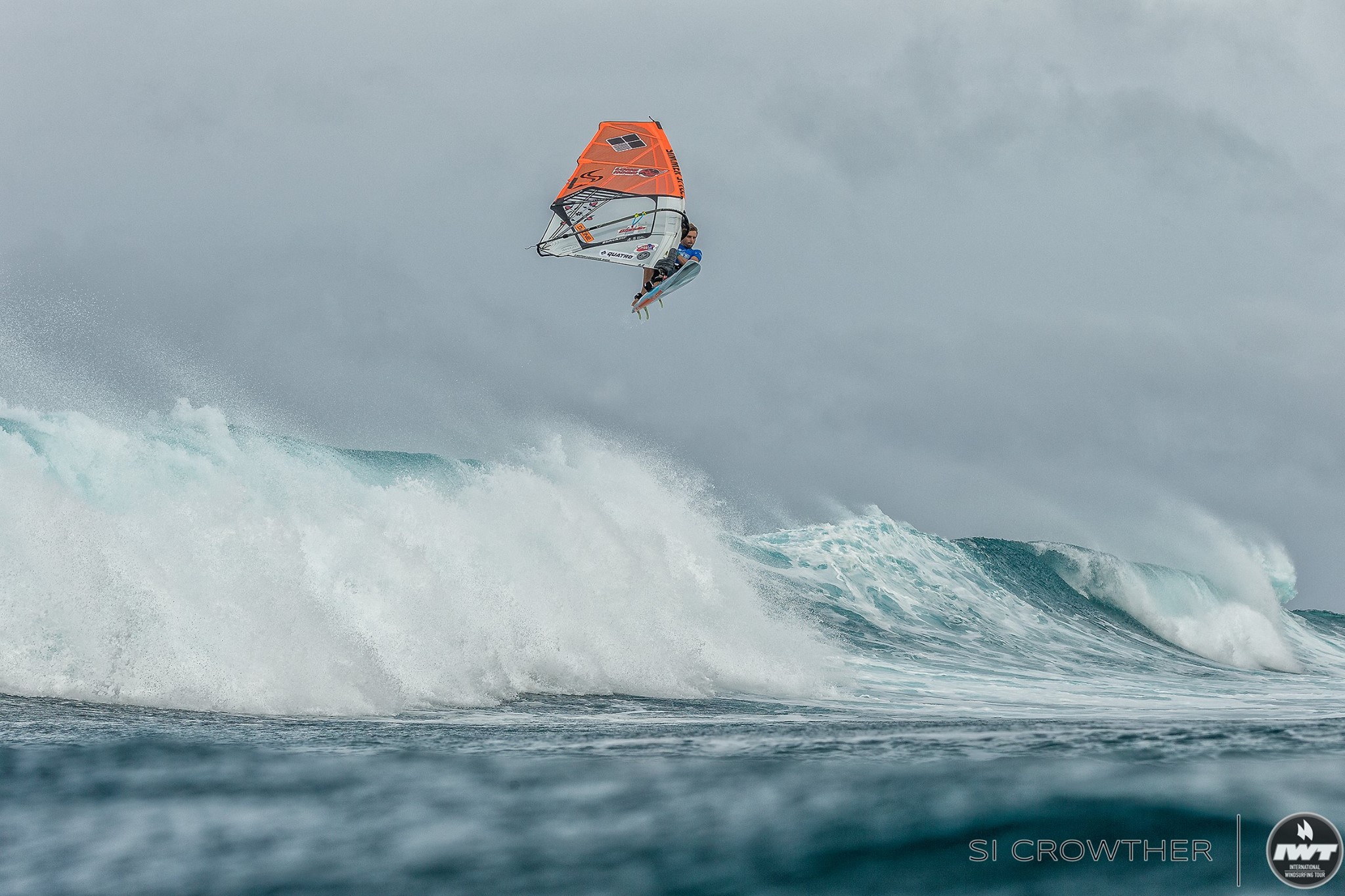 Camille Juban
"The level was so high, that semifinal with Camille and KP was absolutely breathtaking to judge. It was really hard work though! I'm really happy to have finished the contest with a bang; congratulations to Morgan Noireaux, hotly chased by Bernd Roediger. Had he of landed that goiter towards the end of the heat it could have been a different result. It didn't really go KP or Camille's way in the final, but maybe next time."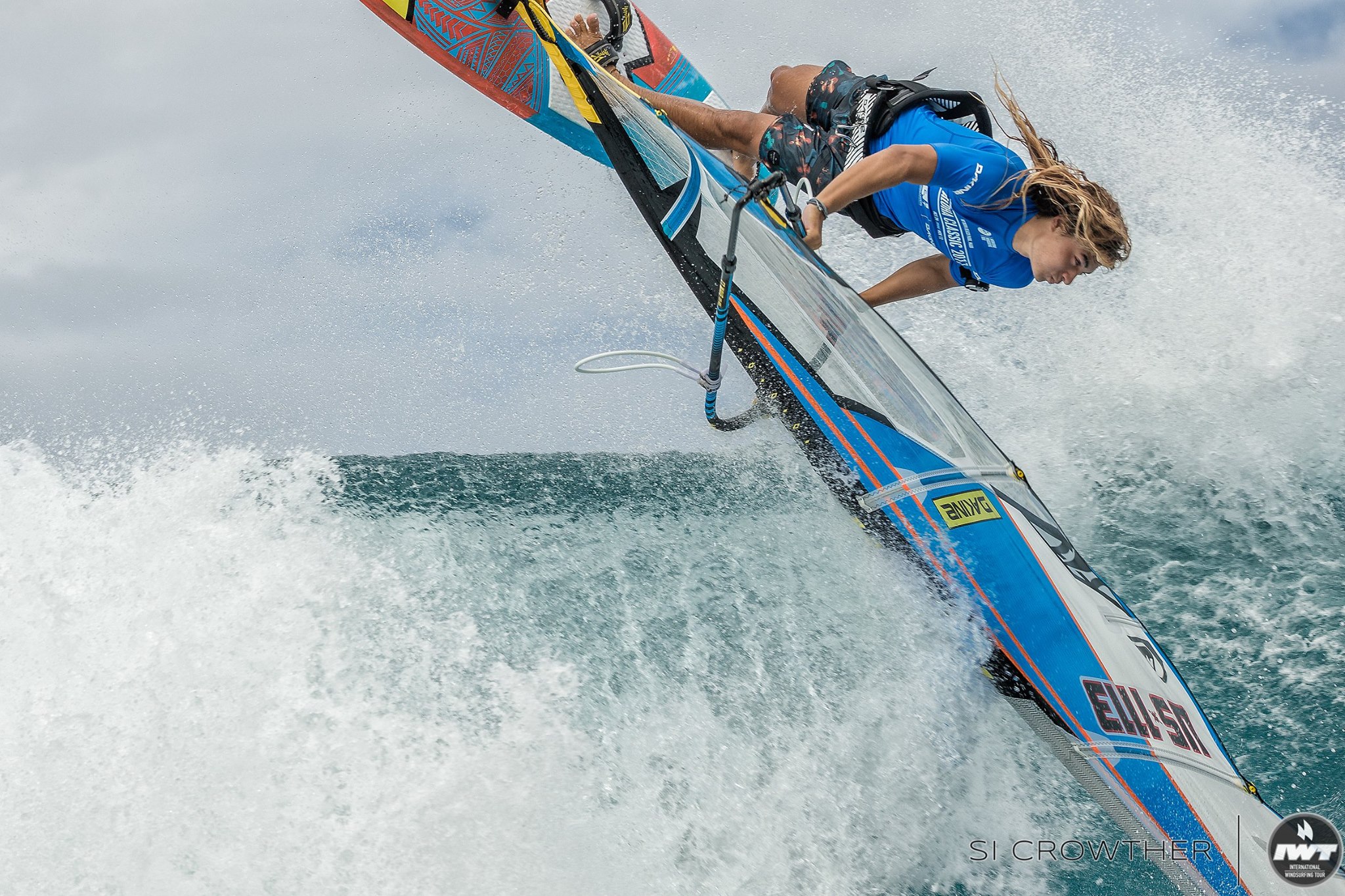 Bernd Roediger
"For the women, Sarah Hauser was the standout, I think all the training has really paid off and her big wave knowledge really came into play; she treats mast high Ho'okipa like it's something a lot smaller. The way she attacks the lip is unprecedented in the women's fleet. Great result for Sarah! The level of all the riders in the women's final was really high; they really pushed it. Let's hope next year goes as well!"
Tomorrow
We have finished the competition here at Ho'okipa, but join us celebrating the whole year of the IWT with a closing party at the Maui Tropical Plantation at 6pm – buy tickets here.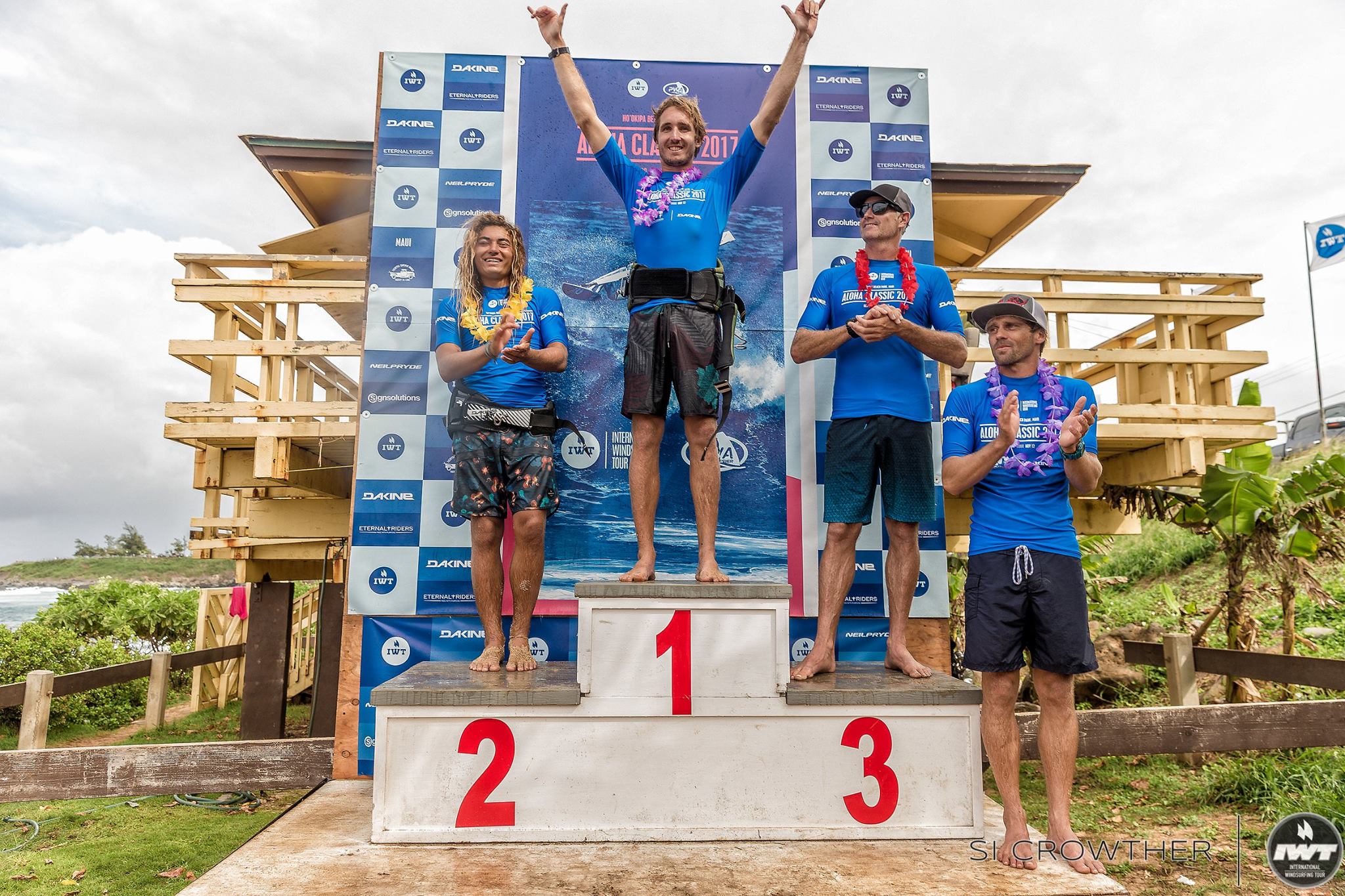 Pro Men's podium. 1st Morgan Noireaux. 2nd Bernd Roediger. 3rd Kevin Pritchard. 4th Camille Juban.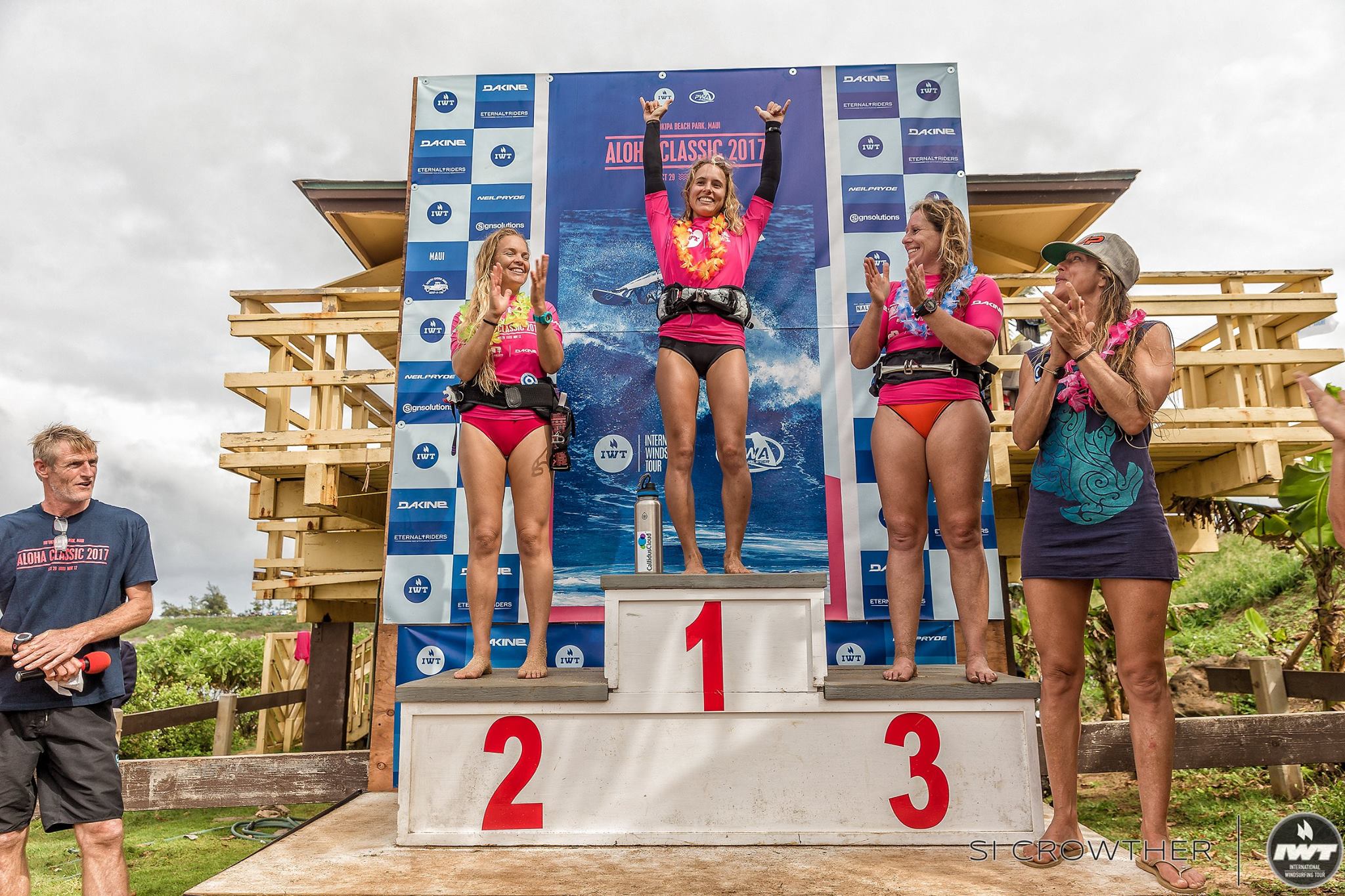 Pro Women's podium! 1st Sarah Hauser, 2nd Tatiana Howard, 3rd Vickey Abbott, 4th Shawna Cropas.
Stay tuned to the Aloha Classic website and social media for further updates. Follow us on Facebook, Instagram, Vimeo, and Twitter.
Media contact – Amy Carter media@internationalwindsurfingtour.com, All photos by Si Crowther.