We had been waiting all week for the best conditions to come through, to complete this year's Aloha Classic… and finally the wait was over. Mast high sets rolled through this morning, but the wind hadn't quite appeared as everyone had hoped. After an anxious wait the rain started to clear and the wind came through to join the north-northeast swell and the competition was on!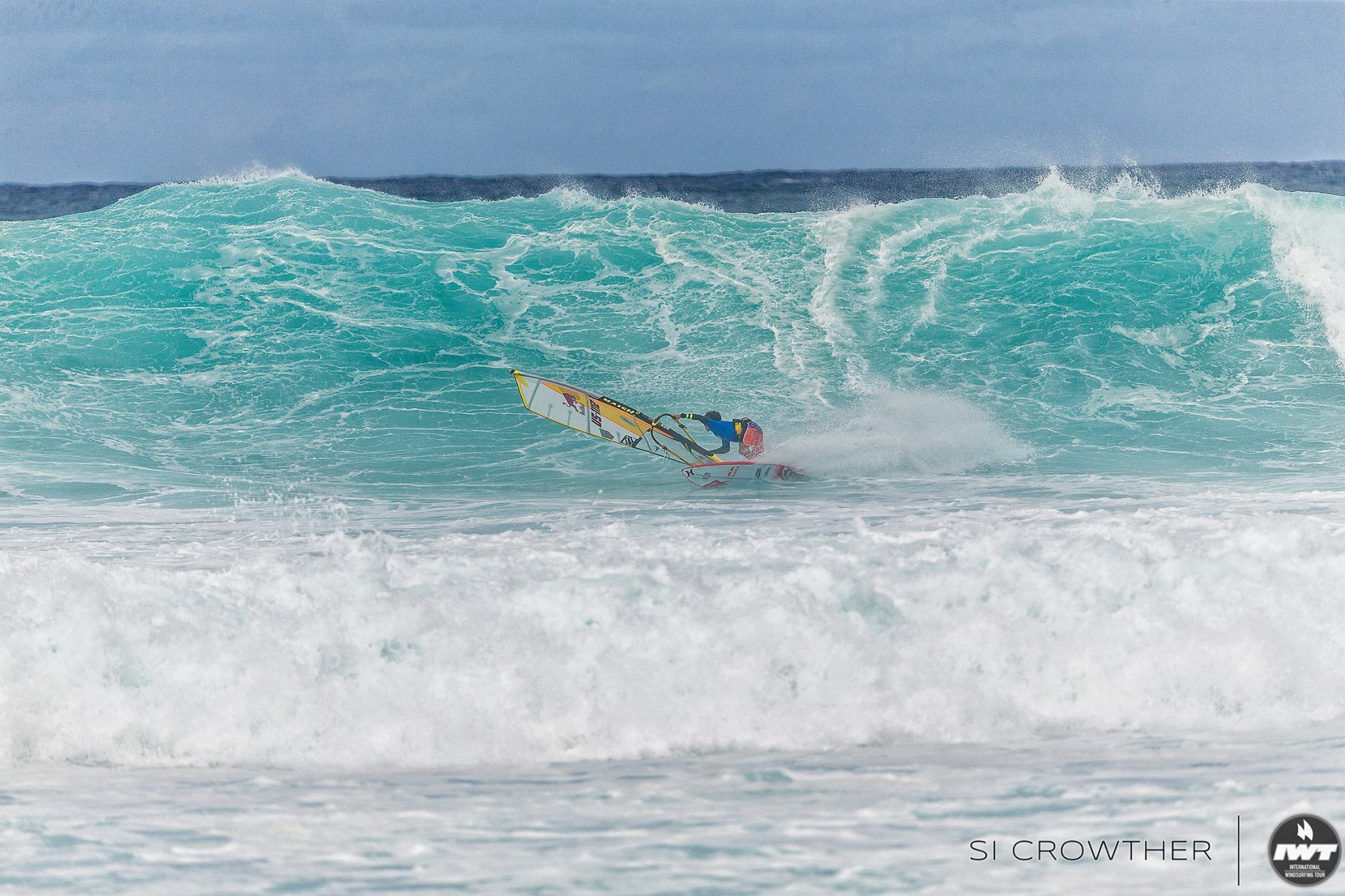 Kai Lenny
Pro Men
Heat 29 – In the first heat of the quarterfinals it was the Kai Lenny show. He scored wave after wave in his trademark style, casually picking up some mast-high waves and riding them with apparent ease. Boujmaa Guilloul was close behind Lenny, with a couple of incredible waves himself; he managed get right under the lip too, and showed the judges what they wanted to see.
Boujmaa Guilloul – "The heat was fun and managed to make it through on one of KP's boards! I am happy I borrowed his because the wind was light, there was so much current and the waves were big; I got caught on the inside for 5 minutes after my first wave, which was terrible. I made it out again luckily and managed to milk a couple of rides, nothing to be crazy about but was enough to squeeze through. Looking forward to more fun in the water!"
Heat 30 – Morgan Noireaux just had the edge ahead of Graham Ezzy in the next heat, they both showed their amazing style, and Noireaux showed a great deal of patience, using his insight to wait for the very best waves. Even though Noireaux's gear came apart in the middle of the heat, after a badly landed big air, this didn't phase him, Noireaux popped it straight back together and worked his way back up wind to rack up some more great scores.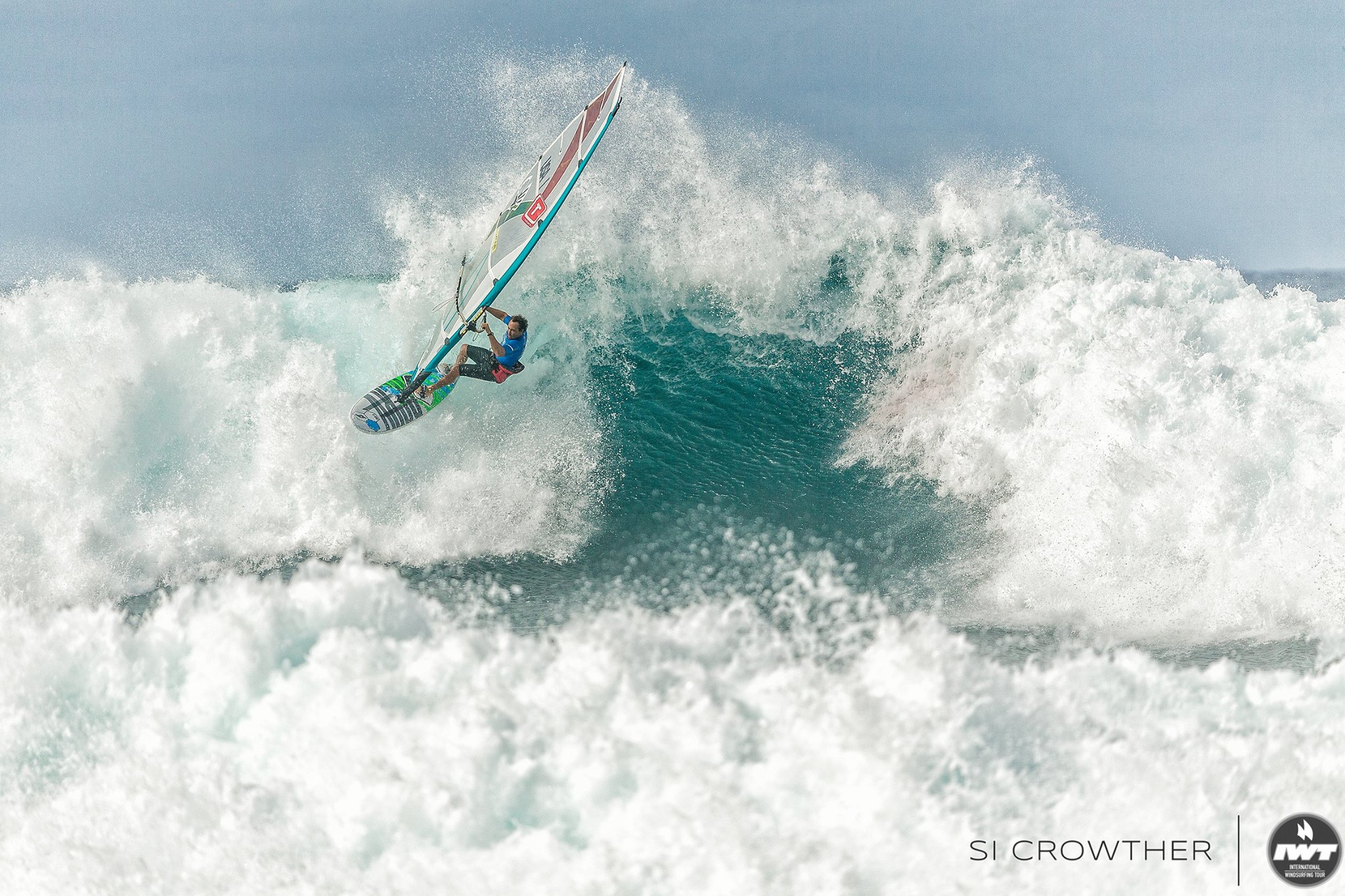 Graham Ezzy
Graham Ezzy – "The day started with rain and no wind. The voices on the beach were mostly pessimistic that the wind would show up at all. 2 o'clock is the unofficial cutoff for wind at Hookipa. If it doesn't show up by 2, the wind is probably not going to come at all. At 1:30, just as everyone was about to pack up, the clouds cleared and the whitecaps appeared. The first heats were tricky with big swell and onshore wind. The onshore winds make wave riding more about timing–we didn't have the wind to power out of mistimed situations. There was a moment during the day–the last few minutes of my heat and most of the next heat–where the winds turned sideshore and there were some really good waves rides had by all competitors. I'm really looking forward to tomorrow. The winds should be more easterly–offshore–and the swell should be a little smaller, which will be nice because today there were mogul sized chops on the bigger waves."
Morgan Noireaux – "Once the wind decided to cooperate the conditions turned out nice. We had some mast high sets with steady side shore winds. Choosing the right waves was critical as it could be pretty choppy at times. I had a bit of a strange heat with a few things going wrong but I earned an 8 on my first wave and second 8 on on my last wave, which was enough to see me through to tomorrow!" Image: Si Crowther.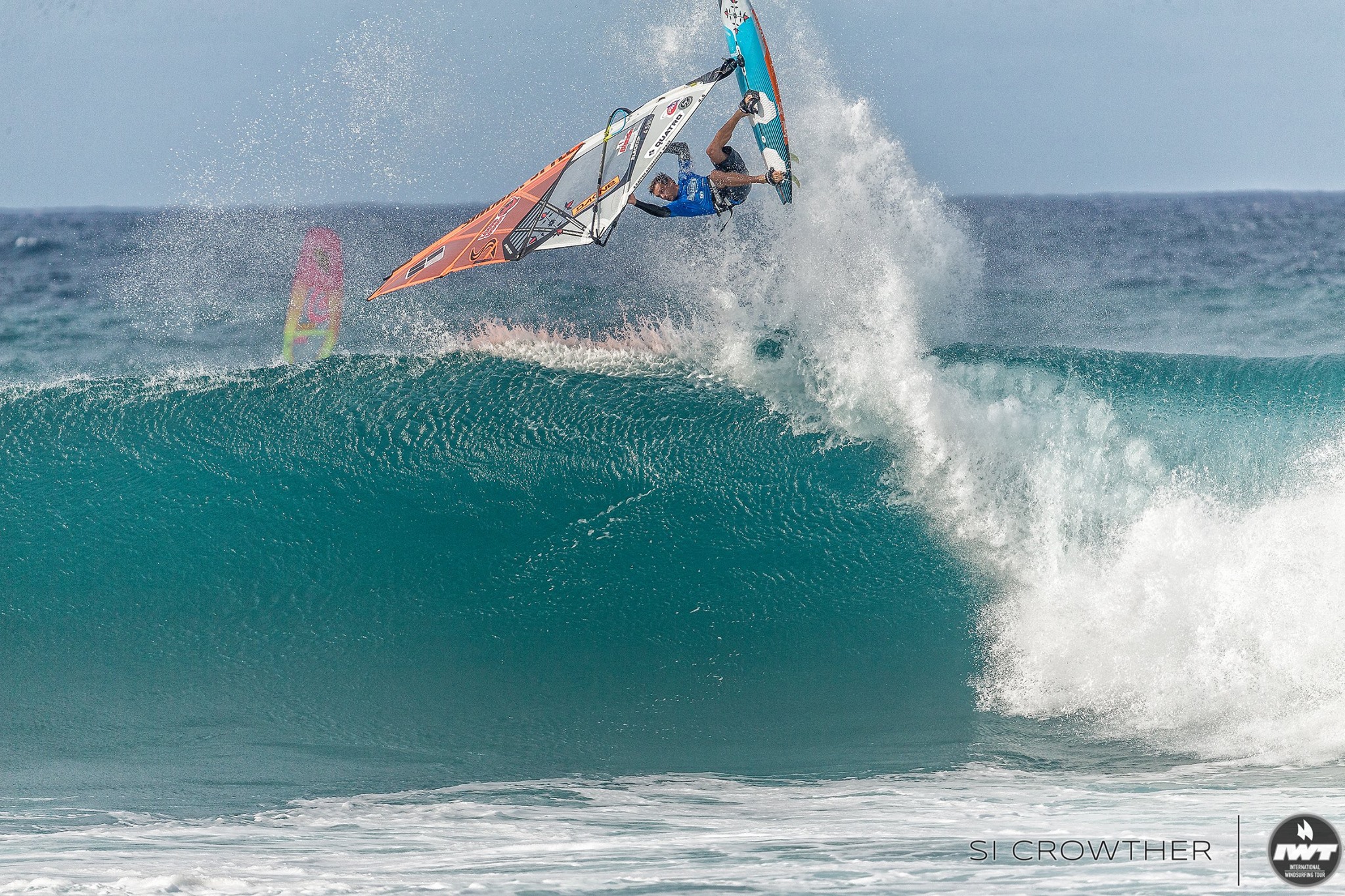 Camille Juban
Heat 31 – Bernd Roediger opened up the third heat with a massive goiter boosted straight up from the most critical of sections, and cleanly landed, scoring a massive 9.7 – one of the best aerial maneuvers we've seen in a long time! Robby Swift was comfortably in second place, with some excellently executed waves, but Camille Juban was hungry to advance. Juban lined himself up on a nice wave, got a couple of turns and then hit a massive 360. Juban followed up with another incredible wave, getting turn after turn, right in the pocket of the wave, which scored him an 8.7, giving him first place in this heat.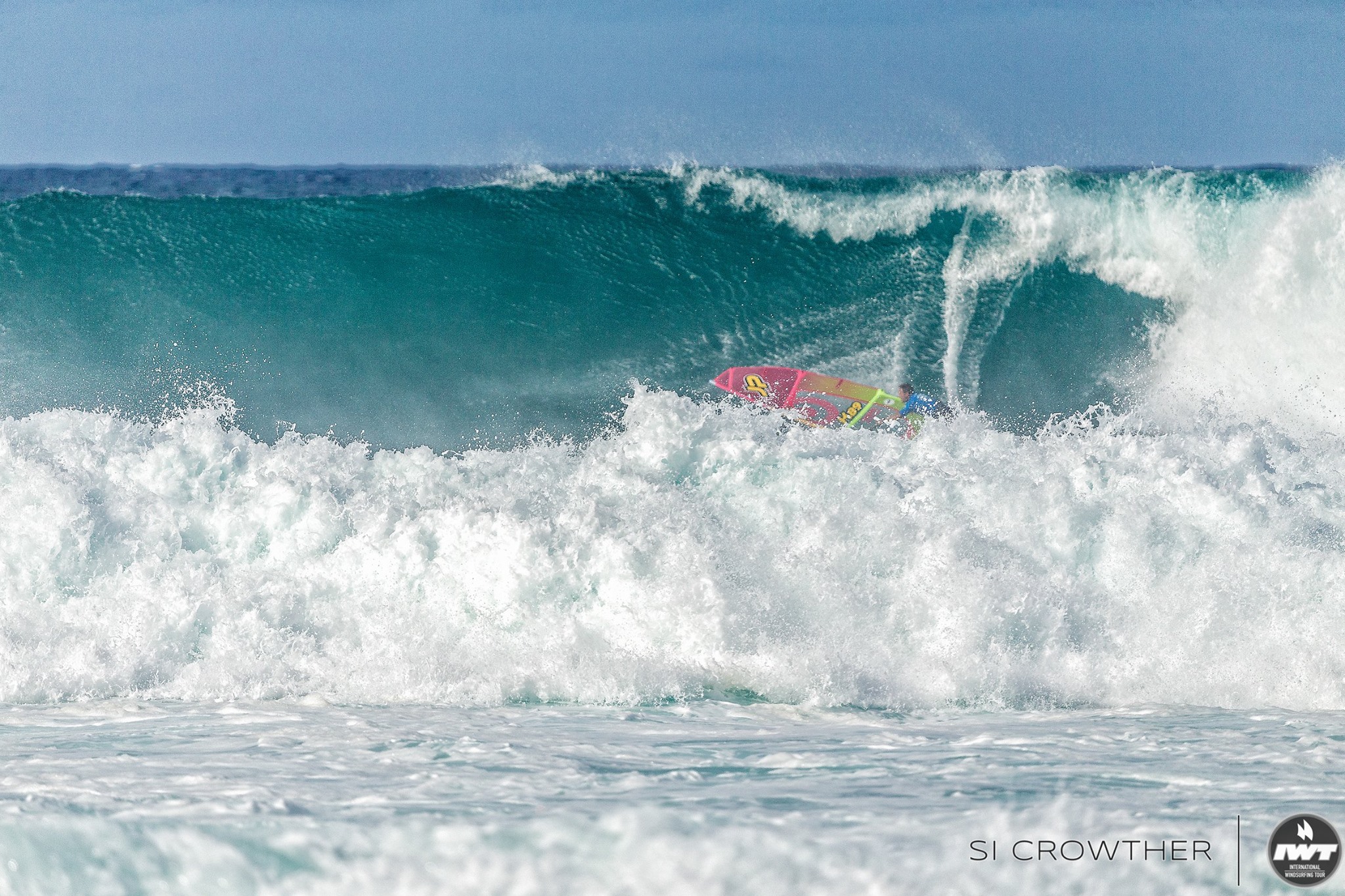 Robby Swift
Camille Juban – "So actually it didn't go that good for me until almost the end of the heat, because I had no scores yet! Conditions were not bad, but not easy and a bit tricky. I was able to pull a 360 on the last quarter of the heat; that gave me the confidence to make another good wave with good turns and finish 1st in this quarterfinal. I'm really happy to make it to the semifinals because that was tough heat!"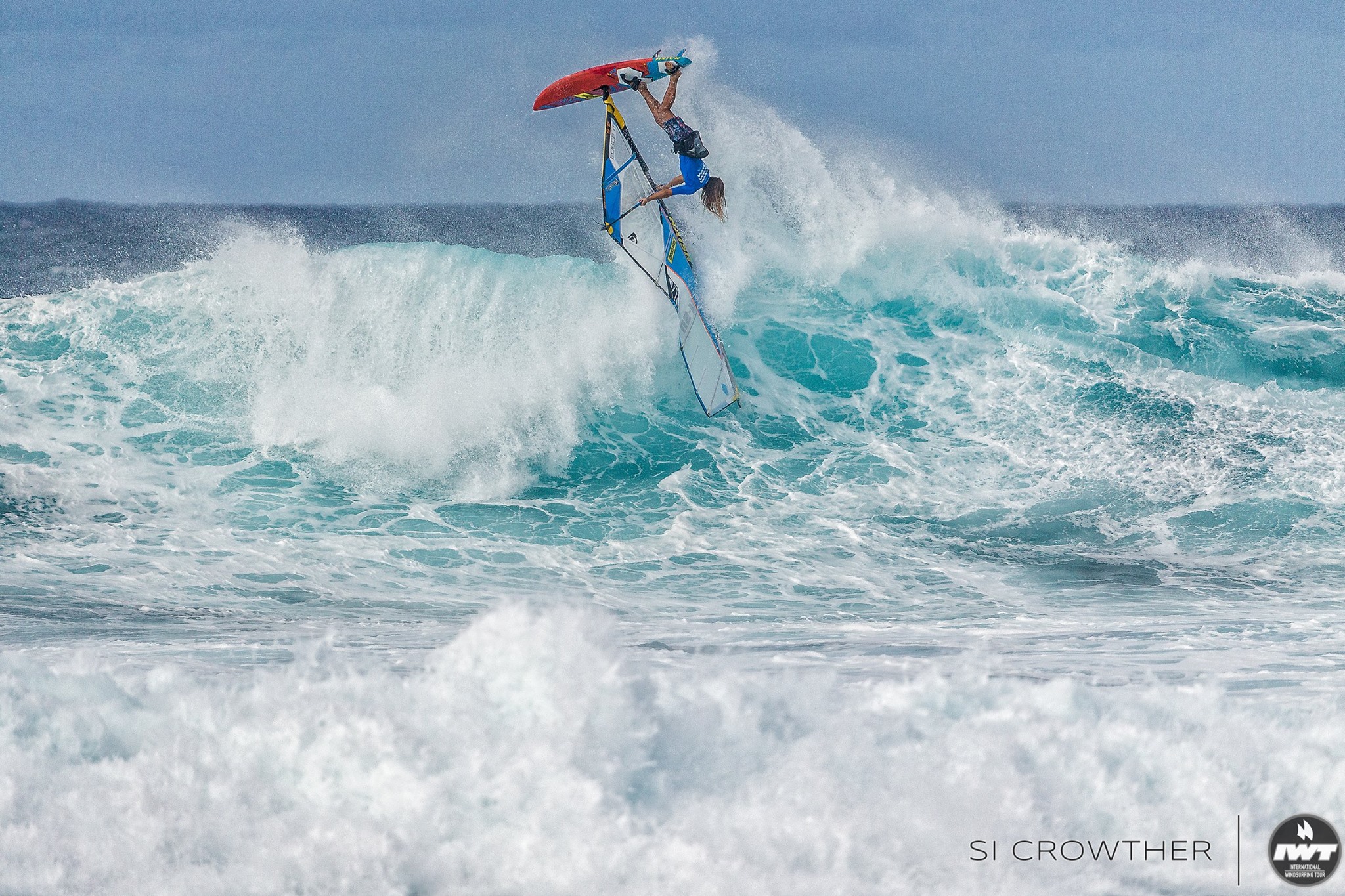 Bernd Roediger
Bernd Roediger – "Well I'm just happy I didn't start this quarterfinal heat off like I started round 3! I barely scraped by on that one, in the last few minutes! This time, I just wanted to throw myself into something and begin with a bang! The goiter that got me a 9.7 could have totally gone wrong, I could've failed, gone on the rocks, whatever. But at this level of competition, when every rider in every heat is absolutely lethal… Well, suffice to say, that I had to give it everything I had."
Heat 32 – With the absence of Moritz Mauch, it was a 3-way battle between Levi Siver, Kevin Pritchard and Antoine Martin in the next heat. Pritchard and Siver both showed their experience with great wave selection, picking off the biggest waves and hitting the critical sections. Martin went for broke, really picking it up towards the end of the heat, but he couldn't quite catch the others, so it was Siver and Pritchard that advanced with combination of late, vertical hits and big airs. Siver wanted a 360 too…but we think he's got it stored up for the next round.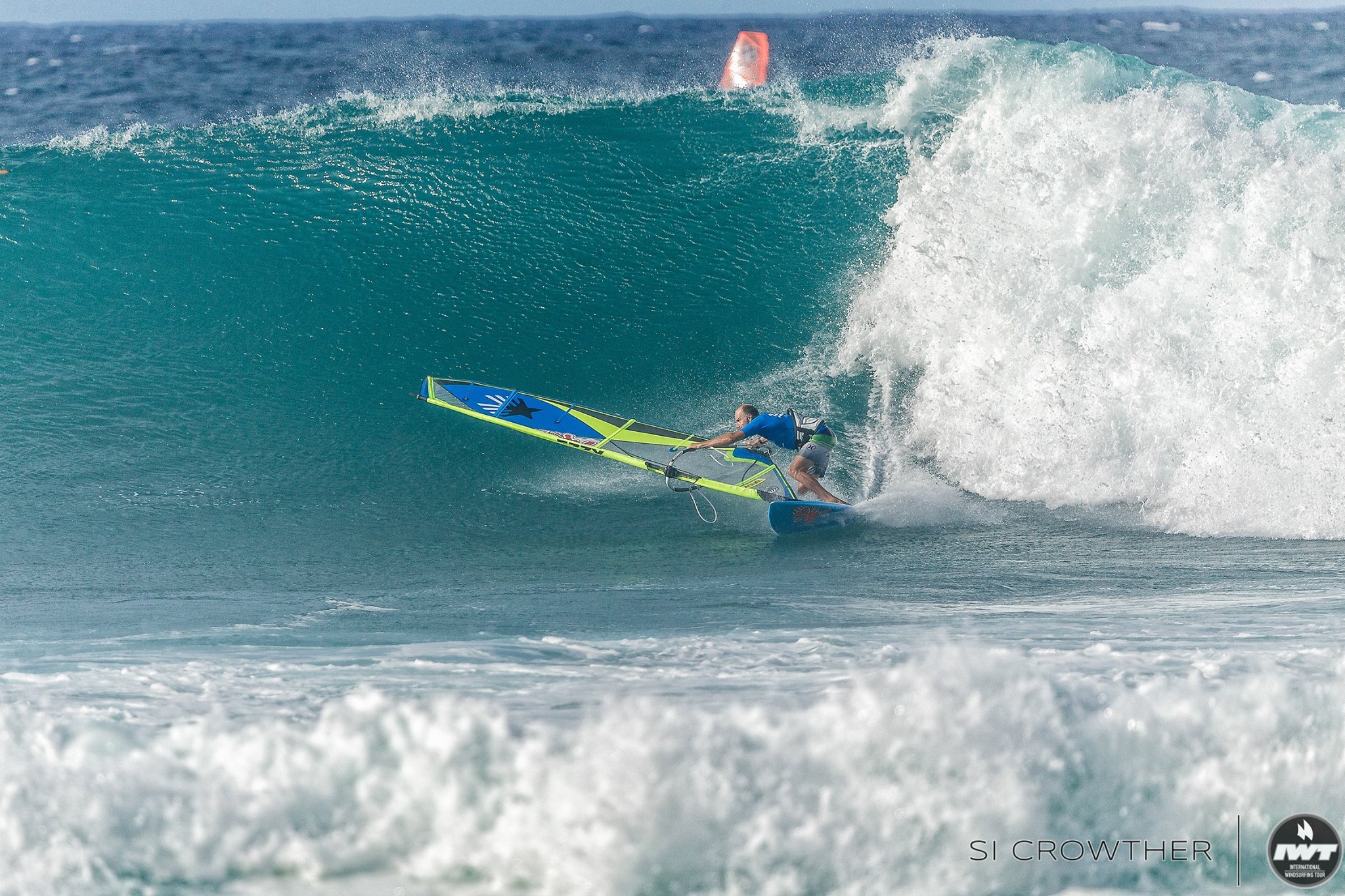 Kevin Pritchard
Levi Siver – "We finally had a sizable swell arrive today. The conditions were tricky with the current and the channel closing out, but overall it was really good conditions and worth waiting for. My heat went pretty good I was hoping to find more set waves but sometimes that's how it goes. Hopefully we can finish in good conditions." Image: Si Crowther.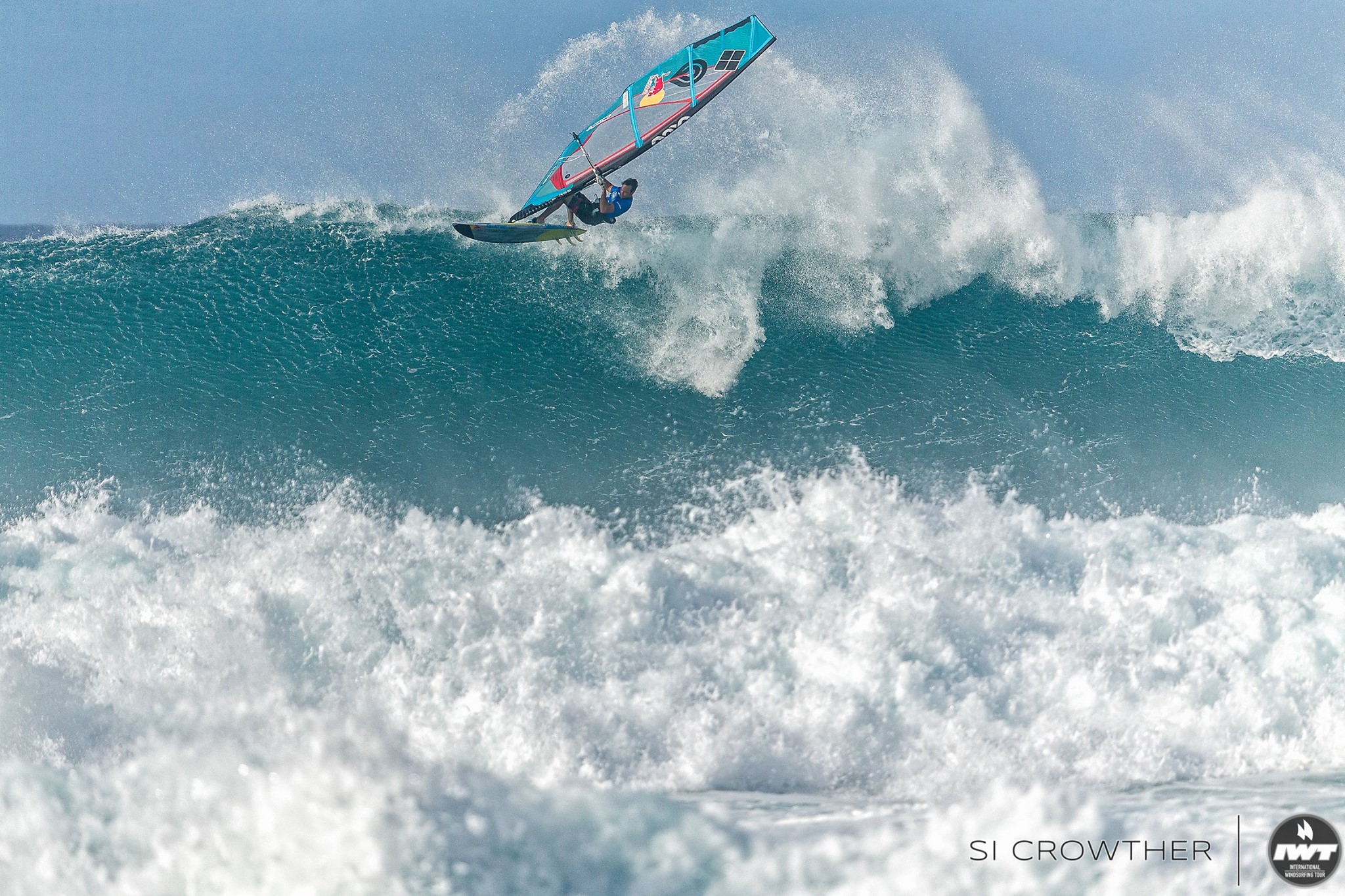 Levi Siver
Kevin Pritchard – "For me it is always nice to be out there and having fun in good conditions. Today started off pretty rainy and bad, but then in the end the conditions were pretty epic. The waves were nice and clean for how big they were; some smooth fun sailing. All of the next heats are super tough, so we will see how it goes!"
Pro Women
Heat 11 – In the first women's semifinal it was all about Sarah Hauser. Hauser got a couple of great waves, really getting under the lip, executing smooth bottom and top turns. Hauser went for broke on her last wave, really taking a massive late hit… and an even bigger swim. But, she had already sealed her place in the final with her first two waves. It was a close battle between Shawna Cropas and Fiona Wylde for the second spot in the final. Cropas racked up wave after wave with multiple turns, her experience at this spot really showing through. Wylde managed to get a couple of good set waves, but didn't quite show the vertical hits we are used to seeing from her, so it was Cropas that made the way into the final.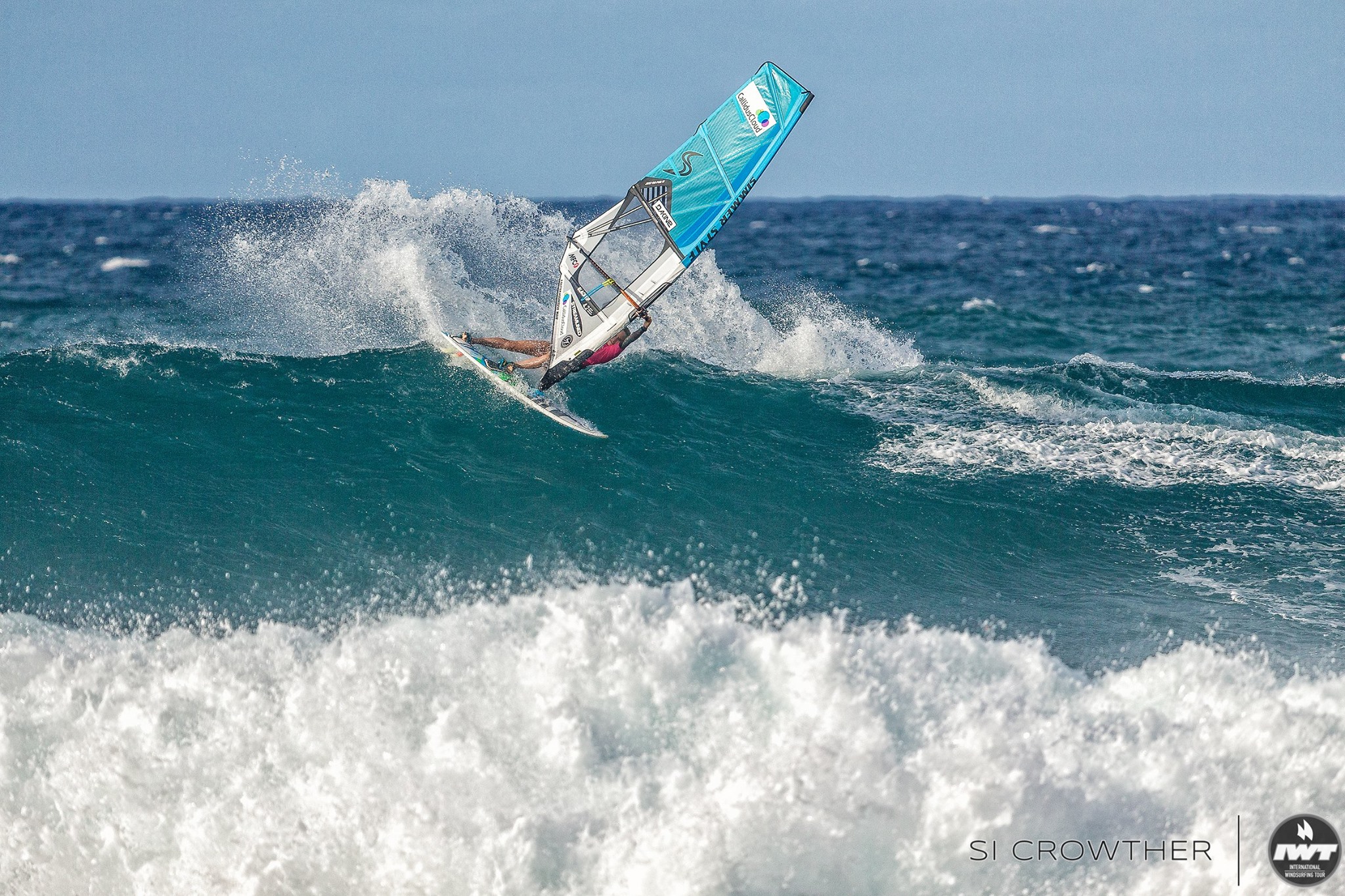 Sarah Hauser
Heat 12 – In the second semifinal Tatiana Howard was on fire. She dropped into some of the best waves we've seen today and rode them with her flowing style. It looked like Motoko Sato was going to be taking the last spot in the women's final until Vickey Abbott lined up on an absolute bomb, getting critical on her turns, hitting the lip and scoring a 6.97 to take her spot in the final with her last wave!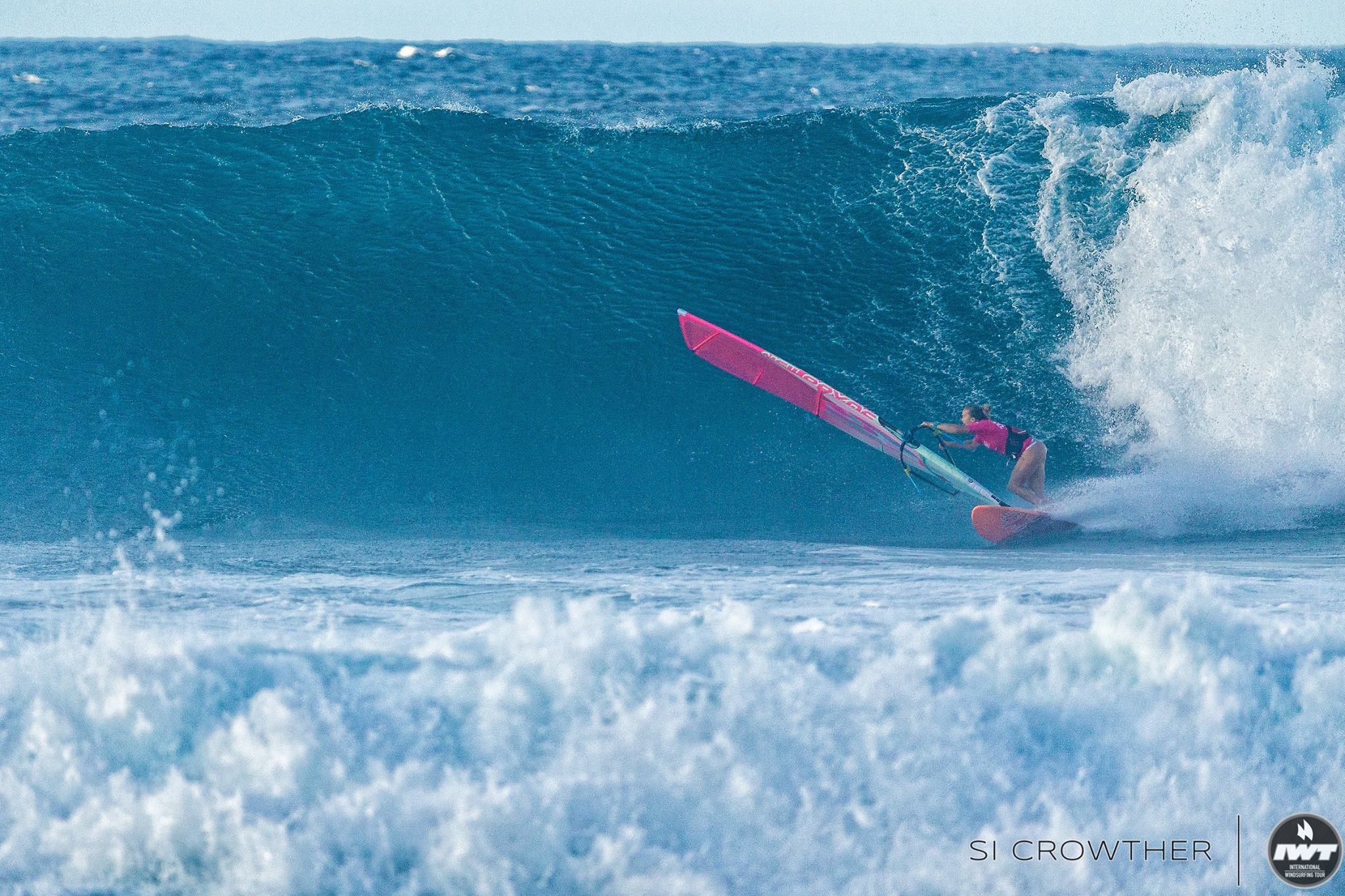 Tatiana Howard
Shawna Cropas – "I was super excited this morning when I came around the corner after Maliko Gulch and saw some fair sized sets marching in! Getting out without being destroyed on the rocks was the first mission. So I left 20 minutes before my heat to get that over with. Done! Now it was just me and 3 other girls in some rolling, mountain like oceans – I love the that feeling. The calm, the focus, the fear, the power of the ocean, humbling, exciting and free. I was out there to enjoy and just go for it. It's pretty awesome looking up the line, seeing the wave peeling towards you and deciding… All right, let's hitch this ride."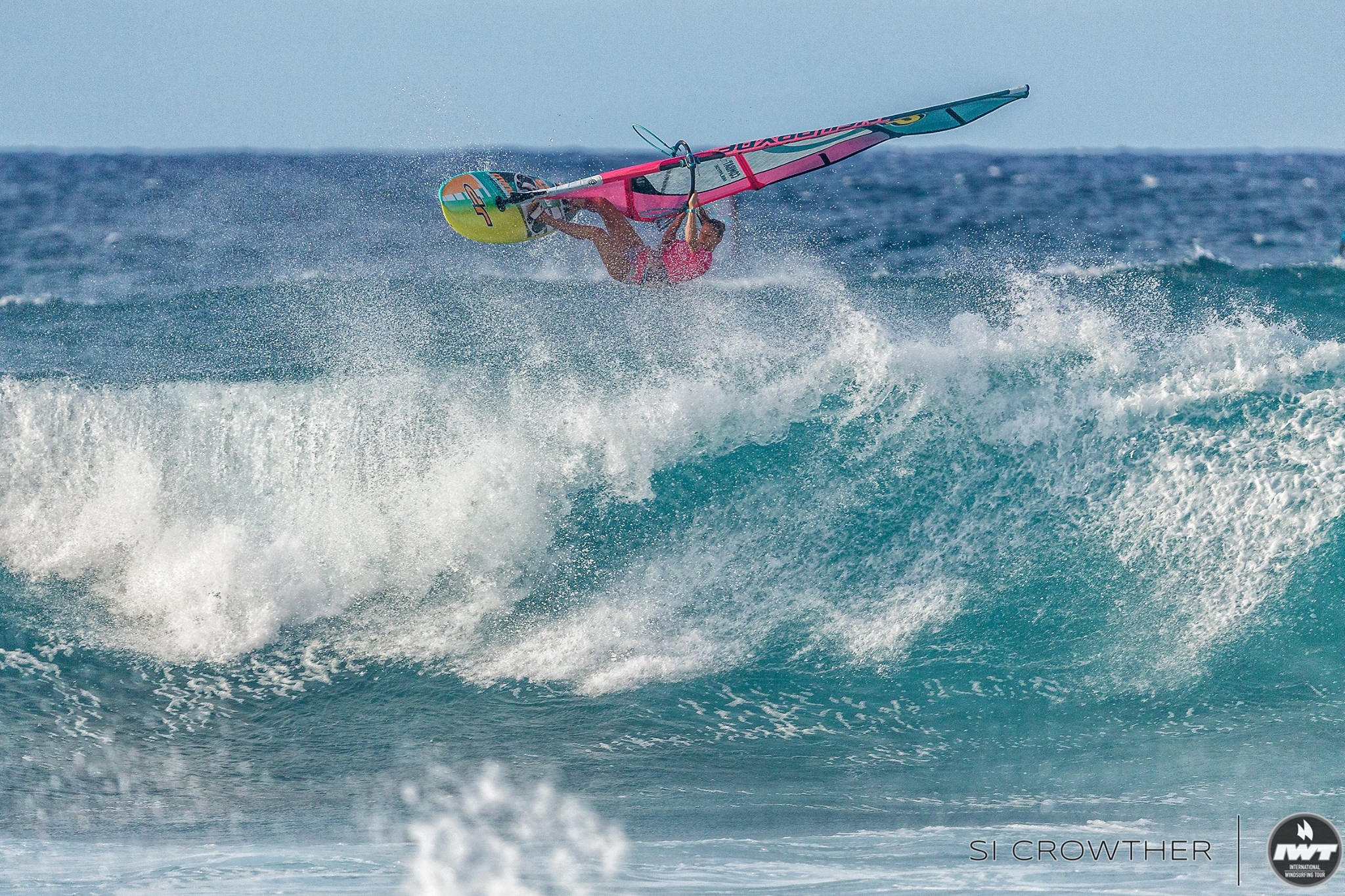 Shawna Cropas
Vickey Abbott – "It was so fun out there I was stoked to sail some pretty tricky but firing conditions against 3 really strong rippers. I'm stoked to make it through to the finals, despite taking a close out bomb against my own better judgment! Thank you and good call Duncan for calmly waiting out the storm and pulling off another awesome day!"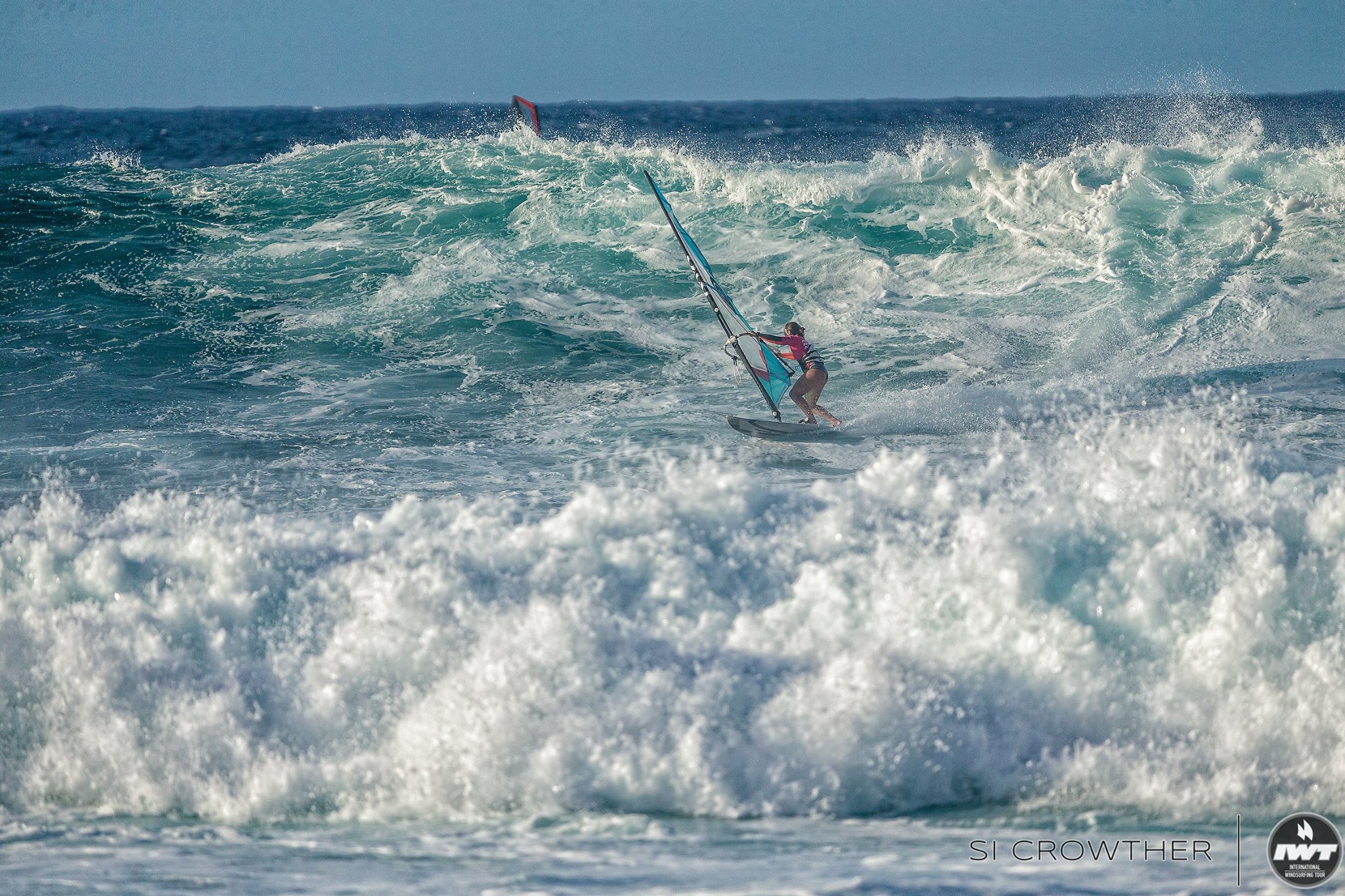 Vickey Abbot
Sarah Hauser – "Today was a "roller coaster" day. Everybody showed up excited because the surf was looking so good but the wind wouldn't pick up and we waited for a long time. It finally did at 2:00pm and I went out at 4:00pm. The spot had a little bit of a mix of big bumpy close outs and nice waves that would wall up to mast high and get smoother on the inside. It was really tricky to get out and avoid getting pushed down to Lanes or on the rocks. But I think all the girls caught waves, it was hard to see anything out there. For me it really was a treat to only be 4 people out in those conditions. Being against Fiona Wylde who has been killing it in her previous heats, I felt like I really had to "go for it" but that didn't quite work out! My gear went on the rocks and I never made it out in time with my other equipment. I had no idea I actually won the heat it with my first waves until I made it back to the beach. Very grateful, stoked and wanting more!"
Tomorrow
We have just a couple of hours of competition remaining! Skippers meeting 10am, first possible start 11am.
Stay tuned to the Aloha Classic website and social media for further updates. Follow us on Facebook, Instagram, Vimeo, and Twitter.
Media contact – Amy Carter media@internationalwindsurfingtour.com, All photos by Si Crowther.