Tuesday had always been pinpointed as having the potential to provide competable conditions and that forecast came to fruition in Moulay Bouzerktoun during the afternoon on day 3 to allow the best female wave sailors in the world to battle it out for the first time in 2018 – having spent the opening couple of days on hold.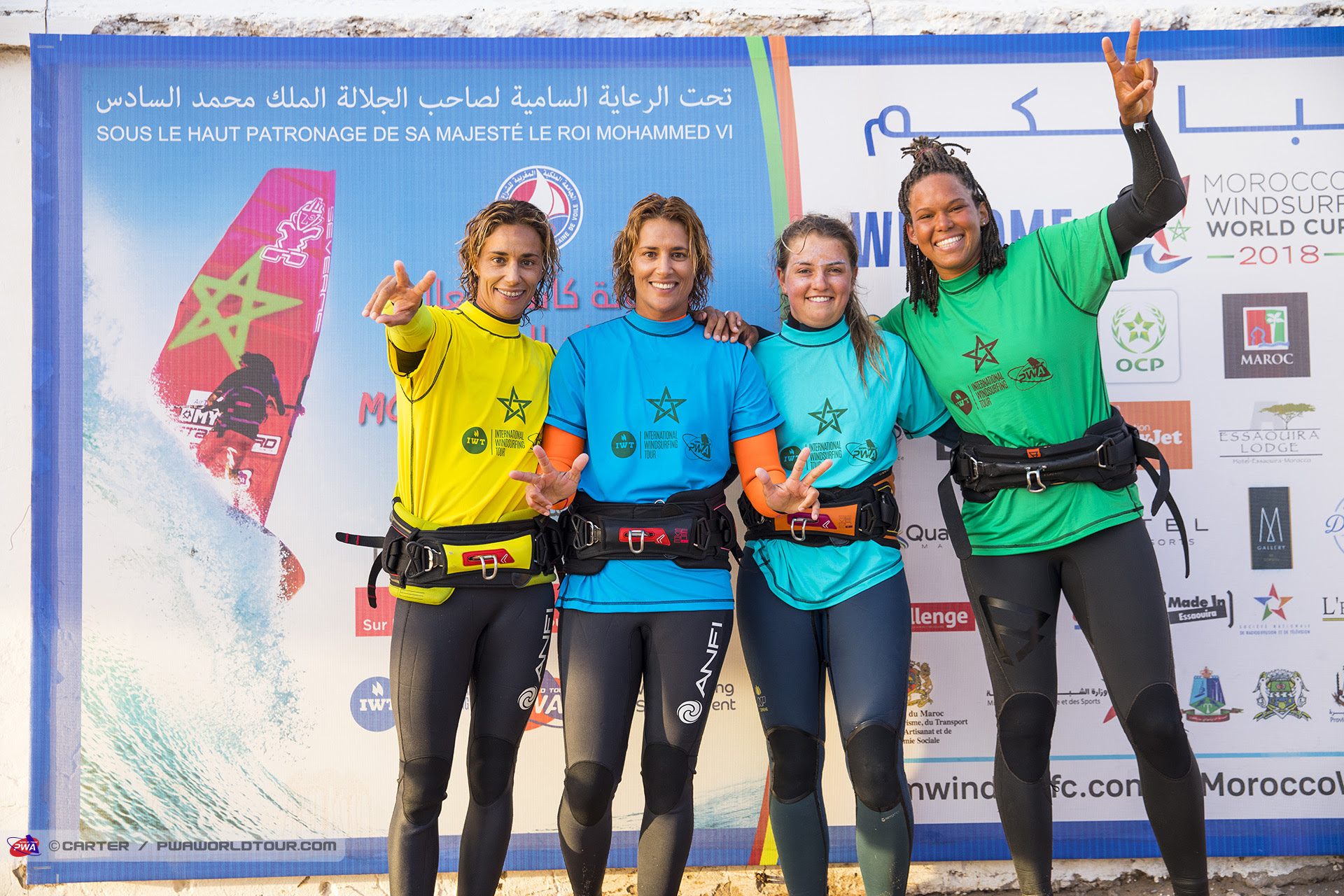 From left: Iballa Moreno, Daida Moreno, Lina Erpenstein, Sarah-Quita Offringa
Despite several excellent performances throughout the field there were no major upsets, although there were several close calls, as all of last year's top 4 women successfully advanced into the 4-girl final – Iballa Moreno (Starboard / Severne / Maui Ultra Fails), Daida Moreno (Starboard / Severne / Maui Ultra Fails), Sarah-Quita Offringa (Starboard / NeilPryde / Maui Ultra Fails) and Lina Erpenstein (Severne / Severne Sails).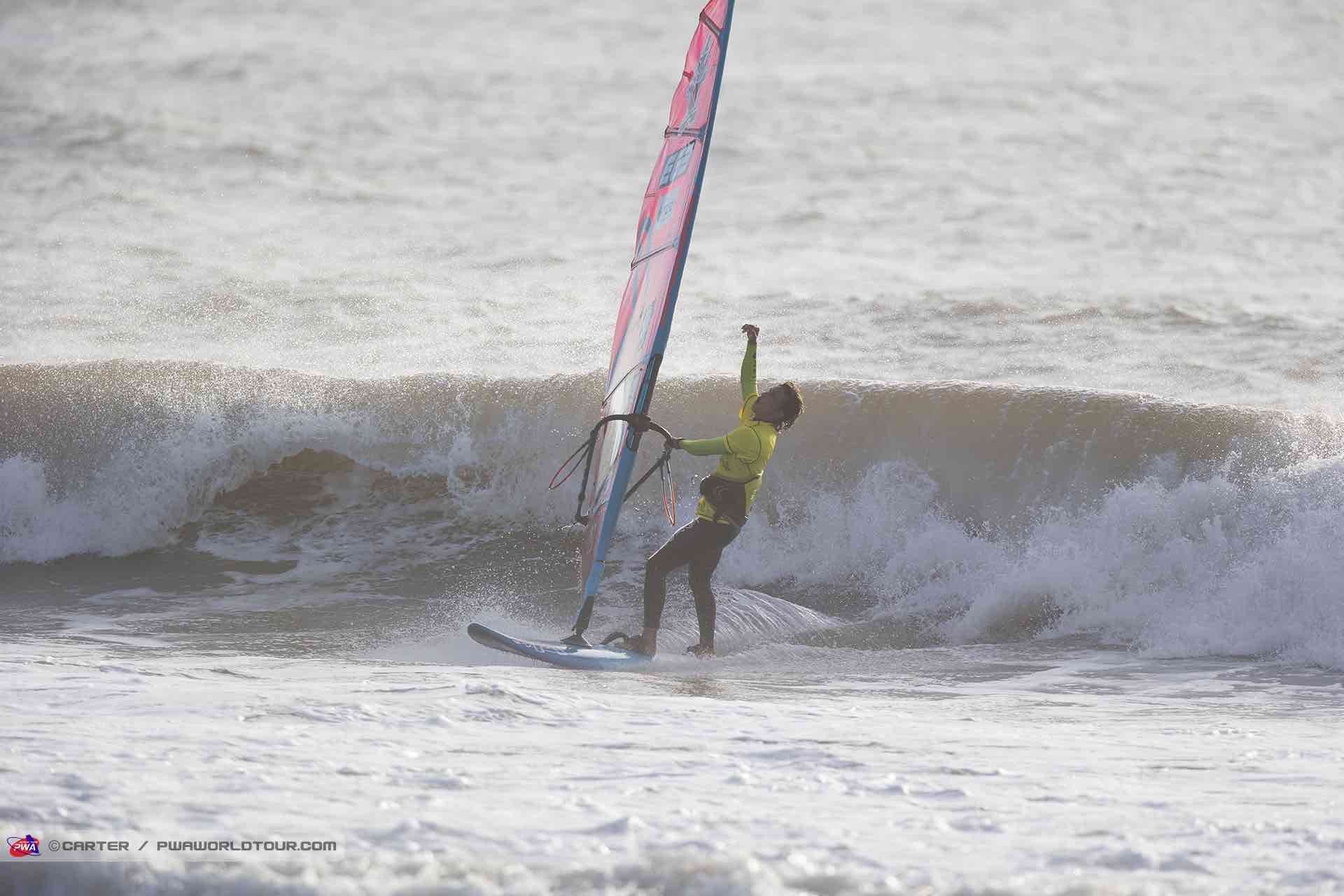 Daida Moreno
Reigning world champion – Iballa Moreno – looked in ominous form right from the word go today as she sailed with a superb blend of speed, power and flow, combined with a variety of turns, floaters and aerials to make a statement of intent for the season ahead. Iballa breezed through the quarterfinals – where she set the highest heat score of the day 16.38 points – and the semifinal to deservedly book her place in the final.
In her opening two heats Iballa had quickly managed to get on the scoreboard with waves in the excellent range to relieve any pressure, but in the final, her patience was tested and she deserves great credit for remaining cool and composed as the time slowly ticked away. Iballa's patience was eventually rewarded as she struck late on to overhaul long time leader Sarah-Quita Offringa with her last two waves scoring 7.5 points and 8.62 points to win the single elimination.
Iballa Moreno: "We started with really light winds, little bit onshore, but by the end of the day it got a lot better so I'm happy that we got a result and super to have won the single. I felt like I was very focused. I trained so hard to be here so I'm happy!"And on claiming after her final wave added: "I shouldn't, but yeah, I was waiting for the wave the whole heat and I knew I was missing one score and it was in my head all the time to just try and wait and eventually it would come. By the end of the heat I got it and I was just really happy that I got some good sections to hit. Stoked!"
Sarah-Quita Offringa
While Iballa may have chosen to play the waiting game, Offringa chose a slightly different approach as she remained busier throughout the final and for a long time, it looked as though those tactics were going to pay off with her leading the way for much of the final. The Aruban linked together the second highest scoring wave of the final – 7.62 points – but then couldn't quite find another wave with enough scoring potential to keep her nose ahead. However, second place in the single elimination represents an excellent start and she will no doubt be very happy with her day's work.
Iballa Moreno
Daida Moreno made a confident start to the single elimination as she comfortably booked her place in the semifinals with a series of long, flowing powerful waves. However, after such a bright start Heat 13 proved to be a bit more of a battle with the wind seemingly getting lighter, which made it tough for all sailors to get into the waves. With the clock ticking down it looked like there could be a major upset on the cards, but Daida produced a buzzer beater to move into second place at the expense of Marine Hunter (KA Sail) to book her place in the final. In the final, Daida remained in contention throughout after putting a score of 7.12 points on the board with just her second wave after linking turns and aerials together but was left to settle for 3rd place in the end. She will now have to wait until the double elimination for her chance to climb higher.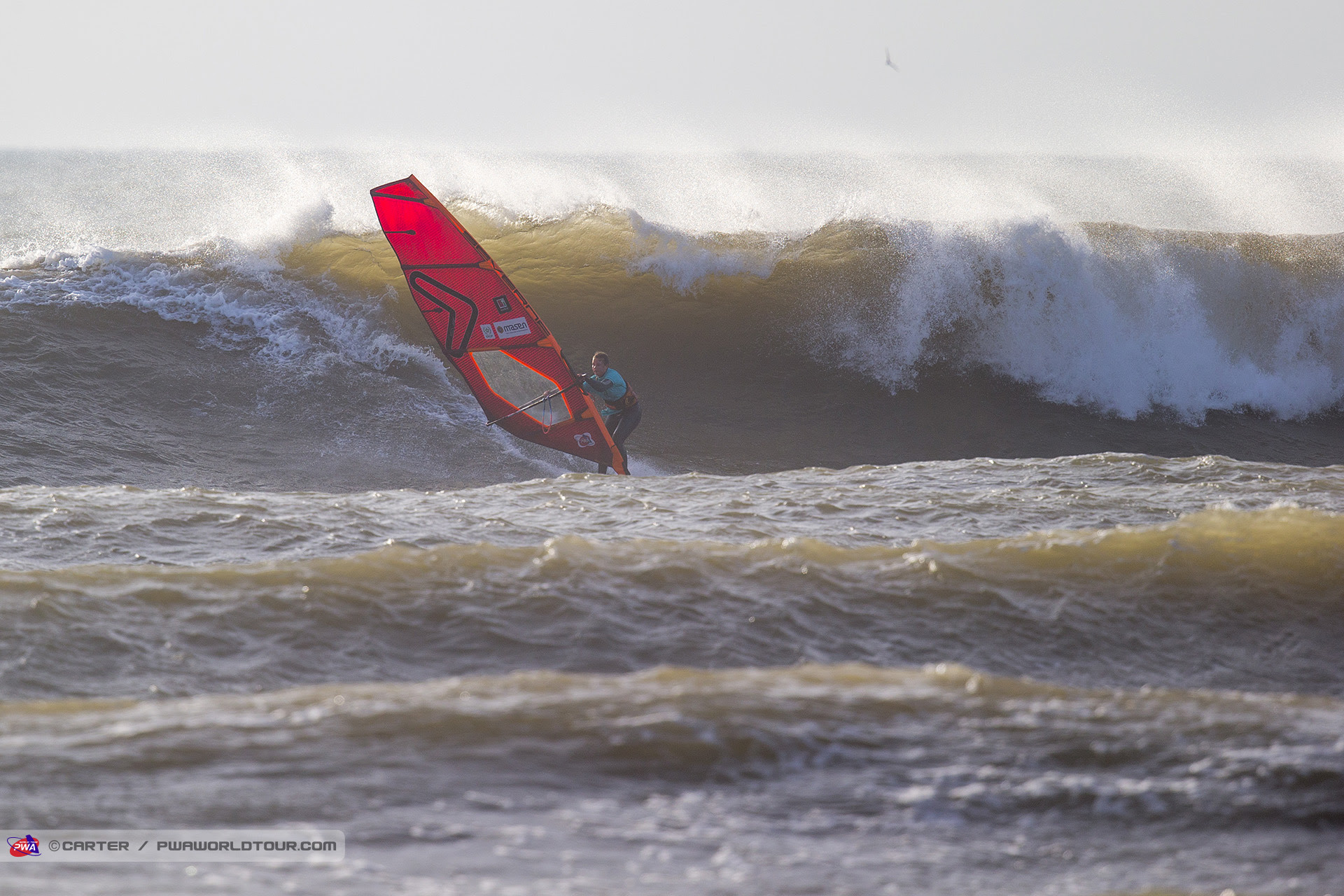 Lina Erpenstein
Elsewhere, Marine Hunter, certainly caught the eye today as she won the opening heat of the day in style by producing some late, ballsy hits, while also releasing her fins on one occasion. However, a mistake on her timing saw her catch her first wave in the semifinal before the buzzer – meaning it didn't count – which wasted valuable time and the 25-year-old then caught on the inside. Despite that, Hunter still recovered to take control of the heat for a short time, but then saw her place in the final snatched away from her in the dying seconds by Daida Moreno. One to watch in the double elimination, while Serena Zoia (99NoveNove / LoftSails) finished 4th in Heat 13 after a promising start in her first heat.
Teammates Maria Andres (Fanatic / NorthSails) and Arrianne Aukes (Fanatic / NorthSails / Maui Ultra Fins) both advanced into the semifinals to face Iballa Moreno and Lina Erpenstein, but neither could successfully navigate their way into the final. Andres and Aukes both caught plenty of waves, but Moreno and Erpenstein proved that it is quality and not quantity that count in such a contest.
Lena Erdil (Starboard / Point-7 / AL360) admitted she made a tactical error in Heat 12, which resulted in her being eliminated in the first round by just quarter of a point. The 29-year-old got caught on the inside towards the end of the heat and with the light winds couldn't make it back upwind in time for another scoring opportunity and she will now look to the double elimination to work her way back up the ladder.
With the single elimination concluded the sailors were released after the podium presentation and the women will meet again at 9:30am for the skippers' meeting – with the action commencing from 10am (GMT+1). With a massive forecast on offer, there is also some talk of hosting a men's expression session.
– Words by Chris Yates, Photos by John Carter-
Daida Moreno
Result Single Elimination Morocco PWA World Cup – Women's Wave
1st Iballa Moreno (Starboard / Severne / Maui Ultra Fins)
2nd Sarah-Quita Offringa (Starboard / Severne / Maui Ultra Fins)
3rd Daida Moreno (Starboard / Severne / Maui Ultra Fins)
4th Lina Erpenstein (Severne / Severne Sails)
5th Marine Hunter (KA Sail)
5th Maria Andres (Fanatic / NorthSails)
Men's Final Video from MOROCCO SPOT X by Antoine Martin
Thank you to local event coordinator Boujmaa Guilloul and all our local sponsors in Morocco: MASEN, OCP, ONMT, Sultan, redbull, Easyjet, Seat, Essaouira Lodge, Beach and friends, Relais de Paris, Medina M Gallery, Sofitel Essaouira, Ain Atlas, Quadran Maroc, Dolce Freddo, Magic Fun, Ozo Club Lounge