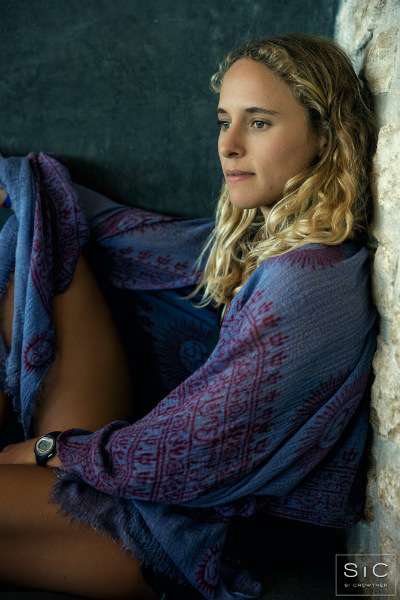 A little breeze was blowing today in Moulay, but unfortunately from the wrong direction making it impossible to compete in proper conditions. While some riders went on an adventure to try to find a spot that would work with the south winds, others gathered at the beach in the afternoon for a windsurfing introduction to the kids of the orphanage of Essaouira. A little later the winner of the single elimination in the Masters division JP Pooley sat with Sarah Hauser for an interview and a mint tea while Amateur finalist Tom Soltisyak did the same with Kevin Pritchard.
Congratulations on your win here in the IWT Morocco Spot-X single elimination. I know this is your first trip to Moulay. It looks like you are happy with the conditions here?
Thank you! I am so happy to have come to Moulay. I didn't get to do any training on the spot before the event so I was a little anxious to discover the wave during my heat, but I told myself "It's your challenge here, you're going to have to adapt very quickly." The thing is the tides here have a huge impact on the waves, and so everybody deals with that same challenge. I had a lot of fun during the finals. The waves were really playful. I can see how you can really improve in both surfing and jumping sailing here. I really want to come back and spend more time!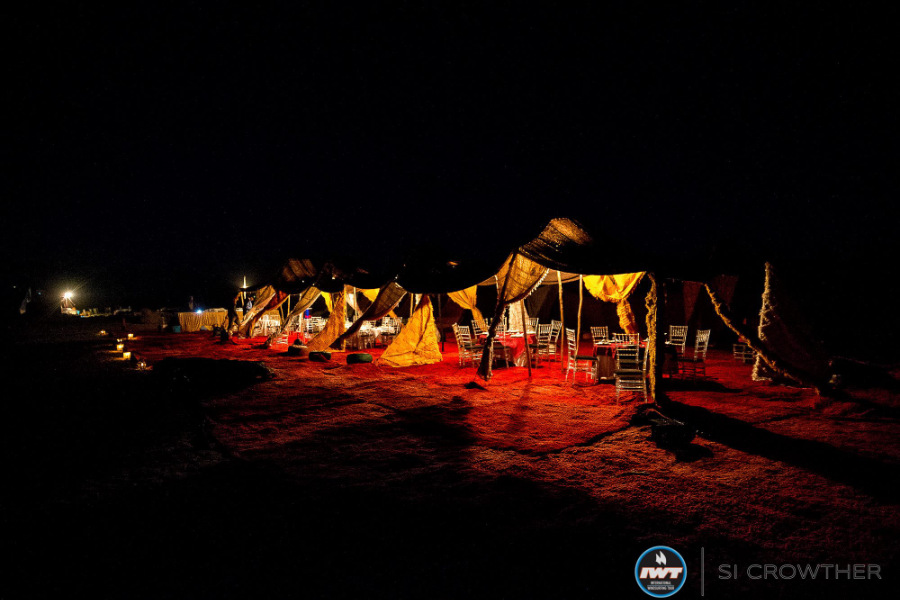 Moroccan Camp
So how do you like the experience of living on an African beach?
It is amazing! It's luxury camping: so comfortable and so beautiful. It's almost like being on a movie set. Everything is the real deal: the tents are made out of camel fur, we eat the moroccan food… It's so authentic and we're right on the spot. I love it!
Moulay has produced some outstanding local sailors. How is the windsurf scene for women here in Morocco?
I chatted with Sana who was in my first heat. She told me she's pretty much the only female windsurfer here. Everywhere I've been there are always more men than women in windsurfing, but here it's seems really extreme! I think it's amazing that Tatiana Howard, the founder of the Butterfly Effect, is here and I can already see an amazing female collaboration shaping itself for next year's event to help Moroccan girls find the confidence to try water sports.
After five years on the tour, what's your top tip for the traveling wave-sailor?
I'd say having more than one wetsuit in cold places! It might sound like a luxury but in competition or even just on a trip, you want to feel your best going back out for the 2nd or 3rd time and having a dry wetsuit makes a huge difference.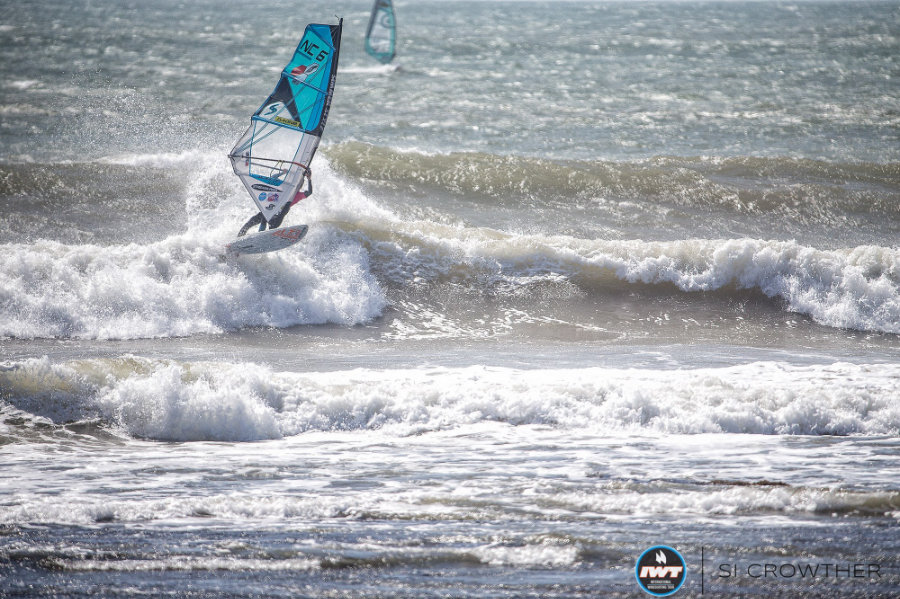 Sarah Hauser
I heard rave reviews from the premiere of your film in Maui. When will the rest of the world get to see it?
The premiere on Maui was one the most special moments of my life! It was a lot of work to organize with pretty much zero budget, but the community supported the venue by coming and filling up the entire theater and it all went great. We're now negotiating distribution with different companies. Once it's done I'd like to organize some screenings of the film in places like here, Baja, or Peru… Hopefully the negotiations won't take too long. We are keeping people updated on our website (girlonwave.com) and on social media (@girlonwavemovie).
Looks like an amazing itinerary for the IWT this year. Do you plan to compete at all the events?
That would be a dream year to go to all these events! Unfortunately I am still short on support from sponsors. It's really difficult to be a female pro windsurfer. I talk about it in Girl on Wave, but I don't want to give up. I'm so grateful that I was able to come to Morocco. Until a month ago I didn't think it was going to happen. I will be in Baja and Maui for sure. The rest is a little more uncertain but I am working on it!
What would be your dream conditions for a wave heat?
Logo to mast high, side off wind, 17 knots, sunny, warm water, dolphins, and a crazy crowd 🙂
Thanks Sarah! Good luck for the rest of the contest!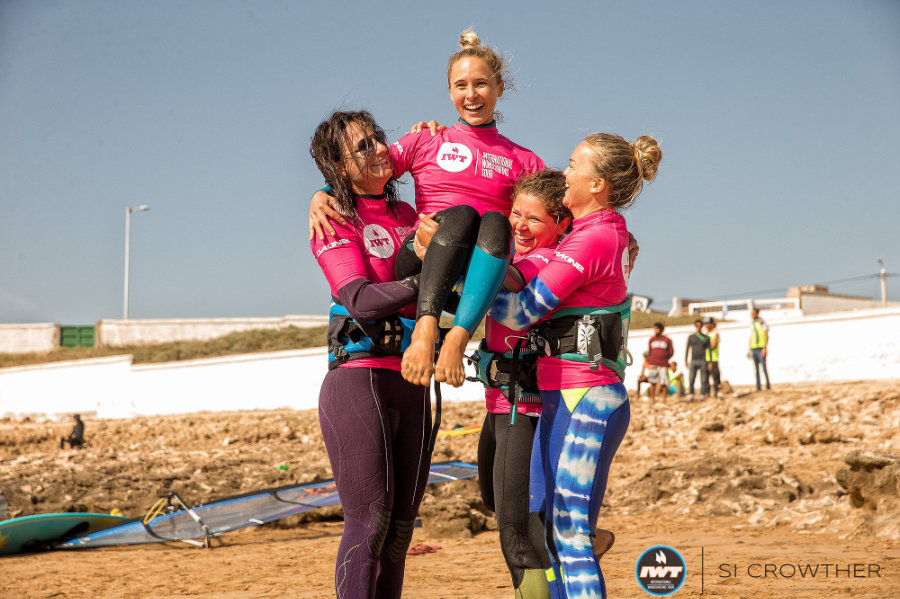 Women Finalists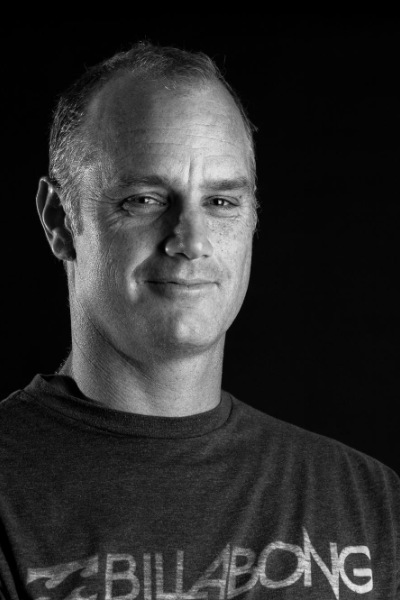 Kevin, you won the single elimination in lighter conditions with only 2 wave rides counting. With the forecast looking strong enough for the weekend to run a double elimination, how do you fancy your chances against the likes of Boujmaa, Edvan, or Soufian when counting jumps?
From what I have seen from Edvan and Bouj, there is very little chance when jumping is involved. I have my moves, usually pretty consistent, so I don't think I am just going to roll over, but yeah, those guys are impressive. It seems like they can jump really high and do all the cool new moves!
Having won the single elimination, you are guaranteed a top-2 finish and an entry wildcard to the PWA event in Pozo. Will we see some classic KP one-footed backloops come July?
Ha!! Yeah I don't think my one footed backloops will do the trick in Gran Canaria. I would love to go but I don't think I am at all competitive with those kids in Pozo. It's a long way to go to lose in the first heat! I would be much happier to give my spot to a younger, more hungry guy that really wants to get into the event. Well, maybe not… Maybe I will show up and have a crack at it… Haahahahah.
You've spent a few days in Essaouira during the lay days we've had recently. How is your Moroccan experience so far?
Man, the people here are so nice! Been loving the food as well. We have been eating in some super small places that are very fun to go and check out. I don't know if you saw the video from our day in Essaouira with Bouj, but you can check it out on the IWT Instagram of us cruising around the town. He went there with us and bought some fish from the fish market, then took it over to another guy to get him to grill it up for us. It was almost better than Mama's Fish house in Maui, and a lot cheaper!!!! It is pretty cool here.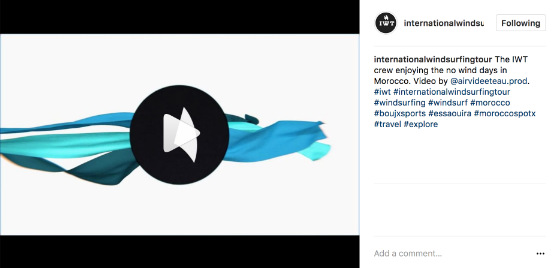 How was your bargaining at the markets in Essaouira the last few days? Any interesting finds in the Medina?
I don't really do much shopping. I just like eating and cruising. I enjoy taking in the sights but we have pretty much explored the whole Medina so I am in need of finding something new to check out. If anyone reading this finds some must do's in Essaouira, be sure to send in some suggestions. We are still waiting for the wind, so some good options would be fun.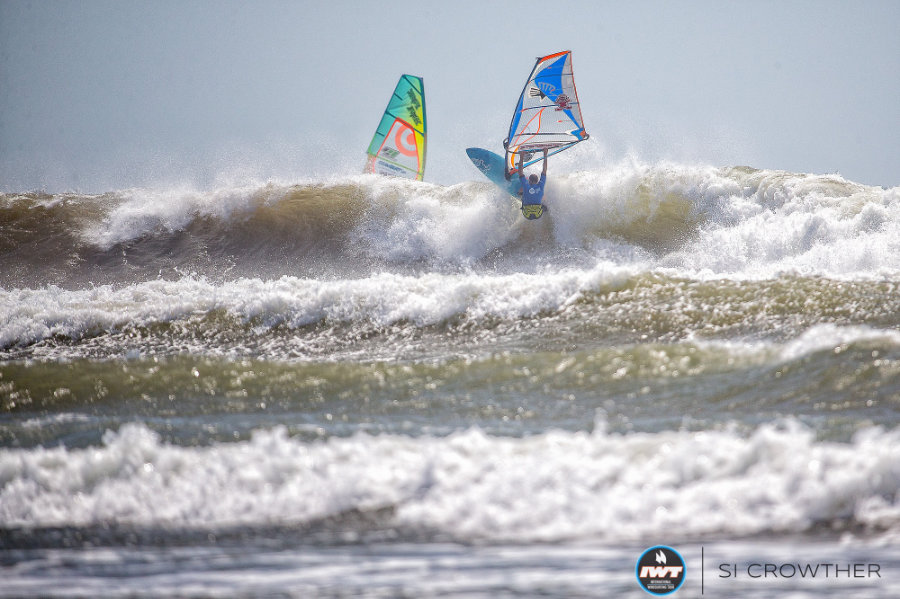 Kevin Pritchard
You've spent a lot of time behind the lens filming all of the IWT action for the event videos. Who were the standout sailors in your eyes that pose a threat in the various IWT divisions?
I think the women's division was one of the more exciting ones. Tatiana Howard proved that she could give Sarah a run for her money in the starboard tack conditions, so hopefully we will see them battle it out again!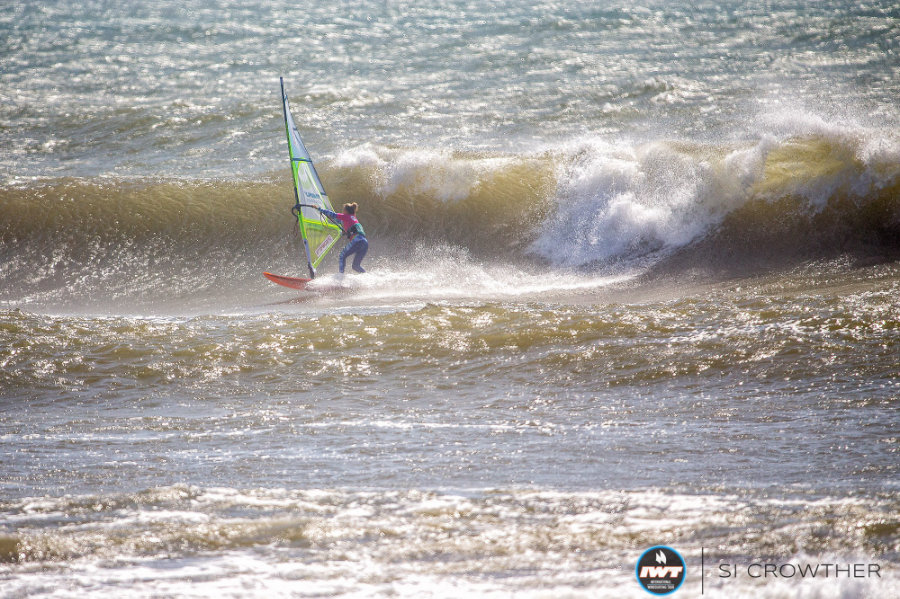 Tatiana Howard
Which upcoming IWT events are you most looking forward to attending this year? Any dream destinations you would love to see hosting a future IWT event?
I always love a good windy Pistol River event. If it is like last year, it is pretty much go as big as you want and let it fly. The conditions are very much like here in Moulay so I think Boujmaa will have a good chance of winning again there. I am not super confident in my port tack wave riding so those events are always fun. I think Barbados will be most likely the hardest one for me with the lighter winds and port tack, but you never know!
You're one of the most experienced competitive windsurfers in the world. What advice do you have for IWT competitors entering their first ever windsurfing contest?
For me it is always entertaining to watch the other divisions improve after the Pros go. It really helps for them to watch and see what we are doing and then go out there and do the same things. Watching and learning is a huge advantage rather than just trying to figure it out on your own.
Kevin Pritchard
You've been multiple times world champion in all disciplines, as well as winning the overall world title. You won the Aloha Classic last year. You've pretty much won everything there is to win in windsurfing. Why still compete on the IWT?
Great question. The IWT people are my friends, so why not go around the world with some of your closest friends, windsurfing in the best conditions? You asked earlier if I am going to go to Pozo and, well, if it was side shore down the line firing waves, maybe I would. The IWT is pretty mellow, fun, low stress, good times at fun places so it makes it interesting and it keeps me pushing my level to stay on top of the game.
Thanks for your time Kevin, we're looking forward to seeing you back in the water later this week!


Interviews by JP Pooley and Tom Soltysiak. Photos by Si Crowther