Day 3 dawned with crystal clear blue skies and smooth waves offering playground conditions for longboard riders who jumped up after dawn coffee and paddled out to play. The mornings in camp are quiet and meditative as the riders are gently roused by the sun for hot breakfast in the shade. As the camp lazily comes to life the riders, family and friends read in the lounge area, write in their journals, chat quietly and generally savor the decompressing atmosphere from their otherwise often busy lives. Mornings here are special times.
With better conditions forecast to come in the days ahead we didn't mind that this day settled into the accurately forecast light winds and gentle small waves. It wasn't contestable so we decided to run a one hour long Junior's training heat to help our 5 young riders practice and have some fun with the guidance of the IWT crew. Four of our top level riders generously jumped in and offered to judge the juniors and give them great feedback (thank you Titoun, Morgan, Boujmaa and Olivier). With the green flag up signifying the start of the one hour practice heat the whole camp gathered around the judging pavilion and began to shout encouragement out over the water to the juniors who were now feeling pretty special as they held the attention of the whole IWT scene for an hour. Whoops and cheers and claps and even a genuine cycle racing cow bell created a raucous crowd in their support of every wave and every hit.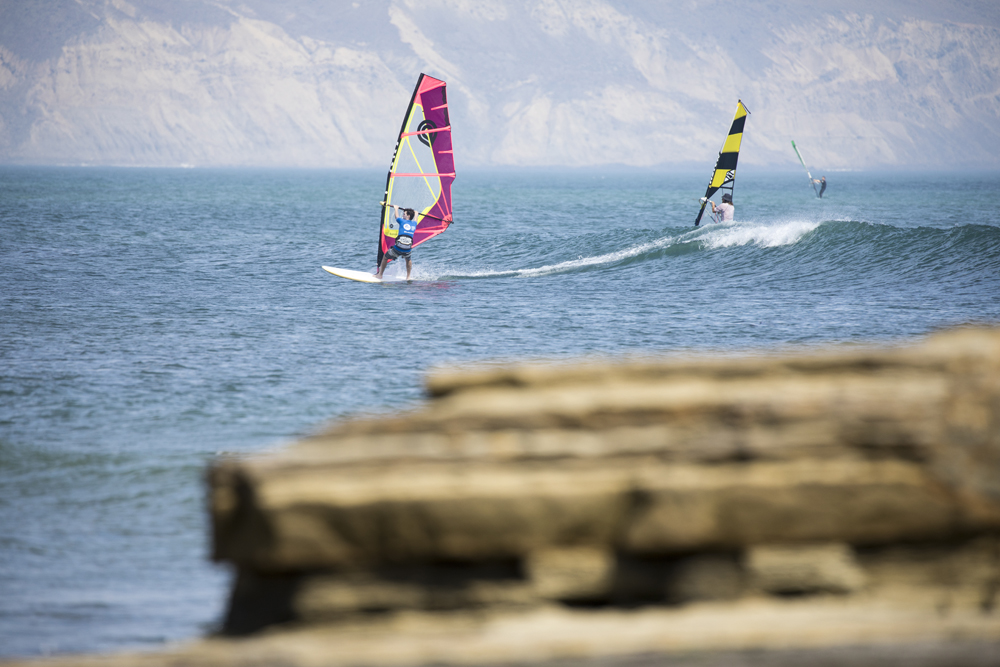 Lets meet the up and coming under 21 young guns:
5th Place: Philip Spiess (20) had never entered a wave competition before. At the last minute he decided to head out on one of the camp sups with a 5.0 to give it a go. He caught the opening wave of the heat and the crowd went wild. This crowd was clearly going to get out of hand. His father was beaming. Philip is studying Economics at Waterloo University just outside Toronto. He is entering his second year and loving economics after turning away from robotics engineering in favor of a more open ended entrepreneurial direction. He first learned to windsurf when his father Carl put him on a windsurfer when he was "just old enough to walk I think". He first came to SoloSports in 2015 when he was 17. This is his second visit. HIs most memorable experience is breaking his gear in the long distance Hi-Ho race in the British Virgin Islands and drifting for 1.5 hours. He got a little sunburned.
4th Place: Alex McKirgan (20) is also studying Economics and is about to enter his 3rd year at Stanford in California. He lives in the Palo Alto area. He started windsurfing at the tender age of 5 with his father's encouragement. His first visit to Solo Sports was in 2012 when he was 14. His father Frank is here claiming he acts as his son's caddy. A self deprecating description of another proud father. Alex is a strong and experienced wave sailor. He was here the week before the contest riding the mast high waves alongside the top pros and attacking the big waves with great enthusiasm. In this practice heat he was first to head out to the Bombora reef far out the back to search for the bigger breaking set waves that pitched up high over the shallow reef. His opening wave was a logo high peak with very light wind that made the crowd cheer and he was off to a strong scoring start. His best wave score was between 5.5 and 6.0.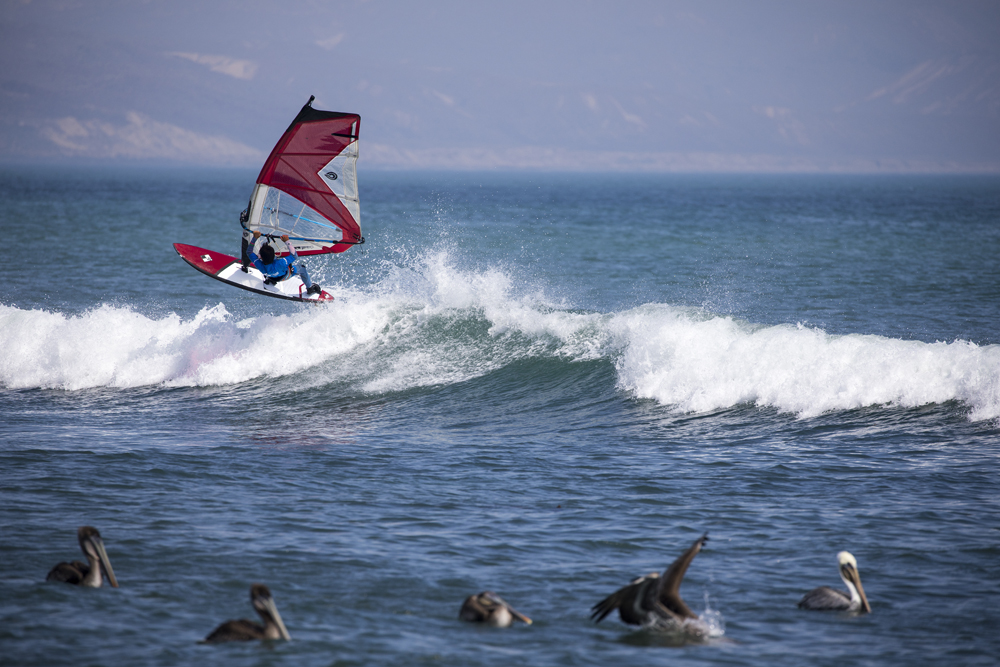 3rd Place: Hayata Ishii (13) is widely referred to as the younger brother of Takara Ishii who has been rocketing up the Pro ranks of late and making the finals in the prestigious IWT Morocco Pro bracket earlier this year. While Hayata is proud of his brother, he has his own ideas about who's going to be the best little Ishii! He is a tiny little guy at the moment but he has a fierce, fierce, fierce competitive nature and is wildly brave in big swells for such a small boy. He lives in Omaezaki. This is the first time he's been to SoloSports. He competes in the Amateur and Junior divisions in the All Japan Wave Classic circuit which includes 3 events. The biggest one in Omaezaki (3 hours south of Tokyo) and others in Hashi in south west Japan and Hazaki east Japan (2 hours north of Tokyo). He has a custom board that is only 48 liters! Made just for him he treats it as his most prized possession. He is in Junior High School. During the practice heat he sailed out to the difficult bombora reef and was hunting the biggest waves around, scoring between 5.5 and 6.5 for his best wave. He even popped a tiny fins-free aerial on the inside with his extra speed from being so light.
2nd Place: Haru Matsui (15) is an unusual junior in that his parents do not surf or windsurf. He learned to windsurf at the Omaezaki Windsurfing Club (OWC) that is run by Hyata's father Ishii-san who was a very famous Japanese professional wavesailor in his youth. He and all 3 of the young Japanese boys were about 7 years old when they learned. He also started windsurfing very young as a result of the free welcome learn-to-windsurf program run by the OWC. He also competes on the All Japan Wave Classic circuit in Amateur and Junior divisions. The OWC has over 40 kids in it's windsurfing programs. This is the first time he has been to SoloSports. He is also in Junior High School. His best wave score was between 6.0 and 6.9. He caught a mixture of waves out at the Bombora and on the inside with his best wave linking all the way through.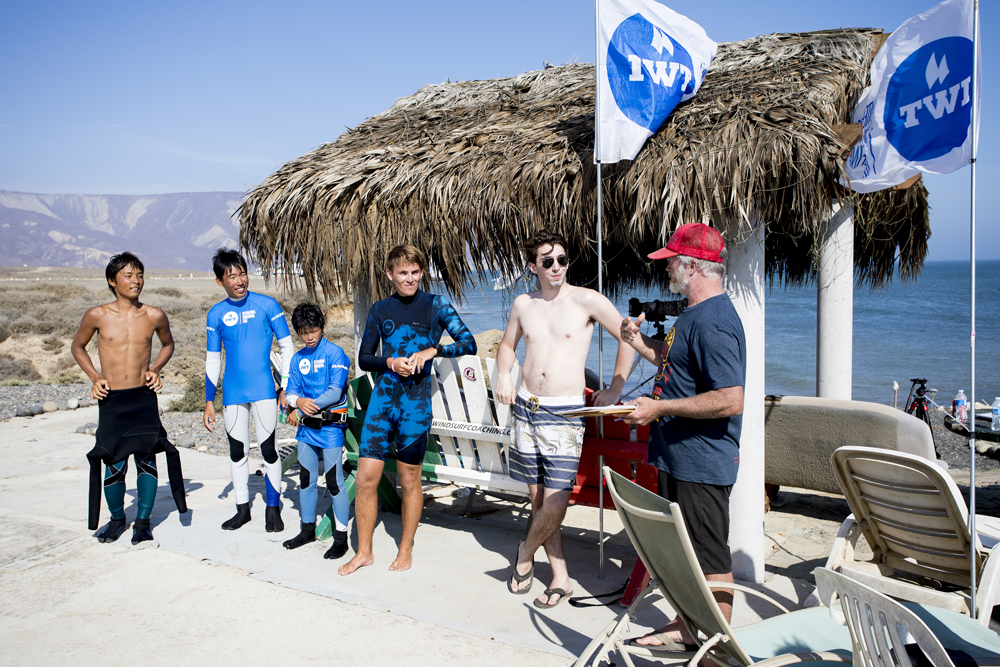 1st Place: Atsuki Ikoma (16) learned in the same sort of way through the OWC when he was also about 7 years old. He is a standout in their group largely because he is an exceptionally talented young surfer. His father is a very famous local surfer in Omaezaki and introduced him to surfing when he was young. He rips! He is in first year of Senior High School. During his heat he earned the highest single wave score with between 6.5 and 8.0 for a Bombora Bomb that he caught deep and drove almost vertical up into the most critical section with a super late hit coming down with the lip and holding it together to carry on riding that wave all the way to the inside. The crowd went wild. Seriously. It was a HUGE cheer and wild screaming when he pulled that move. Fun fact about Atsuki: he worked in a gas station to earn all the money to pay for this trip himself.
With the hour long practice heat done there was then an informal feedback session from the top pros with the enthusiastic young riders. There was one young guy who went straight back out the Bomby to practice starting the wave deeper and hitting it more vertical. He hit the reef, many wipeouts, he kept trying. His name is Hayata Ishii.
While this heat won't count toward the final result, it capped a fun and informative day for all riders. Once again, other competitors chose to surf, bike, or just relax on the lay day.