With only 2 events to go on the 2019 IWT Dream Tour, leaders Antoine Martin and Arrianne Aukes retain their top positions as all the hot riders chasing them just missed a major opportunity to catch up.
Antoine Martin (GPE) holds a commanding lead in the Pro Men's division with wins in Japan and Chile, and a 4th from Pistol River, Oregon USA. His nearest rival Morgan Noireaux (HI) has a 9th from Japan, a 4th from Chile and a 1st from Pistol River. Very close behind Noireaux is Bernd Roediger (HI) with a 2nd from Japan, a 9th from Chile and 3rd from Pistol. With such a strong lead at this late stage in the tour, last years overall IWT champion Antoine Martin is looking very hard to beat.  Both Noireaux and Roediger now need to defeat Martin in each of the remaining events, Peru in 2 weeks, and the prestigious final event on Maui, The Aloha Classic. Noireaux is a 3 time Aloha Classic Champion, while Roediger is a 2 time Aloha Classic Champion, making these two legends of wave-riding very dangerous in that final event. It's not over yet.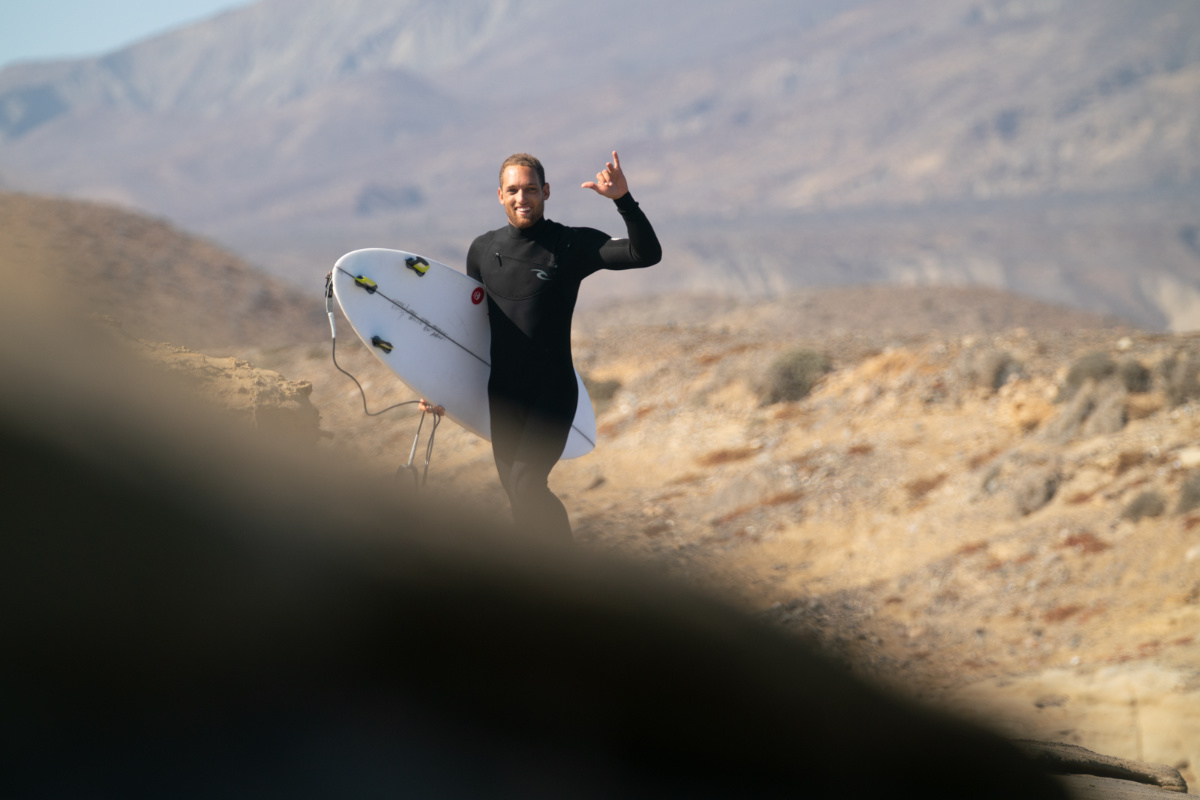 Arrianne Aukes (NED) is leading the Pro Women's pack, holding a 1st from Japan, no result from Chile, and a 2nd from Pistol. Sitting in second place overall right now and hot on the heels of Aukes, is Maria Andres (ESP) with no result in Japan, a 1st in Chile and a 3rd in Pistol. In third overall right now is the young Kazuki Ishiihara (JPN) with a 4th in Japan, no result in Chile and a 5th in Pistol River. In 4th place overall with only one result on her scorecard is Sarah Hauser with a 1st in Pistol. Sarah was relying heavily on getting 4 from 4 results in the final 4 events of the tour for her shot at another overall title this year. With no result in Baja she just took a huge hit to her overall ranking chances for 2019. She's not fully out of the race yet but it is now a very slim chance that the 2x Aloha Classic Champion and 3x IWT overall champion can claim another IWT title this year.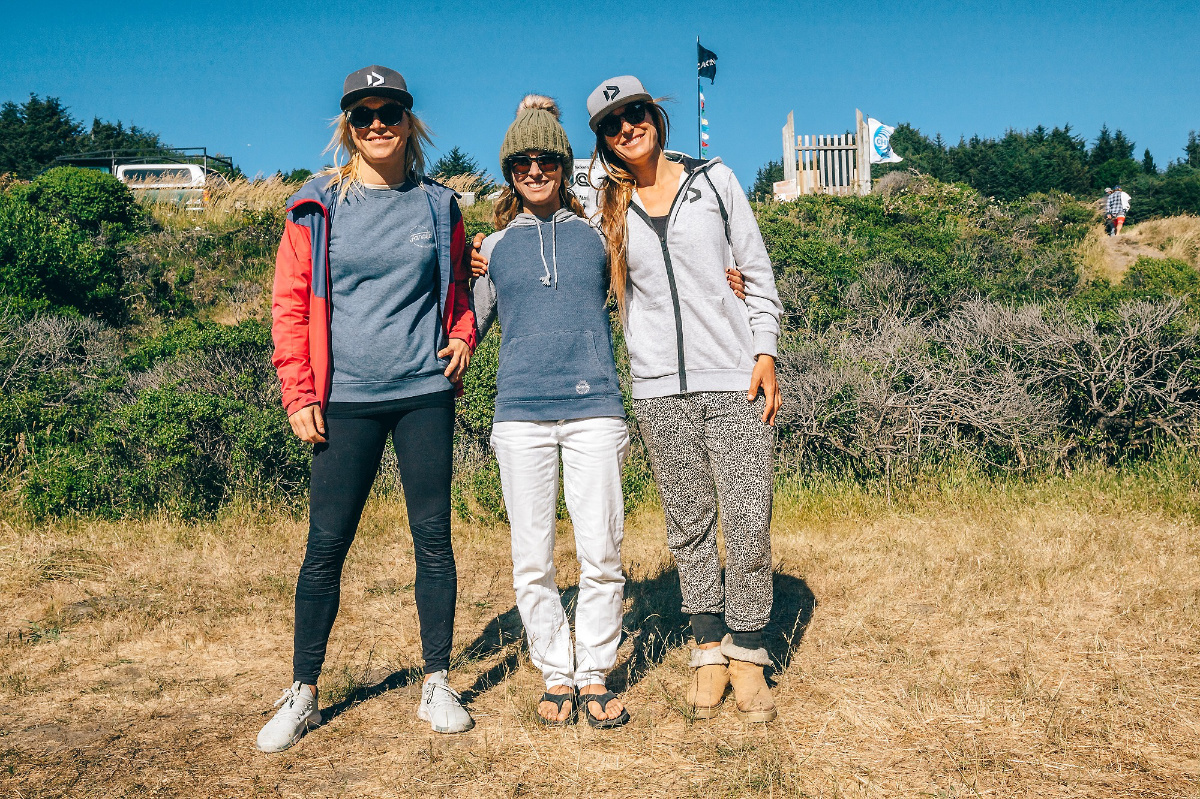 Arrianne Aukes, Sarah Hauser, and Maria Andres
The Youth division is being dominated by Jake Schettewi (USA) with wins in Japan and Pistol, but he has Takara Ishii (JPN) hot on his tail with a 3rd in Japan and a 1st in Chile. Takuma Sugi (JPN) is sitting dangerously in 3rd place and could challenge these two at any time. Ishii is heading to Peru right now and with Schettewi unable to attend due to college commitments, we expect to see Ishii take the lead going into the final event on Maui, The Aloha Classic. That is where these two young talents will battle it out for the overall title.
In the Masters division Simeon Glasson (AUS) is leading with a 5th in Japan and a win in Chile, ahead of Tomoo Ishiihara (JPN) and Sean Aiken (USA). Very close behind the top 3 is another group of riders who could easily challenge the leadership board: Hisataka Ishii (JPN), Nicolas Recordan CHI), and Jonah Lepak (USA) are all within striking distance of the top spot.
The Grand Master and the Amateur divisions are both led by the highly skilled Jeff Henderson (HI). In Grand Masters he's holding a 2nd form Japan and a 1st from Pistol, while in the Amateurs he's holding a 1st in Japan and a 2nd in Pistol. Second overall in the GM is Yoshitaka Ikeda (JPN) with Dana Miller (USA) currently in 3rd, Pali Gueltrini and James Lundin not far behind. Second in the Amateurs right now is Cote Priewer (CHI), with Z Shettewi (HI) in 3rd, Atsuki Ikon (JPN) in 4th and Roberto Carrasco (CHI) in 5th.  All these riders are within striking distance of the top spots.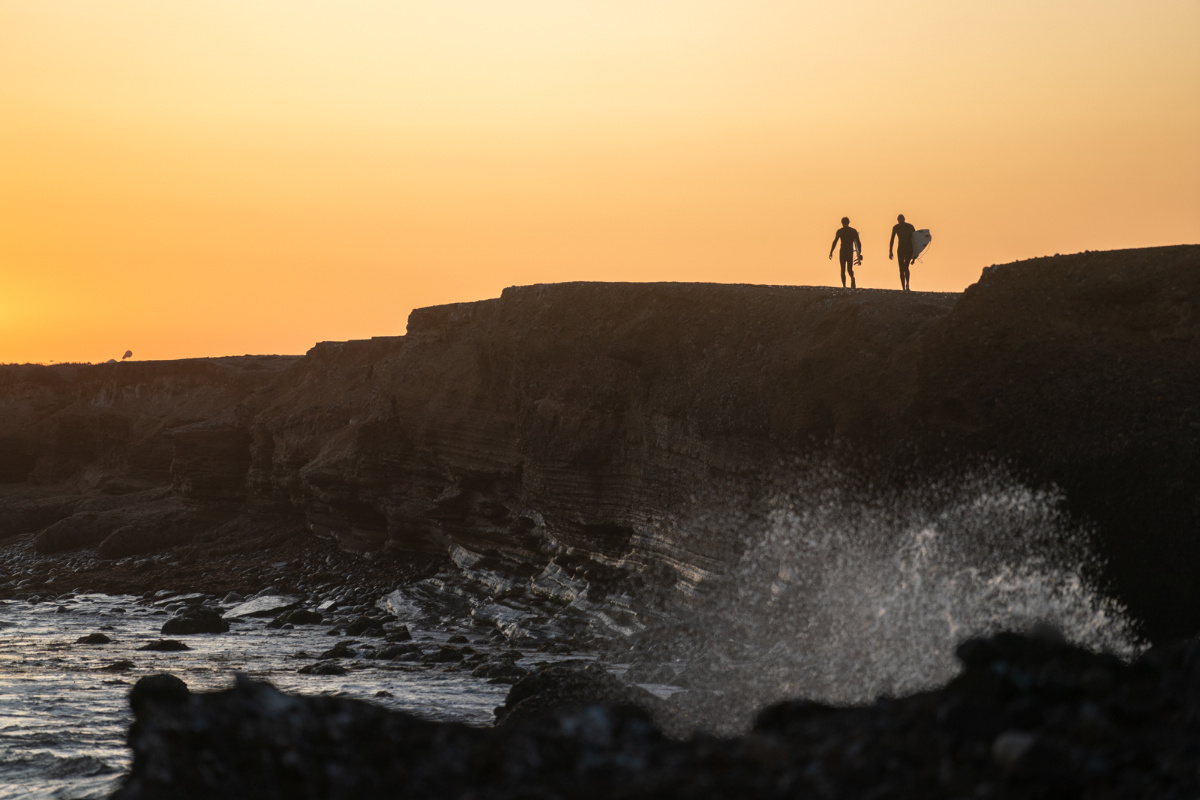 Russ Faurot and Duncan Coombs walk back to camp after one final  Baja surf.
With all divisions looking very tight at the top, it will come down to critical results in Peru and then to the final event in Maui: The Aloha Classic.
Riders are all heading to Pacasmayo Peru for the next event that starts in two weeks. The longest ridable wave in the world will challenge the top rider's skill and endurance. Stay tuned to our social media channels for updates (Instagram and Facebook).