The 2019 Pacasmayo Classic opening day saw over 20 knots powering riders down 12 foot face lines of perfection in a truly unforgettable day.
Head Judge Duncan Coombs called for the first round of Amateurs, then the first round of Pro Women, then Masters and Grand Masters and finally the first round of Pro Men. The heats were all completed in dream conditions. As event opening days go, this was truly impressive. Winning or not, there were huge smiles on the faces of all riders coming back into the beach and that's what it'a all about on The Dream Tour: the best waves, the high performances, and good times!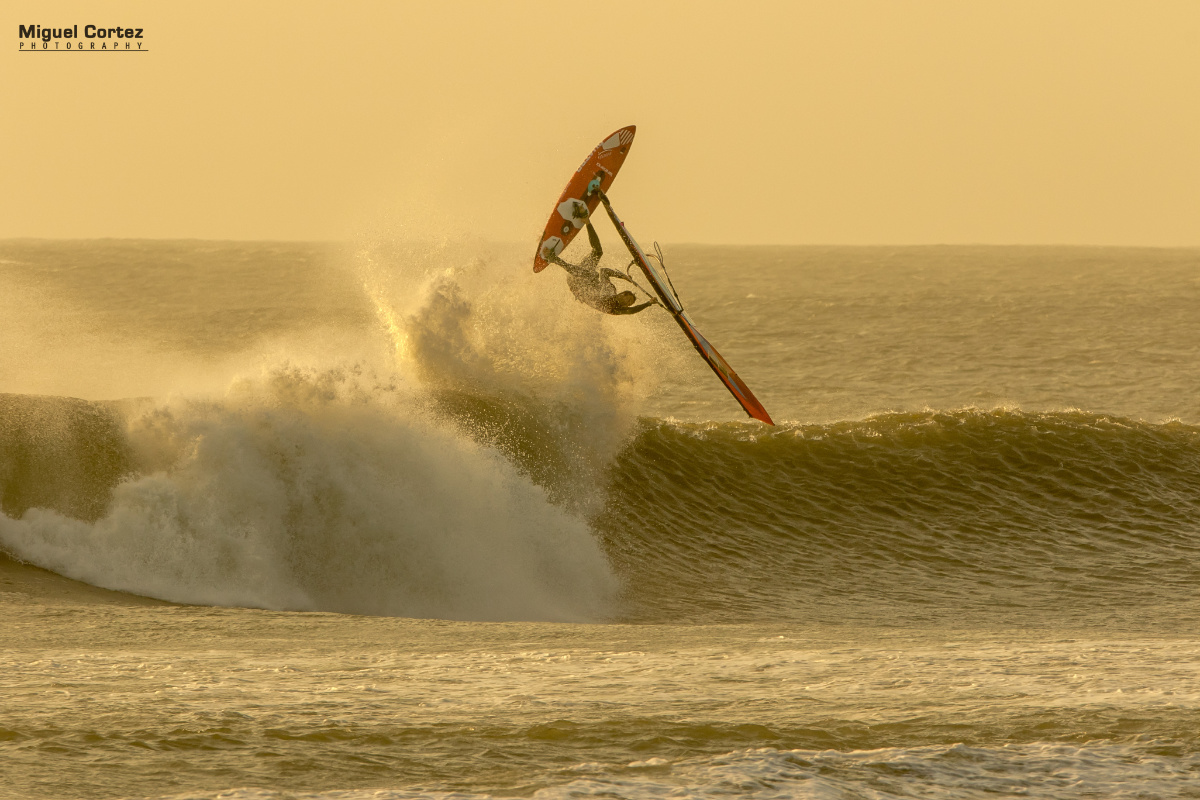 Stand out performances:
Camille Juban (GDE/FRA) set up a super radical, vertical, tweaked aerial 6 feet above a huge lip, dropping back into a full planing bottom turn, straight back to the next lip hit that tore the top of this magnificent wave apart, in a masterful performance scoring 9.0 and 8.8 ahead of rival Morgan Noireaux with 7.7, 7.4. Camilles' greater variety of moves on the rides and more radical tweaked airs at the critical first part of the point break, made the difference. Camille's strong performance was a welcome change from the bad luck he has experienced this year, with injuries keeping him on the sidelines of many of the years biggest events. He missed Japan and Chile due to a severed tendon in his thumb. He returned for Pistol River in Oregon USA but couldn't crack the podium there with such fierce competition. After that he injured his ankle riding the waves in Guadeloupe and missed the PWA Pozo event. He returned for the PWA Tenerife event but again wasn't back at his best and didn't get the results he's used to. He is here in Peru to finally have a relatively injury free shot at being his best, and we are all glad he's back in such top form. This guy is fun to watch.
Arrianne Aukes (NED) arrived in Peru leading the tour after two very impressive performances in the jumping and wild wave conditions of Japan (1st) and Pistol river (2nd), but with an open question over her ability to win in a pure wave riding contest against big wave riding names of 2 x Aloha Classic winner Sarah Hauser (NCL/FRA) and experienced tour rider Maria Andres (ESP). Arrianne's first heat here was against the in-form Sarah Hauser in logo plus powerful point breaking waves, exactly the conditions that she was unsure about and up against Hauser. Any uncertainty is now dispelled, Aukes rides big and goes hard. Aukes took immediate control of the heat with a bomb set and a power display the likes of which set everyone back on their heels. This was power riding, with late hits and critical sections, hitting huge lips with no sign of fear. Hauser struggled to find the best waves, with the best sections on her selected rides closing out, she was forced to find points on the inside smaller sections. This was a great heat to watch and we are eager to see these two power house women riders meet again.
Maria Andres (ESP), currently 2nd overall just behind Aukes (1st Chile, 3rd Pistol), was a standout in the second Pro Women heat with a big aerial, high above the lip of a head high wave face, with great projection. The wave score was a 7.5 which was 0.5 above Arriannes' most powerful wave in the previous heat. So these two are neck and neck pushing the limits. With the wave riding power of Sarah Hauser in the mix we can expect a stunning women's final here in Pacasmayo.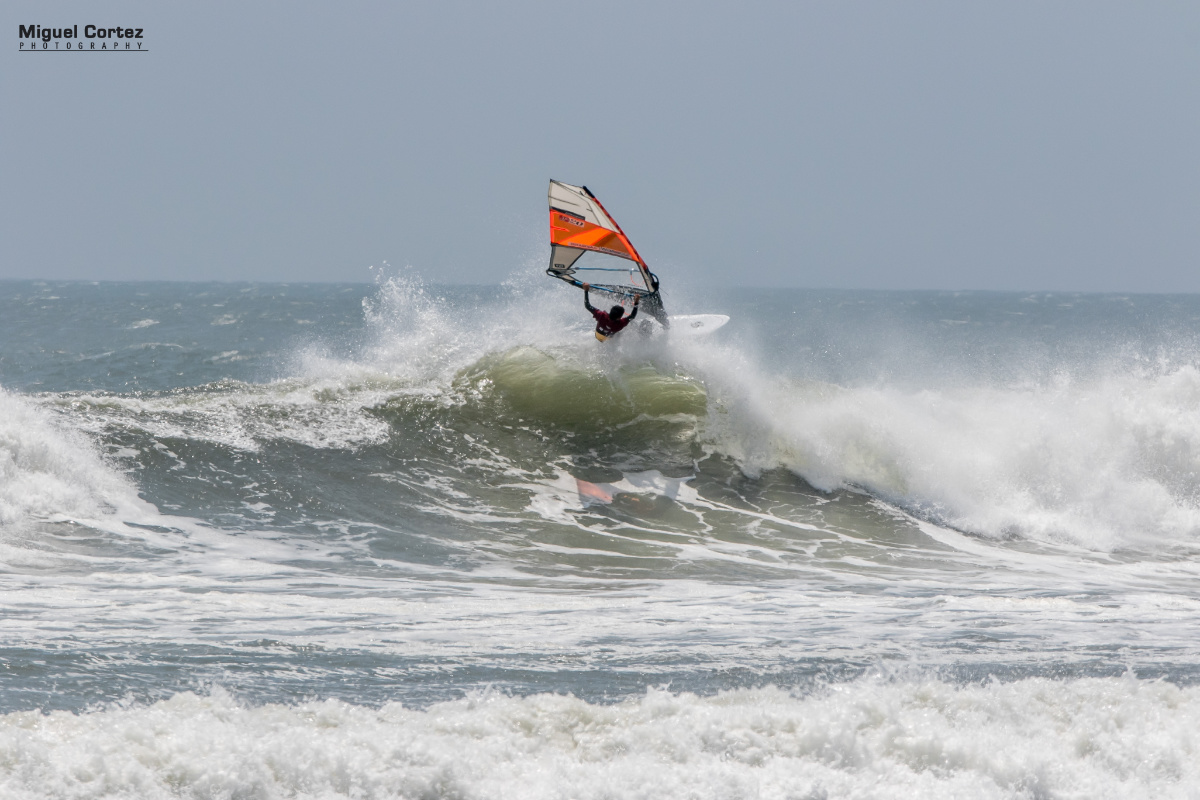 Hayata Ishii (JPN),14 year old from Omaezaki Japan, in the Amateur division, laid down his challenge to the field and made it very clear that he is already a force to be reckoned with, scoring an 8.5 highest wave score in his opening heat. Fierce. Brave, talented, determined and a little crazy. Perfect! We will be talking much more about this new talent emerging onto the world windsurfing scene. Other standouts in the Amateur field came from Kauli Dellacasa (BRA – youth), Bar Navri (ISR – youth), Amit Gan (ISR – youth), and Leandro Chacon (ARG – youth) all showed power moves in the Amateur field that suggest we may have more powerful young professionals join The Dream Tour soon.
Felipe Lamanuzzi (ARG) is a more experienced and very skilled Amateur, who is going to be a real danger to these talented young guns. Lamanuzzi is in top form right now, with excellent wave selection and powerful riding, earning him some of the highest scores of the opening round in Amateurs with a 7.5.
The Masters tour leader Simeon Glasson (AUS) led the first heat with an 8.5 highest wave score, with a big aerial and strong late lip hits, taking him ahead of nearest rival Felipe Lamanuzzi (ARG) who could only find a 5.5 best wave score in this heat, not as strong as his Amateur heat performance. Dan Thomson (CAN) also had a fairly low scoring heat for him with 4.5 as his best wave score, he was stronger in his Pro Mens heat later in the day. Grand Master Takehiro Nakano (JPN) who has been living in Western Australia for over 20 years, was riding big smooth faces to bring up 4th place in the first round.
The first day complete, all riders returned to El Faro Resort for a delicious meal and then a beautiful opening ceremony for the new Mochica Cultural Center here in the resort. We were treated to speeches from local artisans, professors and cultural icons who showed us the beautiful work that is emerging form a resurgence in the local areas, thanks in part to resort owner Jaime Rojas who is bringing a big focus to local culture, fine arts, social justice, ocean care, and increasing social awareness of ocean protection around Peru. It was a proud moment when Sarah Hauser was presented with a very special hand crafted neckless by the leading local artisan of the region Libertad. The local culture is beautiful, sophisticated with roots that go back many thousands of years and it was a great honor to be a part of this opening ceremony.
Stay tuned to our social media channels for updates (Instagram and Facebook).