For most people the terms Maui and Ho'okipa are synonymous with images of the world's best windsurfers flying high and gouging out waves at what is without doubt, the world's most infamous and challenging windsurfing beach. This relatively small Hawaiian stretch of sand has captured the imagination of thousands of hopeful wavesailors who all one day dream of having the opportunity to train and ultimately prove themselves at this, the true Mecca of windsurfing.
Every household name in windsurfing has, at one stage or another, come to cut their teeth on Maui's Northshore playground. To sail here is a right of passage and every grom, amateur and hopeful Pro alike dreams of one day being inducted into the much coveted Ho'okipa hall of fame.
Without a doubt the most iconic images which have adorned magazine covers and bedroom walls for decades have been shot at this beach. Whether it's a shot of Robby Naish laying down a killer bottom turn or Mark Angulo boosting a huge air or some of the new school heroes like Levi Siver or Marcillio Browne tweaking some gravity-defying trick, anyone who's anyone in windsurfing has come here to make their mark.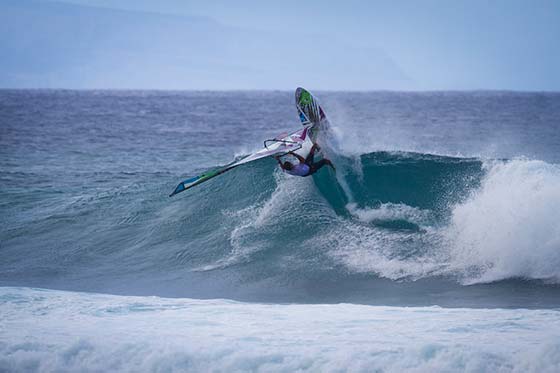 Unless, like the proverbial ostrich, you have had your head stuck in the sand for the last few years then you will be aware of the recent downturn the windsurfing industry has taken across the world. Global recession and the emergence of newer watersports like kiting and SUP have taken the king's share of media attention in recent years. Wavesailing contests have been born the brunt of the punishment with most competition sites now moved to locations which can provide adequate sponsorship and not necessarily epic conditions.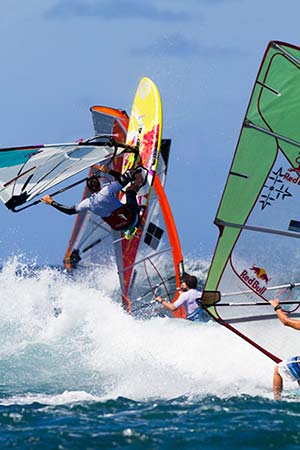 The Aloha Classic amongst others based at Ho'okipa was always heralded as THE contest to win back in the day. If you were King or Queen of Ho'okipa then you had reached the pinnacle of windsurfing success and competitors would scramble together from around the world to come to Maui and prove what they were made of. The last of these events took place in 2006, six whole years ago. Since then, despite the Global downturn, the standard of sailing and sailors at Ho'okipa has only gone from strength to strength, in fact it has grown exponentially. With the reintroduction of multi-fin boards along with new radical board shapes and sail designs the industry has been revolutionized in these past few years. Reflecting this revolution in the sport there has been an evolution in new wave manoeuvres and more critical waveriding. So why not have a contest to pit this talent against each other and once again crown the royalty of Ho'okipa?!
And with that the American Windsurfing Tour is extremely proud to present the Maui Makani Classic 2012, the final tour stop of the AWT this year and undoubtedly the most highly anticipated. Now in its second year, the Maui Makani Classic is shaping up to once again be the ultimate showdown in the windsurfing calendar. With a limit on 100 entrants and places almost full the event boasts some of windsurfing's top names, including Levi Siver, Kevin Pritchard, Graham Ezzy, Camille Juban, Josh Stone, Ann-Marie Reichman, Junko Nagoshi……. The list is ever-increasing and endless in terms of talent! With divisions including Pro, Amateur, Women, Youth, Masters and Grand Masters everybody is catered for! The contest will run from October 25th to November 5th and will see an epic finale to what was a stunningly successful AWT Tour. Last year's event saw competitors from 23 separate nations making it a truly international event. What makes this event so exciting this year is the implications the results will have on the over-all titles for the year.
In the Pro division it is neck and neck between the 2 top spots. Levi Siver, the Maui local has taken 3 for 3 wins in the events in Santa Cruz, Pistol River and San Carlos Baja, whilst Guadalupe national, and last year's Ho'okipa champion Camille Juban is currently in 1st place overall having competed in more events than Levi and finished on the podium repeatedly including wins in Peru and Hatteras. The stage is now set for an epic showdown between the Maui local and Guadalupean ripper and all eyes will no doubt be on these two as they battle for the top spot both in the event itself and overall for the year.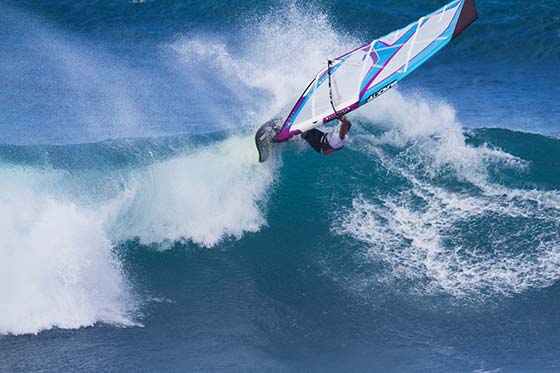 However neither can be assured a place in the final and will have to work hard to work their way into the top four as their competition will take the form of Maui locals and resident legends like Josh Stone, Kevin Pritchard, Kai Katchadourian, Graham Ezzy and many many more!
The women's fleet is one of the most anticipated events for females in the world as finally they are given a stage to reflect how far women's wavesailing has progressed. Last year's winner Junko Nagoshi is a renowned Ho'okipa ripper and could easily take down some of the top men and she will for sure be the one to watch as she boosts big aerials and gouging topturns in front of the crowds. There is also to be a battle in the women's overall rankings with current Youth and Women's leader Fiona Wylde (who is only 16 and making a huge impression on the tour), closely followed by AWT tour director Sam Bittner and Gorge shredder Ingrid Larouche.
Also an interesting aspect to this year's event is the family combos we will see entering. It's great to see multiple generations of sailors take part together including the hilarious and super talented Roediger's Bernd and Norman, the Wylde's Fiona and Macrae and the Stones Josh Harley. Let's see if the younguns can show their parents a thing or two!
So get registering now for what is set to be THE wavesailing event of 2012. Spots are almost completely full with a cap on 100 sailors, and already Maui's winter swells are pummelling the North Shore with Jaws breaking heavy already this week……. Get your game faces on and we'll see you at Ho'okipa!