Building waves in the morning saw brackets and heat orders posted early. Following from the previous day it was expected that the best conditions would be between 3pm and 6pm and our Head Judge was in no mood to waste a single wave. The Point can just turn on here and staff and riders were briefed and put in place before the waves started to show. The first heat got underway at 3:47pm just as the first sets started breaking and wrapping around the Point into the Chili Bowl.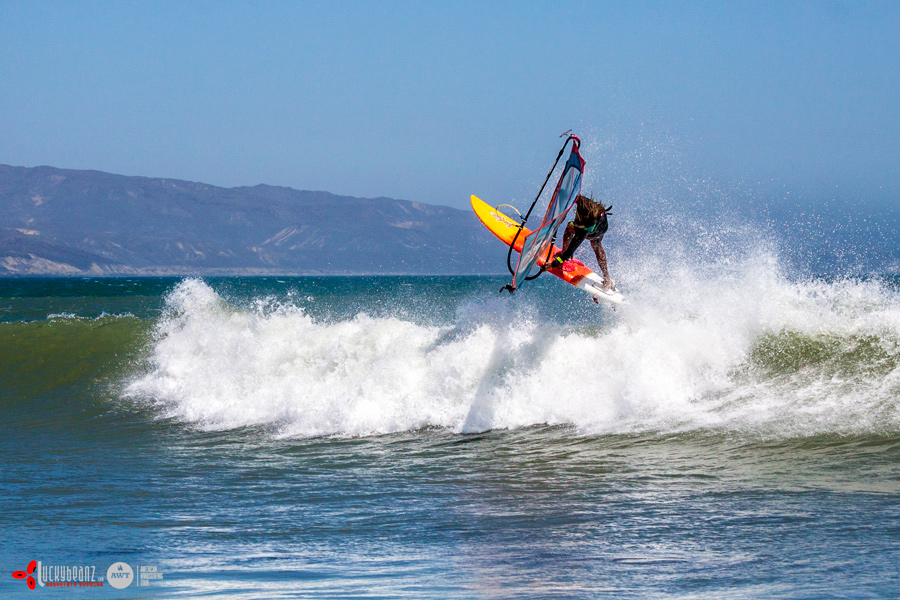 Up first were the Youth, who will run a series of three heats before the man on man final (The Women and Grand Master divisions will follow the same format). Tour leader (wearing our new leader's Yellow Jersey) Jake Schettewi (JP-Australia, Hot Sails Maui, Black Project) just 14yrs old from Hawaii was out to prove himself against not only his older brother Max (16yrs) (JP-Australia, Hot Sails Maui, Black Project) but also San Carlos regular Alex McKirgan (17yrs) from the UK who is a graduate of the Pritchard Windsurfing Camps. Alex balances academic study and windsurfing better than most. While others are relaxing you will find Alex with a pile of books and journals working towards his International Baccalaureate diploma and upcoming university applications. Windsurfing has a diverse following, however it is particularly heavily loaded with doctors, lawyers, analysts, accountants, pilots and more.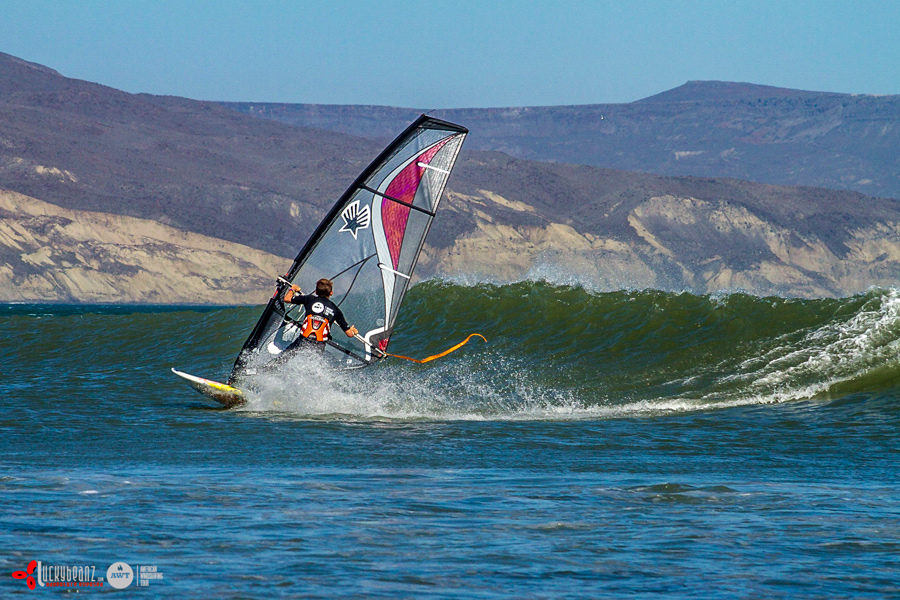 It seemed that Jake was finding it hard to get into the groove, and Alex took advantage taking an early lead. Jake's patience and wave selection paid dividends as he lined up a wave from around the corner. He executed some powerful and vertical turns, before launching into an aerial kicking his fins out and flowing straight into the next turn. It will be hard for anyone here this week to beat this single wave score and this was to be the difference. Jake took his first win of the weak leaving Max and Alex tied for 2nd with identical scores!
Next up was Amateur Heat 2 (Heat 1 featured an Alex and Jake rematch and hence they were given a heat break). New AWT competitor JP Pooley (Guernsey, UK) in his first competitive heat stole the show risking it all and nailing one of the most controlled aerials of the day right in front of the rocks.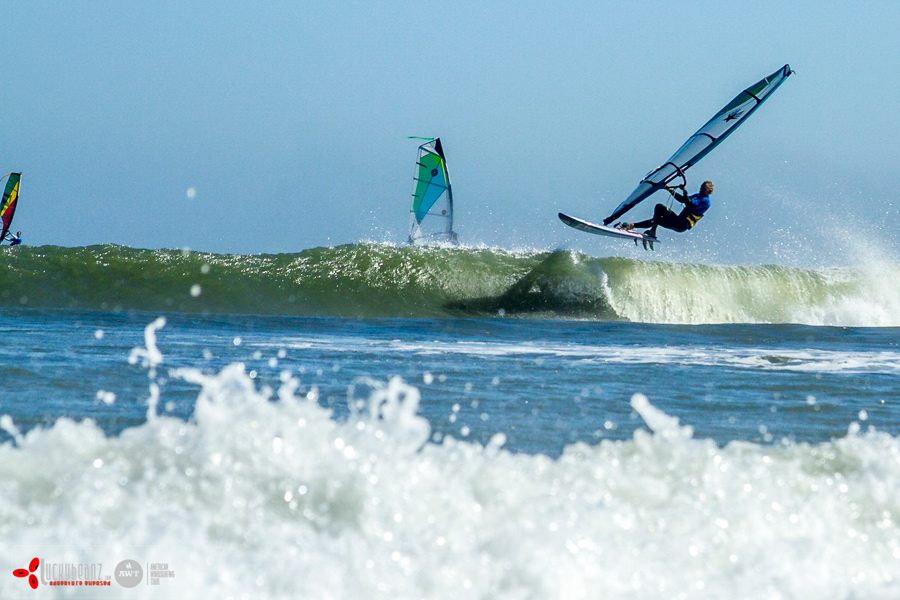 In Heat 1 the Jake and Alex duel would take its first twist with Alex picking off the best waves and riding them hard leaving Jake to wait and wait for the set waves. Without the bomb set Jake would have to settle for 2nd and a slightly less favorable draw in Round 3. It will be great to see Alex join the Tour full time next year and he will clearly push the Hawaiian locals all the way.
Heat 3 brought Franz Orsi (Portugal) into the fold. While not new to competition (2 x National Slalom Champion based in Guincho, Portugal, Franz focuses on SUP travel stories and photography for Starboard) this was his first AWT heat and he would have to battle hard to earn his spot in Round 3 with Max Schettewi (JP-Australia, Hot Sails Maui, Black Project) (16 yrs) finding some solid waves and Carl Spiess (who brought his own fan club from Canada) who has been following the Tour this season making his first jump straight into Round 3 with some consistent riding.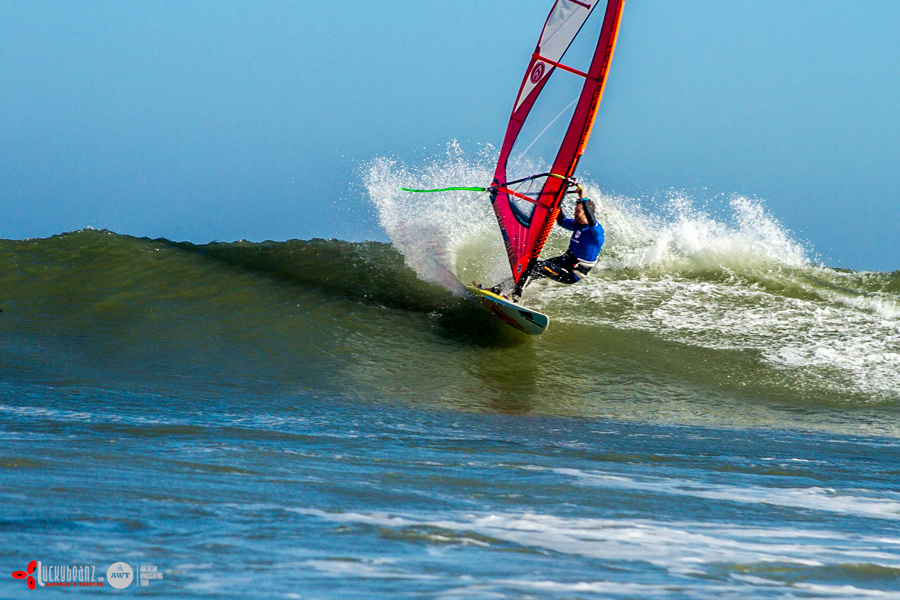 In Heat 4 and pushing hard for the title this year was Santa Cruz local and #1 seed Ruben Lemmens (Quatro, Ezzy, Black Project, Pritchard Windsurfing). He was in no mood to let anyone spoil his party as he dominated from the start. Waiting for the set waves Ruben filled his score card before pushing harder. Showing both dominating skill, but also sound tactics it will take a lot to beat him this week and he has his eyes firmly set on winning a spot in the Pro bracket. This week we have 2 spots open in the main draw which will be allocated to the top two Amateur riders (we may have three spots depending on whether our Head Judge Chris Freeman (Quatro, Goya Windsurfing, Black Project) decides to jump in the water). Marty Rosse and Robert Torklidsen also made the jump into the Round 3 match ups.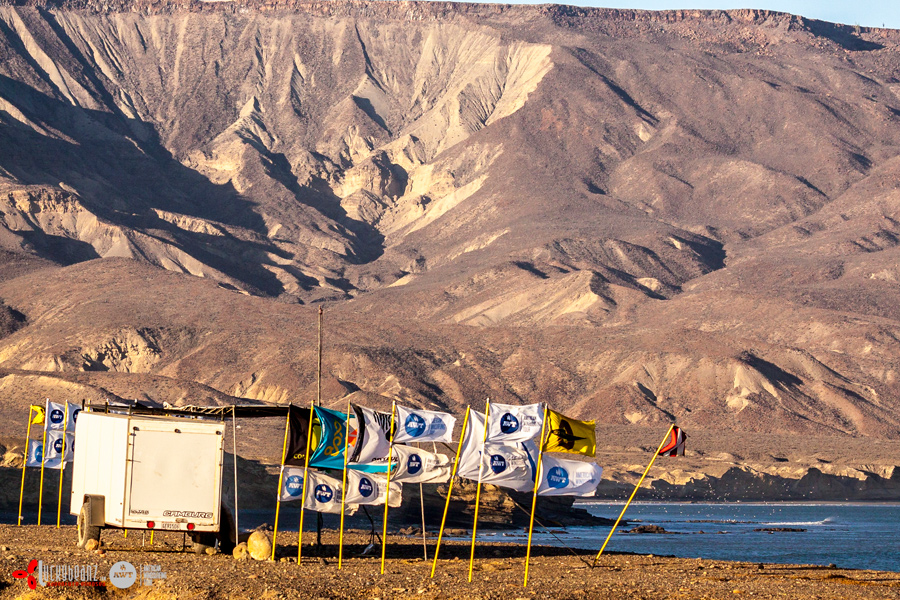 The Women's Heat 1 didn't have too many waves but thankfully the 18 minutes was long enough for a few sets to roll through and each lady got their fair share of the water. It was the first time we have seen Julie Fortier (Canada) in completion but she looked right at home and was leading the heat until Sarah picked off a set wave. We might have thought that it could have been a pretty easy week for the number 1 ranked rider but this is definitely not the case and Julie is going to challenge Sarah in each heat especially considering the medium wave forecast. Sarah loves big waves but the smaller waves open the doors for more riders to challenge her at that is when she will be most vulnerable.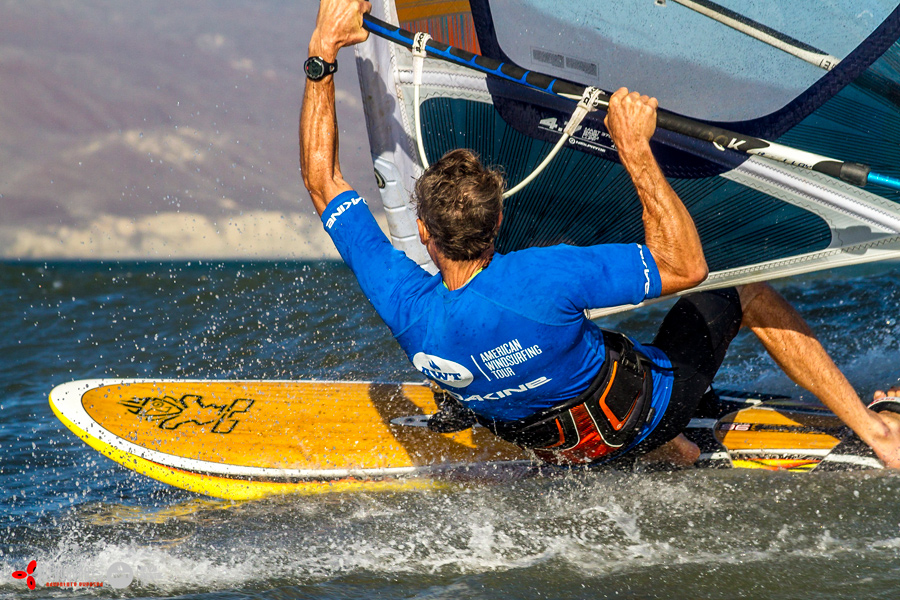 The Grand Masters would close out the day and Dwight Bode took control early, lining up set waves from behind the peak to ensure priority he rolled consistently and aggressively through the heat to clearly take first blood. Not that far behind was San Diego and long time San Carlos rider Steve Roy (he actually has his own trailer parked here year round) who used his local knowledge to select the longest waves which peeled right through and past the Chili Bowl section. Maui resident Scott Shoemaker back in competition this year after a few decades of absence has been impressing in all conditions and took a firm grip of third. It will be interesting to watch the Grand Master's battle play out this week.
We caught up with a few riders to hear their thoughts on the first day of competition;
"I just enjoyed myself the whole day, discovering a new spot with 4 other guys, so stoked today, I was the last out, great day! The guys here at Solo Sports are super cool and the place is Disney Land, I have a big smile the whole time." Olivier, Amateur (France)
"I really enjoyed the great conditions towards the end of the day, I was on a 4.1m Ezzy and had an amazing day with 2 successful heats. Tomorrow I will relax and check out the Point in the morning, today went pretty well so I will just keep doing more of the same. This place is unbelievable, the wave is unique and combined with the offshore winds the wave riding is amazing." Alex, Youth & Amateur (UK)
"I had a lot of fun, I was with the girls just waiting for waves, you had to be patient today. It was fun to watch the Amateur and Youth too as they are progressing." Sam (Naish Windsurfing, Dakine, Makani Fins) (AWT Tour Director)
"We just made a place here where people can play and take advantage of the surf here at Punta San Carlos. It is always amazing to have the AWT here and watch everyone pushing the sport of windsurfing to new levels. With a wave like this it is really great to see what people can do with it." Kevin Trejo (Founder, Solo Sports)
Stay tuned for tomorrow's report as the action looks set to heat up in the desert.