Competitors were greeted with small waves and light winds on Day 3 of the Solo Sports Desert Showdown. Our Head Judge put competitors on an hourly rolling hold with the aim of maximizing the expected afternoon waves. As the fog lifted the wind began to fill in and the rigging frenzy began in earnest with riders looking to grab a few waves before official competition. Pro riders who have been on hold since the start of the week were testing their equipment and trying to tune into the smaller than normal waves.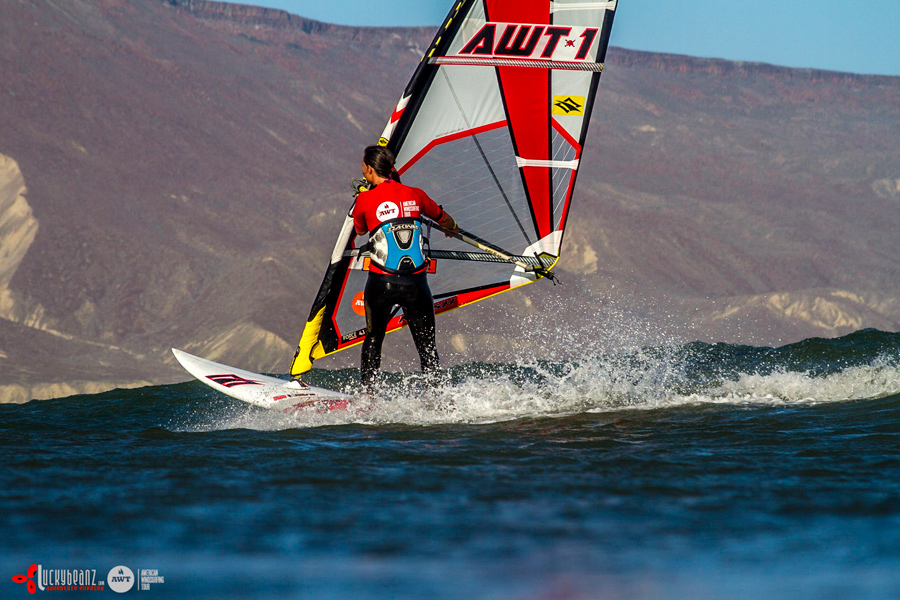 The Red flag signifying the start of the first Transition Period was raised at 2:45pm (an hour earlier than the day before) and our Amateur redemption heats 5 and 6 would follow. Olivier Meline (France), Jaxon Porter (Canada), Chris Pow (UK) & Mark Harper (South Africa) booked their spots in the Third Round. The Masters Heats 1 and 2 were dominated by the aggressive riding of JP Pooley (UK) and reigning AWT champion Ferdinando Loffreda (Italy).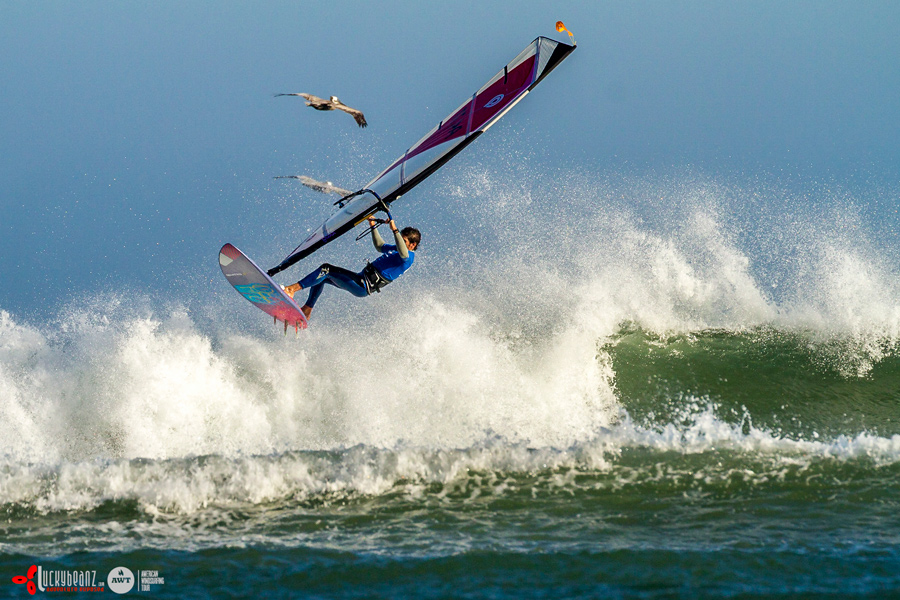 The Amateur Round 3 would see the return to action of our Amateur heavy hitters with 4 riders set to be eliminated at this stage. Making the jump into Round 5 were Robert Torklidsen (Norway), Jake Schettewi (USA), Mark Harper (South Africa) & Ruben Lemmens (Netherlands). These riders were able to take a break while 2nd and 3rd place riders would be matched up in Round 4, where 4 further riders would be eliminated. Wave selection was critical, with only a few set waves per heat (18 minutes). Tactical positioning was key to help riders gain the advantage.
Women's Heat 2 kicked off with a bang, and quite possibly the wave of Sam Bittner's life! With 10 seconds to go until the Green Flag, one of the biggest sets of the day rolled in and our ladies were all in position. Sam won the tactical battle for the 3rd wave, with Julie (Canada) pushed onto the 1st and Sarah (New Caledonia) onto the smaller 2nd. Sam's first turn under the point lip threatened to upset the status quo, riding all the way through and past the judges Sam racked up points but crashed missing the last scoring potential in the Chili Bowl. As Julie's wave fizzled Sarah was matching Sam turn for turn and while not as critical at the onset she connected the sections and landed a small air to clinch the exchange by 0.1 points.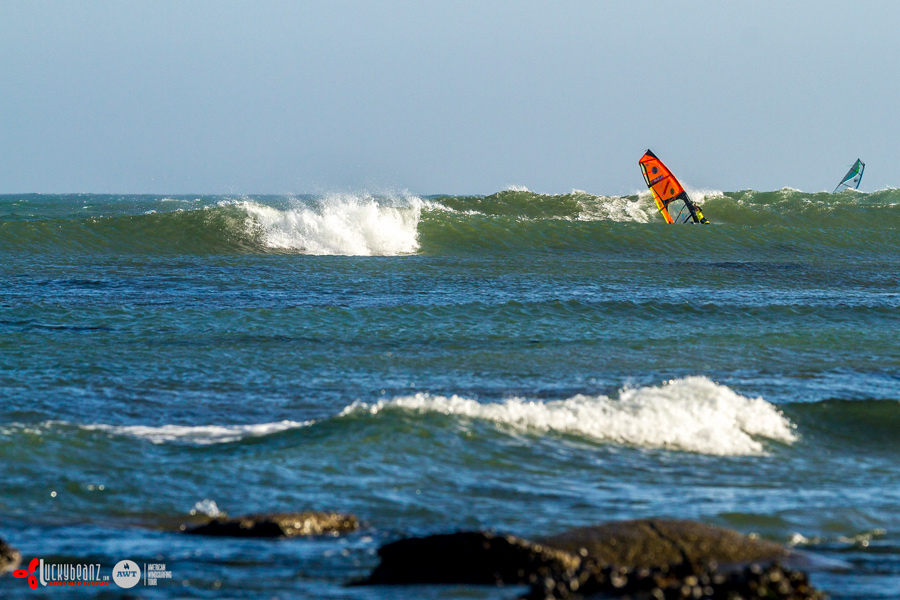 For the next 17 minutes Sam went in hunt for another bomb while the others executed a safer strategy and took some smaller waves to fill their score cards. Sam didn't find another good wave and would have to settle for third. Sarah took another win, and Julie further cemented her 2nd place overall at this stage. Sarah now has a commanding lead and without a major upset it would be hard to imagine her not going home with the trophy.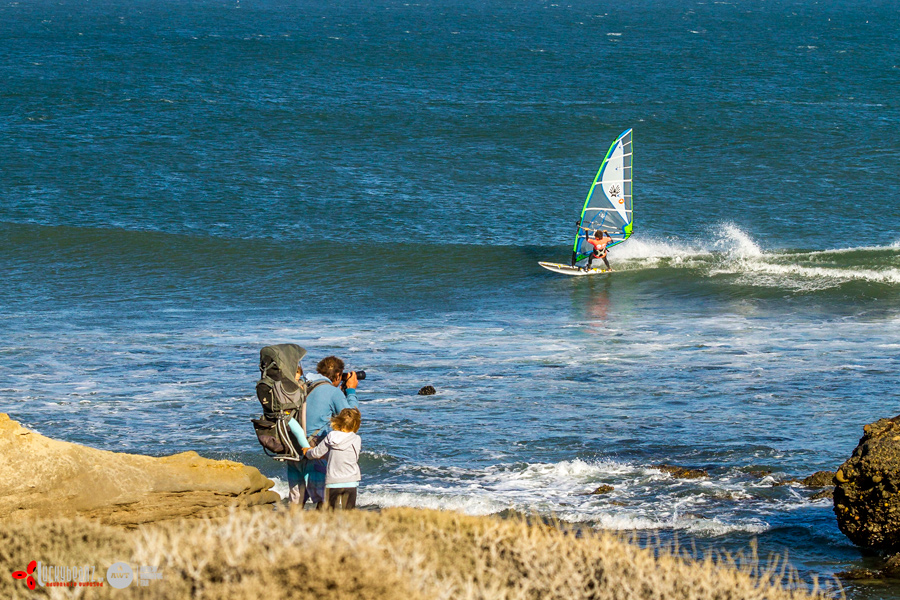 Amateur Heat 11 saw JP Pooley (UK) (yet another Pritchard Wave Camp export) take control and land a perfect aerial in front of the rocks, risking everything for glory and taking the win as a result. Franz Orsi (Italy) and Max Schettewi (Hawaii) struggled to find good waves allowing Olivier Meline (France) to carve his way into the Semi-Finals.
Heat 12 saw Dwight Bode (USA) riding from behind the peak, getting the nose of his Starboard vertical in the critical section and throwing spray, before connecting all the way through the Chili Bowl with a series of turns. Alex McKirgan (UK) couldn't find his rhythm and he would have to settle for 9th= alongside fellow Youth competitor Max Schettewi (Hawaii). Marty Rosse was having his best day of AWT competition and found quality waves and racked up enough points to stay alive.
We are now left with just 8 riders in the Amateur division. With the top 3 winning spots moving to the Pro bracket, there is more than just a title and ranking points at stake.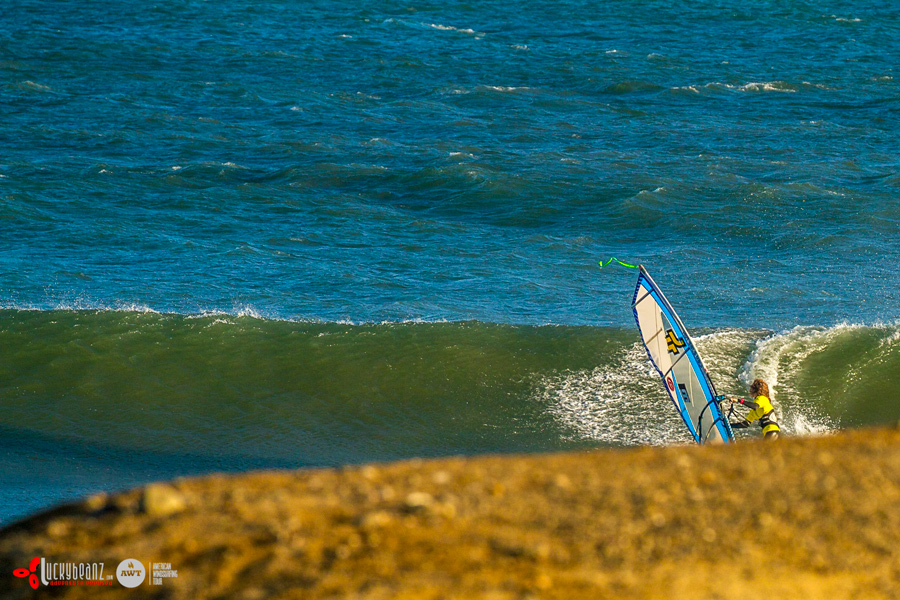 The final heat of the day saw Alex McKirgan (UK) sailing his 2nd heat in a row but following his disappointment in the Amateur division he refocused to link his turns and land a couple of aerials to secure 2nd place ahead of Max and Jaxon. Our youngest competitor Jake Schettewi (Hawaii) seems to be in a league of his own at the moment and not surprisingly he already has a good deal of industry backing. With critical turns, late hits and aerials he took another win and looks to be in firm control of the Youth bracket at this time.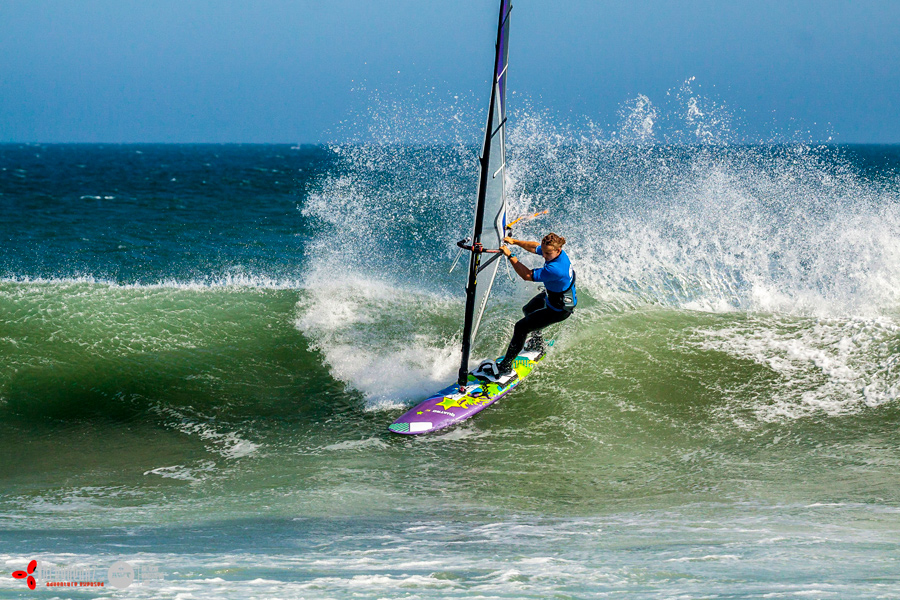 The day of competition ended at 6:47pm which left just enough time for a few late warmup waves for Pros and others alike. As we progress through the heats we are getting closer to delivering some results. With the waves expected to remain similar for the rest of the week we are set for more of the same.
With competition completed, it is time for a hot shower and cold beverage. With no running water, the camp showers are a little comfort which everyone enjoys. The open bar and limitless provisions provided in camp by the SoloSports team ensure that all staff, riders and supporters are well looked after, after a long and challenging day on the water.
Stay tuned as we get closer to crowning our first champions.