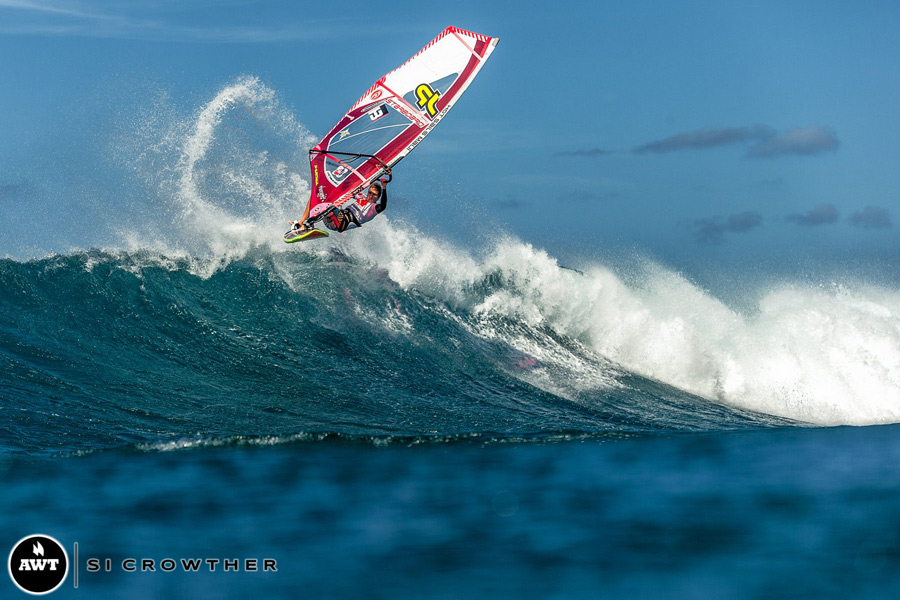 It was a historic day at Ho'okipa Beach Park as we crowned champion after champion! Morgan Noireaux won the PWA Severne Starboard Aloha Classic, as did Iballa Moreno in the women's fleet, and Tom Garcia in the Grand Masters. Plus, Thomas Traversa was crowned PWA World Champion!
It was straight into the final stages of the PWA double elimination in the fluctuating winds and tricky westerly swell. In the men's fleet it was Marcilio Browne that beat Victor Fernandez in the first heat of the day, with an almost flawless heat. This put Victor out of the title hunt and handed the 2014 win to Thomas Traversa. Browne went on to face Traversa himself but, on a high from his victory, Traversa looked unstoppable landing a one-handed aerial, another massive aerial, a goiter and a whole succession of big hits.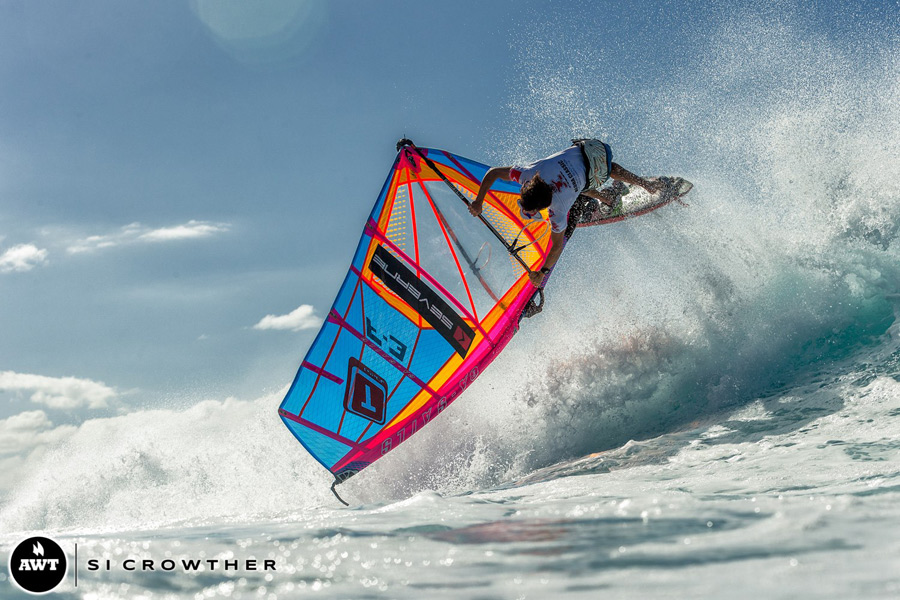 Then it was onto the final where Maui local 20-year-old Morgan Noireaux was waiting to defend his first place. And defend it he did. Morgan showed mastery beyond his years with takas, gouging hacks and solid aerials. Morgan broke a footstrap mid-heat and had to come in and change his board, but even this didn't stop him. Morgan sailed in to a roaring crowd and even pulled a fully tweaked air on his post-heat victory wave!
In the final stages of the women's PWA contest all places remained the same as Junko, Tiffany, Fiona and Iballa all defended their positions.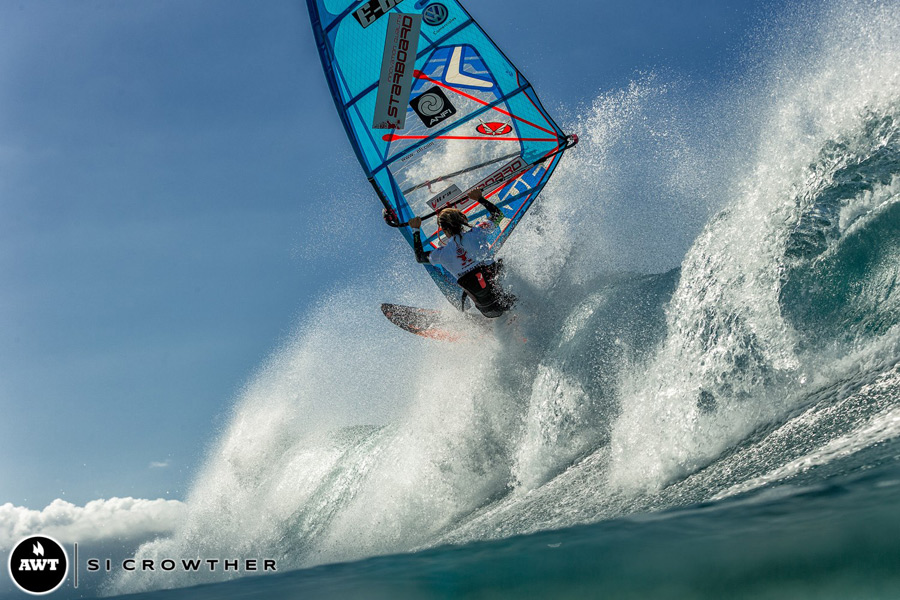 Fiona sailed an exceptional heat against Tiffany really hitting the lip late, almost too late on some occasions! But it was the new world champion, Iballa Moreno, who seemed more at home in the tricky conditions and made it count in the final. Iballa landed some full power aerials and full-whip top turns, showing just why she is the best in the world.
Straight after these two amazing finals it was into one of the best super sessions you will ever see!
Eight windsurfing greats took part in the 'Champions for Charity' – the fiercest of super sessions at Ho'okipa – all in aid of a great cause.
Each of the eight riders paid $100 to enter; this prize fund was then matched by the AWT. The winning rider from the super session then gets the total fund for a charity of their choice!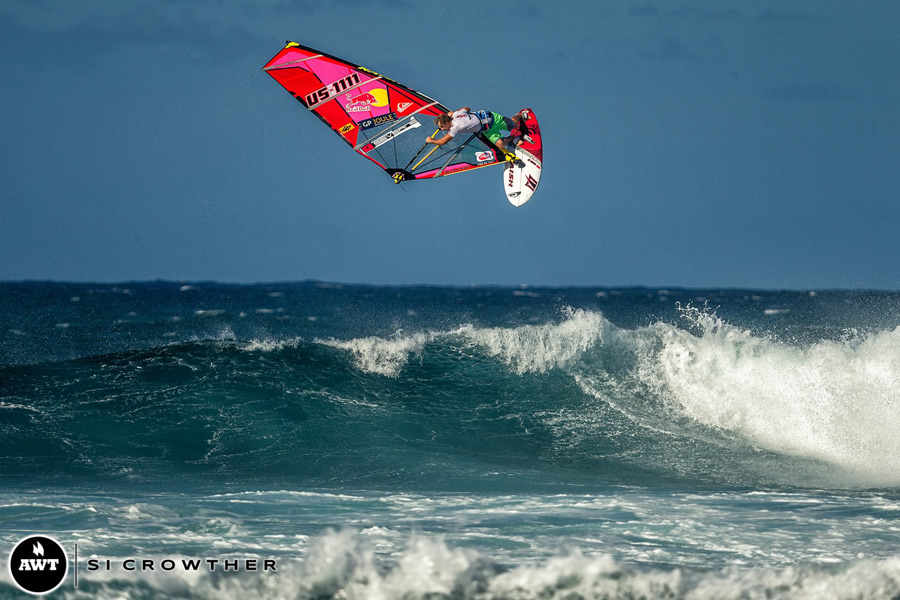 Check out the 30-minute super session and vote for who YOU want to win right here.
Voting closes on Sunday 9th November, at 12:00 PM HST. Sit back and relax and watch some big moves from some of the biggest names (ever) in windsurfing!
But even after this the day was far from over for the AWT… we continued with our competition after crowning the PWA champions and it was straight into alternating heats with the Grand Masters and Youths. It was fantastic to have these two fleets side-by-side, two different generations of windsurfers coming together to enjoy some spectacular waves!
In the Youth fleet we have only made it through the first few rounds of competition, but already it's clear just how packed this fleet is with major future talent.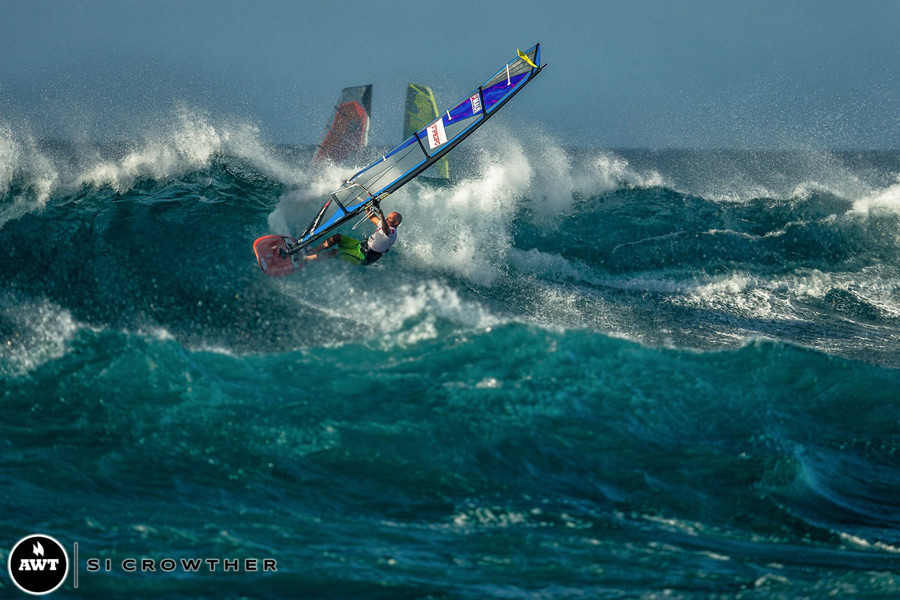 With the Grand Masters we made it all the way through to the final with Tom Garcia, Maui based Brit Colin Baker, Jamie Brown from Oahu and local legend Rob Funk.
It was Tom Garcia and Jamie Brown that really showed what they were made of in the final, but it was Tom that finally won in style! Tom's timing, aggression and great wave selection put him a set above to rest and guaranteed him the title!
Rider's Views And More
Morgan Noireaux:
"It is so awesome to have the PWA tour here, back in Maui. The Aloha Classic stopped when I was pretty young so it's incredible to have it back here now that I'm actually pretty good! Ho'okipa is my backyard so to have the final stop of the AWT and the PWA here is just insane. I think everyone's pretty glad we've had a normal wave contest too!
"I cannot believe I won the whole PWA event; it is just incredible to win at my home spot, if there is anywhere I would have wanted to win a PWA event it is here! Congratulations to Thomas for the title and Marcilio for making it onto the podium too!"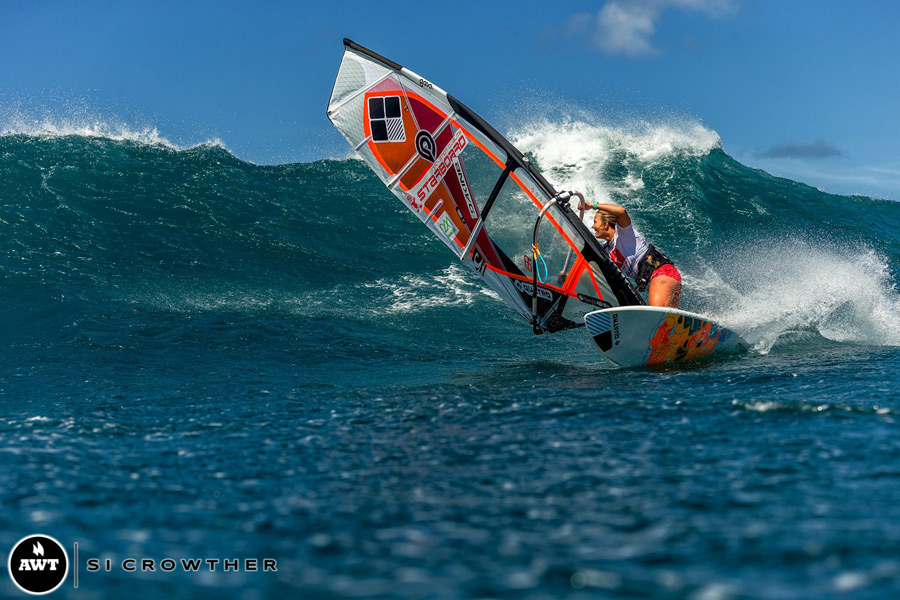 Chris Freeman, AWT Head Judge
"This is what dreams are made of!
"Take a 16-year-old kid from Haiku, send him on the AWT Tour for four years, then he beats the best riders in the world at the Aloha Classic in his own backyard!
"It is so great to have the PWA riders here, watching them tear apart Ho'okipa brings new inspiration and ideas; when you are isolated from the world here in Maui it is easy to forget about the wider windsurfing community. Having riders from all over the world at our home break helps to further the sport of windsurfing, which is central to the aims of the AWT.
"A huge congratulations to Thomas, I have really enjoyed following you this year, first with the RedBull Storm Chase win and now the PWA title, thanks for helping to make our sport so amazing! Having won here 20-year-old Morgan Noireaux joins an illustrious list of riders to win the Aloha Classic including: Robby Naish (who has been such a huge supporter of the AWT), Jason Polakow, Dave Kalama, Mark Angulo, Levi Siver and more; congratulations on joining windsurfing's elite today!
"While many will see today as Morgan's day we also crowned a Grand Masters (55 and over) champion in Tom Garcia, as well as a Women's PWA champion in Iballa who sailed an amazing contest narrowly defeating 17-year-old Fiona Wylde (another AWT export) and claiming both the overall title for 2014 and the Aloha Classic tiara.
"Expect to see Morgan and Fiona challenging for more PWA titles next year while continuing on the AWT, which kicks off again in February."
Sam Bittner, AWT Director:
"I am so proud of Morgan for winning the PWA! Morgan has grown so much over the past five years on the AWT Tour and it has been an honor to watch him progress. He really deserves this and I am one proud mama! Massive congratulations to Fiona too of course; Fiona you rip! I cannot wait to see what the future has in store for these two and all the other amazing AWT riders."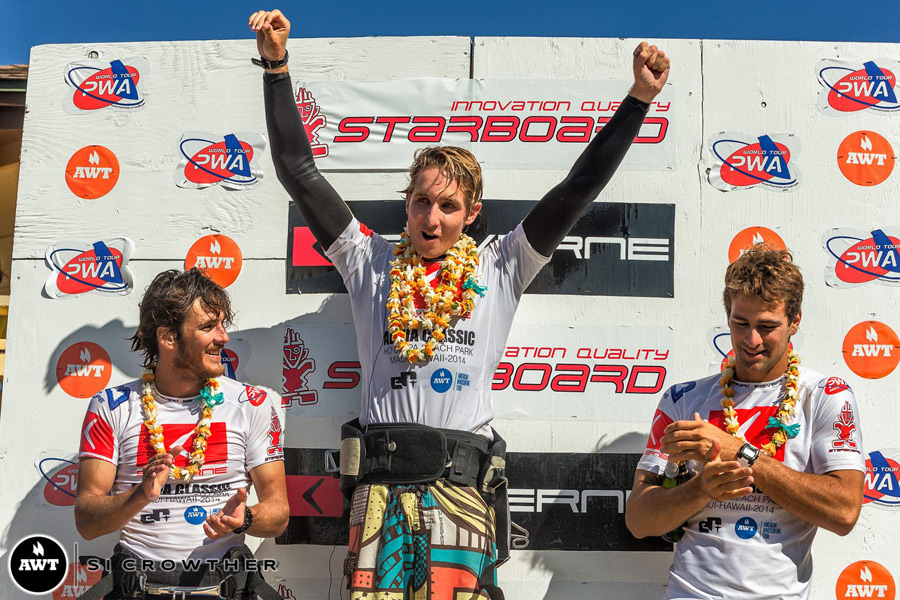 Men's PWA Starboard Severne Aloha Classic Top 4:
1st Morgan Noireaux
2nd Thomas Traversa
3rd Marcilio Browne
4th Victor Fernandez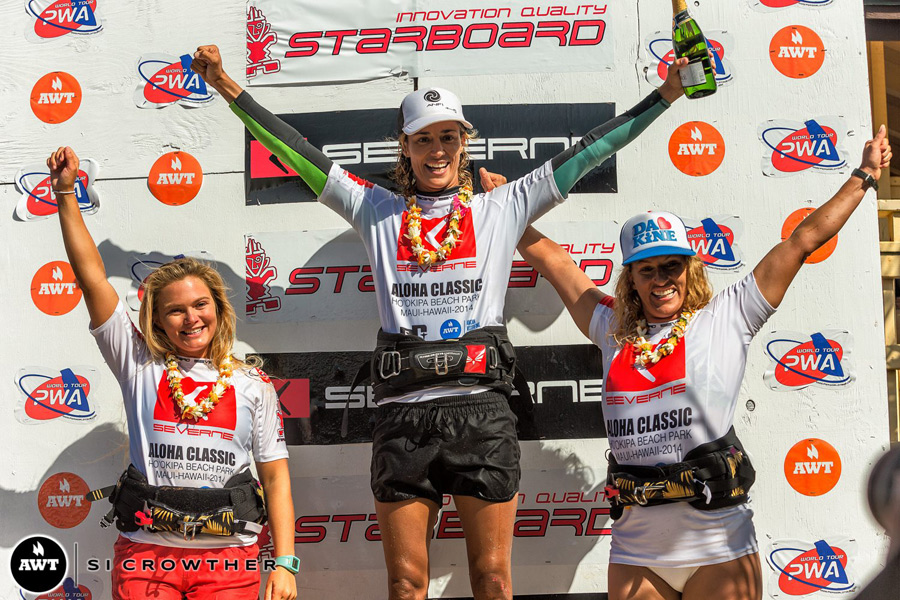 Women's PWA Starboard Severne Aloha Classic Top 4:
1st Iballa Moreno
2nd Fiona Wylde
3rd Tiffany Ward
4th Junko Nagoshi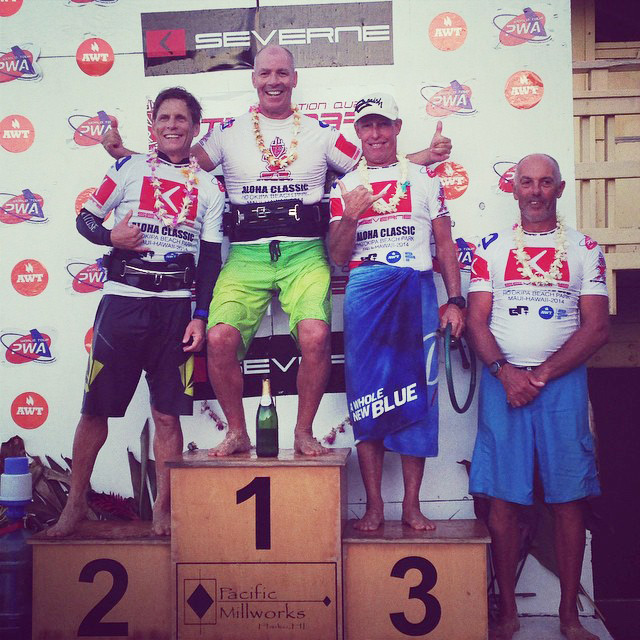 AWT Starboard Severne Aloha Classic Grand Master Top 4:
1st Tom Garcia
2nd Jamie Brown
3rd Rob Funk
4th Colin Baker