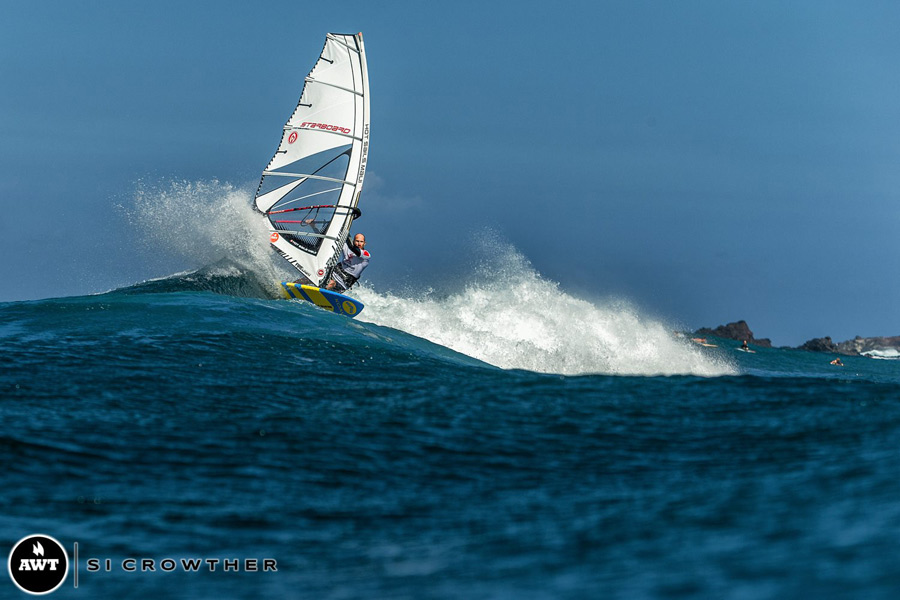 Text by Amy Carter
Today it was time for the Amateur competitors to shine at Ho'okipa Beach Park as Glenn Haslbeck takes the Amateur Severne Starboard Aloha Classic title, and Dan Thomson secures the AWT 2014 Tour win.
An incredible 63 Amateur riders were greeted with lightish winds, but over head high swell, which meant it was straight into competition as soon as the wind picked up a little more and the surfers left the water. With this amount of competitors we knew the action would kick straight into action, and we weren't wrong!
Right from the start we could see there were a few riders to watch out for, but what was more noticeable was that everyone upped their game and seemed to love their heats on the water and relaxing on the beach.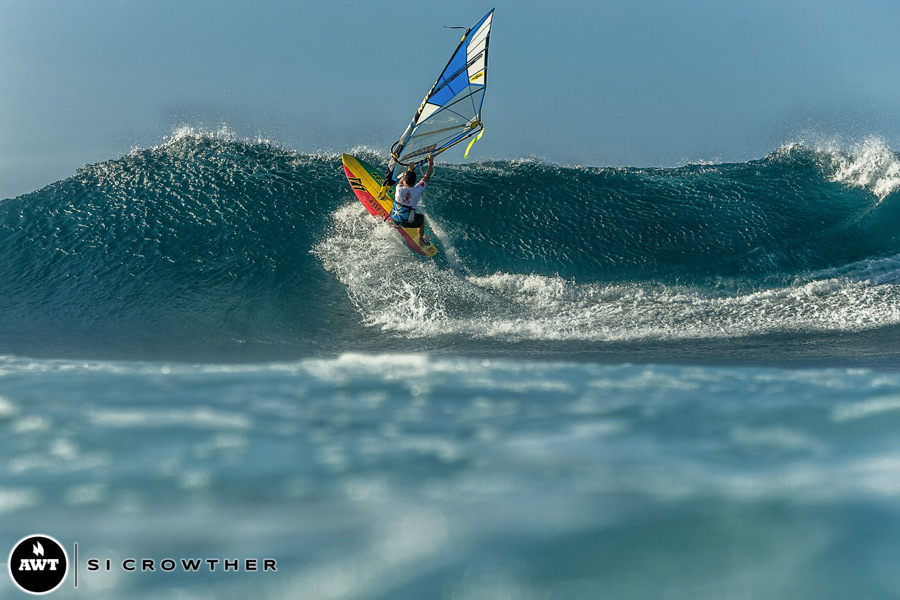 The final was a true spectacle of windsurfing with legend Jeff Henderson taking on Harley Stone (the son of another legend, Josh Stone), Paul Karaolides of Fish Bowl Diaries and Vancouver/Maui local Glenn Haslbeck.
All four riders were on top form, with Paul even busting a massive backloop (there were no jumps to count!) just because he could! It was clear how much fun every rider was having on the water. It was down to a two horse race in the end, with a close call between Harley Stone and Glenn Haslbeck, but it was Glenn that took the win. Glenn's aggressive turns, power and speed through the waves is what gave him the edge over Harley.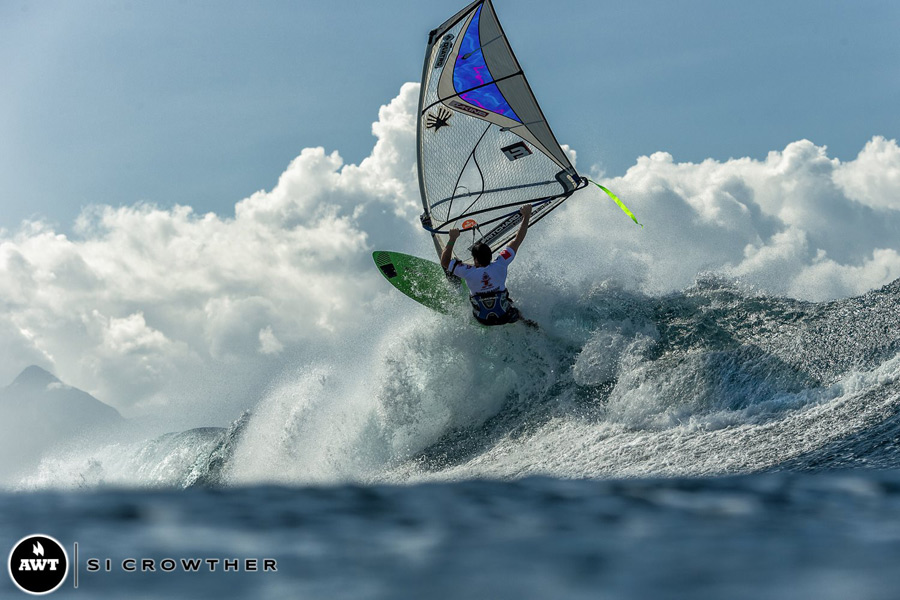 The completion of the Amateur bracket also decided the overall standings for the AWT 2014, with Dan Thomson taking the title! It was Ruben Lemmens in second position and Joey Sanchez in third. Full results to come soon, but here's the top six.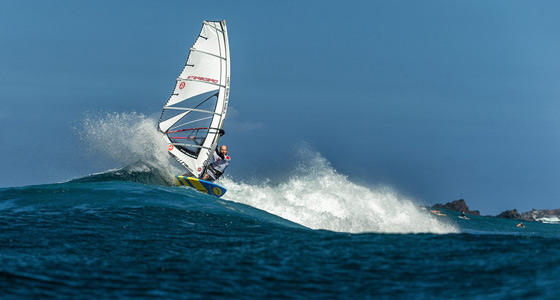 Best wave scores of the day:
Glenn – 8.400
Joey – 8.367
Harley – 8.333
Rider's Views
Glenn Haslbeck:
"It has been an incredible day! It was really my kind of conditions: light and glassy, but with good waves coming through! It was just lots of fun to be out on the water with great friends.
"All of my heats were amazing to be a part of, but a lot of them were pretty tough too! My first was a bit of a warm up, but then round five was super tough against Neil (Turpin) and Paul. In the final I only got a couple of waves, so I was really surprised to have won. I just feel blessed to be here and be able to share these conditions with great people. The camaraderie between everyone is fantastic and I am just so grateful.
"I'm from Vancouver, but I come over to Maui every year and stay for the winter. I haven't done any other AWT contests this year, but who knows what next year will hold…"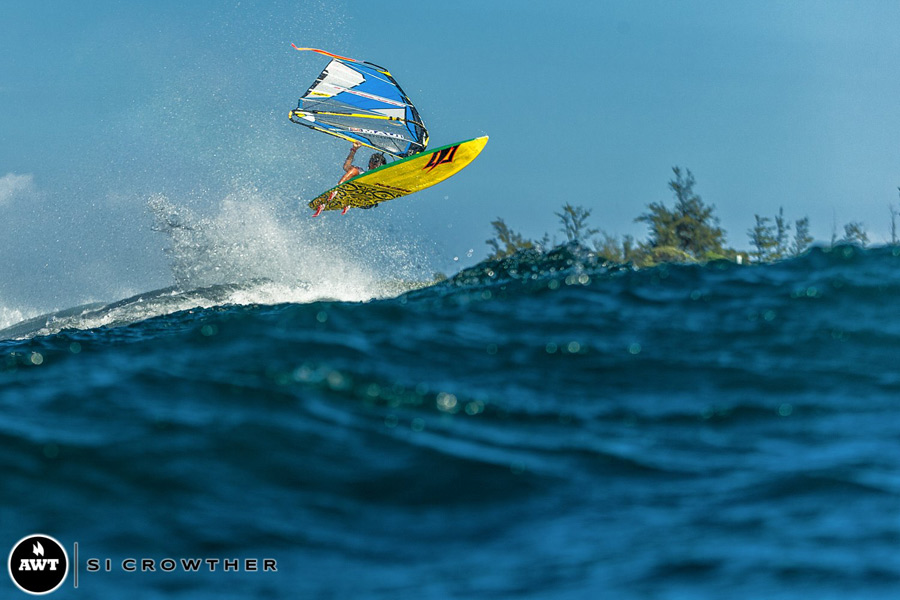 Harley Stone:
"I sailed four heats today and managed to win all of them, except for the final! Being in the final was the best, and I was just stoked with everything all day.
"I think my wave selection could have been better in the final, but I am super happy with second. It is my first year in the Amateur men's final after doing the event for four years. I'm 16 now so I've got the youth competition to look forward to too!"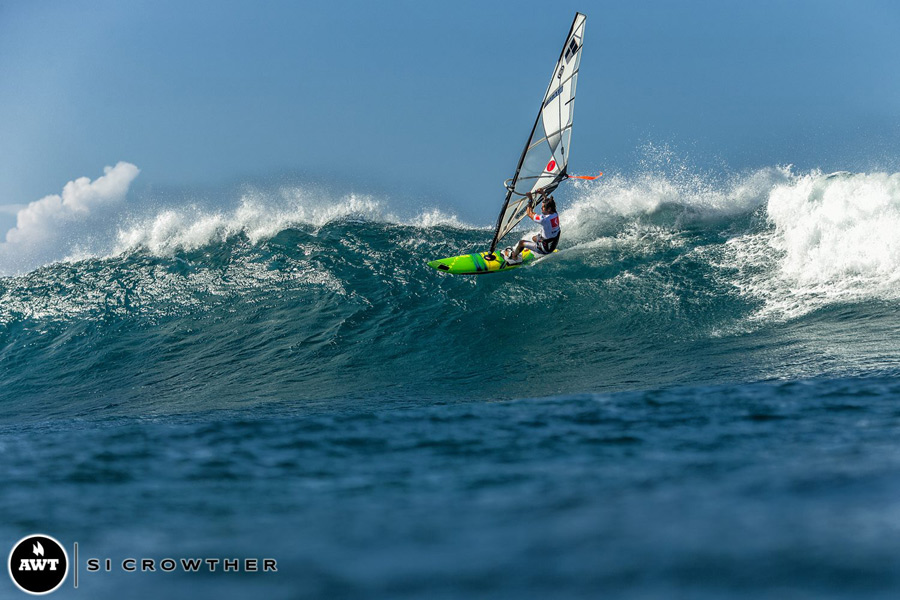 Paul Karaolides:
"The final was one of the most fun heats I have ever sailed, in all the competition I have done for the last three years! I even got the perfect wave for jump too!
"I could hear Fiona on the microphone shouting, "Buffalo!" which was hilarious (it's my new nickname that she won't drop!). Not only was it so much fun out there, but I also had Ho'okipa almost to myself. 25 minutes at Ho'okipa with only three other guys and everyone talking about my backloop when I got out of the water, then to get a place on the podium – it can't get any better than that!"
Jeff Henderson:
"It's all a bit of a blur if I am honest! I had some great sailing and a real blast on the water. Every time I won a heat I was like 'Cool I get to go out again!' I was using equipment a little different to the others: a 103-liter fish and 5.5, but it definitely paid off for me.
"There were lots of heats with my riders and workers, which was awesome and made the whole day really special.
I am so happy for Glenn to have won, I've watched him sail lots of heats for a long time; he used to be nervous and worried about contests, but it didn't seem that way at all. He was ripping the waves apart! The whole day it was obvious to me Glenn was sailing better than average, i.e. even better than he does freesailing.
The camaraderie at the beach was amazing today, it was such relaxed atmosphere and I love the lack of intensity. Everyone here has a normal job, so this is just an awesome day off! Everything ran so smoothly with the event today too, it was a pleasure to be a part of it.
P.S. Sam rocks!"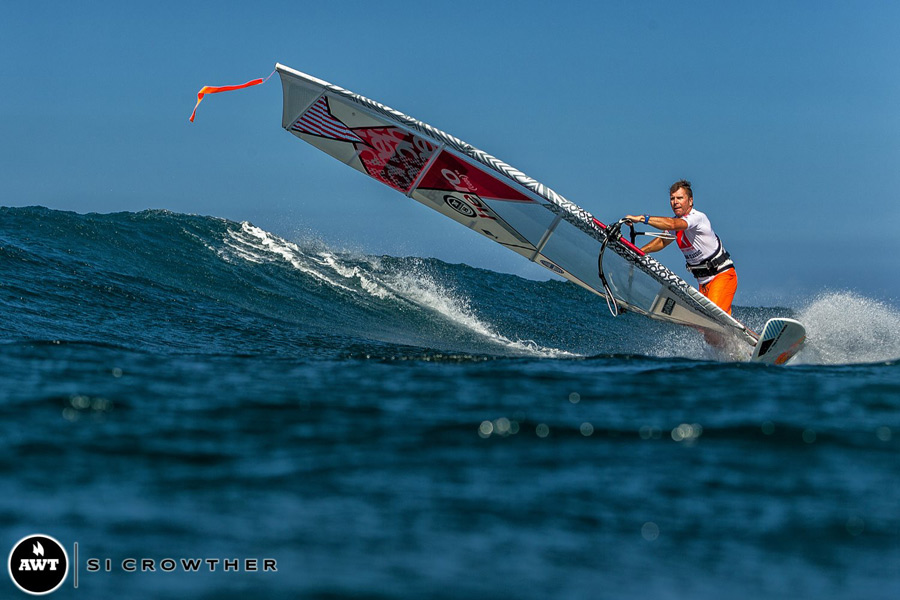 Dan Thomson 2014 AWT Amateur Champion:
"I've been to a lot of the events this year, but a few stand out to me. Pistol River was my highlight as I came into the contest with no expectations and scored a second in really windy conditions, which are my favorite! San Carlos was amazing too with big waves and light winds.
"This year I took a year off from teaching – I teach Phys Ed at Delta High School in Hamilton – but was supposed to be back in September, for the start of the new school year, but as I was in with a shot of wining the title so I managed to figure out a little more time off to compete in the final events of the tour.
"It was so cool to be able to do all the competitions this year and really live the windsurfing dream. I wanted to follow in the footsteps of my idols like Naish and Polakow, and that's exactly what I've done.
"The Aloha Classic last year was my first wave contest and I haven't looked back. To anyone thinking about coming to the tour or taking on any other windsurfing trip, just do it! Take the adventure and the chance of a lifetime, if you've always been thinking you could do it then what is holding you back?
"I would like to say a massive thank you to everyone! Especially my wife Ros for coming to all the events, and to Delta High School for letting chase my dream!"

Chris Freeman, AWT Head Judge
"Another packed day of AWT competition at Ho'okipa Beach Park which crowned both a new Aloha Classic champion and the 2014 Tour champion in the Amateur division.
The swell was building through the day and the light offshore winds helped to keep the waves glassy and as the action heated up the conditions provided the opportunity for riders to showcase their talents at the spiritual home of windsurfing.
The beauty of working for the AWT is watching riders enjoying great waves with their friends while pushing their level to new heights. Today was a perfect example of fierce AWT competition as the 63 riders were narrowed down to the final four. As we progressed through the day, 2014 title contenders fell by the wayside one by one; I have not seen Dan so on edge all year but as Joey failed to progress into the final he suddenly realized that his hard work all year had paid off, I think that it was more of a relief at first! Congratulations to Dan, Ruben and Joey for chasing the dream and providing motivation for all those looking for glory on the 2015 Tour."