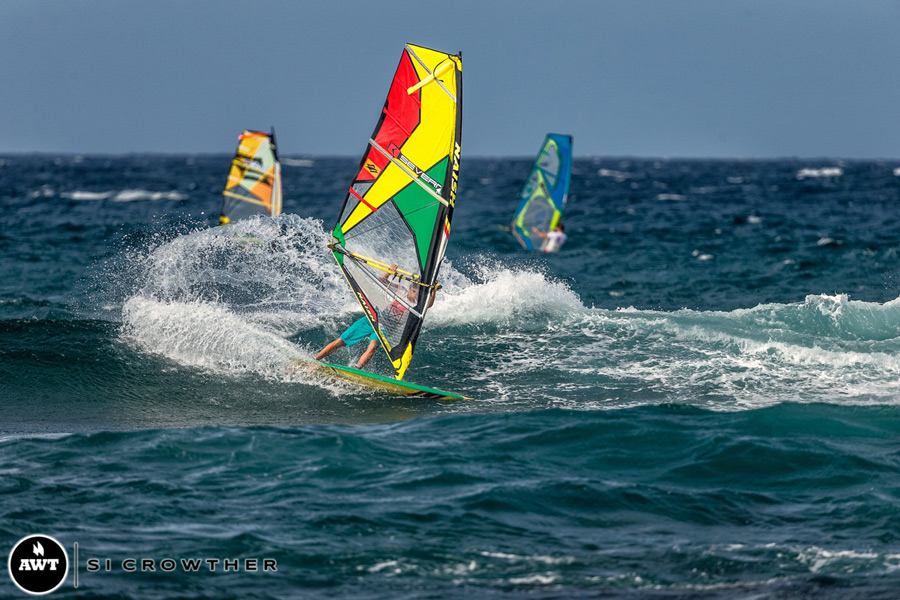 Text by Amy Carter
Monday November 3rd saw the start of the highly competitive Amateur bracket of the AWT Severne Starboard Aloha Classic.
After days of watching the action it was finally time for the 63 Amateurs to take to the water and do battle for the coveted Aloha Classic title. And, as this is the last event of the season, we also have riders including Ruben Lemmens and Dan Thomson going for glory and the AWT 2014 title!
The wind was blowing from early on today and a dropping swell meant slightly smaller conditions than in previous days. These waves combined with the decent winds meant it was straight on with competition for the Amateurs.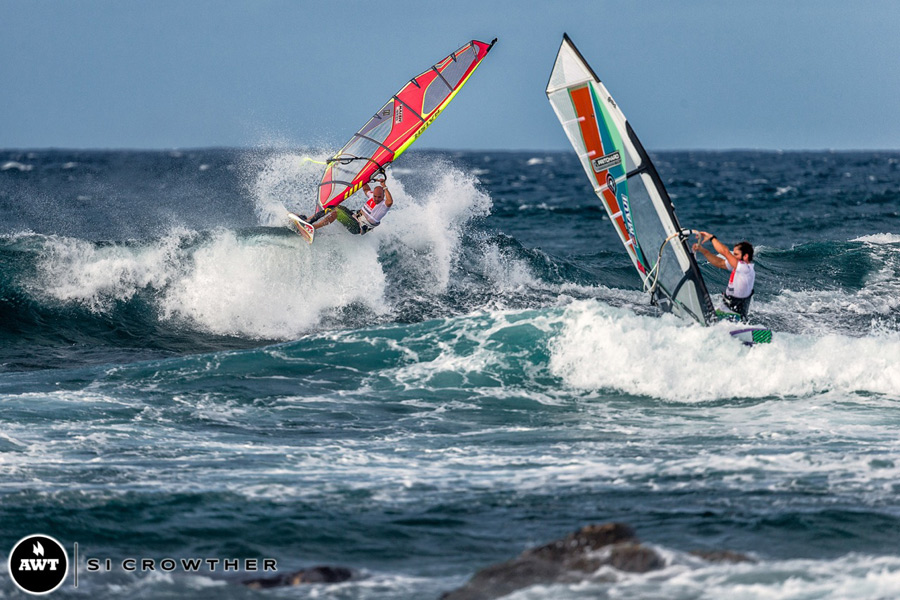 Image above: Damien Girardin who won heat 12, taking down Baja legend Joey Sanchez, who was a strong favorite going into this event. We'll have to wait to see if he manages to battle through Round #4!
Images below: Left Harley Stone, right Jeff Henderson who was just beaten by HSM tester Kieran Devanney!
What was most impressive from the day of competition was the full attack from all the riders in these conditions; they were throwing big hacks, aerials and smooth bottom turns. Another of our favorite facts about the Amateur competition here is that it brings together a variety of riders; for example we have windsurfing legend and Hot Sails Maui founder Jeff Henderson competing with many of the up and coming kids he is sponsoring! The amateur fleet is all about bringing as many windsurfers together to have fun and compete on the water, and this is as apparent here in Maui as with any stops on the AWT tour.
We've made it all the way through round one today and part of the way through round two (check out the updated bracket below) so it will be straight on with heat number 20 when competition gets underway again. Unfortunately, we only have live stream for the pro fleets during this event, but you can keep up to date with all the official updates, news, images and more from the beach via the AWT social media below.
Image below: 13-year-old Jake Schwetti wins…despite sailing half a heat.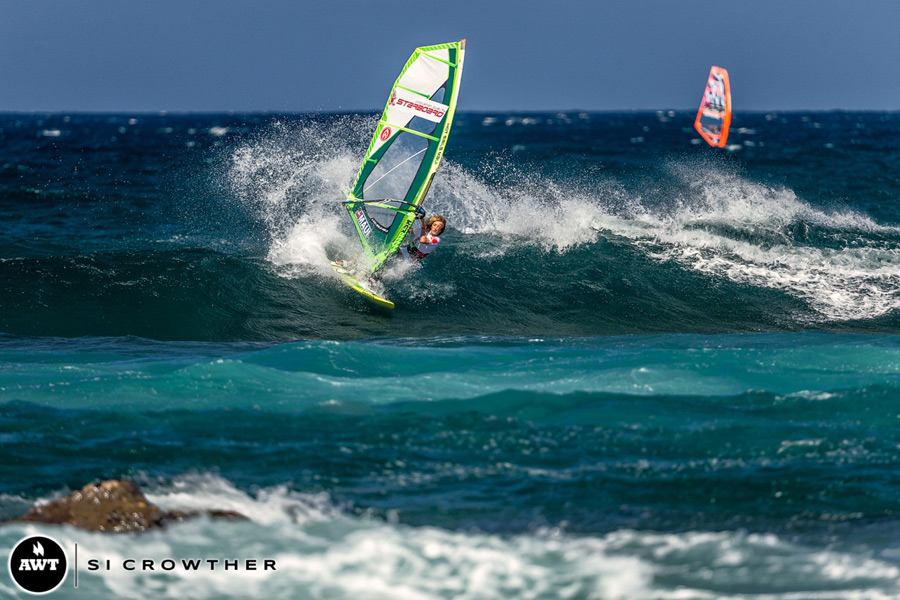 Jake Schwetti was in school this morning, looking forward to a full day of studying until a call from his dad came through that the Amateurs were running! Jake's dad rushed to pick him up and Jake arrived at the beach and rigged his sail as the heat was already starting. But the 13-year-old didn't hold back and sailed to victory, even though he was only on the water for seven minutes! Massive congrats Jake!
Highest wave scores from round one:
Kimo Brown – 7.833 and 7.27
Francesco Maffei – 7.767
Paul Karaolides – 7.133
Image below: 16-year-old Kimo Brown leads the charge of the young guns with the highest wave score of the day!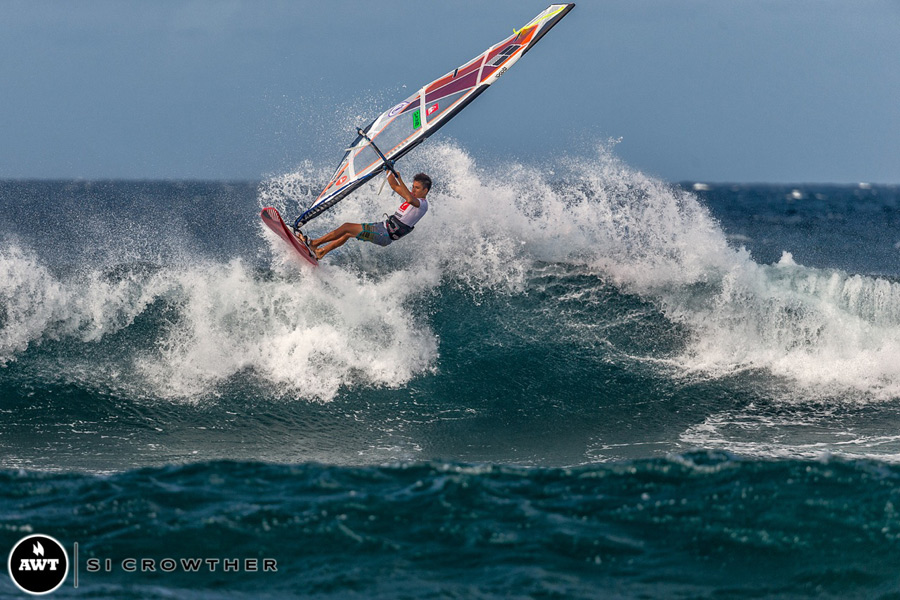 "In the history of the AWT there has only ever been one non-event and today was one of those days where we had to push through a good number of heats in what were less-than-perfect Ho'okipa conditions.
I guess living here you get a little fussy, but once we began heats there was nothing but smiles on the water. After being sat on the sides lines and on hold for five straight days the 64 man Amateur bracket was ready to launch into action.
With small waist high waves and gusty cross offshore winds there were plenty of opportunities for riders to demonstrate their riding.
With a small to moderate swell on the way it looks like the later rounds will enjoy more radical conditions. Due to the large number of riders in this bracket and only a limited window for competition we are using a new format, which sees riders gaining a substantial advance for winning in Round #1; this meant that the competition was extremely fierce from the outset.
Tomorrow will hopefully see the completion of the bracket and the crowing of a new AWT Amateur champion, at this time it looks like Dan in the driving seat after winning his first round heat with Ruben facing a tough battle to climb out of Round 4."
—Chris Freeman, AWT Head Judge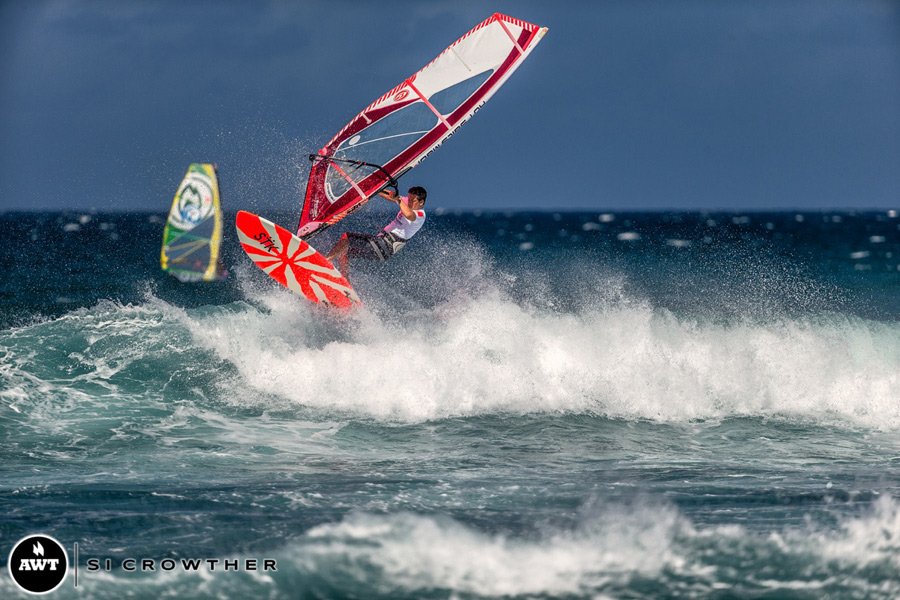 Many of the Amateurs are of course not just competitors; these guys and girls are the heart of the AWT. To every Amateur rider, and especially those that have given a helping hand in any way to the tour this year, thank you for coming and being part of the AWT!
The AWT is always open to new competitors and if you're thinking about attending the Aloha Classic in 2015, or any other event, we would love for you to join us.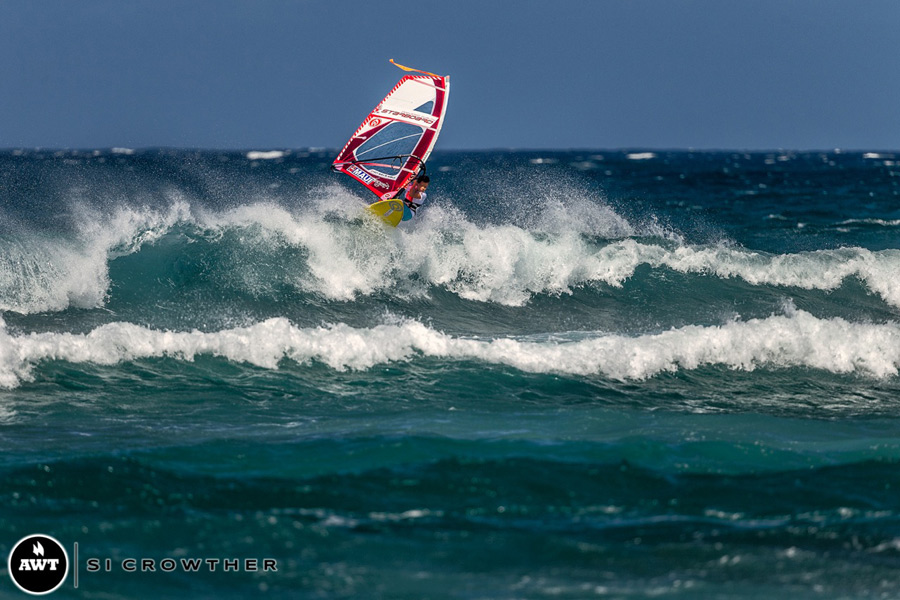 FORECAST
TUESDAY
East winds 15 kt. Wind waves 4 ft. Northwest swell 4 ft. Scattered showers in the morning, then isolated showers in the afternoon.
WEDNESDAY
East winds 20 kt. Wind waves 7 ft. North swell 5 ft. Scattered showers.
THURSDAY
East winds 15 kt. Wind waves 5 ft. North swell 4 ft. Scattered showers.
FRIDAY
South winds 10 kt veering northwest. Wind waves 3 to 5 ft. North swell 4 to 5 ft. Scattered showers.
SATURDAY
Northeast winds 15 kt. Wind waves 6 ft. North swell 7 ft. Scattered showers.
Source: http://www.prh.noaa.gov/hnl/pages/zone.php?zone=PHZ117