As predicted, the forecast delivered, and the 6th annual Pistol River Wave Bash kicked off in style with Amateurs, Youth and Women taking to the water. The wind was looking to blow up to 40 knots and everyone came prepared with their smallest sails and boards in their arsenal. It's rare riders get a chance to compete in such high winds, but Pistol River is the one stop on tour where anything can happen and the wind can typically blow the strongest here out of any event. This brings a fantastic balance to the tour and really separates the jumpers from the non-jumpers.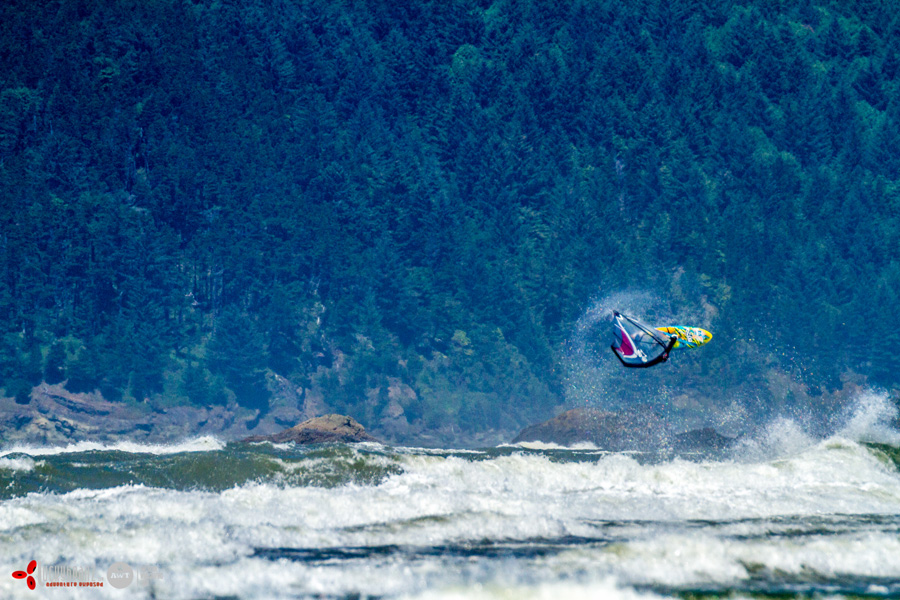 The day started as the Amateur heat one took to the water at 11:30am. The judges were perched on the stunning platform that is erected every year by local legend Dana Miller. This gave them a bird's eye view of the contest below and a wonderful view of the beautiful Oregon coastline and Pacific ocean.
The high winds had yet to fill in and the first 4 heats required larger than expected rigs. Round one gave the winners of each heat the chance to advance to the 3rd round whilst giving everyone else a 2nd chance in the repechage round 2. Advancing straight to round 3 was Sven Esslinger, Attila Tividar, Mike Colee and Reuben Lemmens. By the time round 2 kicked off the winds had really started to blow and the amateurs were able to start showcasing their jumping. Round 3 again saw Sven and Mike taking wins in their heats along with Jake Schettewi and Tem Gronquest. Round 4 was again a repechage heat. This system of brackets allowed for maximum heat exposure for all the riders and took advantage of the relentless wind that is forecast. In this round only 2 riders advanced and this took them into round 5 which was the gateway to the semis. By this point riders were using their smallest sails, most were sailing on 4.0m or 3.7m sails. Eliminated from round 5 was Ruben Lemmens and Max Schettewi who took overall 5th place and Sven Esslinger and Mike Colee who took overall 7th place.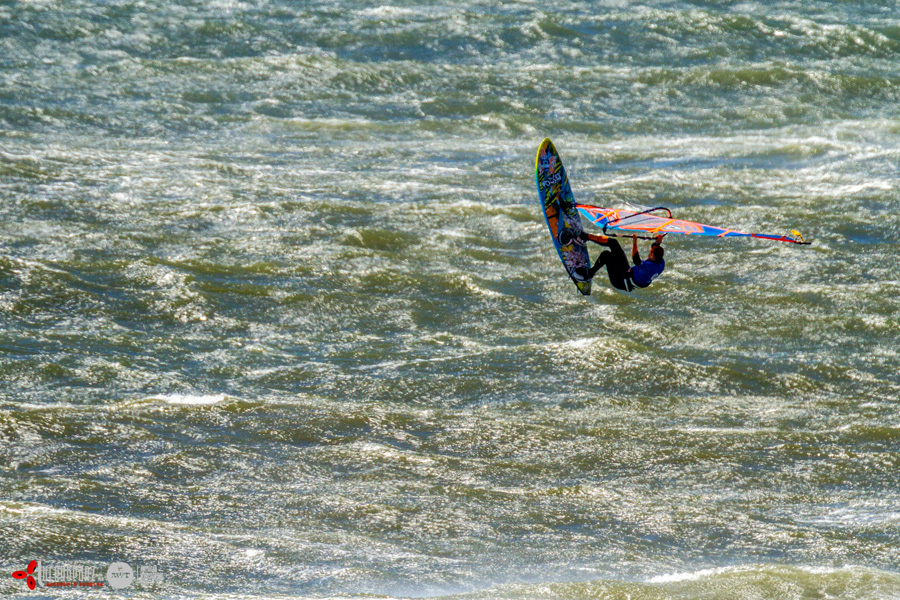 Then it was on to the Semi finals which would decide the loser and winner's final bracket draws. Young Jake and AWT regular Jeff Albright took the wins in their heats and advanced them to the winner's final. This put Tem Gronquist against Yohann Burette to battle for 3rd position with Yohann edging ahead and taking 3rd place and Tem taking 4th. The winner's final then started and Jake Schettewi put on a solid performance and wonderful display of clean forward loops with vertical hits on the critical sections of the wave. Jeff responded with his typical solid style picking off the larger waves and linking some long fluid rides. However it was to be young gun Jake Schettewi who took the win for his first ever title in the amateur decision of the AWT. This young sailor from Maui will be a name to watch in the future as no doubt the AWT events will prime him for becoming a competitor in the pro division soon and seeing him develop as a young sailor into a pro in no time at all.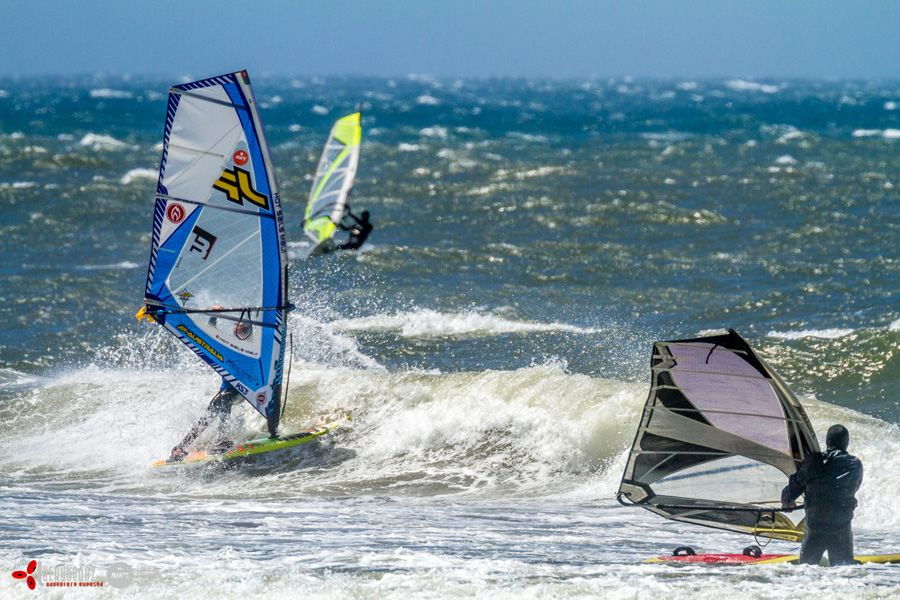 Interspersed throughout the day was also the youth heat. The 2 youth riders travelling from Maui are brothers, Jake and Max Schettewi. The two have been training hard all winter and aiming to showcase their talents here on the 2015 AWT series. Neither disappointed and both showed class and style and maturity beyond their years in a conest setting with some very critical wave riding and clean, stylish forward loops. Having a youth division sets the AWT apart as it has consistently proven to nurture young riders from groms to pros in a matter of years. Having a platform for them to compete alongside some of the world's top pros has proven a winning recipe and will no doubt set these two talented riders up for a very successful windsurfing future.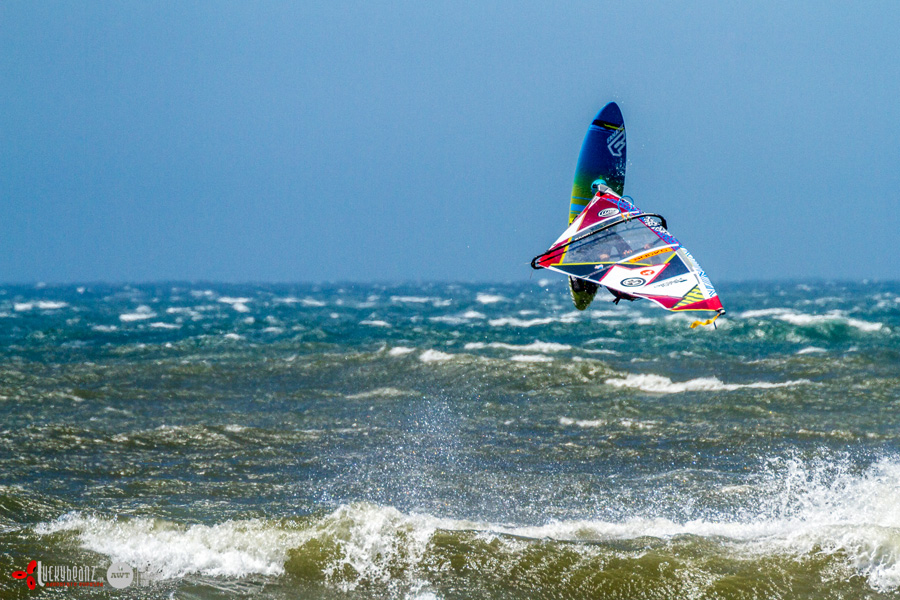 Next up was the ladies division. This year 8 women made up the ladies fleet, and it was wonderful to see some new faces added to the mix. It has to be said, the conditions yesterday were brutally windy at times and given the naturally more petite frames of the ladies it was understandable that most were insanely over powered at times on their 3.0m and 3.4m sails. It was hugely inspiring to see these ladies charge out there and never give up. As often happened in the amateur fleet, the ladies at times were stuck down wind with a vicious current and pounding shore dump which would be enough to deter most people from shaking it off and heading back out. But not this bunch of ladies! Inspiring performances were displayed by Cecilia Tolly and Rhonda Gill who battled into round 2 with grace and perserverance but couldn't quite advance to round 3. Newcomers Jennifer Carlisle and Anna Rohden showed impressive skills with Jennifer's smooth wave riding skills and Anna's fantastic jumping skills! Round 3 saw the lead up to the semi finals and despite some huge jumps and nice wave rides by Sam Bittner she was pipped at the post and took overall 5th place with ripper Jennifer Carlisle in joint 5th. Advancing to the next round saw Sarah Hauser against Katie McAnena. Both started strong but Sarah totally shone through with her classically beautiful wave riding. The 2nd semi saw veteran Ingrid Larouche continue to consistently land clean forward loops and pick off some vertical smacks on the waves. This has put Sarah and Ingrid into the winner's final bracket for today and Katie and Anna in the other final to battle it out for 3rd spot.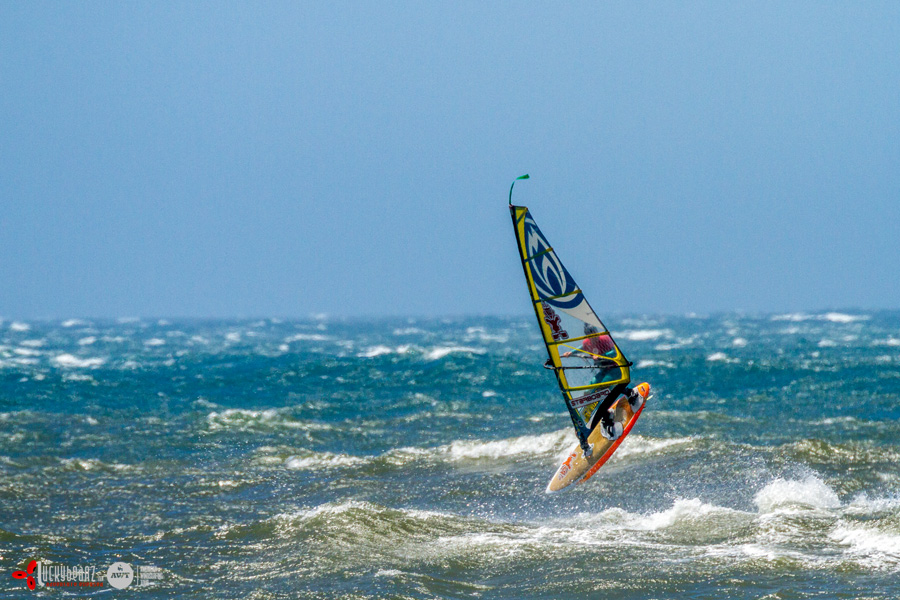 Stay tuned for some super SICK action today as we see the pro division take to the water. With high winds expected again and rising swell forecast it's going to be a tour-de-force of some of the world's best wave riders!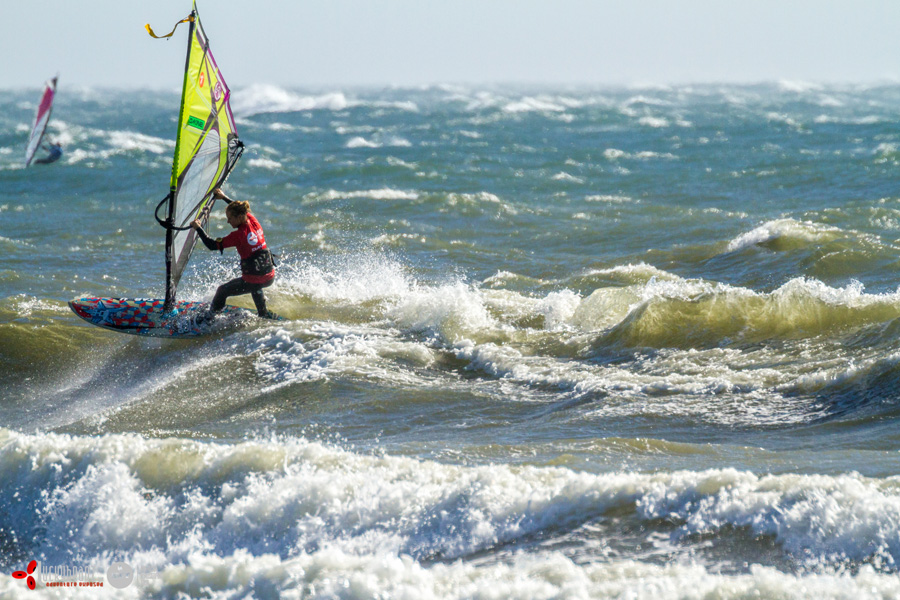 Facebook/AmericanWindsurfingTour
Twitter/WindsurfingTour
Instagram/AmericanWindsurfingTour
Please use the following #hashtags; #AWT #AmericanWindsurfingTour #PRWB15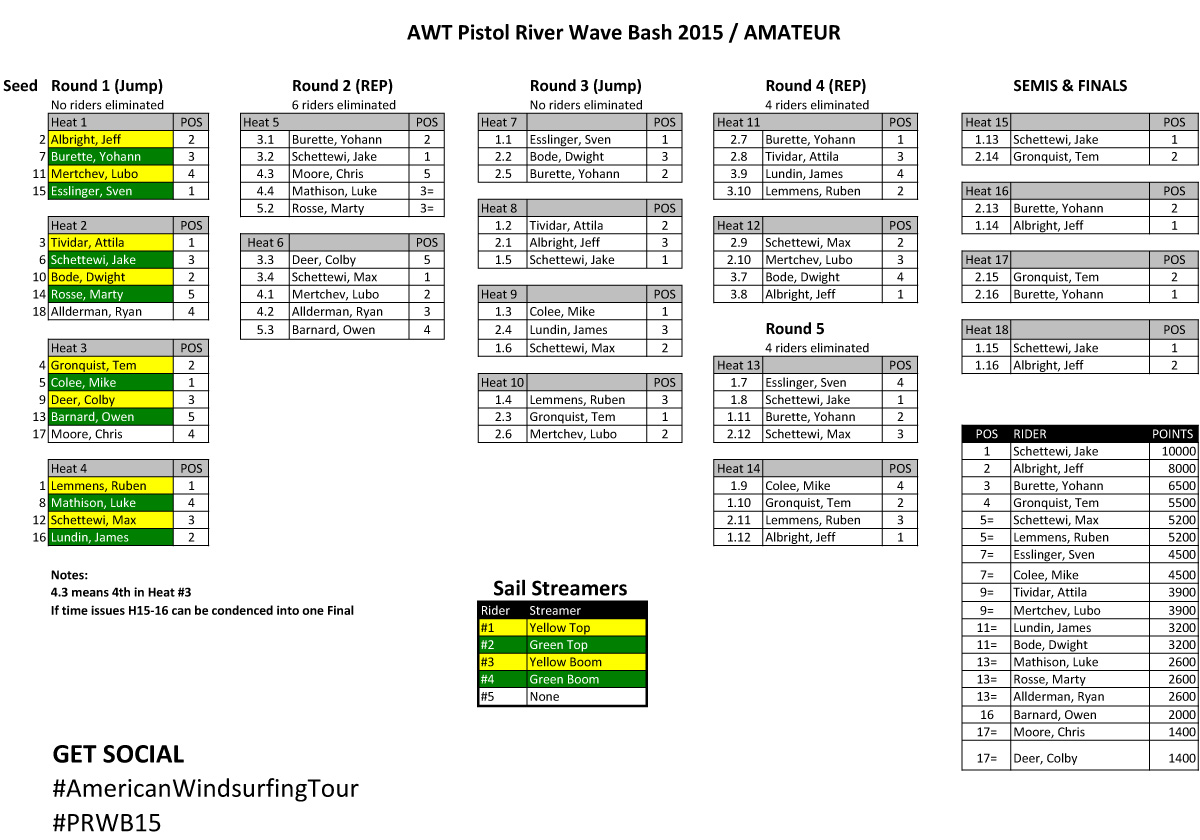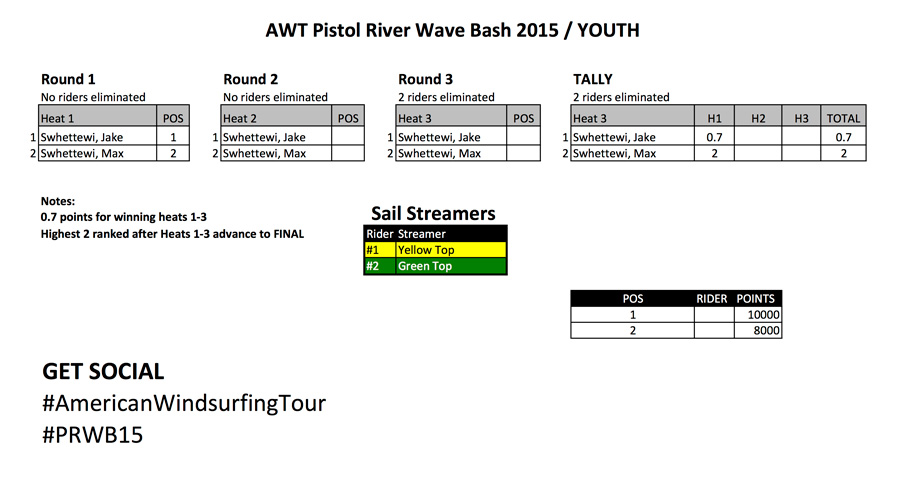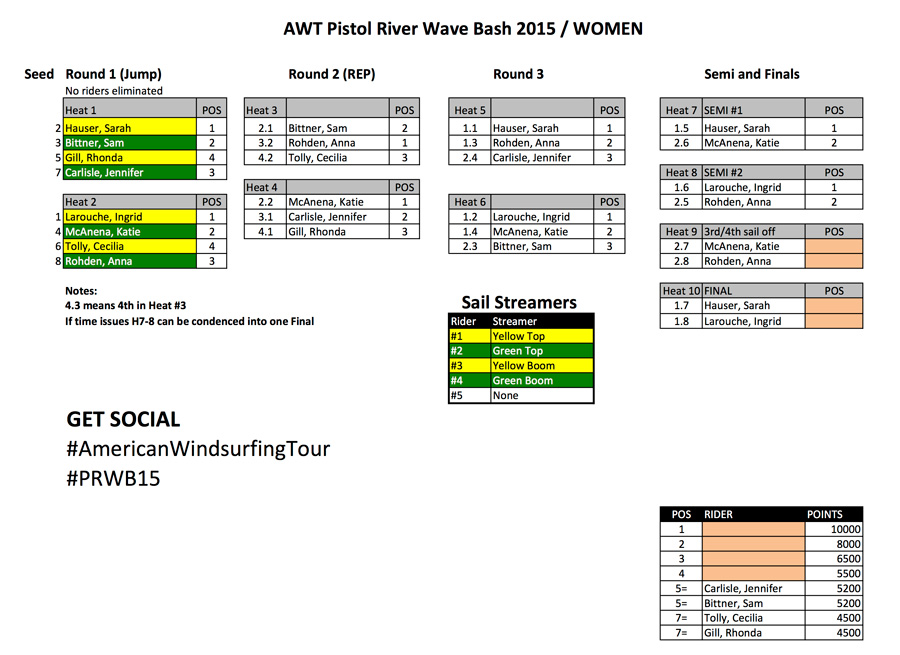 Updated bracket for today's Pro heats