It was another killer day here at the 2015 Pistol River Wash Bash! We saw without a doubt, some of the most epic conditions for jumping and wave riding ever at an AWT event. The guys were slaying it! Double forwards, push-loop forwards, one-footed backies, huge stalled forwards, sick vertical wave 360s…… the list goes on and on!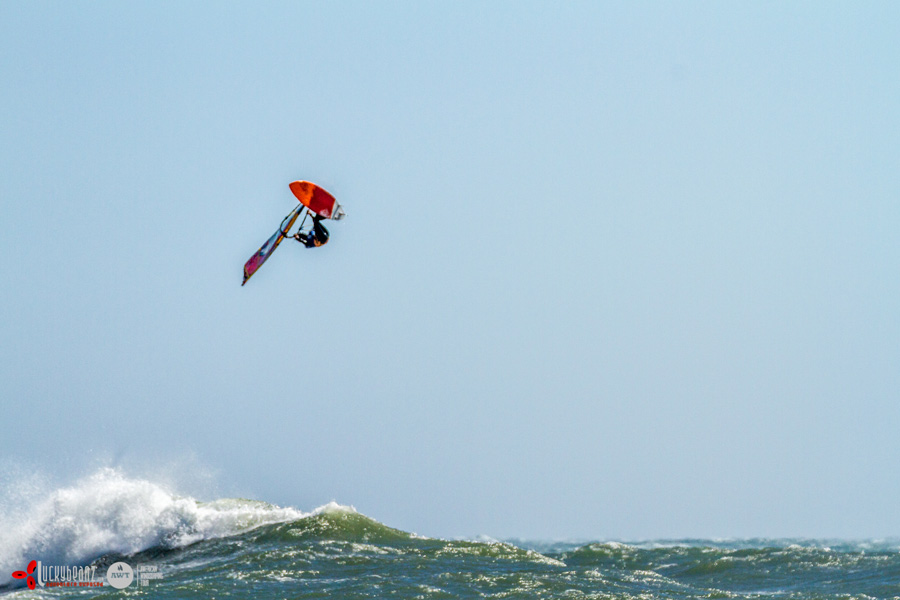 The pro fleet took to the water interspersed by Grand Masters and Youth heats, and the action just didnt stop all day! The swell had jumped up and as the tide dropped out the waves became punchier and heavier. It was a true playground for the pros and was totally inspiring to see what they could achieve in cross onshore, mast high sets. Jumping was the order of the day and no pro rider failed to entertain the beach with huge aerial manoevers.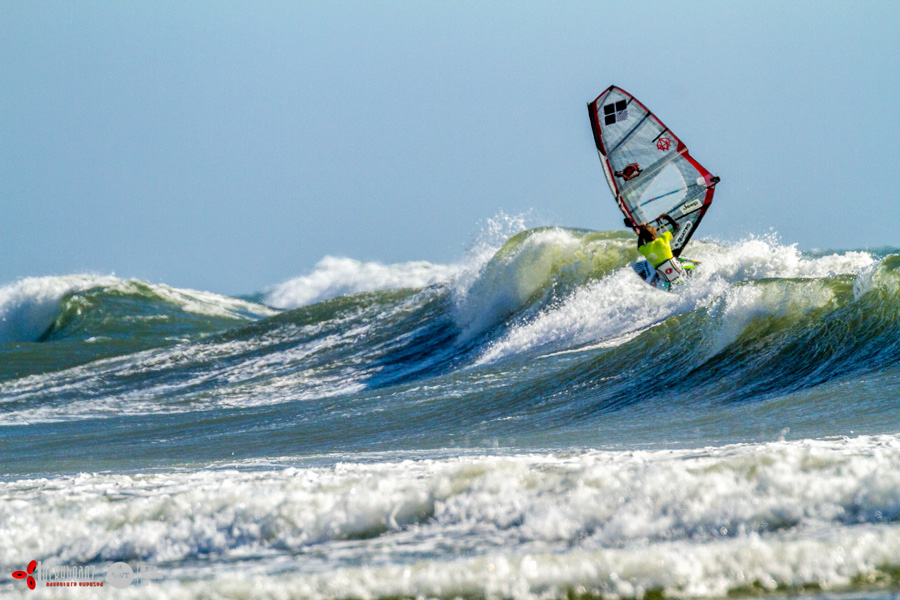 The brackets were run as repecharge, so most riders got a chance to sail at least twice. Within these brackets saw spots for 3 wild cards and brother Jake and Max and amateur leader Ruben Lemens took the places. They held their own and all sailed very well with Ruben advancing through round 3 to make it through another round.
In between these heats we saw the Grand Masters competing. These guys ripped! The conditions were super challenging and it was inspiring to see them pushing the level in the fleet with big stock airs and some nice wave riding. The finals are to come tomorrow along with the Masters division so we will wait and see what happens!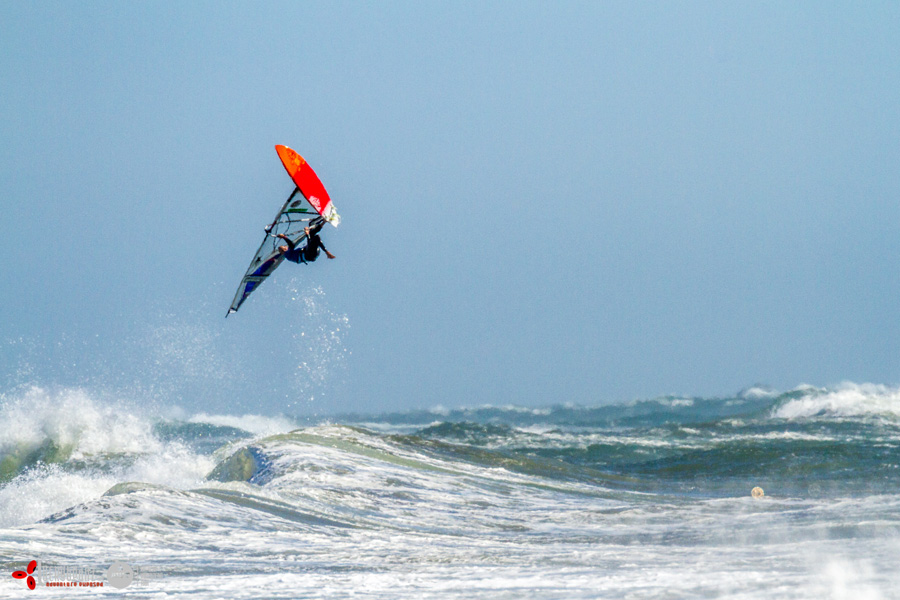 It honestly is no understatement to say that the performances of the men in the pro fleet today were truly amazing. With the wind and swell picking up all day the level of difficulty was met with nothing but class and style. Kevin Pritchard was setting up to be unbeatable throughout the day. He absolutelty shreds in these kind of conditions. He's no stranger to the Oregon Coast and high winds and big swell saw him fight his way all the way to the semis. All day he busted out huge stalled forwards, massive one footed backies and his classic gauging, powerful wave rides. Other stand out performances in previous heats came from Hood River local Nathan Mershon who was dominating by going for broke on massive sections and boosting huge backside aerials and front side turns. Freestyler Phil Soltysiak also came through stong in his last heat showing some skills with big backies and pushies and also proving himself as a wave rider. Russ Faurot and Kevin McGillivery were dominating in their huge jumps and going for broke on their wave rides. Zane Schweitzer was going totally nuts on some tricked-out push loops and back side hits. Sean Aiken showcased his classic clean forward loops and big powerful wave rides. It was no mean feat for the judges to decide who made it through but ultimatley we were left with the top four men. Camille Juban, Kevin Pritchard, Boujmaa Guilloul and Mogan Noireaux. It honestly is no understatement to say that these guys were on fire!!!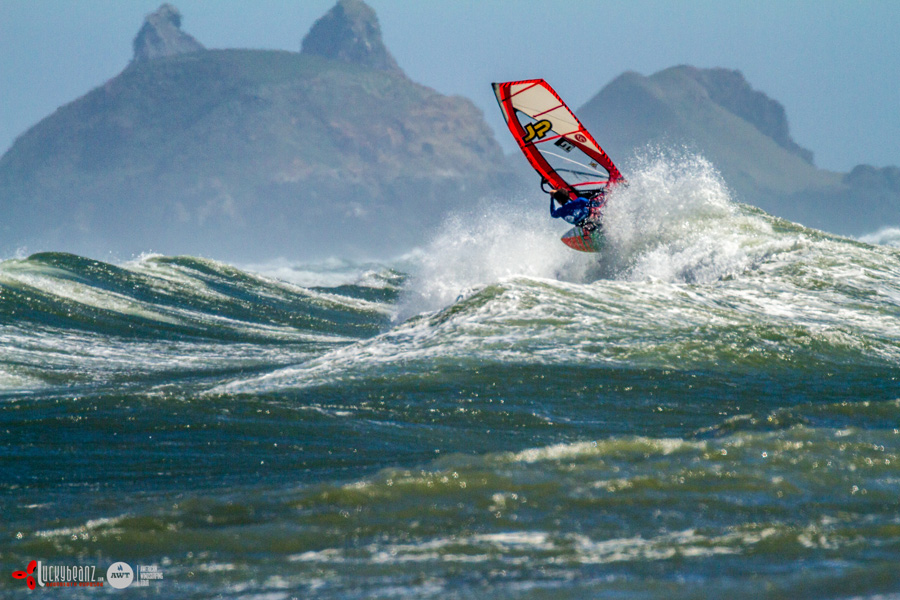 Camille faced Morgan in the 2nd semi final and there was no doubt it was a super close call but Camille edged ahead. Semi 2 saw Kevin up against Boujmaa. Kevin opened with a massive stalled forward and clean back loop. But today was to be Boujmaa's day for jumping. He dominated! In one single heat Boujmaa managed to land; 2 double forwards, a push loop forward, a sick backloop and a tweaked pushloop. He was unstoppable.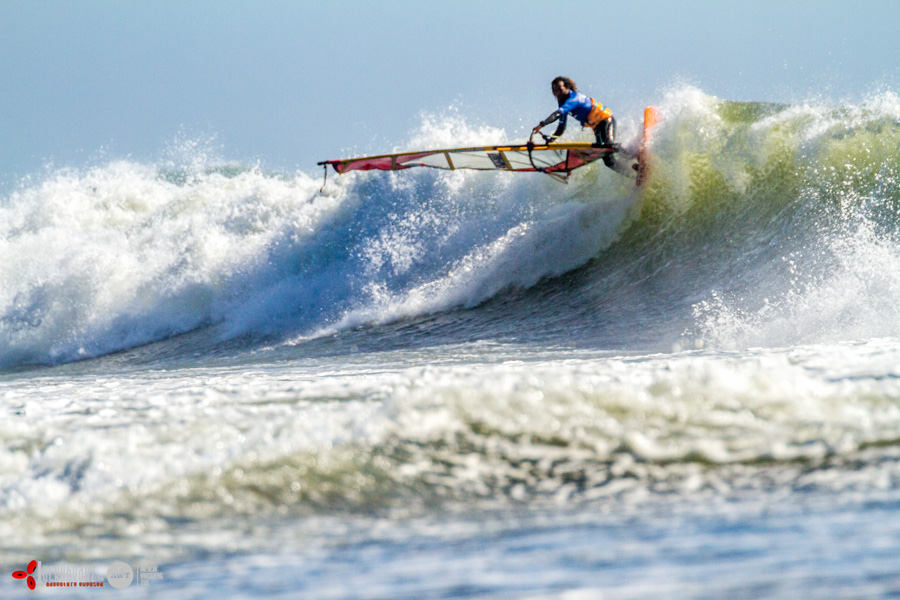 The battle for 3rd place was super super close between Morgan and Kevin. Kevin was pushing it with big one footed backies and stalled forwards but morgan replied with a double forward and huge backie. In the end Morgan just pipped Kevin and took 3rd place putting Kevin into 4th.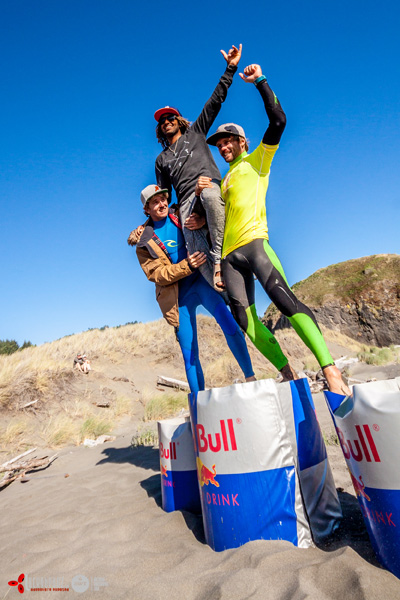 The final was ridiculous. The guys were sailing on 3.7m sails and were world-class on every level. Camille busted out 2 double forwards (and in the process busted his nose on his knee and may have broken it!). Boujmaa responded with a double and a tweaked pushie and big backie. But without a doubt wave of the day came from Mr.Guilloul who scored a perfect 10 unanimously for going for broke on a mast high wave with perfect linking turns finished with a gravity defying wave 360. The crowd went absolutely wild!! Boujmaa was crowned winner of the pro division with Camille taking 2nd.
In the ladies we had the battle for 3rd place between Katie McAnena and Anna Rohden. The swell was HUGE! And waves broke relentlessly which along with the massive currents meant even making it out back was super tricky. Anna couldnt quite get out until a few minutes to go but had a glory run out the back towards the end and cuaght a nice piece of swell to finish off the heat. Katie was very tacticle and made her way out the back and played it safe initially to avoid crashing and the inevitable huge swim. She ultimately caught some nice big sets and took 3rd place ahead of Anna, who we will no doubt be seeing more of in the events to come! Then the ladies final took place and the crowd on the hill went wild for Sarah Hauser's unstoppable wave domination. She picked off two bombs and rode them fluidly all the way to a heart stopping smack in the criticle section at the end which she landed!! Ingrid responded with a big forward landed cleanly and a super nice wave with 3 clean hits. But it was to be Sarah's day, and her wave choice and committment saw her take the win over Ingrid in 2nd place.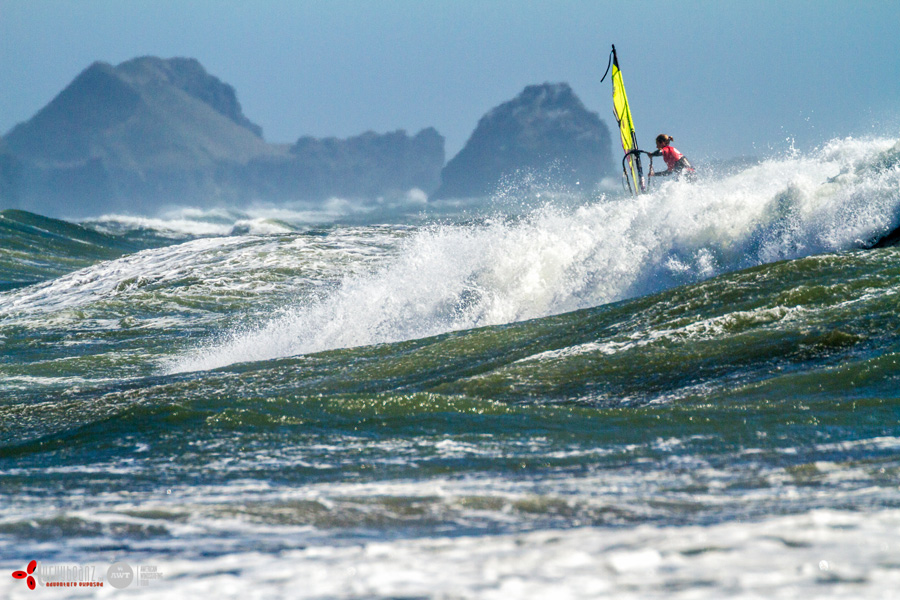 It will be so exciting to share with you the photos and video from today and to prove just how unique and world-class an event the AWT hosts here at Pistol River. Stay tuned for more!!
AWT Pistol River Wave Bash Schedule for the Day
Saturday 13th June 2015
11:00 Skippers
11:30 First Possible
Heat Order
Masters 1, 2
Youth Expression 1
Masters 3, 4
Amateur Expression 1
Masters 5, 6
Women Expression 1
Masters 7, 8
Grand Masters FINAL
Masters 9, 10
Pro Expression 1
Pro Expression 2
Pro Expression FINAL
= 17 heats
/ 4 hours 15 min, estimated finish time 3:45pm
If all sailed we would have FINAL results in;
ALL DIVISIONS WILL BE COMPLETE
Get social and use the following;
#PRWB15
#AmericanWindsurfingTour
RELEASED: None released