For those of you who don't want to read much, skippers meeting is at 8:30am and Kevin Pritchard won the Pro Bracket. However, as true windsurfers know, it's about how you get to a result, not so much the actual result.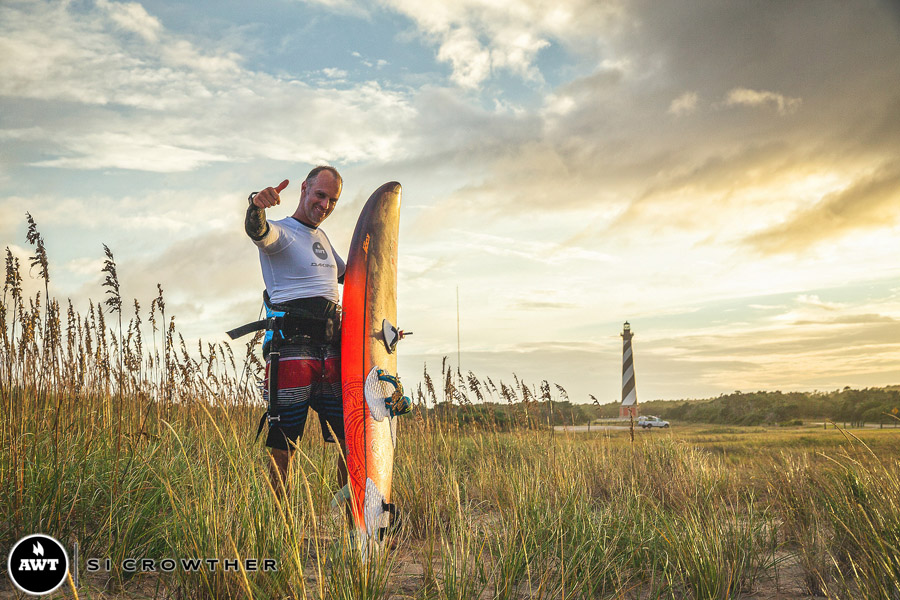 In the United States mainstream, televised sports have one aspect in common; controlled conditions. NFL stadiums are largely windblocked, NBA courts are replicas with different noise levels, and NHL arena staff take snow off the ice in-between plays. In my opinion, major sporting events are trying to make the playing field as 'level' as possible. Today, with the Wind-NC Hatteras Wave Jam, windsurfing conditions and playing fields were anything but controlled.
Professional and Amateur brackets competed today, but we completed Pro, so that'll be the main focus. Let's start from the beginning.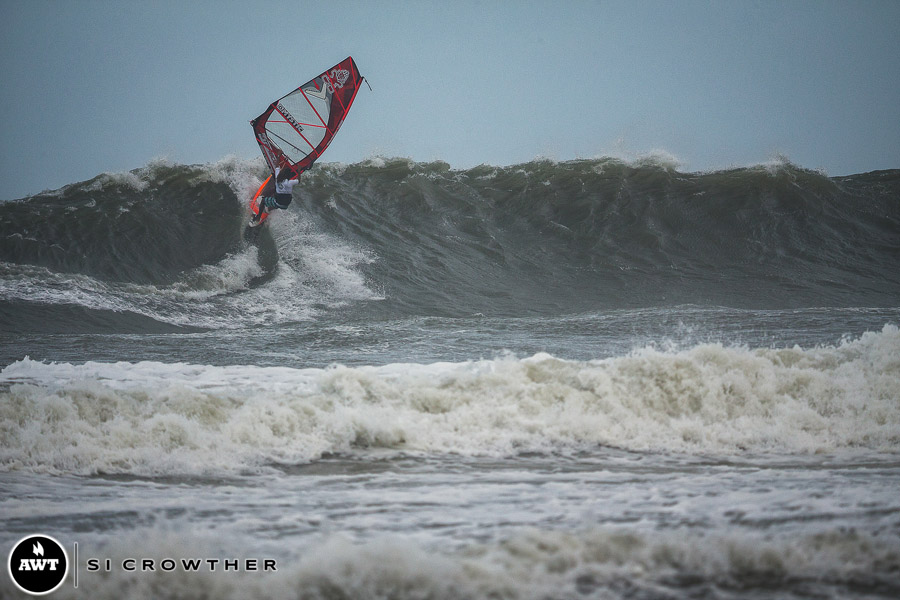 8:30 am
The local Head Judge, Wind-NC owner, and title sponsor Andy McKinney, utilized forecasts and his North Carolina experience to get the competitors to the beach nice and early. As soon as we got to the Graveyard of the Atlantic Museum parking lot by ramp 55 (thanks for letting us park there!!!), the conditions were firing. Side-off, 18-23 knot winds with head high swells. An incoming tide motivated all the competitors to get on the water and practice as soon as possible. Meanwhile, the AWT crew and awesome volunteers set up the judging area (thank you).
9:30 am
Amateur heat 1 went on the water. The shorebreak was pretty challenging but with the wind everyone was able to make it through largely unscathed. I'd been watching the locals, practicing a little and decided the best strategy was to hang out upwind and wait for a wave to break on the outer reef. Five minutes and thirty seconds into the thirteen minute heat, my strategy seemed to work as I caught a wave did a couple of rusty, port-tack turns. Then I went back out caught a second wave with a minute thirty left. Since the currents were strong, decided I wasn't going to make it out to catch another wave, so I sailed in.
Unlike every major sport, the conditions changed for every heat. Some athletes had waves and wind, some had current and glass. No matter who won or lost everyone's smiles, helping hands carrying gear up the beach and cheers spurred everyone to do their best while having a good time. If there's one fact every windsurfer knows; there's no controlling the conditions.
If it were up to Tour Director Sam Bitner, I'd be describing a lot more specific heats. However, it's 11:22pm and I don't think the round one or two results in amateur are what anyone will remember.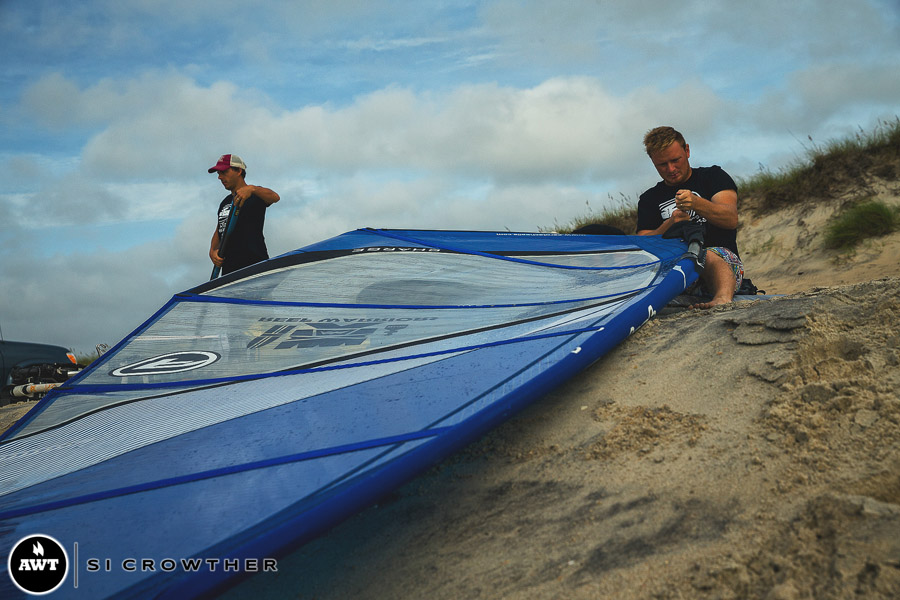 One event memory that will endure is cheering Cam Rainwater onto his first two waves. Another stand out moment was Sam informing volunteer/judge/competitor Donny Bowers that he had another heat on the water after he just finished two heats. He didn't complain, just walked his gear upwind and went back out. Those two memories exemplify the positive attitude and passion of windsurfers in the Outer Banks.
1:30 pm
Masters round 1 put in a valient effort but the conditions proved too marginal for competition so Andy made the risky, but ultimately correct, call. We changed venues, released all brackets besides the pros and headed for side-on conditions at the Lighthouse.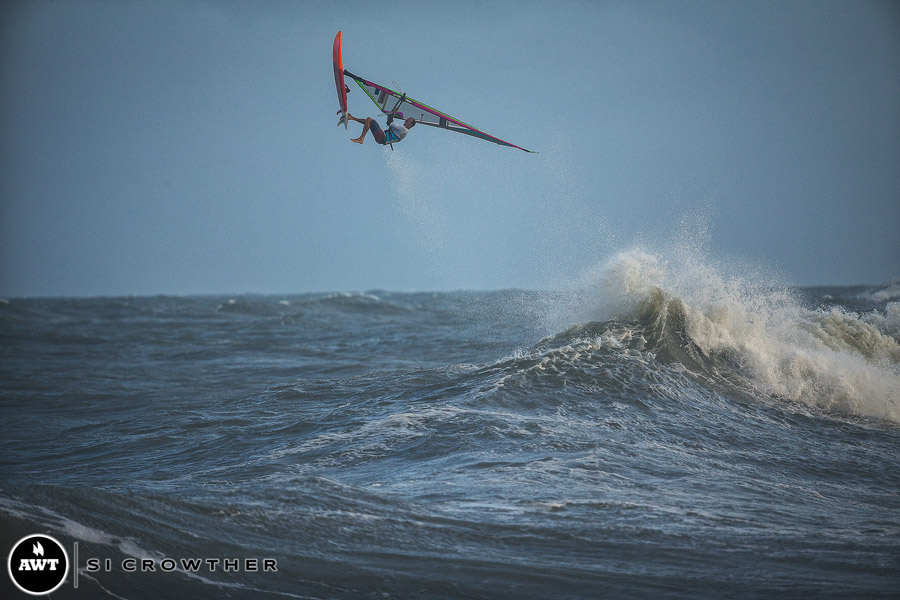 3:00 pm
PRO's were on. Wasting no time, Andy completed round 1. Advancing straight to the third round were, Kevin Pritchard (utilizing his onshore, dumpy wave port-tack skills that won him a couple PWA World Champion titles) Morgan Noireaux, Boujma Guilloul, Jake Schettewi, Russ Faurot and local ripper Keith McCulloch.
Some standouts were Max Schettewi who faced light wind, strong currents and logo-high, barreling closeouts and navigated his way through after being denied a few times. Ferdinando looked strong in his first heat but was hit by a powerful lip. He came out unscathed, but will be looking to do some damage in the master's heats tomorrow.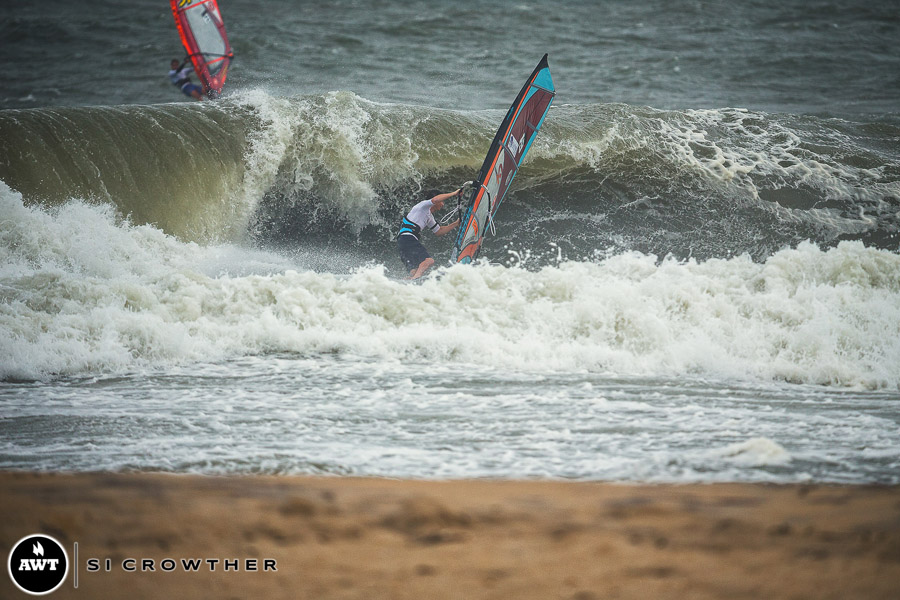 6:00 pm
After some exciting rounds with up and down winds. The final was on. Local ripper Casey Treichler fought his way through the redemption bracket, then upsetting the #4 overall Russ Faurot and to make his way to the final. His skills and local knowledge were showcased, but he couldn't quite edge out Morgan, Boujmaa or Kevin.
Morgan rode some of the bigger waves with stylish turns and landed a much practiced backloop. However, Boujmaa also showed his prowess, attempting goiters and 360s. He paired his flowing backside riding with down-the-line hits, but his backloop wasn't quite high enough, nor was it one-handed like Kevin Pritchard's.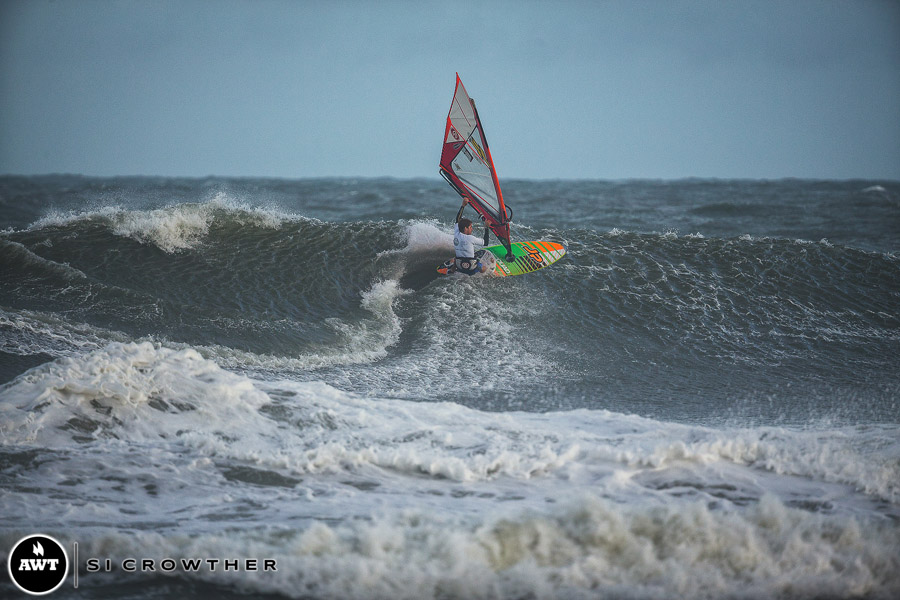 I can't recall the last time I've seen Kevin have such a low success rate with jumping. He crashed his first two backloops, and landed on top of sail on a pushloop (another KP rarity). Maybe he wasn't entirely on his game since a kite landed on top of him in the beginning of the heat. However, Kevin knows better than anyone else; you can't control the conditions. As the quintessential windsurfer you can see that he knows to adapt. Today, at the Wind-NC Hatteras Wave Jam he adapted better than anyone else.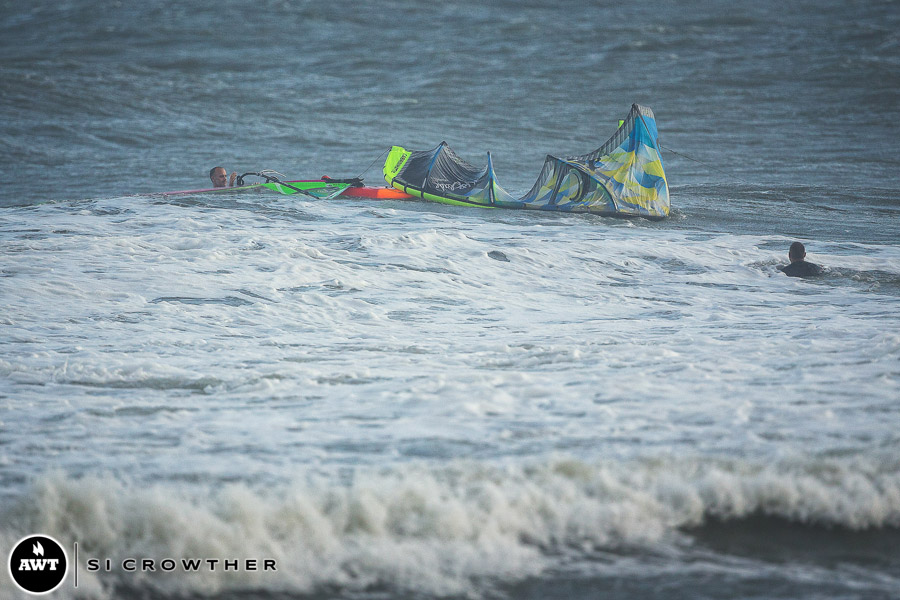 After all, this isn't hockey, tennis or basketball. There are no time-outs, challenges, or whistles. We don't even have a real rule-book. There's right of way but that's about it. Where do we draw the line? Should an unfair bump in the waves, light wind or lack of waves for everyone void a heat? I used to think 'yes, absolutely.' But then again, windsurfing events aren't entirely about who's the best in certain conditions. Instead the winner is the athlete who sails the best to the wide variety of conditions and situations that are presented to them within the time of a heat. Kevin's skills are among the best, he has the most heat experience, and therefor he can adapt to the most challenging conditions. He may not win every event, because there are some excellent riders, but he consistently makes it on the podium, which says something.
Today we're hoping for more action across multiple divisions. Hopefully we'll have more results and stories to share with you guys as the week goes on. Don't forget to like the AWT and all of our sponsors on Facebook. Si Crowther is here taking some epic photos. Make sure to take a look.
-Ruben (Pritchard Windsurfing, Dakine, Black Project, Ezzy Sails, Lagunitas)