Riders woke to the sound of pounding surf. The big swell had arrived.  Pacasmayo was pumping long lines from the point all the way past the resort, continuing past the pier and on past the whole town. You couldn't see where they started in the south nor could you see where they finished in the north. To say it looked epic does not do it justice. Imagine the Kelly Slater Surf Ranch with 15 foot faces, running kilometers long, 18 second period and no stopping. this place looked like the Surf Ranch on major steroids. Everyone was in awe at the massive perfection, most having never seen anything like it.
It was time for the very best of us to take it on. The current was strong and the wind was light in the big swells so 28 minute heats with 2 minute transitions were run to give the riders plenty of time. The Jet-Ski was ready for safety and the stage was set.
First up were the Pro Men with round one of their contest. They've been patiently waiting all week for this swell and now it was their time.
Last years' winner Federico Morisio from Italy was flying down massive near glassy 15 foot walls to cut some lovely butter. He wins heat 1 and heads straight to the semis. Joan Despujols from New Caledonia surprised the seeded riders by scoring a bomb wave and ripping it to take the second spot into the semis, forcing local French favorite Maxime Fevrier into the repechage round along with Adrian Levy from Australia.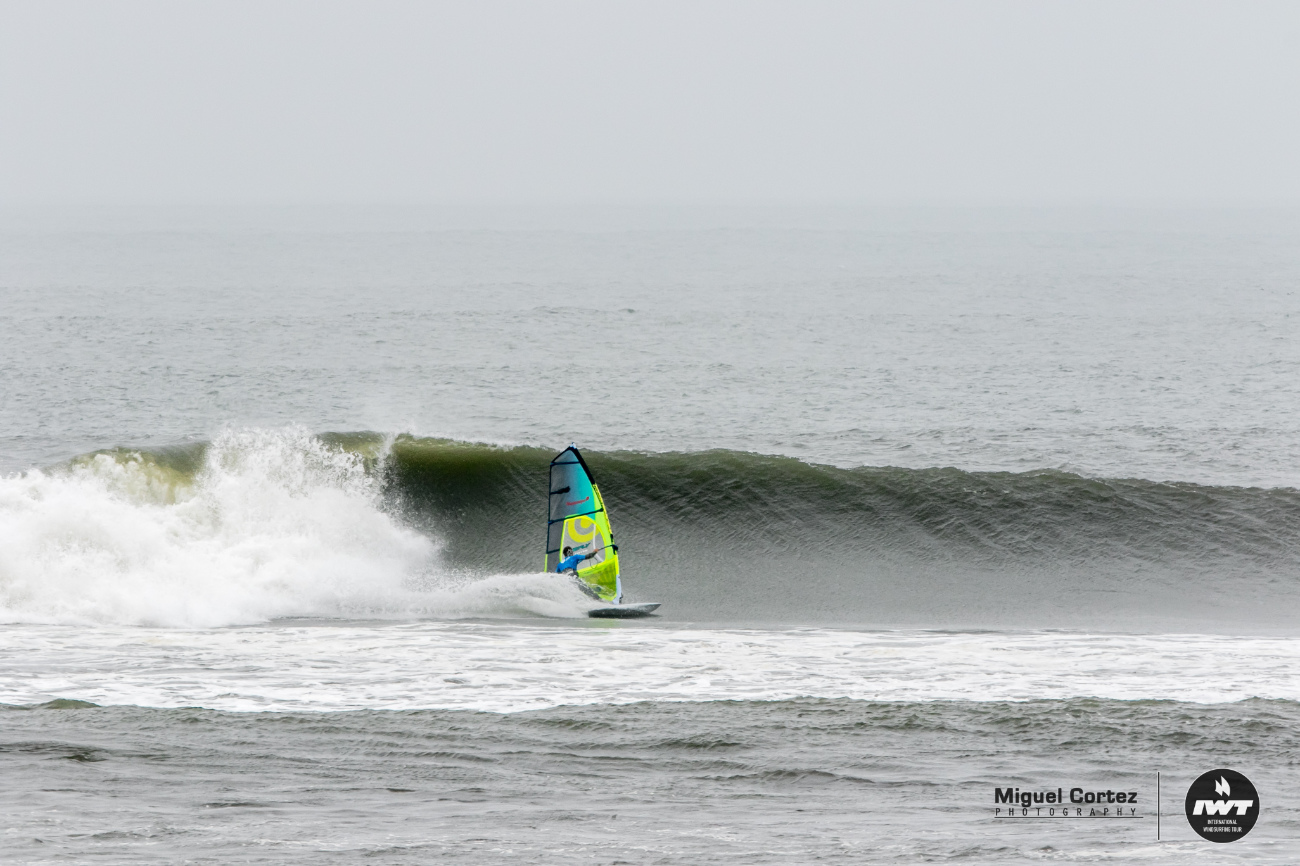 Next up Antoine Martin took it to another level, with his wild and reckless Carribean style, he was hitting high pitching lips hard in the tightest section of the wave. He scored big (16.3 average heat score, top wave 9). He heads straight to the semis. Also sailing well was 17 year old Takara Ishii from Japan taking the second spot to the semi final round with daring lip hits, flow and timing. Relegated to the repechage were Tom Soltysiak from Canada and Joaquin Desriviers from Chili.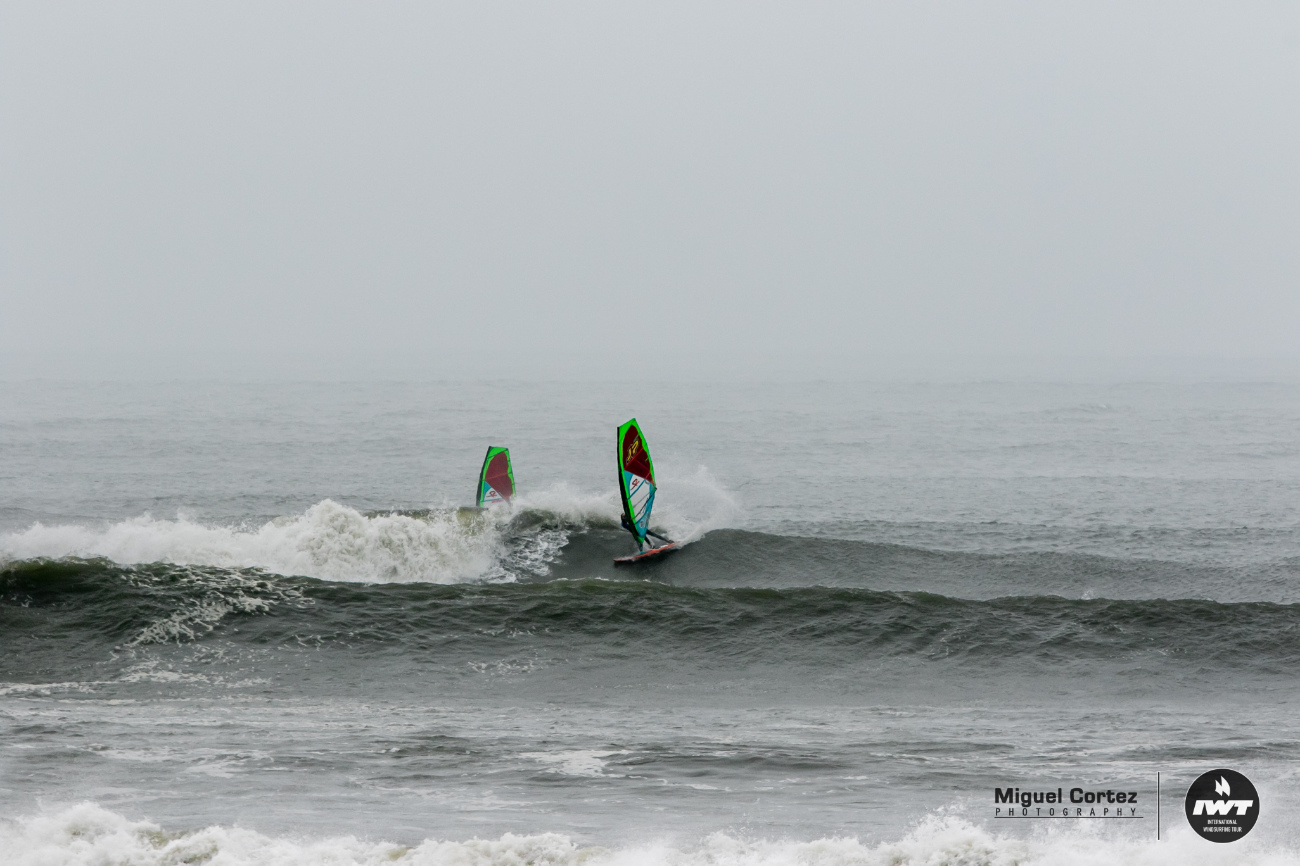 The 3rd heat in round one saw Morgan display power surfing at its best with incredible flow and speed showing us all why he is 3 time Aloha Champion (15.9 average heat score, top wave 9). This guy can carve as well as anyone on earth. He heads to the semis. Russ Faurot from Hawaii (via Kansas) was in very fine form carving with his smooth flowing style, hitting hard in the pocket to take second spot and a direct run to the semis (12.7 average point score). Ferdinando Loffreda from Italy and IWT Masters legend rode 3 clean waves but was relegated to the repechage.
Round one of Pro Men done, it was now time to switch to the women's semi finals. Last year's runner-up Maria Andres from Spain hit the water to fend off challengers from a stellar group of powerful riders: Sarah Hauser from New Caledonia and current Aloha Classic Chsmpion; Jessica Crisp from Australia and past World Wave Champion; and Brigit Rieger from Austria who has been impressive this week. This was going to be a very tough semifinal. In the end it was the two big wave specialists Sarah and Jessica taking first (10.9 average heat score) and second (10.3 average heat score). Sarahs' super clean and precise bottom turn top turn combinations showed true big wave mastery and courage under the lip. Jessica had the heats' highest wave score with a 7 which was also the highest wave score of the semi finals showing the crowd her World Wave Champion power and grit still burns bright all these years later. These two giants of the sport rode the days' giants of nature with exceptional speed and power tight in the pocket, bravely pushing the limits of women's wave riding. The shock knockout of last year's runner up, Maria (9.3 average heat score) caused some shock but a video review showed the WSL judges had made the right call about the riders who hit hardest and closest to the critical sections. It was a very tough heat.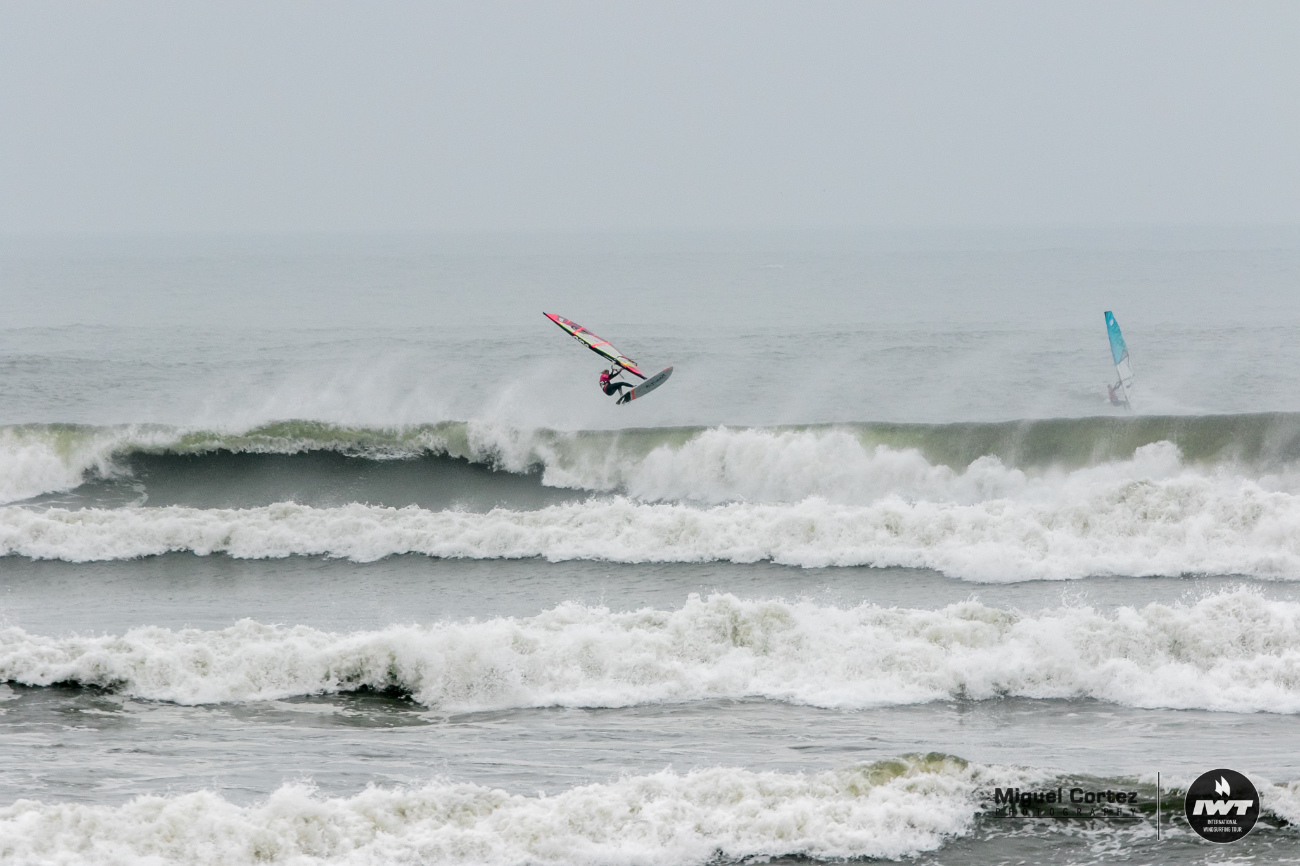 The second semi saw Lina Erpenstein from Germany take the win (10.4 average heat score) with Maria Belen Bazo from Peru sailing well to take the last spot in the women's final (8.4 average heat score). Bjorte Purschel from Chile had one nice wave but her second wave wasn't enough. Last years winner, Sabine Zola got washed on the inside after her first ride and lost a lot of time being unable to get back out for a second wave score.
We then switched to the Pro Mens repechage which saw Maxime ride like a man possessed to secure his spot in the semi finals ahead of Ferdinando. The second repechage heat saw Joaquin Desriviers and Tom Soltysiak have an impressive dual in the stunning big conditions. Both were tearing it up but it was Joaquin who had his best wave score (high 8's) edge out Tom's best wave score (high 7's). This was a very impressive heat.
It was now time for the woman's final but conditions were getting marginal, and as we headed to sunset it was likely to drop more. The heats were stopped for the day.