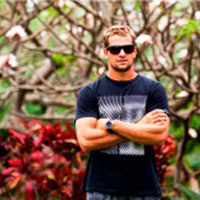 1. Name, age, category, nationality, years windsurfing
Marcilio Browne, Pro, Brasil , 1994 started
2. Expectation- what do you hope to get out of the event?
Have fun
3. Who is your Windsurfing hero at Hookipa?
Goya, Naish, Polakow
4. How many times have you ended up on the rocks? (Rock Star status)
No idea, a lot.
5. Whats your favorite no-wind activity on Maui?
Surfing
6. Whats the best airline to get your gear to Maui?
AA
7. Whats your Halloween costume for the contest?
Still deciding !
8. What are your dream Hookipa conditions?
6 feet north swell, 5,0 weather
9. Who are your favorite friends to go sailing with?
My brother, Levi, Kauli, Ricardo, …
10. Whats your favorite song to get you pumped before your heat?
I normally don't listen to music before my heat, but i like rock, brazilian music …