The Rio Vista Grand Slam kicked off today with wind from the outset
At the 10 am Skippers, there were 65 Pro and Am riders registered. With an Ebbing tide throughout the day and 15-20mph winds, the day was declared optimal for some Slalom and Free ride action. Heats kicked off swiftly.
A solid pack for the slalom, consisting of 15 Pros and 12 Amateurs, set the scene for an exciting morning of racing and the RVGS crew steamed through 5 Pro and 3 Amateur heats.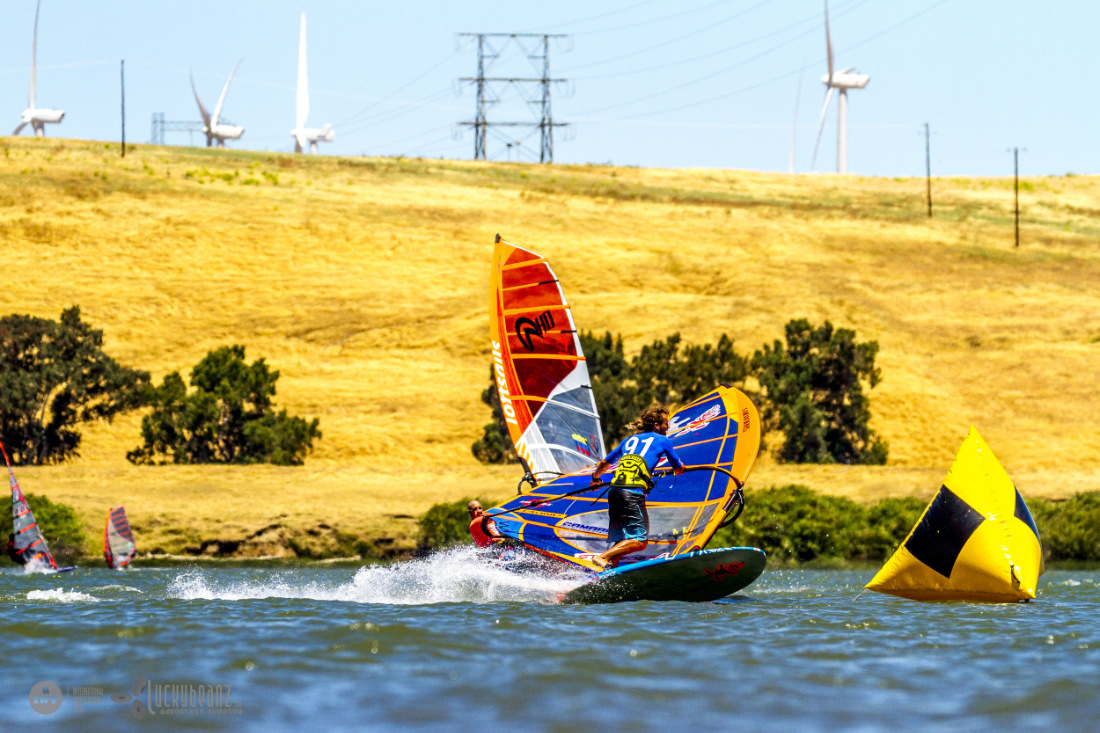 Phil Soltysiak
Diony Guadagnino of Venezuela was on fire as he laid down the law winning all 5 Pro heats at least 4-5 board lengths ahead of the rest of the Pro pack, on his Loft sail and AHD board. Chasing his every gybe however, was Canadian Pro Phil Soltysiak who came in second for most of the heats followed by local stand out Pro, Jason Voss.
A huge Special mention must go to Arrianne Aukes H-131 who was in the top 5, over all, of all the Pro heats.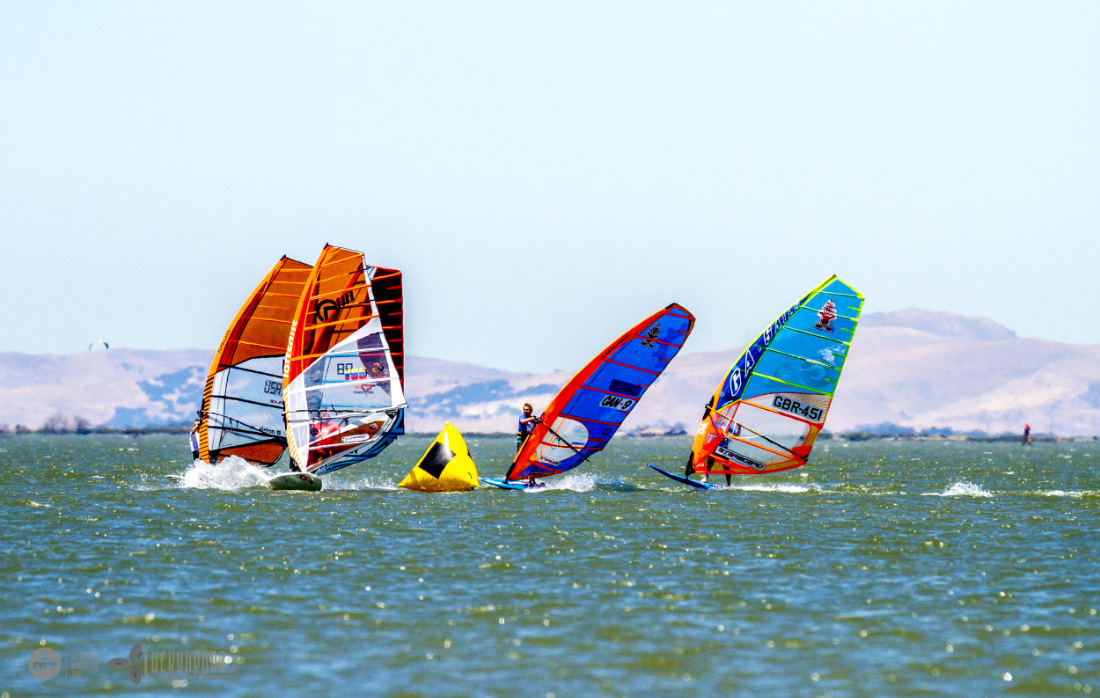 Diony Guadagnino leads the pack
By 1.30PM a little break was required allowing Wyatt Miller, Tyson Poor and Kevin Pritchard to get out on their Hydrofoil rigs and wow the crowds with this new addition to the windsurfing family. Wyatt and Tyson really showed off some impressive tricks showing that its possible to take hydro foiling to wild new levels, jumping.
After that minor distraction it was decided some free ride was needed to involve as many as possible in a day of sailing. So the afternoon hosted a mix of 25 Pro/Ams all on the water, for some 'all or nothing' figure of 8 Free racing. 10 year old Take Kohama impressed everyone speeding through the crowds coming in the top eight of all 5 heats. Big congrats to this impressive young new talent out there showing how it's done.
Finally as the sun dropped lower in the sky the Speed Demons hit the strip to see who could clock the fastest time. With testosterone flying and GPS's fixed to arms, speeds of between 25 and 30mph were recorded. Tension will have to continue to build as we wait for the final results, to be announced after the data has been downloaded.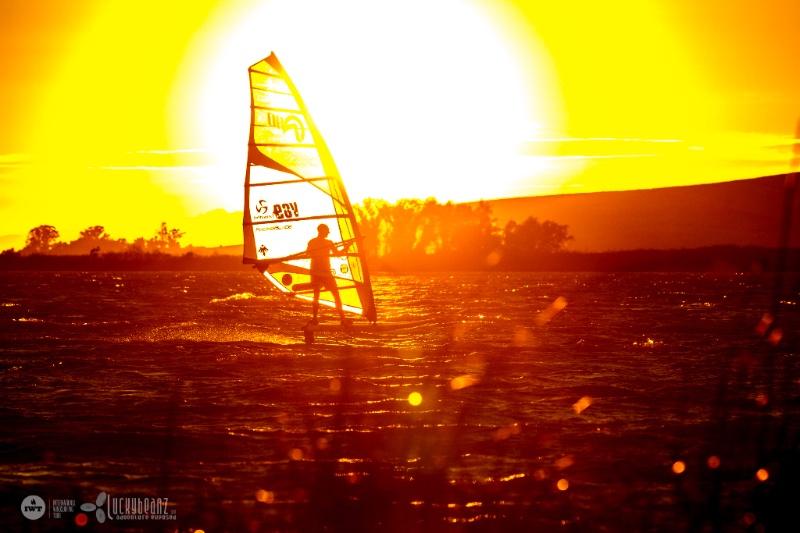 Diony Gauadagnino
So, as we go to press, a weary, satisfied, wind swept crowd of riders and supporters, can be found on Sherman Island, in the Rio Vista Delta. All enjoying some cold ones along with Tunes from the infamous Rio Vista Grand Slam resident DJ Guacamole.
Tomorrow Skippers Meeting will be at 8am with an early start expected. The kids races should run around low tide between 2 and 3pm and hopefully a little bit more wind will show up to allow for some spectacular freestyle trickery.
Keep your ears to the wind and eyes to the Delta for more news.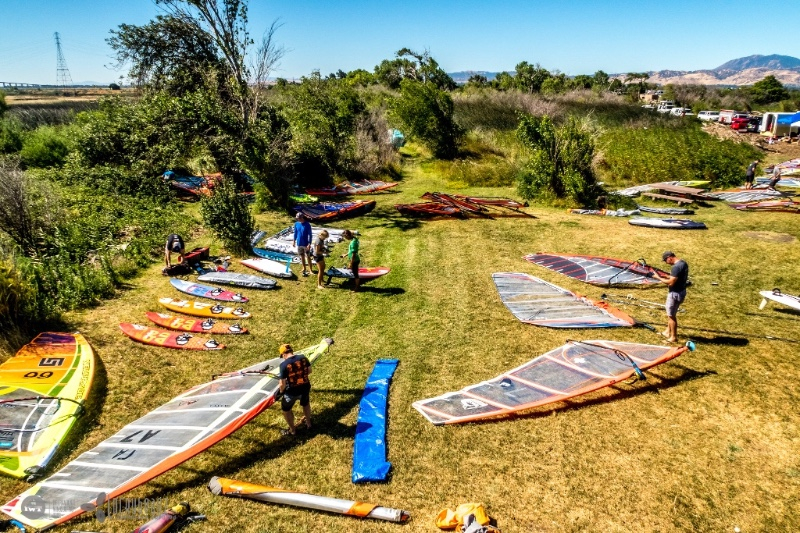 Packed rigging area
Thank you to our 2017 Rio Vista Event Sponsors

Text by Vickey Abbott and photos by Mark Harpur