IWT
Thursday, February 20, 2020
The IWT Wave Tour Calendar:
The new calendar focuses on 5 key dream wave events, with a new system of event prize money and event points that will count toward the overall IWT Wave Title. This new structure mirrors the massive global success of Tennis and Golf by grading events on the basis of money and strength of field, and brings a strong business logic to brand engagement at events. By allowing different events on tour to have different impacts on the overall title outcomes, we create financial incentive for events to raise more money that benefits riders. The more prize money an event offers, the more points that event earns for its attending riders. The system offers low level entry options for new brands who want to test a brand partnership with the Wave Riders, while also giving opportunity to fully committed brands for major engagement. All brand partners will benefit from the ever expanding IWT media platform.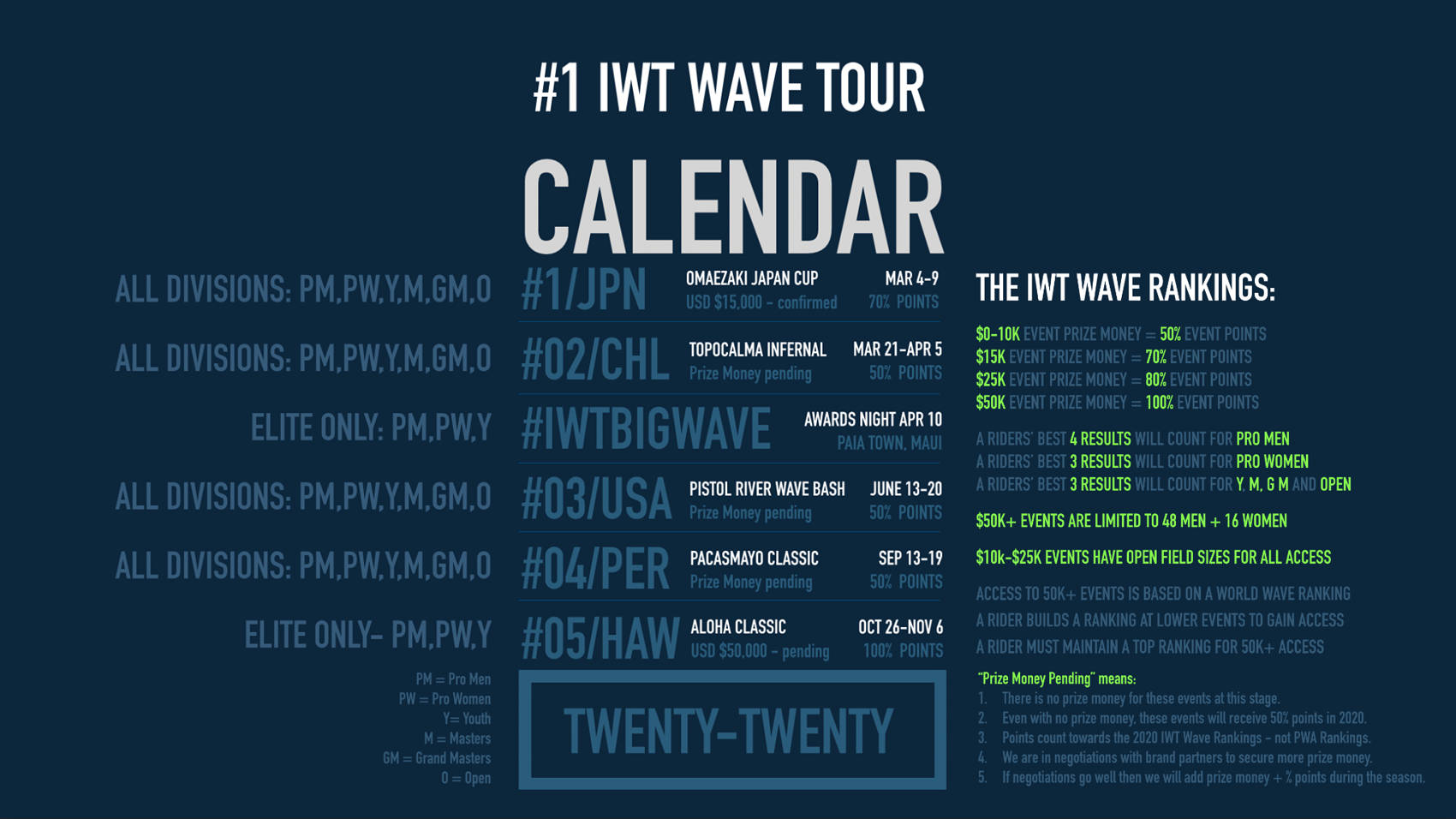 Prize Money and Points:
$0-10k event prize money = 50% event points
$15K event prize money = 70% event points
$25K event prize money = 80% event points
$50K event prize money = 100% event points
Results Toward Overall:
With 5 Events – A Riders'' best 4 results will count for Pro Men
With 5 Events – A Riders'' best 3 results will count for Pro Women & Youth
With 4 Events – A Riders'' best 3 results will count for M, GM, Open
Elite Event Access:
$50k+ Events are limited to 48 Men + 16 Women.
$10k-$25k events have open field sizes for all access.
Access to 50k+ events is based on a World Wave Ranking.
A rider builds a ranking at lower events to gain access.
A rider must maintain a top ranking for 50k+ access.
"Prize Money Pending" means:
There is no prize money for these events at this stage.
Even with no prize money, these events will receive 50% points in 2020.
Points count towards the 2020 IWT Wave Rankings – not PWA Rankings.
We are in negotiations with brand partners to secure more prize money.
If negotiations go well then we will add prize money + % points during the season.
2020 IWT Divisions:
PM = Pro Men
PW = Pro Women
Y = Youth (Under 20)
M = Masters (45 and over)
GM = Grand Masters (55 and over)
O = Open