The tension would finally be broken for the Pro division, who had been on hold all week. With the best forecast of the week, Thursday looked to be the day where the title race would heat up. Also on deck would be the Masters and Amateur Finals.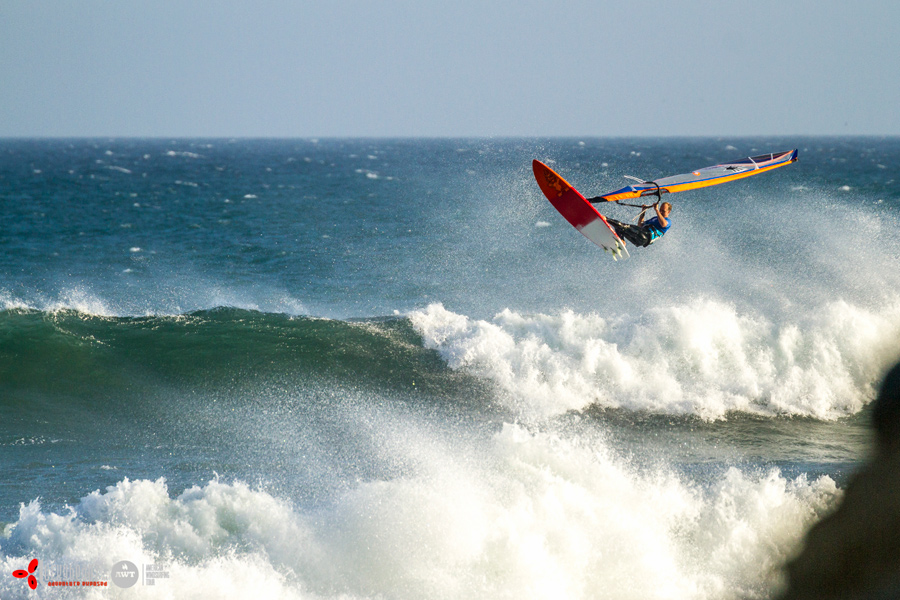 The Pro bracket had been modified to fit the available conditions, and we would now have a 4 man final. In Heat #1 our number 2 seed Boujmaa took complete control, and very quickly it became a battle for the second qualification spot. Ian Mouro (Brazil) has been ripping all week. His powerful cut back and offshore winds combined to throw tons of spray, and that's what the judges love to see! Ian's linking carves and smooth aerials saw him cruise into Round 3 leaving Kevin McGillivray and Jake Schettewi to battle it out in Round 2.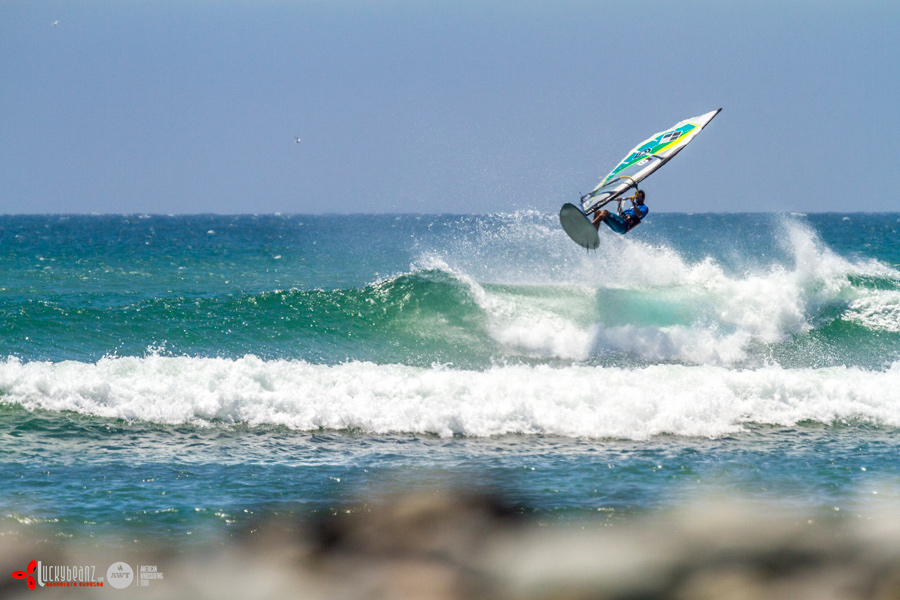 Heat 2 saw another on fire Brazilian, riding smoothly and linking airs to score well and win the heat. Levi Lenz (who's gear didn't arrive in time) was just back from injury, and sailing on borrowed gear, but you wouldn't know it as he booked his place in Round 3! Tour veteran Russ Faurot, sailing for the first time since injuring his knee at the Pistol River event, didn't look as settled as normal, but was linking smooth turns. Local knowledge is very important. Russ has been coming here for ten years now and knows the tricks to making the fast sections. Ferdinando is another rider searching for form. After a long break with injury, he looks physically fit, but under the stress of competition he couldn't find his waves and lost the important tactical battle for waves. Roberto sailed well in his first Pro heat after impressing in the Amateur division and claimed third.
Heat 3 saw local hero Joey Sanchez take on good friend Kevin Pritchard, Sarah Hauser (#1 ranked female) and Olivier Meline (in his first Pro outing). Kevin put on a master class of wave riding, picking a mixture of small and medium sized waves. Kevin was using his full rail to destroy the Point before linking the mid and end sections to fully utilize the waves on tap. Joey who sails with Kevin a lot knows this place so well that he will always be dangerous. New to the Pro bracket this year, Joey has all the moves, but currently his consistency is his weakness. He demonstrated great power in his cutback and perfect timing, but pushed a bit too hard and crashed his best scoring opportunity, He would advance, but not challenge Kevin. Sarah had gone in search for the bigger sets but couldn't find her moment, while Olivier flowed through a few good sections but lacked the speed and power needed to progress. The Pro's would now break for a couple of heats for the Grand Masters and Amateur Final.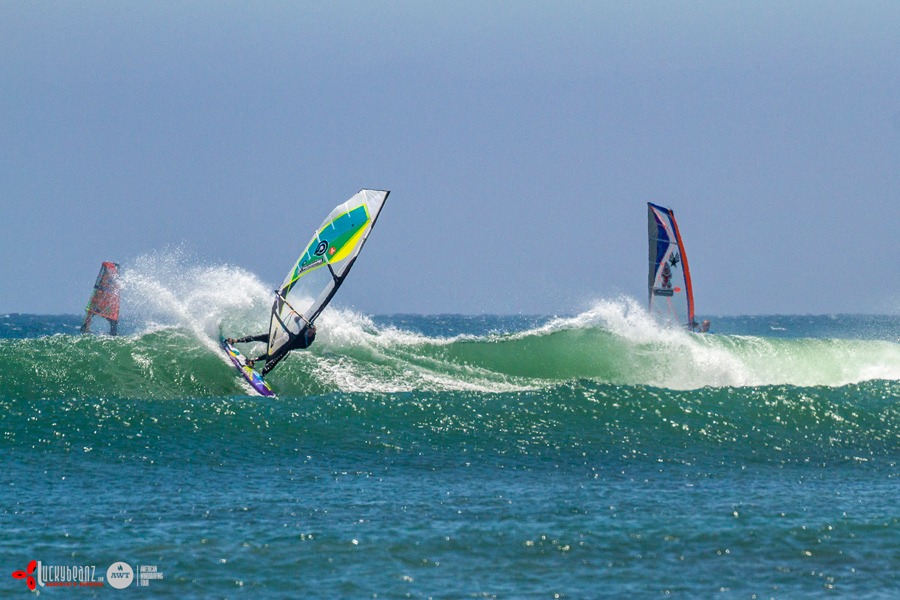 The Grand Master division (55 and over) always features an abundance of passion, skill and ocean wisdom. These guys, many of whom have been friends for many years, fight hard on the water and are always the most stoked. San Diego local Steve Roy was enjoying his home break and turning well. Dwight continued to find good waves but was not riding as vertical as Steve or Scott who both demonstrated good flow and timing. Chris Pow from the UK has been improving every day and sailed particularly well in the Chili bowl section of the wave. Colby was struggling to find his rhythm but sailed hard in the challenging conditions as waves became harder and harder to find. Eventually it would be Steve (a former competitor on the (surfing) Longboard World Tour) who took the most risks close to the rocks and carved the hardest to take the win. With the win Steve also moved into pole position in the overall rankings for the week.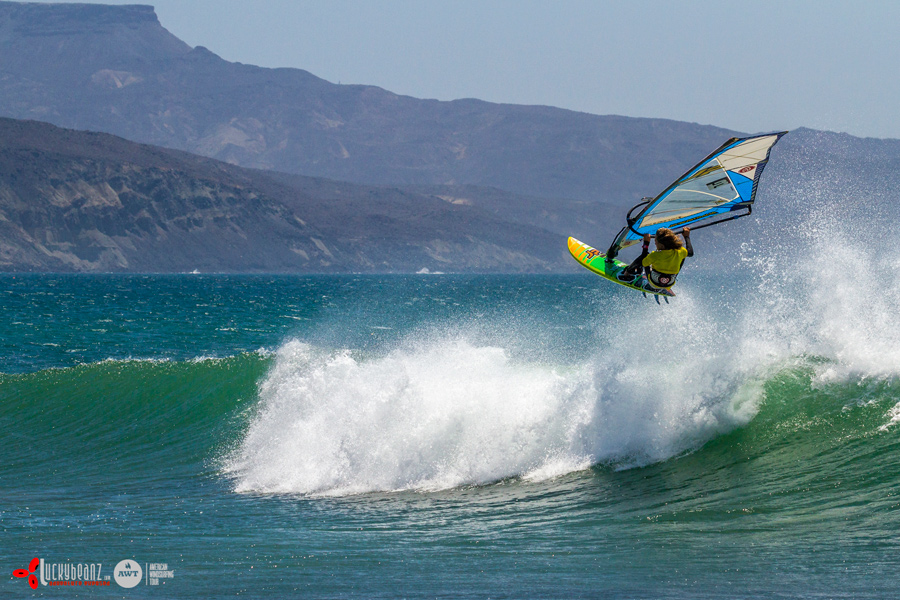 The Amateur final had been eagerly awaited, and our final four consisted of Roberto Torklidsen (Norway), Olivier Meline (France), Jake Schettewi (Hawaii) and Mark Harper (South Africa), underlining the true international nature of the AWT and this event in particular. All riders started pretty slowly and Mark took the early lead, but he would need more. In the next exchange Roberto and Jake turned it up a notch, both carving good turns. The difference between the two turned out to be the aerial game of Jake, which raised his scores close to the Excellent category. Scoring 7.5s and higher, to best Roberto's scores in the 6.5 – 7.0 range. Roberto was carving hard rail to rail and getting in tight, but he would need to take more risks. The third exchange saw Jake repeat his previous wave, and take control as Roberto, Olivier and Mark failed to make a lasting impression on the judges. As the final came to a close it was the 14yr old ripper Jake who would be crowned champion. With this win Jake takes the lead in the overall Amateur ranking and now looks confident of securing two overall titles this year and progressing to full time Pro competition soon.
There was no rest for Jake or Roberto as they were both up in the next heat Pro #4 which saw Jake take his 2nd heat win a row and advance to Round 3. Kevin McGillivray made up for his poor start to the competition in Heat #5 taking a convincing win thanks to powerful (Pritchard like) turns resulting in 7.0+ point wave scores across the board.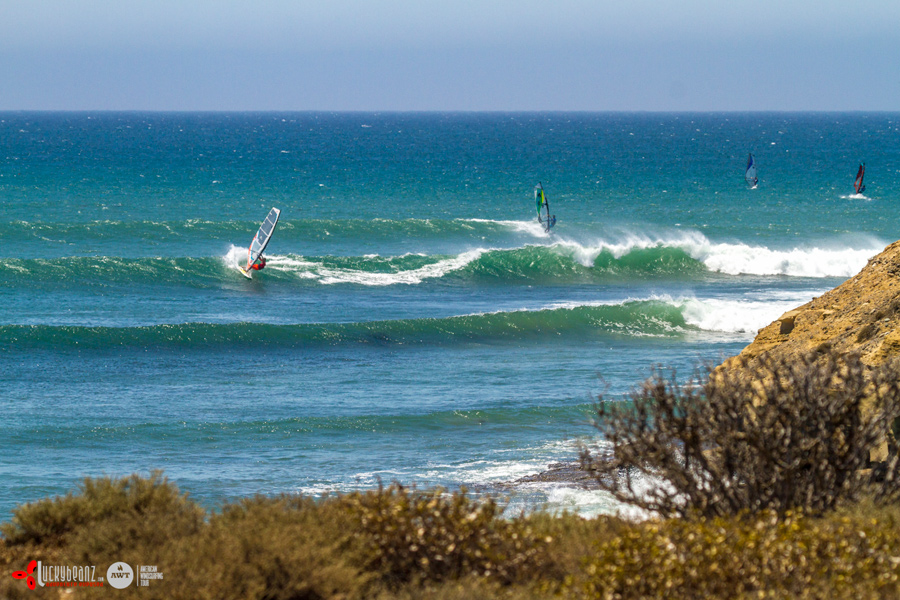 The first Pro Semi-Final (Heat 6) saw Boujmaa link flowing turns with a head dip aerial as well as a rail grab, which pushed his scores into the Excellent range. He took a clear win and was followed into the Final by an on form Kevin McGillivray, who after two weeks in Baja, is totally in tune with the conditions. The second Semi-Final saw Jake (our Amateur Champion) make his mark with smooth carves and floating airs to beat seasoned Pro Russ Faurot into 4th, who struggled to find any set waves. It became obvious we would need to take a break for the tide to fall. Kevin Pritchard and Ian Mouro were in another league, both powerful riders with gauging turns. Kevin took the better waves and turned blistering speed into vertical smacks, totally destroying the wave face with his rail. It is great to see riding scoring so highly and Kevin was well rewarded with scores well into the Excellent range (8 – 10).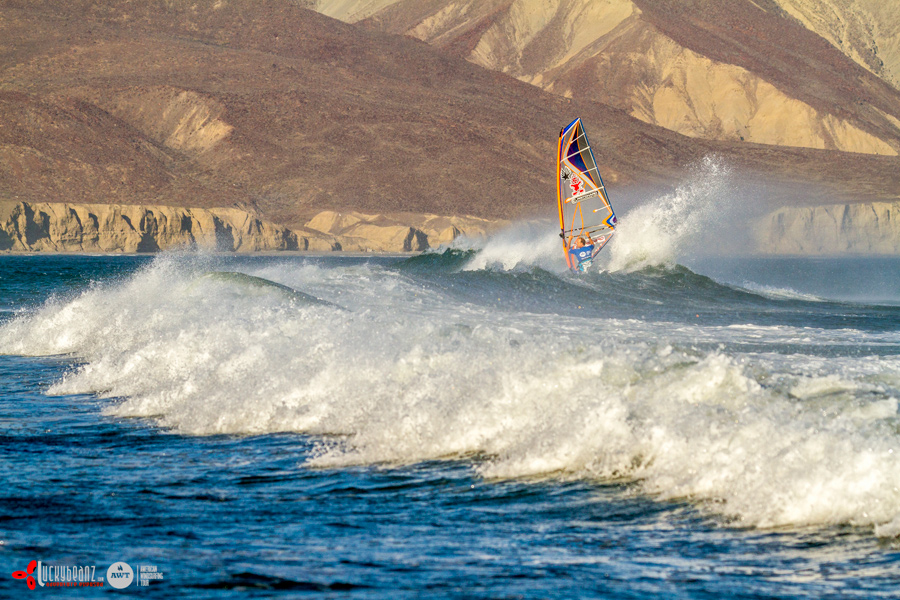 After a couple of hours break, conditions improved enough to run the Pro Final with Boujmaa (Morrocco), Ian Mouro (Brazil), Kevin Pritchard (USA) and Kevin McGillivray (USA). They were challenging for the title in head to half mast high waves. With plenty of waves on tap, all riders had plenty of opportunities to stake their claim on the title. Ian took an early lead racking up a couple of 7s. For a while it looked like he could take the glory, with others scoring 2s and 3s, with small and incomplete rides. In the third exchange all riders caught good waves, and combined solid turns with smooth airs to ignite the final with all 4 riders in sight of the trophy. Boujmaa went one better, with a rail grab aerial, flowing turns and two more aerials. It looked like the title was his, as he carded 8s across all five judges. Not to be outdone, Kevin Pritchard went in search of the best scoring opportunity trying to keep his title hopes alive.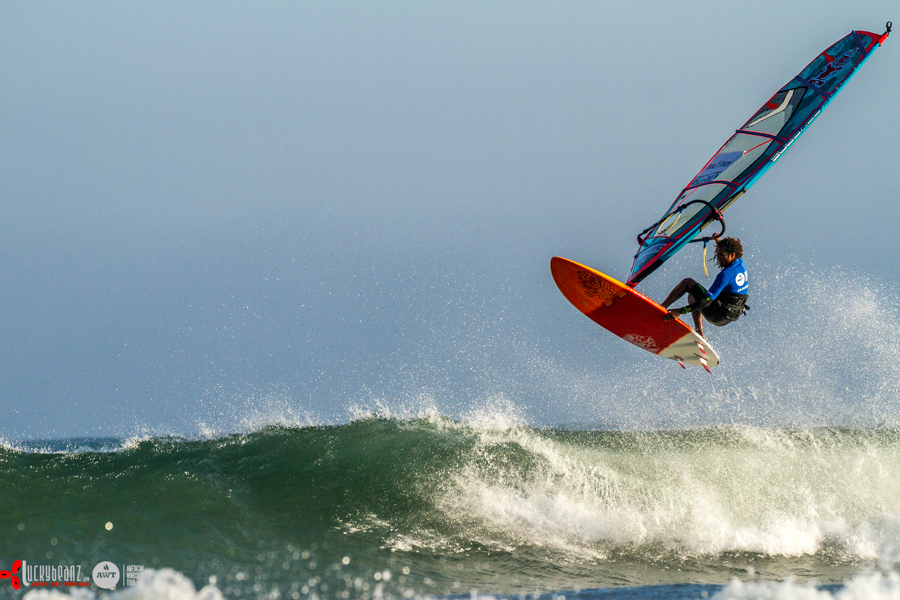 Boujmaa temporality extended his lead and looked in control until Kevin Pritchard lined up a set wave, timing it perfectly and projected into the biggest aerial of the week, dropping his front hand for extra style and points on what would turn out to be an 8.5+ score across the judging sheets. In the dying moment of the heat Boujmaa scrambled to find another great wave, but would ultimately have to settle for 2nd place which sees him take yellow jersey as our new Tour leader. The battle for 3rd was won by Ian, thanks in part to his powerful cut back while Kevin McGillivray should be thrilled with his performance this week finishing 4th in his first ever AWT Pro final.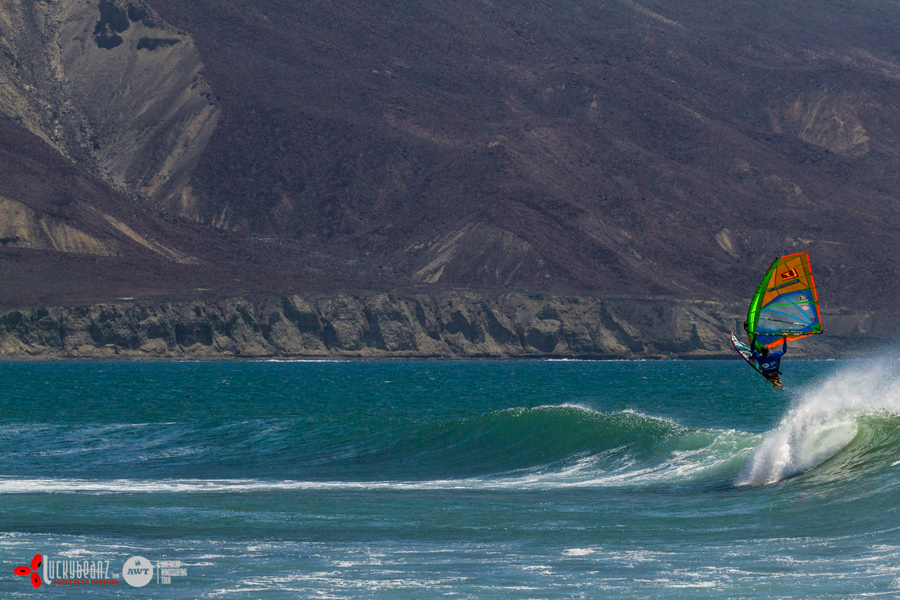 The last heat of the day saw the Masters finale, which surprisingly didn't feature our reining champion Ferdinando Loffreda, who looked somewhat off his game this week. We expect he'll be back to full force in Pacasmayo! JP Pooley, Marty Rosse, Tim Kasten and Carl Spiess made up the 4 man. It is really interesting to see how quickly these guys have been improving their riding each heat, in particular Carl and Marty who were sailing the waves of their lives. Marty with his super flowing style picked off a great first wave, with critical and powerful turns. Using the wave fully, he bagged 7s and a firm lead. JP knowing that he had to do something special, again took to the air risking everything in front of the rocks. He has only landed his first aerial this week (in a earlier heat), and now he was popping them everywhere. Building a score though is also heavily weighted on turning, and he didn't quite link his turns as smoothly as Marty. Local Tim knows this place so well and always picks the best waves, but it just wouldn't come together for him in this heat. Carl is loving life right now and it shows in his riding, but his flowing turns were not enough to upset his more experienced counterparts. Marty takes the crown with JP 2nd, Tim 3rd and Carl 4th.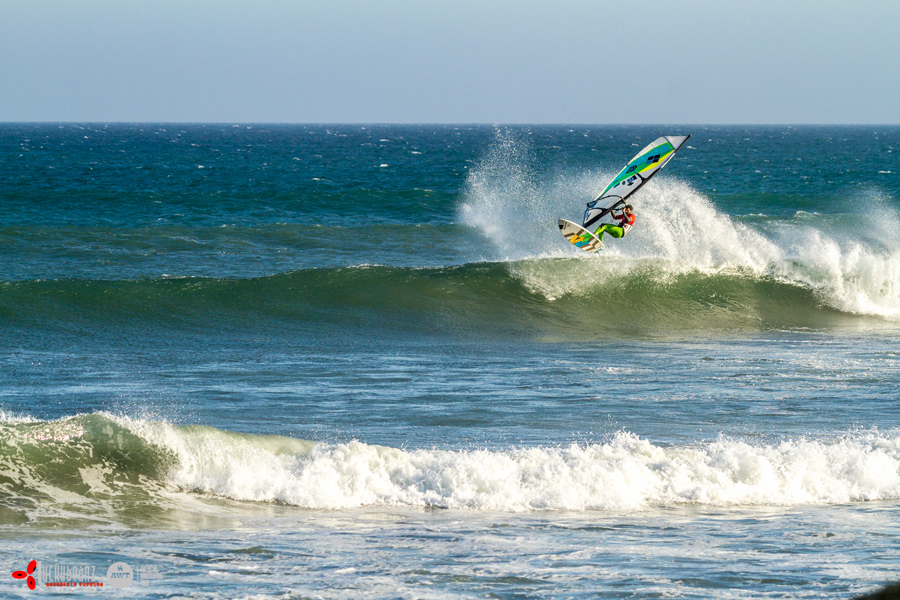 As the water action ended for the day we are left with just a few more heats tomorrow, as the 2015 SoloSports Desert Showdown #SSDS15 starts to come to a close.
Once back in camp it was time for hot showers, filling dinner and more than a couple fogs as the competitors relaxed and celebrated victory. With the Brazilian crew needing to get their RV back to San Diego in the morning, prize giving was held for the three completed divisions while the Women, Youth and Grand Masters would need to wait one more day.