Those waking up at 6am to check the surf were somewhat disappointed. The expected surf was not really showing, so there was time for more sleep, reading, running and more. There is always plenty to do when you are staying at SoloSports, with mountain biking, hiking, surfing, yoga, SUPing, foosball and more all at the ready.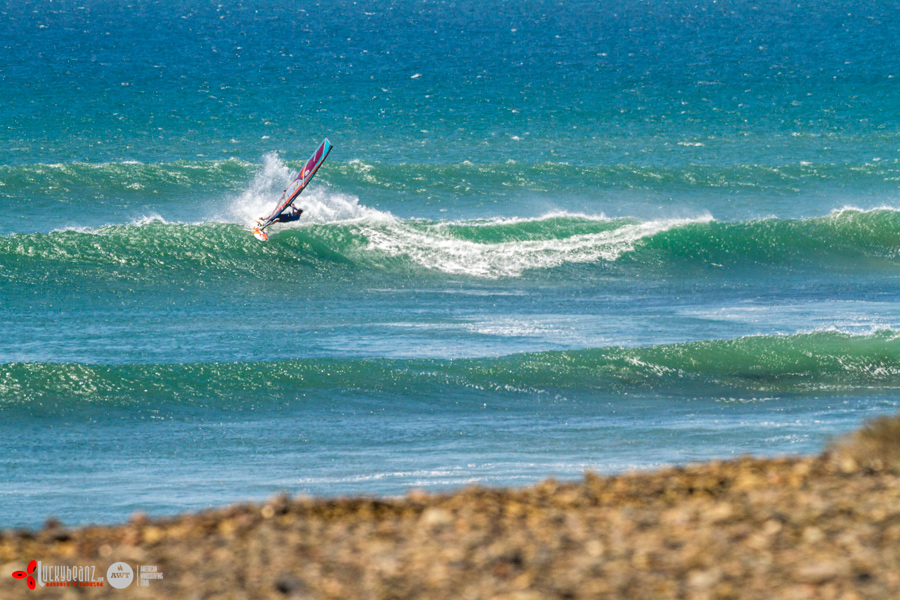 It seemed that the contest could well be over, and that all remaining results would stand. In true Punta San Carlos fashion, a shift in the tides led to the first sets of the day rolling into the Point. Not long after the first waves peaked, heats and timings were posted which gave competitors time to prepare for the 10:45am start. Judges Chris and Russ took advantage of a rare hour of down time and tested the very light (8-12 knots) winds in what turned out to be a 60 min man on man Judges' Heat. Chris took more waves but Russ won the tactical battle for the best set wave scoring a logo high set to finish the session. The wind began to fill in, and it was time to get the last few heats on the water.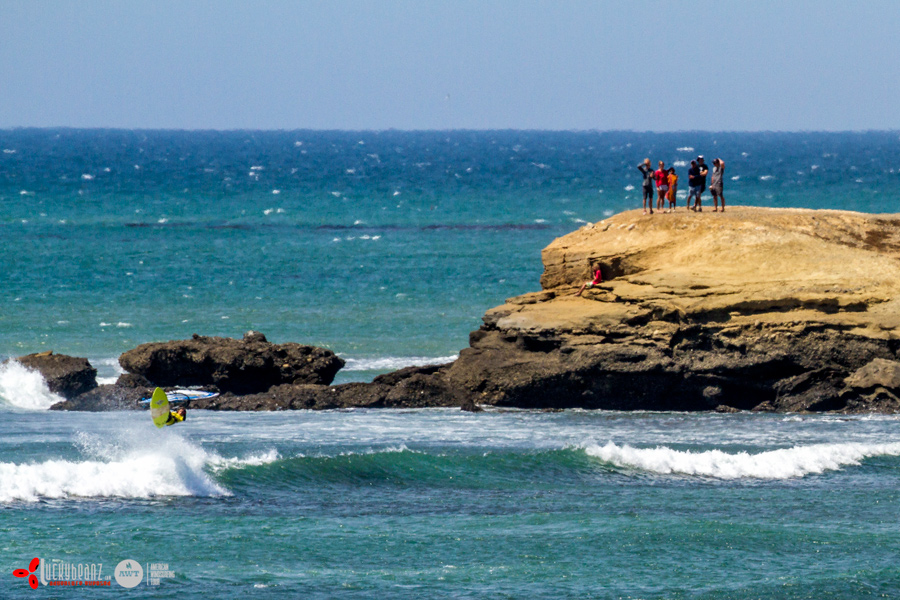 First up was the Youth Super Final, featuring the top two riders from the week's heats. Jake, fresh from his win in the Amateur division lined up the first set wave, while Alex took risks on the inside close to the rocks. Jake once again took to the air, linking vertical turns and smooth aerials. With the waves pumping, Jake already had two scores in the 7+ range before Alex was able to reply. Alex filled his score card with a couple of smaller waves and then went in search of the set waves that he would need to challenge for the title. When his wave came it looked like he would push Jake hard, but following a couple of great turns he crashed just in front of the judges.  Moments later Jake landed a perfect aerial in front of him and Alex probably knew it was all over. Jake takes his 2nd title here in Mexico, and looks unstoppable in both the Youth and Amateur divisions. It will not be long before he moves up to the Pro division, but at just 14yrs old he is racking up as much experience as possible at the moment which is a wise move.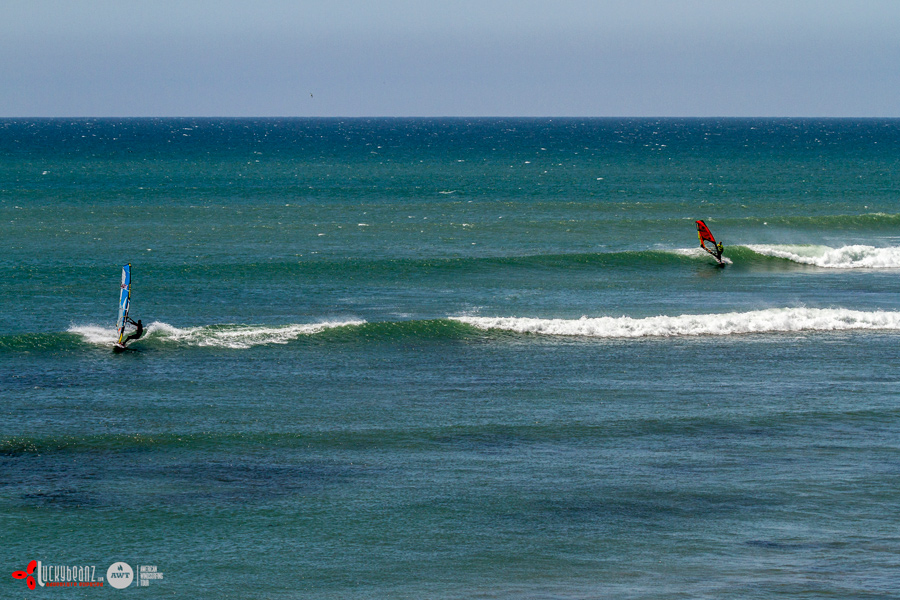 In the Women's final heat, Sam would need to win and Julie come third if she was to climb up to 2nd overall. From the buzzer Sarah took complete control and executed her game plan perfectly. Picking up set waves and riding them hard from the peak, Sarah knew that the title was hers, and it showed in her riding as she loosened up and rode even better. In the end she had ridden ten waves in the 20 min heat! Julie has been a real revelation this week. She took a risk with a small wave and went down hard into the rocks and kelp early on. Luckily she was unhurt and her gear was intact. She found a couple of set waves and carved hard but couldn't match the power of Sarah. Sam waited for her set for 10 minutes and when it came it was another of her amazing rides. After two weeks in camp Sam's riding has really developed, and she has been sailing better than ever. Unfortunately for Sam she didn't find another sizable wave and finished in Third.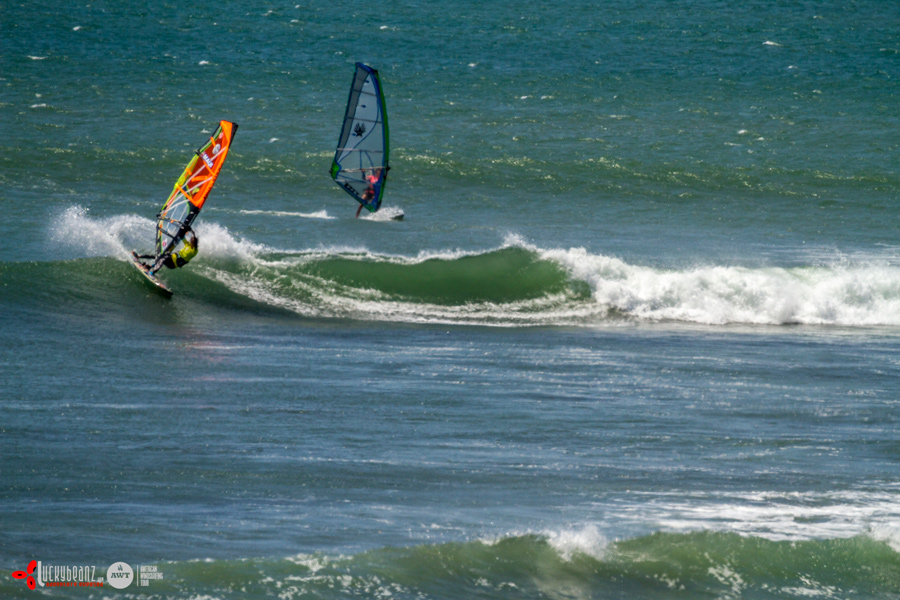 The final heat of the contest was started but the waves vanished, after 17 minutes of flatness the Grand Master's heat was cancelled and all returned to camp for lunch. The now high tide had killed the final pulse of the dying swell. After two hours on hold, the contest was called and all results confirmed. Punta San Carlos regular Steve Roy takes the Grand Master title.
With another contest completed the party could start with the remaining awards presented from behind the bar at the Solo Sports camp. A big thanks must go out to Kevin Trejo and his team for yet another amazing week in Mexico.
All that remains now is to pack up and head back up the 60km dirt track. Well that and get ready for Peru, which runs from 23rd to 29th August in Pacasmayo. It is not too late to book your tickets for what promises to be another amazing adventure with this special group of riders. If you would like more information please get in touch.