The IWT Omaezaki Japan Cup was formally completed on Sunday the 10th, with a full set of results, extraordinarily good conditions on the main day, exceptional high standards of local organization, and huge media support.
The closing party on Saturday night saw the winners announced for Pro Men, Pro Women and Youth divisions. These results had been kept under tight security since the finals were completed so there was a lot of excitement in the room when the announcements were made. As the riders climbed the podium to receive their trophies, the crowd erupted into vocal support that was deafening. These three divisions had the best of the conditions during the contest and all riders here were in wildly good form.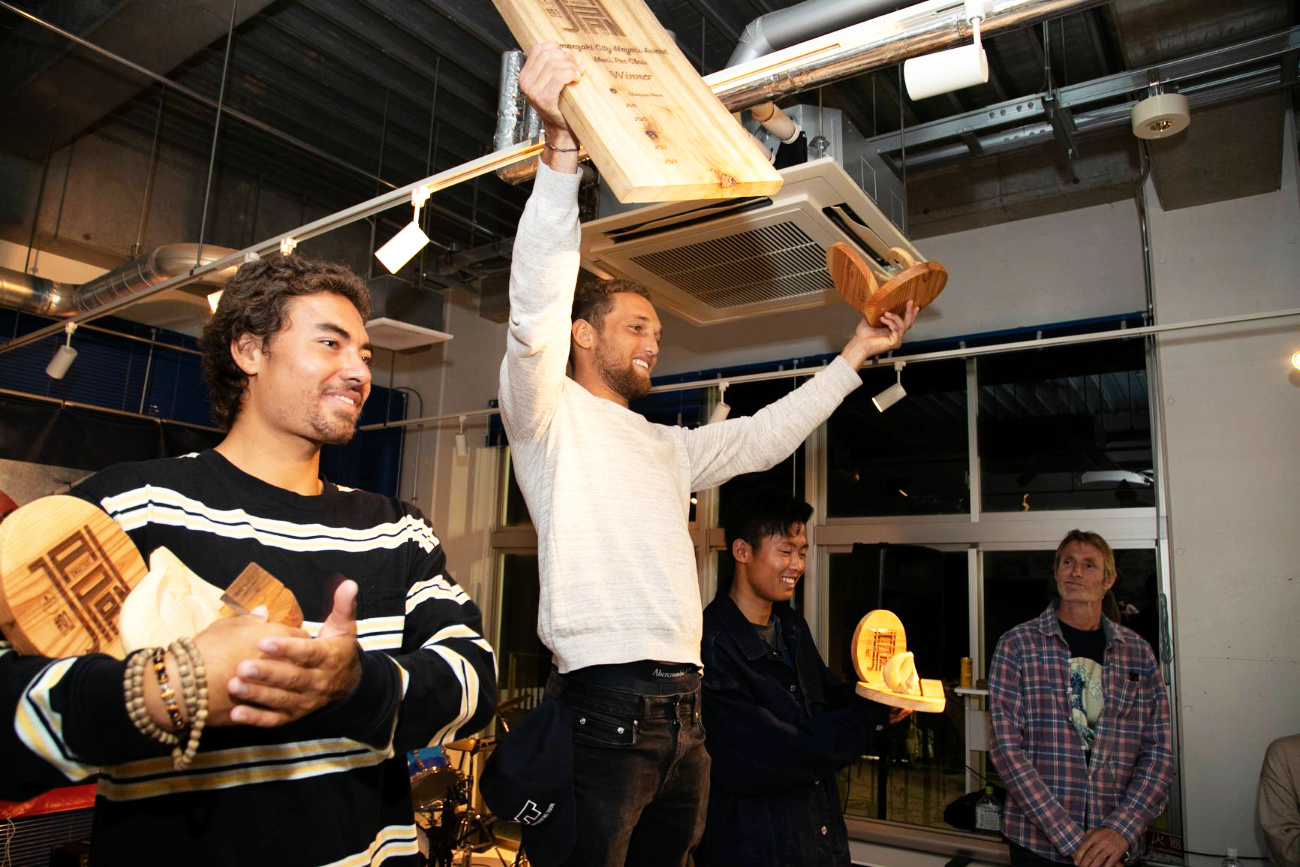 Pro Men Final:
The final was held in 30-40 knots, mast high peaks on set waves and 4 hungry athletes who had fought through a stellar field to stake their claims for glory in this big moment in the spotlight. There were 20+ photographers and videographers lined up along the sea wall and a very energetic crowd of supporters. Every one of these great athletes wants to be big in Japan! Expectation was on Antoine Martin and he did not disappoint, with massive clean back-loops, powerful top turns, great wave selection and truly wild goiters charging down the line in crazy, frothy storm-like conditions. This guy is on fire and busted out a stomping first place victory in the opening event of the IWT 2019 season. In an action packed 14 minutes all riders were going ballistic trying to win. It was hard to know where to look with all four hitting everything in sight. The video speaks for itself in terms of action description so lets hear from the riders directly about how they felt after the comp:
"I knew what I wanted to do but never thought I would go that far… still giving the most to be one of the best!" Antoine Martin, GP
"What is more meaningful: having a successful result in a contest – as an individual – or having the contest itself be a success for all those involved? Many thanks to the town of Omaezaki for committing to our event for the next 5 years. The @internationalwindsurfing tour did a fantastic job of running a flawless series of heats. What's more, this event connected with the local community and the insanely passionate windsurfers here. Over the next 5 years, I can see a whole new generation of inspired sailors breaking onto the scene, with this event having acted as a catalyst. That's a victory for all of us." Bernd Roediger, HI
"Yahhhhhh!!! Made it! So stoked with my 3rd place!! This is my first time on the podium in Pro class of @internationalwindsurfingtour . Thanks to all guys who supported me! And congrats to other guys made it podium!!!" Takara Ishii, JPN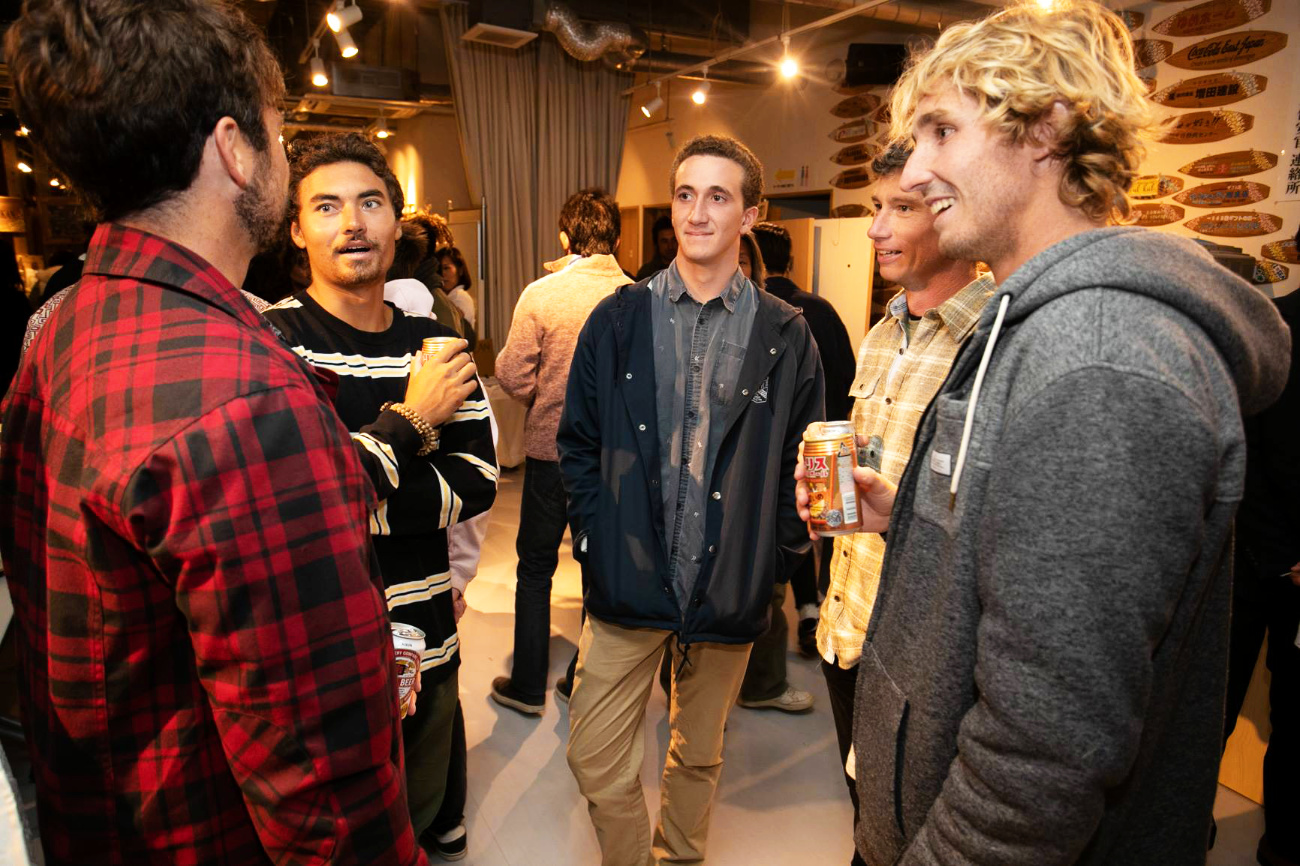 Pro Men SEMI-FINAL:
"Japan's windsurfing scene is on fire. There's a big youth movement here due to the support of a tight knit windsurf community. Unfortunately, I missed out on the final with a couple missed timed moments but very happy to be part of what's happening here." Levi Siver, HI
"Massive thanks to the local people of Japan. So well organized and such incredible hosts. I couldn't ask for anything more. Thank you! Looks like I may get 1 more crazy session before catching a plane tomorrow night. 40 knots and 4 meter swell! Time for #Japan #StormChase." Russ Faurot, HI
Pro Men QUARTER-FINAL:

"3.5 for the first time!" Edvan Souza, BRA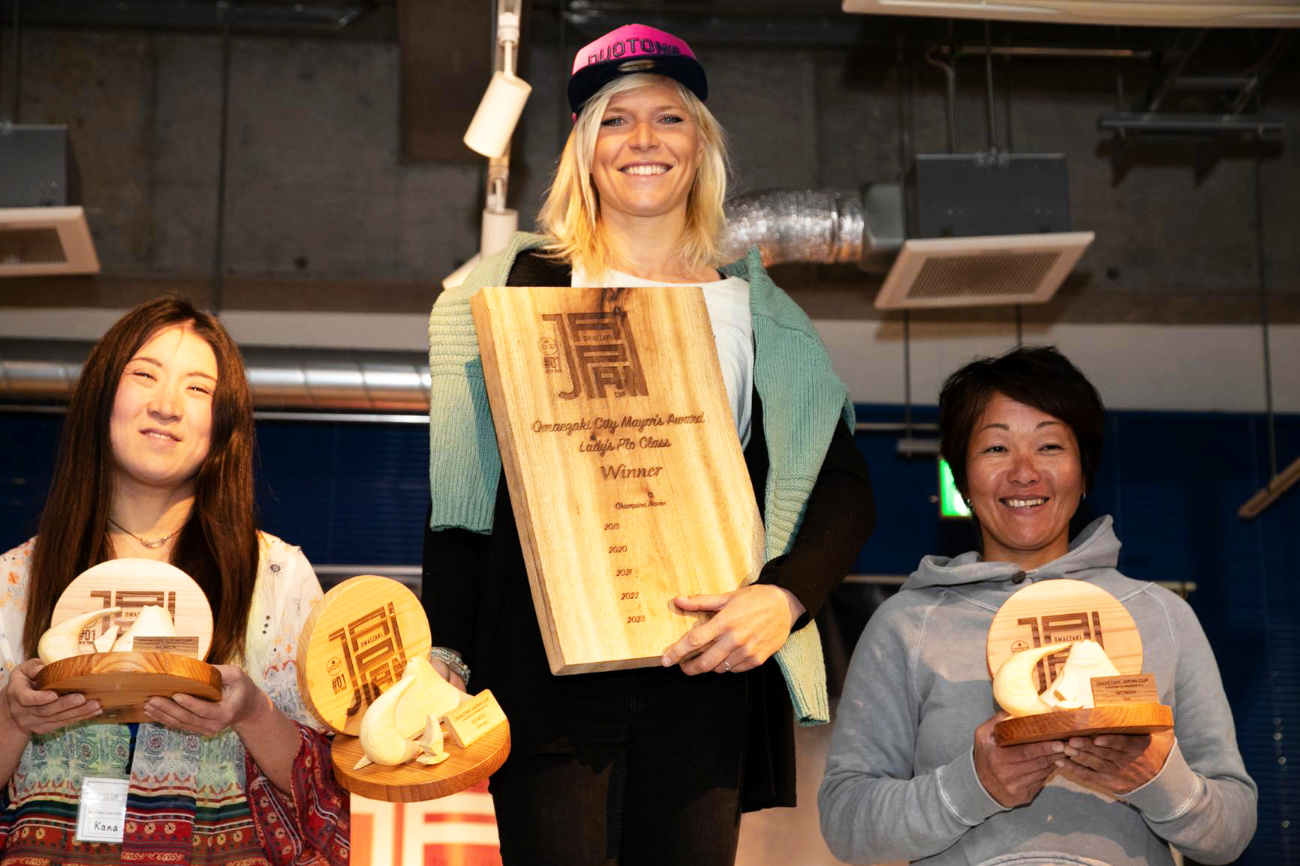 Pro Women FINAL:
The Women's final saw a huge upset when Motoko Sato was beaten by up and coming Kana Sasao. Motoko has utterly dominated the women's wave sailing scene here in Japan for 20 years, as the undisputed and undefeated champion. She is a major powerhouse, but no-one can win forever, and in this final, long time Omaezaki wave sailor and event organizer Kana finally overcame this longtime rival. Kana took second and relegated Motoko to third place. Both women sailed very well and impressed the crowds and judges with their aggressive wave riding. Rising above both of these formidable women was Arrianne Aukes from the Netherlands. Despite a serious shoulder injury, she put on a display of power and control that stole the show. Not long ago Arrianne was a flat water freestyle specialist, one of the best in the world, but over the last 2 years she has been falling in love with wave sailing and the results are clear. We were all astonished she tried to compete at all, having been to the hospital only days before to investigate severe pain in her shoulder. She has earned her nick-name 'The Beast' for good reason! Fourth place in the Women's final was 19 year old Kazuki Ishihara who is not yet in the same league as these seasoned international riders but is clearly going to be a force to be reckoned with very soon. Let's hear from the finalists:
"It's so inspiring and heartwarming to see and feel how hospitable and caring everyone here in Japan, how they want to make us feel welcome and help us with everything. I'm so thankful and it's so inspiring to be in a total different culture and to have dinner with all these shredding windsurfer ladies! Yesterday we were competing here in Omaezaki. I injured my shoulder a few days before the competition. Got an injection, painkillers and tried to rest it… So happy we got one good day with proper wind and waves!" Arrianne Aukes, NED
"I'm so, so happy!" Kana Sasao, JPN
"I will do my best to be able to make this experience next time!" (we hope the translation was accurate!). Motoko Sato, JPN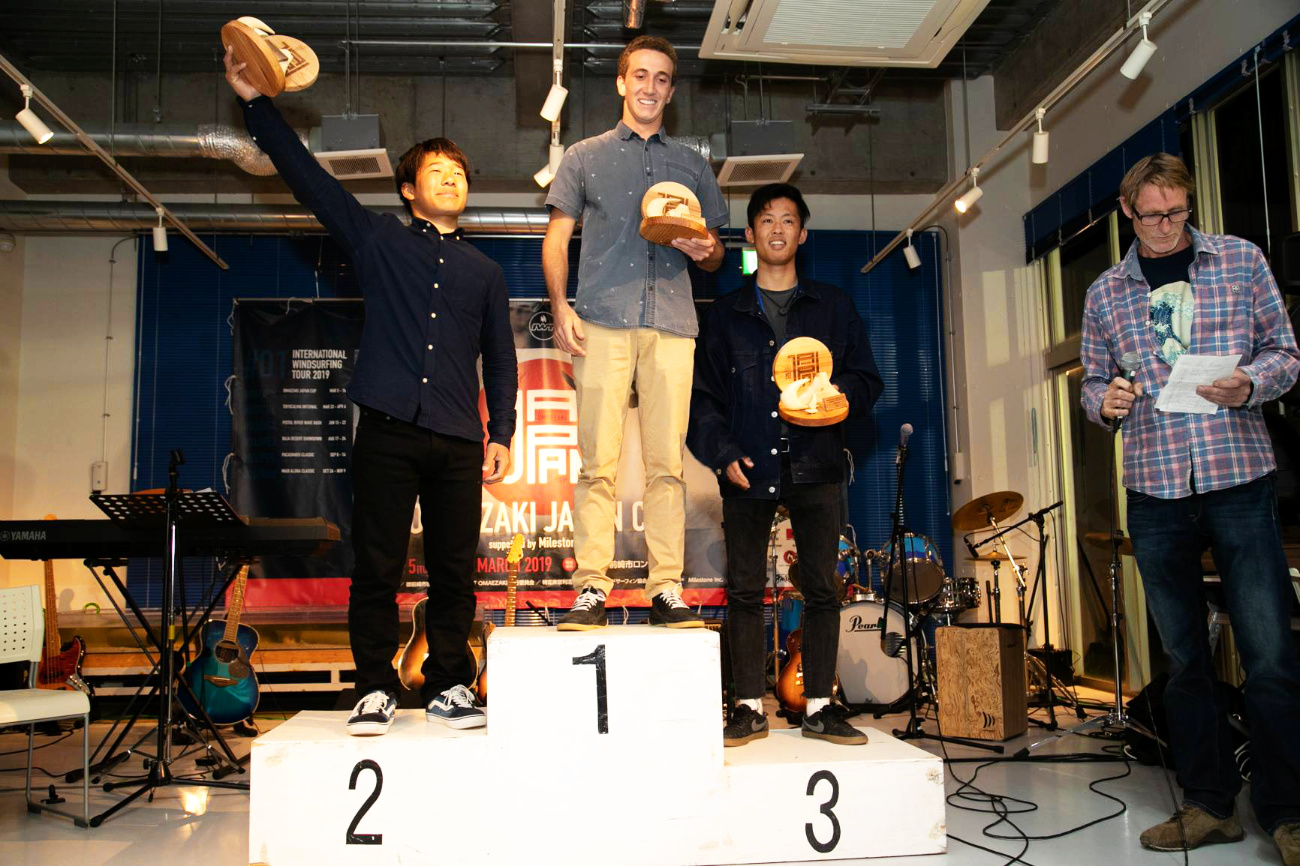 Youth FINAL:
Being a top youth and being a top pro is getting hard to differentiate, with the standard here now so incredibly high that two of the four Youth finalists were in the Pro Men's final as well. Not only that, but Takuma Sugi very nearly took the top spot here to defeat the two Pro Men's finalists Jake Schettewi and he did defeat Pro Men's finalist Takara Ishii!!! Takuma put in a powerful display. In the end it was a split decision 2:1 between the three finalist judges with Duncan Coombs overseeing, that put Jake just ahead of Takuma. Let's hear what these young guns had to say about it all:
"Had a great time at the @internationalwindsurfingtour event in Japan! I made it to the finals and got 4th (Pro Men). Congrats to @antoinewindsurfing @bernd_roediger and @takaraishii . Also super happy to get 1st in the juniors, congrats to all other juniors." Jake Schettewi, HI
"Finished IWT Omaezaki Japan Cup, it was good competition for me. My results Pro men best 8, Youth 2nd place. SO happy good places, but I wanna win to @Jake_schettewi . I respect you! Thank you so much everyone." Takuma Sugi, JPN
Takara Ishii, JPN – see quote above with Pro Men Finalists.
Amateur FINAL:
Wind and wave conditions were nowhere near as wild for the final rounds of the Amateurs heats, but the riders went out with smiles on their faces nonetheless and ripped the small stuff with impressive skills and power. Many of these riders are older pros who are seriously, seriously…. good.
"Old guys rule when they beat the youngsters!" Jeff Henderson, HI (and he did)
Master FINAL:
The same very light wind and small waves prevailed across the final day. This division of extremely enthusiastic men went out with huge energy and enthusiasm, all patting each other on the back, wishing each other luck, cheering each other's wave rides out on the water. It was a lot of fun. These competitors are really strong riders. Many past professional riders in Japan for the 90's, they were tearing up the waves – check the videos online.
"I believe we will have IWT here again next year!!" Hisataka Ishii, JPN
Grand Master FINAL:
Jeff Henderson travelled from Maui, Hawaii to compete here in Omaezaki and proved to be as dominant here as he is in the Aloha Classic on Maui's north shore. The local Grand Master riders were also very skilled. This was no easy run for Jeff, but they could not match his constantly flowing style, hitting the lip time after time in the light and tricky conditions. With many of the older Masters approaching Grand Master age of 55, Jeff will have his work cut out for him if he is to retain his new found status as Grand Master dominator of the IWT! For now, he rules the waves.
Windsurfing in Japan is clearly pretty big. And it is clearly growing. The Omaezaki Windsurfing Club (OWC) has almost 50 kids participating in regular weekend training camps for beginners up to serious wave sailing. 50! This remarkable club is succeeding as a direct result of powerful individuals who are putting in huge personal efforts to teach the youth of Japan. There are two more large kids clubs on the east coast. The OWC is the smallest of them all! IWT Head Judge Duncan Coombs observed,
"If the youth of Japan continue developing in this way, it won't be long before they dominate the world of competitive windsurfing."
The windsurfing world is officially on notice: train up your youth, in bulk, to the highest level, with the best pro riders as coaches, or be run down by this upcoming fleet of Japanese youth.
The local organizers, the mayor of Omaezaki and the primary sponsor Milestone all expressed a strong desire to have the IWT return in 2020. The Mayor now has two perpetual trophies, one for Pro Men and one for Pro Women, having the first names engraved on their beautiful timber surfaces and soon to given pride of place in his Mayoral office. The trophies have the dates 2019, 2020, 2021, 2022, and 2023 engraved on them already. Omaezaki is dead serious about building up the new event with the IWT as a long term plan. The director of Milestone, Ono-san, is a keen windsurfer himself and a significant business man who was pretty excited at the prize giving ceremony, saying that he wanted to be more involved in the coming years.
The IWT crew is now tired but happy. One event down, five to go. Over the coming days riders and crew will be traveling back to their various home bases around the world and preparing for the next adventure in Chile – The Topocalma Infernal!
The Official IWT Omaezaki Japan Cup Video
Bonus Session After the Contest!