Punta San Carlos, Baja delivers once again. Day one saw the women and the pros take to the water as the forecast called for the best conditions of the week. After an introduction to all the crew and competitors at the camp it was time to head to the point where the first heat of the day got under way.
With two open spots available in the pro fleet the decision was made to run a trial heat to determine which of the Amateurs would have their chance to cut their teeth among the top ranked sailors on the AWT. Ingrid Larouche and Joey Sanchez finished first and second advancing into the pro bracket.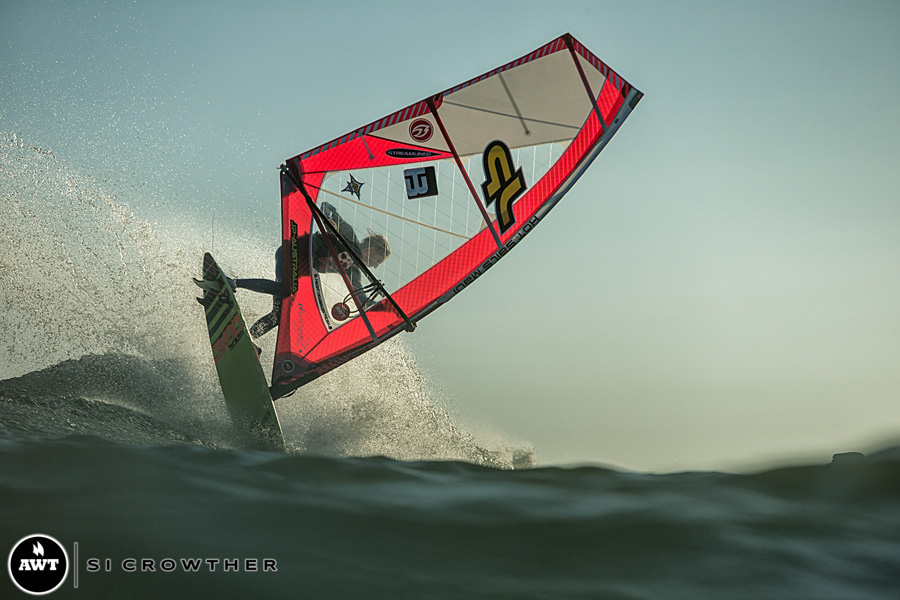 Pro Division: The pro heats were stacked with many top pros making the long trip down to enjoy the incredible Punta San Carlos conditions. The first heat saw Bernd Roediger edging out Ferdinando Loffreda and Larouche. Next up Casey Hauser put together a strong performance taking down Kevin Pritchard and Bryan Metcalf Perez. Heat 3 saw Morgan Noireaux lay down the two biggest wave scores of the pros so far to advance over Russ Faurot and Josh Steele. The final heat saw Levi Siver move past Kevin McGillivray and Joey Sanchez.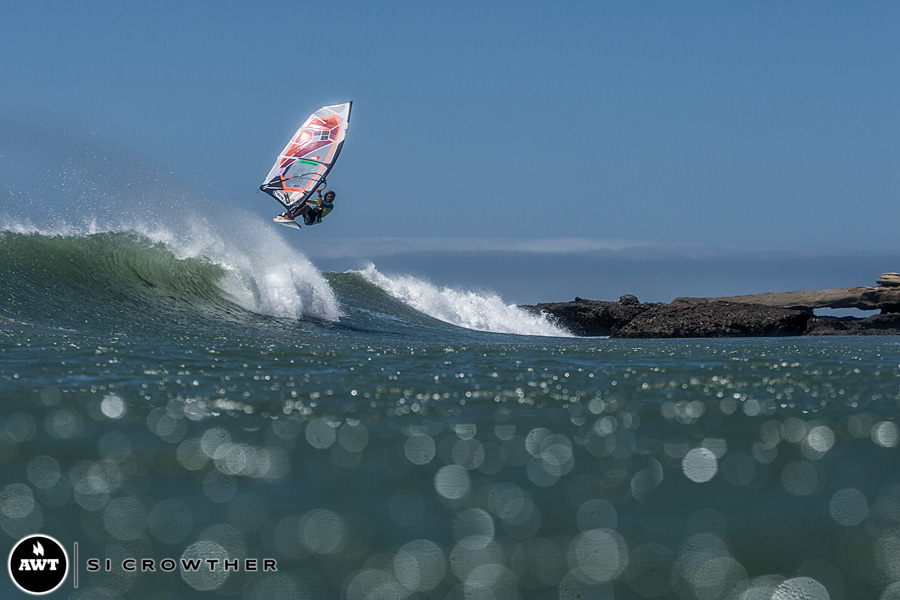 However, the AWT bracket system gives all the second and third place finishers of the first round a second chance in round two to get back in the competition. Taking advantage with strong performances were Pritchard, Metcalf-Perez, Faurot and McGillvray.
Round three started with Roediger putting up big scores with his head-dip aerials and impressive riding. Pritchard exacted revenge from round one with a much better heat to advance to the semi-final. Siver took heat two with a strong riding performance. Noireaux also advanced with a solid performance lining up and incredibly strong semi-final featuring Siver, Roediger, Pritchard and Noireaux.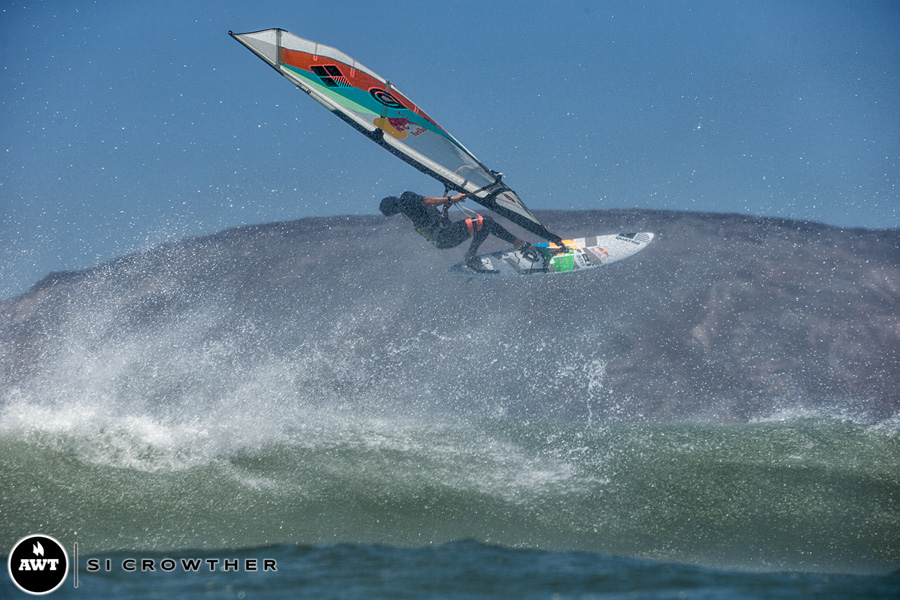 Pressure was on with the top two riders advancing to go head-to-head in the final. Roediger and Siver sailed well but couldn't match the performances put in by Pritchard and Noireaux. The final matchup was set!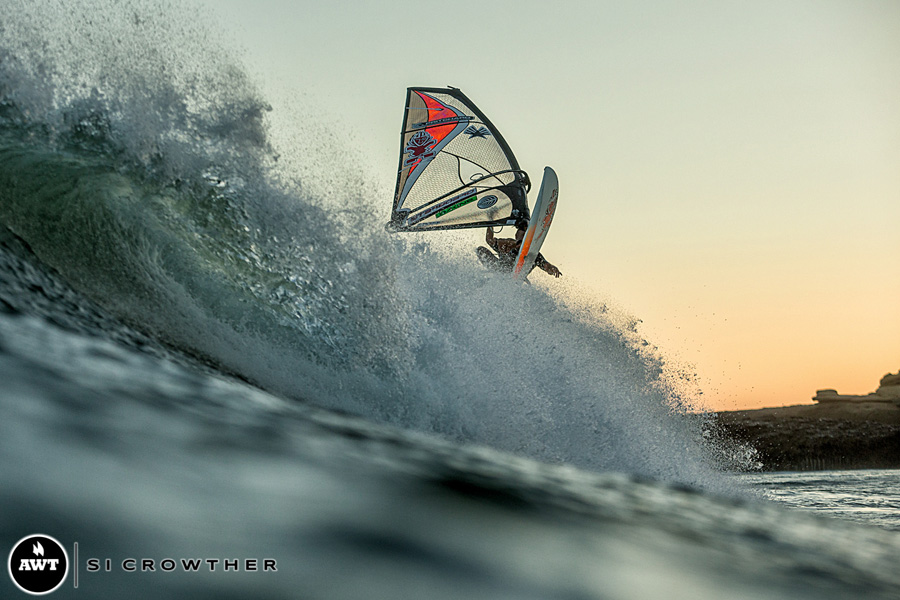 The final was extended to 25-minutes and the conditions were firing. Both riders put on strong performances with aggressive powerful turns and huge aerials, but in the end Noireaux found the best set waves giving him his first AWT tour win.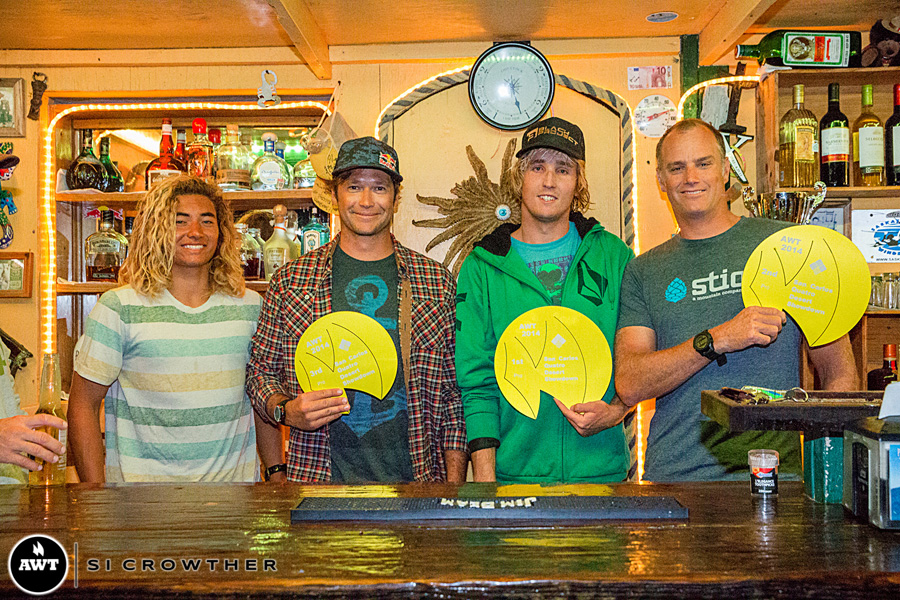 Womens Division: The wind was insanely strong and the waves were firing when the women were sent out at the point. The first round saw Fiona Wylde and Sarah Hauser putting in strong performances to guarantee their places in the final. With diminishing conditions at the point the contest was move down to SoloSports, where the second chance round saw Katie McAnena and Ingrid Larouche secure their places in the final against the first round winners.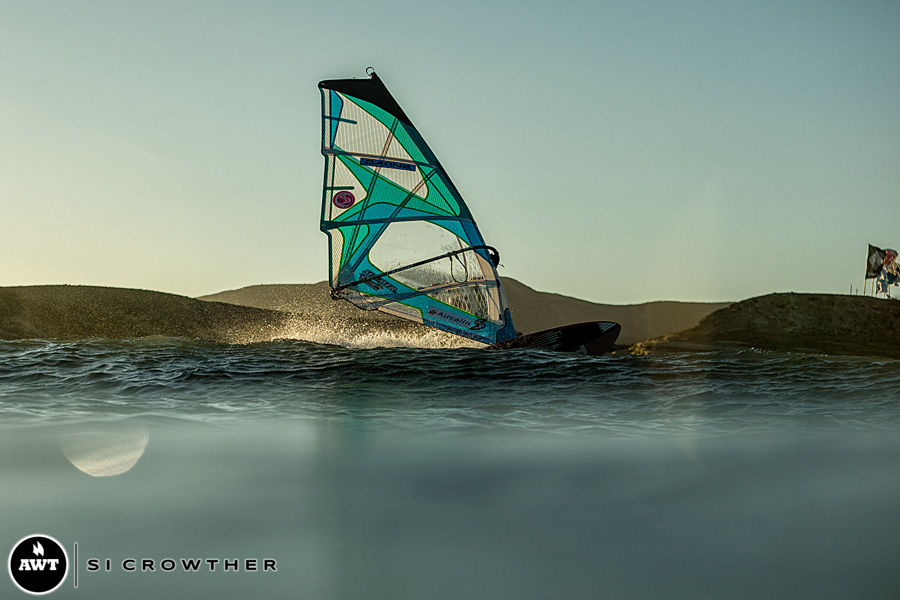 The final was an intense battle with all competitors scoring some nice waves. Earning her first tour win was Wylde scoring two incredible set waves. Up next was Hauser followed closely behind by Larouche and McAnena.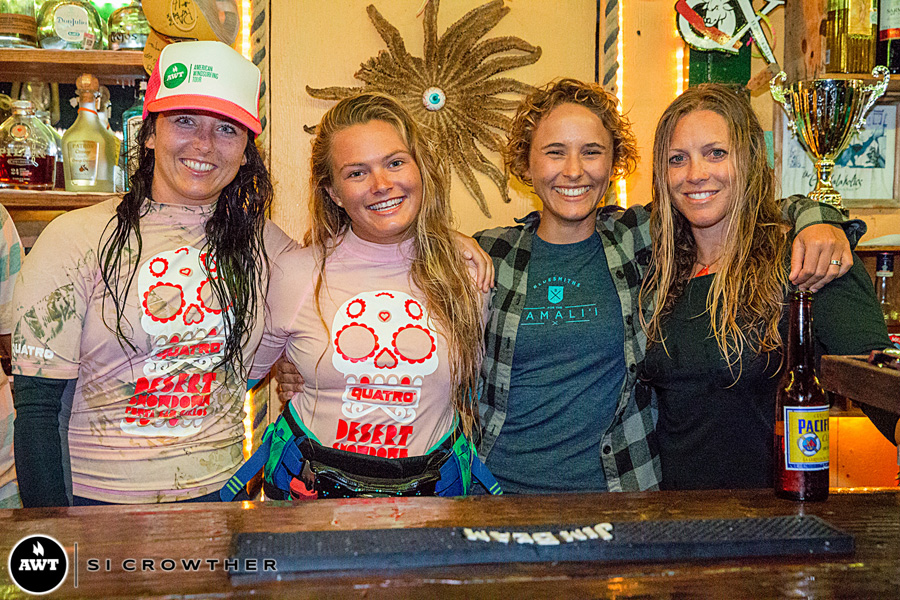 QUOTED:
"After a string of fourths I finally managed to win an event. A lot of times I'll sail great heats up until the final, and then I'll try too hard, and lose. It's nice to finally get the monkey off my back. The event went well. The waves were fun but inconsistent, which made it tough. Wave choice played a huge part. I thought I had lost my semi-final heat but ended up winning, so when I was in the final and felt like I got a few good waves and I was a lot more confident." —Morgan Noireaux, pro division champion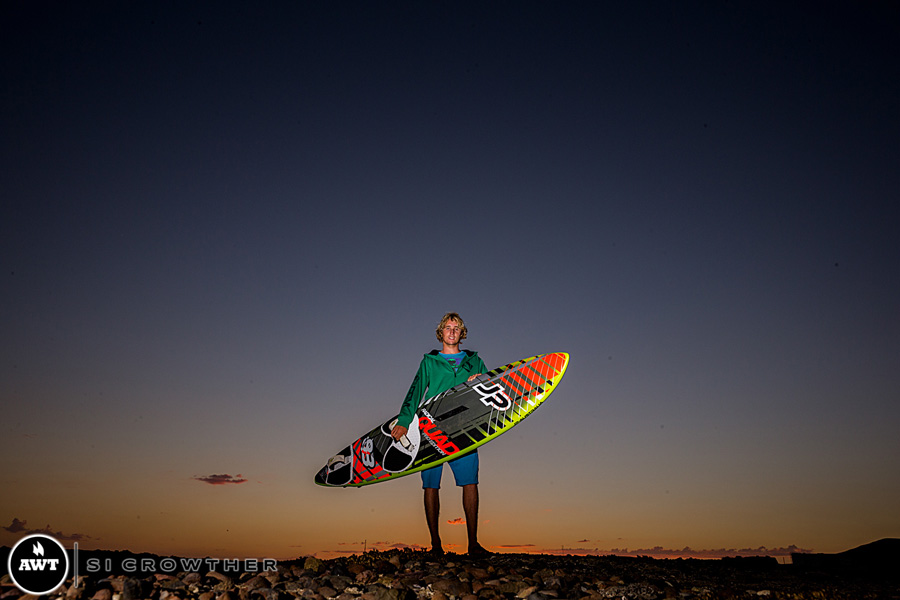 "I've been competing a lot recently, both in windsurfing and stand up. There are times when a heat comes together and I feel confident with my performance, but even then sometimes the results don't come my way. In the final of the women's today, I feel like I checked all the boxes… wave selection, turns and airs. And even then when I check all the boxes and am proud with my performance, sometimes a results doesn't come… But today it did! Sometimes you win, sometimes you lose, but when you feel like you earned it, that when the win matters. And that's how I feel right now. Big thank you to all the crew for putting on this event and making it fun for everybody! And big congrats to the Pro Men, Morgan, Kevin, Levi, and Bernd! You guys inspire me to become a better wave sailor! Thank you!" —Fiona Wylde, women division champion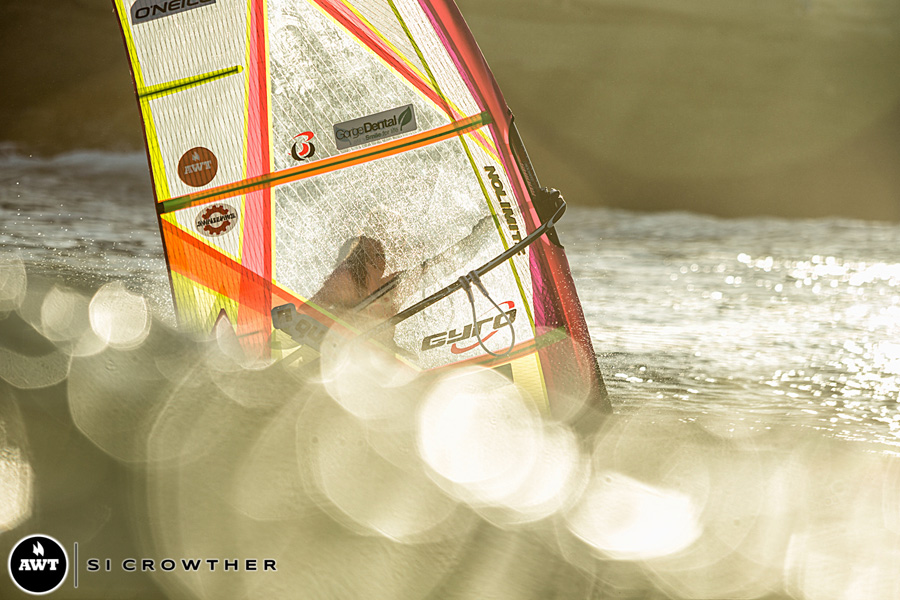 "I am so incredibly happy for Fiona and Morgan. They have both grown up on the tour and have been improving so much over the years. I have loved watching them grow up on the AWT family and for them to both win on the same event for the first time is so satisfying. I am a happy mama!" —Sam Bittner, AWT director
"I really do have the best job in the world, being a part of the AWT is a dream come true. Working alongside a great team of judges and watching these amazing riders perform to such incredible heights gives me more happiness than I can explain in words. Today was the day that many knew would come, we had watched the eventual winners tear waves apart in Peru but they had fallen short but today both Morgan and Fiona held poll position and were not backing down to their older and more experienced counterparts. In the Men's final Morgan held his nerve picking off the set waves with ease enjoying the light winds linked his turns and airs to take down multiple world champion Kevin Pritchard. In the Women's final 17- year-old Fiona who had decided to fly down only 24 hours before hitting the biggest sections and gracefully curved her way to victory. Congratulations to all but especially to our two champions, names you will see in lights for years to come." —Chris Freeman, AWT Head Judge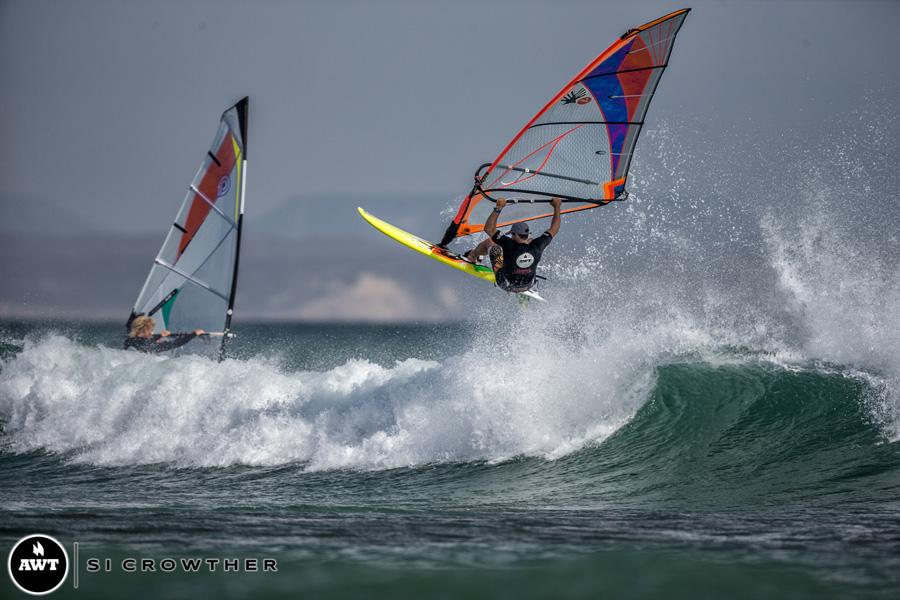 Update: AWT Quatro Desert Showdown at Punta San Carlos, Baja
The week started with an incredible day of action seeing Morgan Noireaux win his first AWT pro title and Fiona Wylde her first women's crown. Day two saw the wind take a break but with the waves staying around no one was disappointed. Day three once again had little wind but all competitors stayed busy on the water either surfing or SUPing. SoloSports always delivers for keeping smiles on the faces of everyone visiting Punta San Carlos, Baja.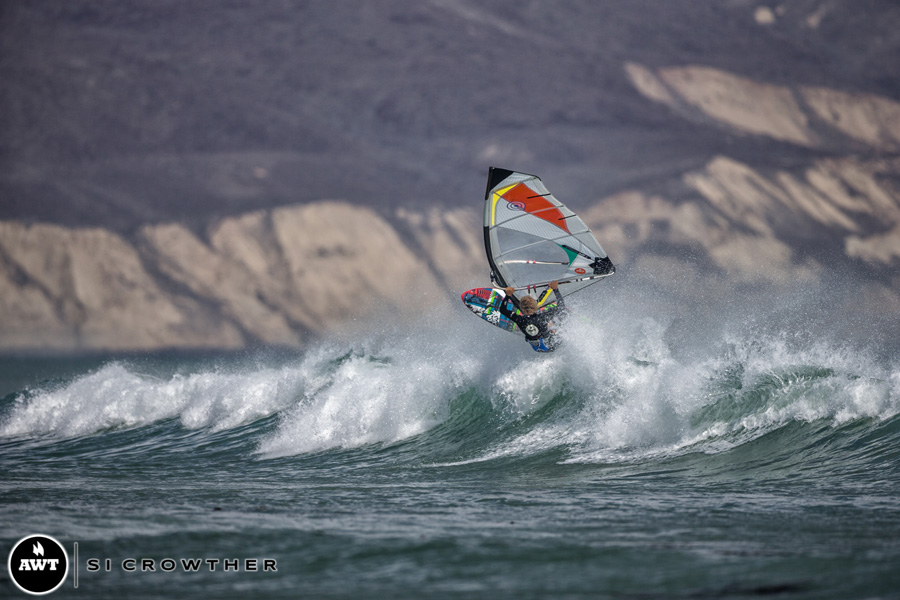 Day four saw the wind return just enough to start the youth and amateur divisions. Heats were set for 20-minutes allowing for all competitors to score plenty of waves. The youth heat saw and epic battle between 16-year-old Alex McKirgan and 14-year-old Itai Kafri. Both caught tons of amazing rides but Alex's more powerful style with complete roundhouse turns was slightly favored by the judges of Itai's high-speed skatey style.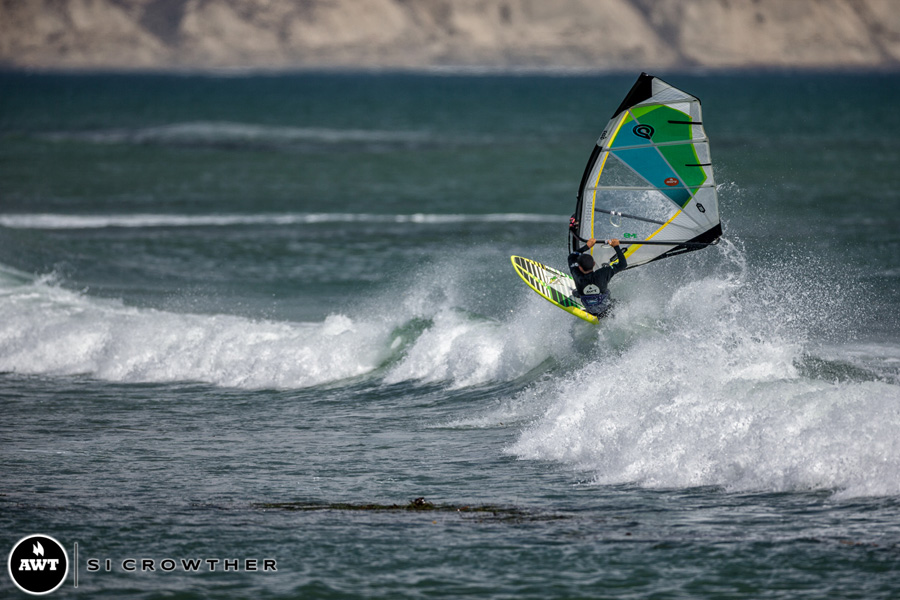 The amateurs got underway but unfortunately after five heats had to be abandoned due to dwindling wind conditions. Standout riders of these first heats included Vickie Abbott, Attila Tividar, Joey Sanchez, Andrew Cunningham and Yossy Solomon (who scored the highest scoring wave of the amateurs so far). Despite the conditions not being contestable riders still hit the water ripping the waves that were actually picking up in size, so we are very optimistic about conditions for tomorrow. Stay tuned!