The final day of the event started early with the hope of beating the weatherman's prediction of a heatwave. Sadly by 9am with only 8 knots of wind and 100 degrees in the sun, it was wisely decided to hold the prize giving and then release all the riders. Despite not being able to compete on the final day the RVGS crew did a fantastic job in getting through as many races as possible, with only the Freestyle division not getting results due to insufficient wind.
The first trophy which was gratefully and humbly received with a beautifully eloquent speech, was for The IWT Rio Vista Grand Slam event Platinum sponsor, Donna Woods. A special big thank you to Donna who has supported this event from the beginning, making it possible for all 60 riders to compete in her beloved Rio Vista. It is the passion of people like Donna who make the sport of windsurfing so special. It is really her enthusiasm for grass root events, such as the RVGS that are the backbone of the IWT family.
Trophies were awarded to first and second place winners in all the categories. Congratulations to all those who competed, and to the following for showing up and taking home prizes: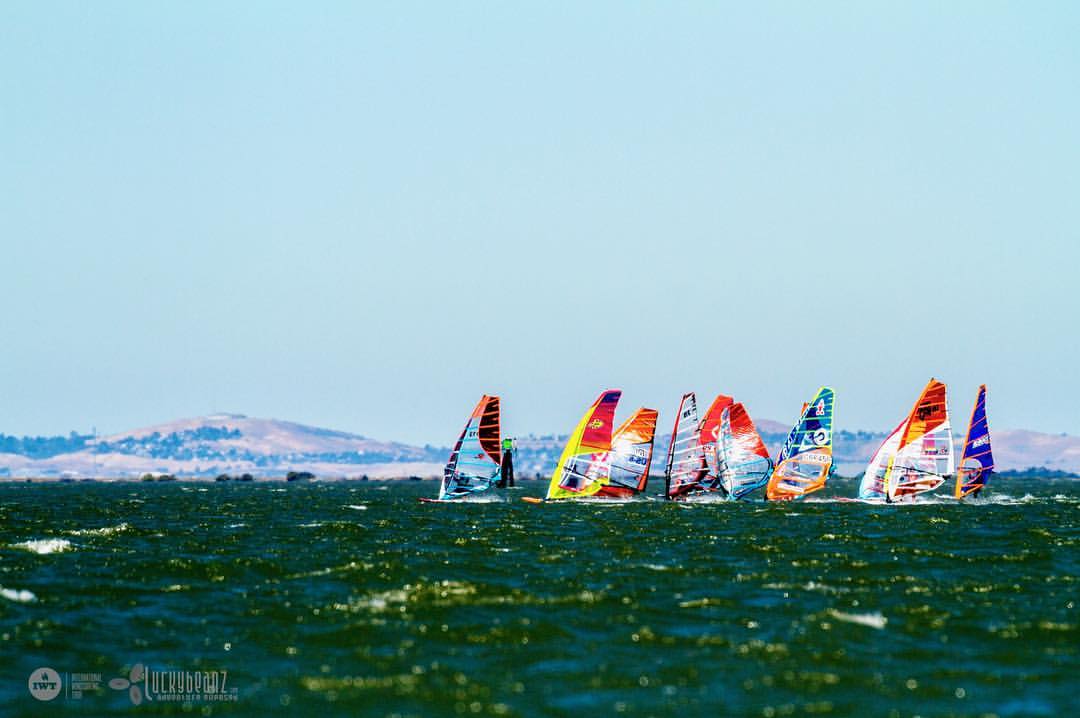 Overall Slalom Pro division:
1st Diony Guadagnino – V69 winning 4 out of the 5 heats
2nd Phil Soltysiak – seond in all the heats
3rd Xavier Ferlet – GBR451
4th Jason Voss
Again Special mention to Arrianne Aukes H131 the only Pro female who posted a solid 7th place overall
Amateur Slalom division:
1st Skip Bowman
2nd Vincent Fallourd
3rd Ron Voss
Kids Slalom:
1st Take Kohama from Japan who won all 5 heats
2nd Douglas Studer
3rd Luka Voss
4th Yannick Mertens
For the Freeride figure of 8 racing in which 25 competed:
Pro division:
1st Jason Voss
2nd Alex Mertens
3rd Tom Soltysiak
Amateur Division:
1st Skip Gonzales
2nd Ron Voss
3rd Peter Vu
Finally for the infamous and highly competitive Speed challenge the winner posting just over 30 knots in only 14 knots of wind was Wyatt Miller.
1st Wyatt Miller
2nd Borris Vujasinovic
3rd Xavier Ferlet
4th Tyson Poor
Thank you for staying tuned over the weekend, next stop on the IWT tour is The Gorge Wave Bash this coming weekend June 24th and 25th. Hope to see you all there!