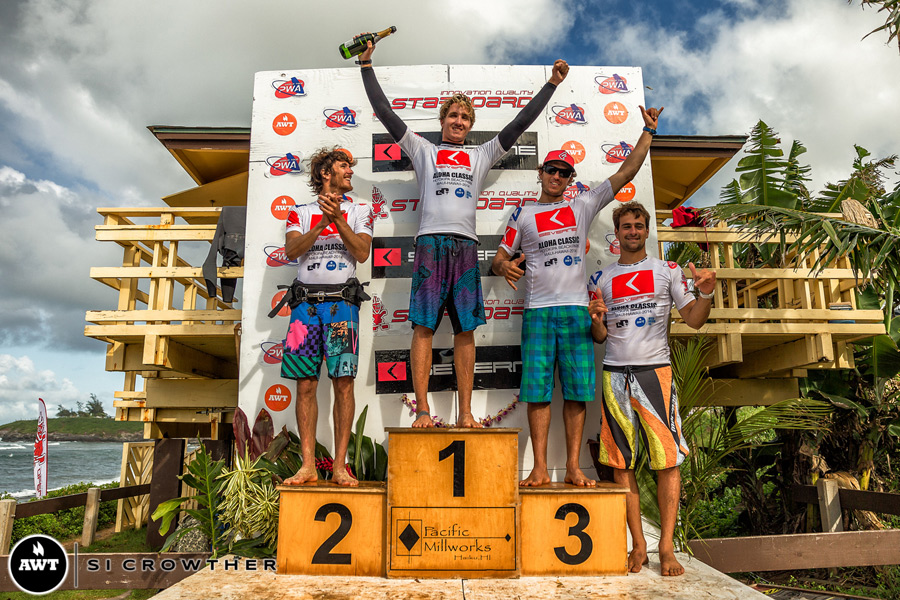 Text by Amy Carter
November 1st saw local rider, 20-year-old Morgan Noireaux, storming to victory in the PWA single elimination. In the women's draw Iballa Moreno took the win just ahead of 17-year-old American Fiona Wylde, who pushed her all the way.
It was an extraordinary day of competition at Ho'okipa Beach Park, with some of the best windsurfing ever witnessed on the PWA tour.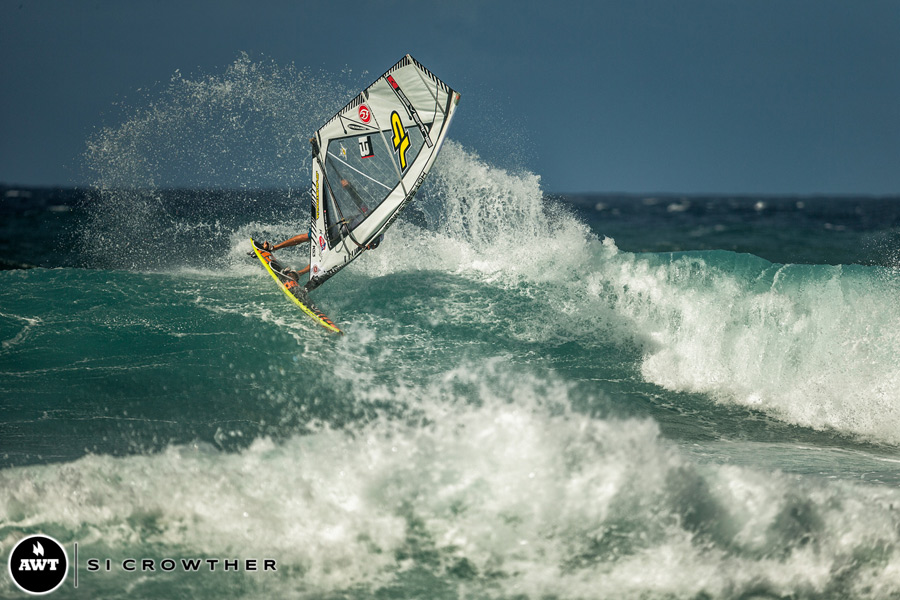 Men's PWA Top Four:
1st Morgan Noireaux
2nd Thomas Traversa
3rd Victor Fernandez
4th Marcilio Browne
In the men's fleet it was young local rider Morgan Noireaux who ripped throughout the whole single elimination and then sailed a near perfect final, scoring two 9+ point waves straight off the bat. Morgan's near perfect wave consisted of the best turns we had seen all day, with hell turn, massive aerial and a super clean taka… and we know Morgan's got even more in the tank too. But it wasn't just Morgan that sailed a fantastic final, all four riders sailed out of their skin; it was a four-way exchange with wave after high quality wave; aerials, takas, 360s and more were all on display. Thomas Traversa secured second position with an outstanding wave towards the end, taking him a little closer to a potential overall PWA title.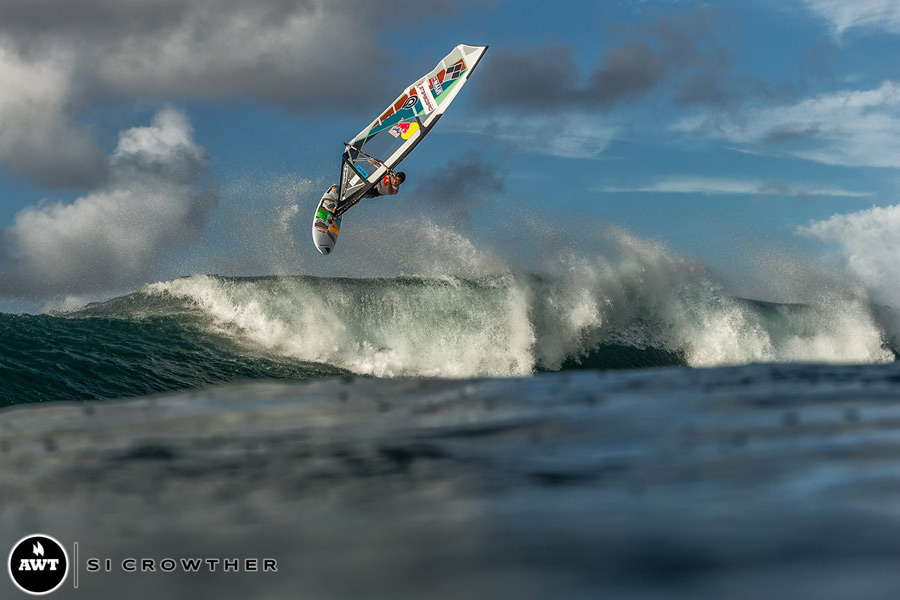 Image above: Levi Siver sailed an fantastic first heat, but unfortunately couldn't carry this on through the double elimination.
Straight after the finals finished it was onto the men's double elimination, giving all the riders a second chance to make it through. Mershon, Siver, Miller and Katchadourian were the US comeback kids in round one; Mershon won his heat with an incredible lip hitting wave a Levi bounced back from his first round exit, coming back to his true form. But it wasn't to be, as in the second round Levi couldn't quite put together the heat he needed, just not getting the waves he could losing out to Ezzy and Swift in the dropping wind and swell of the last heat of the day. This heat was all but canned until Swift unleashed some hacking turns, throwing buckets of spray and establishing himself, along with Ezzy, as ones to watch. Stone, Pritchard and Polakow also made it through round two and when the PWA contest continues will face crunch time against the like of Naish, Guilloul, Campello and Mussolini before the winning riders go on into a man-on-man battle, with the aim of making it all the way to face Noireaux.
Image below: Morgan Noireaux with one of his unbeatable waves.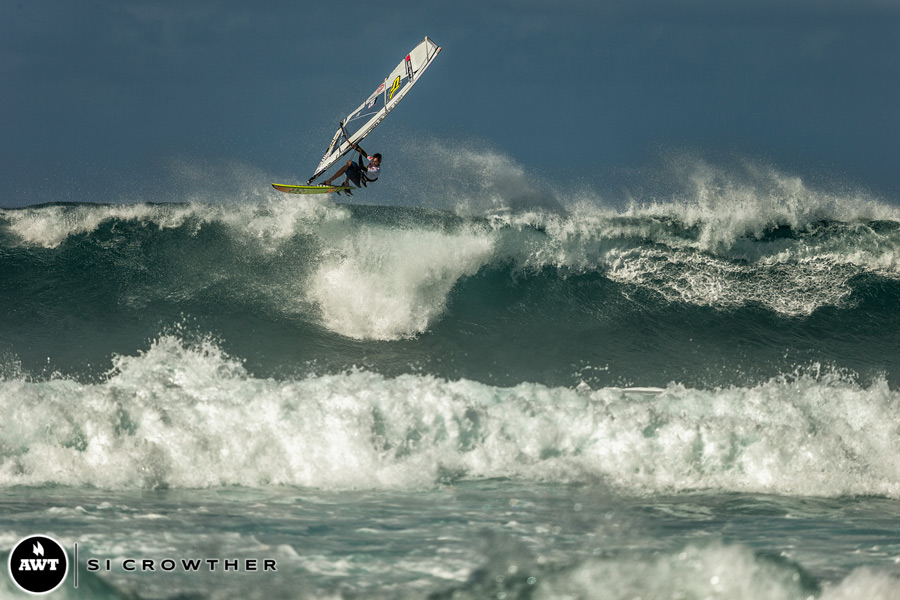 Morgan, who won his first competition in Baja back in August, is now highlighting to the world that he is one of the greats of our sport and at just 20 years old and still in full time education the future is certainly bright! I wonder what it would take the young champion to make the trip to Europe and challenge for the PWA crown, after all while growing up in Hawaii his family routes are in France?
"It's been my goal since hurting my foot in last years contest to take it all the way. It feels great to win the single elimination at Ho'okipa; I feel like the only place I know better than Ho'okipa is my own house. I haven't actually won yet though, so I'm trying to not get too excited. I'm just really happy with how I sailed and hope that I can seal the deal in the double."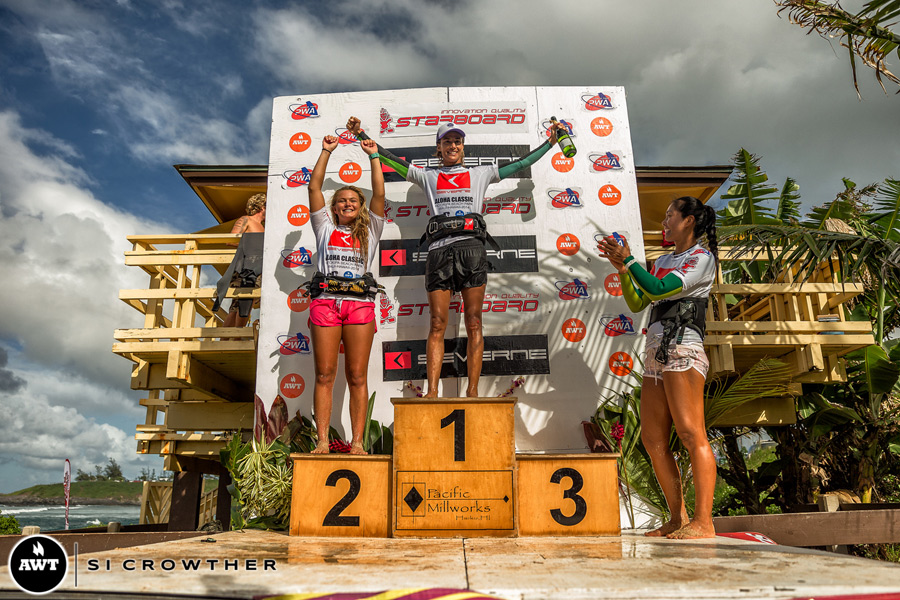 Women's PWA Top Four:
1st Iballa Moreno
2nd Fiona Wylde
3rd Tiffany Ward
4th Junko Nagoshi
The women's single elimination started and finished today, with some major upsets along the way. An unfortunate early casualty was Ingrid Larouche the three-time AWT champion, who was attempting to windsurf with an injured ankle. Whilst Ingrid still sailed some great waves really hitting the lip she did not progress and was clearly troubled by the injury, some questioned why Ingrid did not advance, but it was not to be her day. Sarah Hauser, Amanda Beenen, Tatiana Howard and Jessica Crisp all sailed some exceptional heats too, taking the biggest set waves possible and really going for broke. This didn't always go to plan however with a few visits to the rocks, and loads of broken gear.
Image below: Iballa Moreno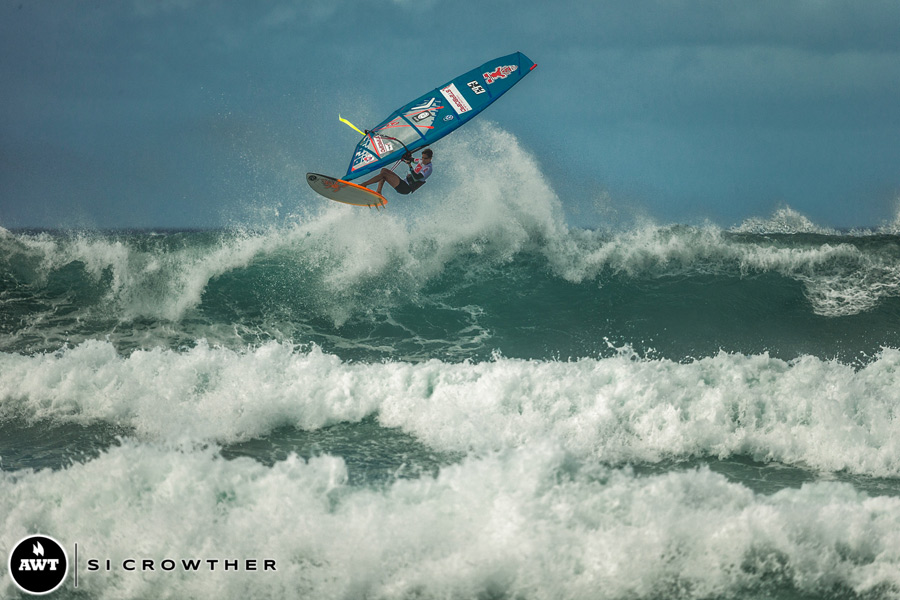 In the final it was Moreno and Wylde who were a step above the other two. After performing exceptionally throughout the day Nagoshi couldn't seem to find the waves. Ward may have been a little distracted by the fast approaching wedding of her best friend Anne-Marie Reichman (Tiffany actually left the heat a little early and missed her podium spot so she could attend the wedding, luckily it was also help on Ho'okipa beach! Congratulations Anne-Marie!), although she did of course still get some solid waves first! For a while it looked like Fiona could take victory, but it was snapped away by Iballa with a cleanly landed aerial.
With Iballa sitting in a great position and current world champion Daida Moreno taking a surprise early exit in round one it really is all to play for in the women's world title!
At just 17 years old Fiona Wylde was already the name to watch on the women's windsurfing scene for many, but with her performance today Fiona has blown away the judges and most of the windsurfing world, showing she is a rider to watch right now, not in the future.
Fiona Wylde:
"Since I started windsurfing when I was I was seven I have looked up to PWA and thought someday maybe I will get the chance to do that. And today gave me that chance. I had nothing to lose; I just went out, sailed and had fun! I made it through a few heats then found myself in the final. I can't believe I made the final, and then finished second; it's really special.
"It makes me respect the tour much more now I know how hard the girls all work and it's great to just be in a heats with them, especially here in Maui. Thanks to the PWA for giving me the opportunity! It has been lots of fun so far and I would never say no to more contests, so maybe I'll make it to more tour events. I know it would be really hard I would love to do some more, although I'd need a lot of time to train and get my ability up in other conditions. But I am definitely inspired by these girls!
"I look at Sarah-Quita and think she is probably the best all round female windsurfer; she can pump herself onto a wave from her slalom skills, throw the sail around due to her freestyle. I love that and really look up to riders like her."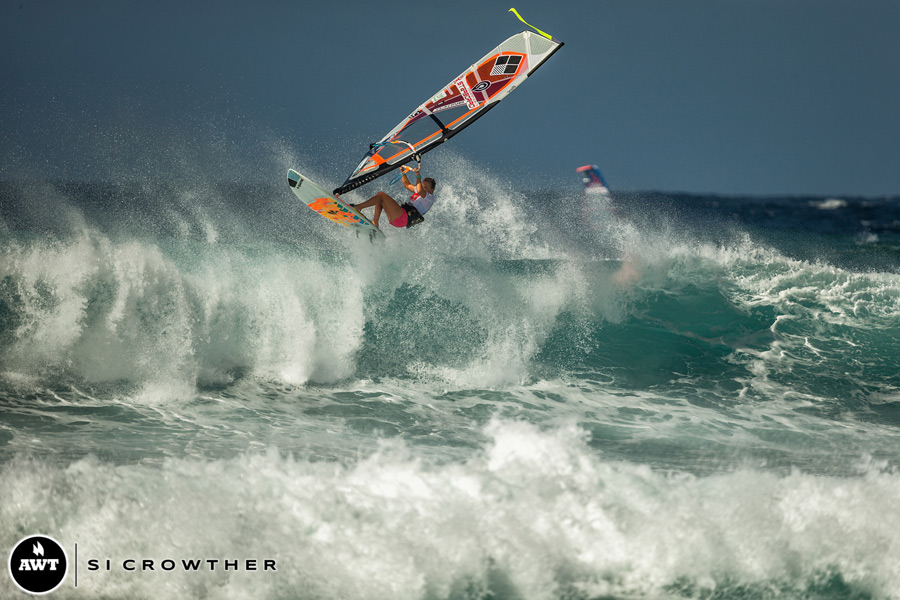 Image above: Fiona Wylde
MacRae Wylde (Fiona's father):
"Three years ago Fiona said to me 'I want to do the PWA before I'm 18* but I want to be competitive when I do it.' And, well… she just has! With Fiona it's never been about watching the other girls, it's just about her wanting to improve her riding, going more vertical and getting better all the time. I'm one very proud father."
*Fiona turns 18 early next year.
Chris Freeman, AWT Head Judge:
"It might sound rather strange but I am actually starting to feel a little sad, heat by heat the 2014 event is coming to a close, what a year it has been and I wish it could go on forever. Working alongside PWA Head Judge Duncan Coombs at this combined event is really motivational and informative, it has been great to share ideas and support each other during this event and his input is really helping to enrich the AWT contests further in the future. Today the PWA finals were incredible, it seemed that the Ho'okipa Gods were watching over us as the ocean delivered the perfect canvas for both our women and male finalists. To be able to witness such incredible action is such an honor and I hope that the 8 riders enjoyed it as much as we as judges did. The Aloha Classic still has a long way to go with everything still up for grabs in the PWA as well as 5 more AWT divisions. The days ahead will bring joy and heartache and it is going to be a thrilling ride! I thank Sam, Rich, Duncan and the entire PWA/AWT crews for making this such a success."